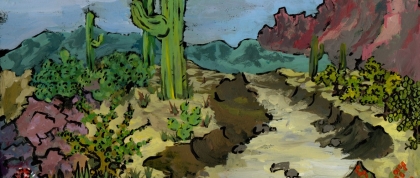 5:45-8pm
Iris & B. Gerald Cantor Film Center, Theater 101, 36 E 8th St., New York, NY 10003
Please join us for a film screening of Undeterred, a documentary about community resistance in the rural border town of Arivaca, Arizona. Undeterred is an intimate and unique portrait of how residents in a small rural community, caught in the cross-hairs of global geo-political forces, have mobilized to demand human rights and to provide aid to injured and oft times dying migrants funneled across a wilderness desert. For more information about the film, visit undeterredfilm.org. 
Immediately following the screening will be a panel discussing featuring Undeterred filmmaker Eva Lewis and community organizer Carlota Wray.
Registration required.
Program Details
Film Screening: 5:45 p.m. (Doors open at 5:30 p.m.)
Panel Discussion: 7:00 p.m.
Please note that seating is on a first-come-first-serve basis! 
Due to the popularity of the event, registration is now closed. If you previously RSVPed but your plans have changed, please notify gph.events@nyu.edu.