August 30, 2018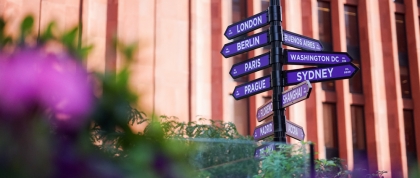 A Message from the Department of Global Health to All Incoming Global Health Concentration Students
By: Jason F. Arnold, Vaibhav Srinivasan, Emily Holzman and Kiera Bloch
Congratulations – you've made it to NYU College of Global Public Health (GPH)! Perhaps you chose us to be a part of NYU's newest and fastest growing college. Or maybe it was because you heard about GPH's outstanding programs and labs. Or perhaps it was because you want to live in the world's capital: New York City!  Whatever the reason, we're happy to welcome you to the college – and we want to assure you that you're in good company.  This year the college welcomes 280 MPH students from over 1400 applicants. Students from the Department of Global Health – which includes global health, environmental health sciences and the online SDG MPH – represent nearly one third of the incoming class and therefore the largest department at the college. Students in the Global Health department bring a wealth of previous professional experience and diversity to the program. For example, a quarter this year's global health cohort are international students from 8 different countries, while remaining domestic students (75%) hail from 21 different states.
So now that you're here, how can you make the most of your experience at NYU and GPH? Where should you go and what should you do? And why should you do so? To answer these questions, we asked several current GPH students to provide advice or "tips" to incoming students.
Here are the top five tips for making the most of your experience:
According to the students we surveyed, the single most important thing to do once you arrive at GPH is to get involved. As one student said, "Attend every event, join clubs and be active in the GPH community. It will help you go a long way!" Another student added, "Be flexible and cast your net wide. Work with numerous faculty from different departments.  Not only does this allow you to network, but it allows you to build different kinds of skills that'll make you more successful — both academically and professionally." NYU GPH has numerous labs and clubs for students to be involved in. Joining one (or more) is one of the best ways to network with students and faculty from diverse backgrounds and to build your community.

Next, take the time to explore and take advantage of the various resources available at NYU. There are several, be it academic, professional or even extracurricular. For example, if you want to improve your writing skills or are looking for someone to proofread a paper, you can book an appointment at the NYU writing center. If you wish to learn a foreign language or have dreams of working in the UN, you can sign up for free classes that will get you closer to doing so through NYU Home. Wasserman Career Center is another incredible resource where you can get help with resumes and cover letters as well as information on how to get the most out of LinkedIn. For those of you looking to stay active, NYU offers free kickboxing, yoga and even rock-climbing sessions! Current students highly recommend taking advantage of the two gyms available to NYU students for free, the Palladium and 404 Fitness. These are just a few of the many resources offered at NYU that you can use to personalize your experience to help you better reach your exact academic, professional and personal goals. 

It's also helpful to be aware of your academic strengths and weaknesses and choose your courses accordingly. A recent graduate recommends taking the in-person sections of classes you aren't as strong in. For example, if math isn't your strength, opt for the in-person rather than online biostatistics course. In-person courses provide more opportunities to ask questions during class and to connect with your classmates to form study groups and support one another. Another student added, "If you're having trouble with coursework, head to the commons (726 Broadway). Chances are there are other students there working on the same assignment who would be willing to help you out."

Another smart activity to start as early as possible is to build your network.  As one student said, "The major tip I would suggest is to grow your social contacts. Network with professors, students, with staff members."  Another student added, "Attend as many events as you can that are put on by the college – introduce yourself to speakers and panelists. Not only is it a good networking opportunity, but it is likely that refreshments and food will be provided, which is always a plus!" Networking can also be as easy as taking the time to attend office hours to introduce yourself to your professors at the beginning of the semester, which helps to build a relationship with faculty right off the bat.

Last but not least, several students commented on the importance of continuing to develop your writing skills. This includes developing as a writer both inside the classroom and professionally. As mentioned earlier, there are several excellent resources available to NYU students to help you with your resumes and cover letters.  As one student commented, "Once you start applying for internships and jobs, you have to write a separate cover letter for each posting, tailoring it to match your experience to the job's requirements. It is a learning process, and I highly recommend new students make sure to start early so they can be on top of their game."  Another student added, "Always ask for help. Doesn't matter how small it is, people at NYU are always happy to help and guide you!"
In addition to these useful tips from current GPH students, there is some great information available to new NYU students available here.