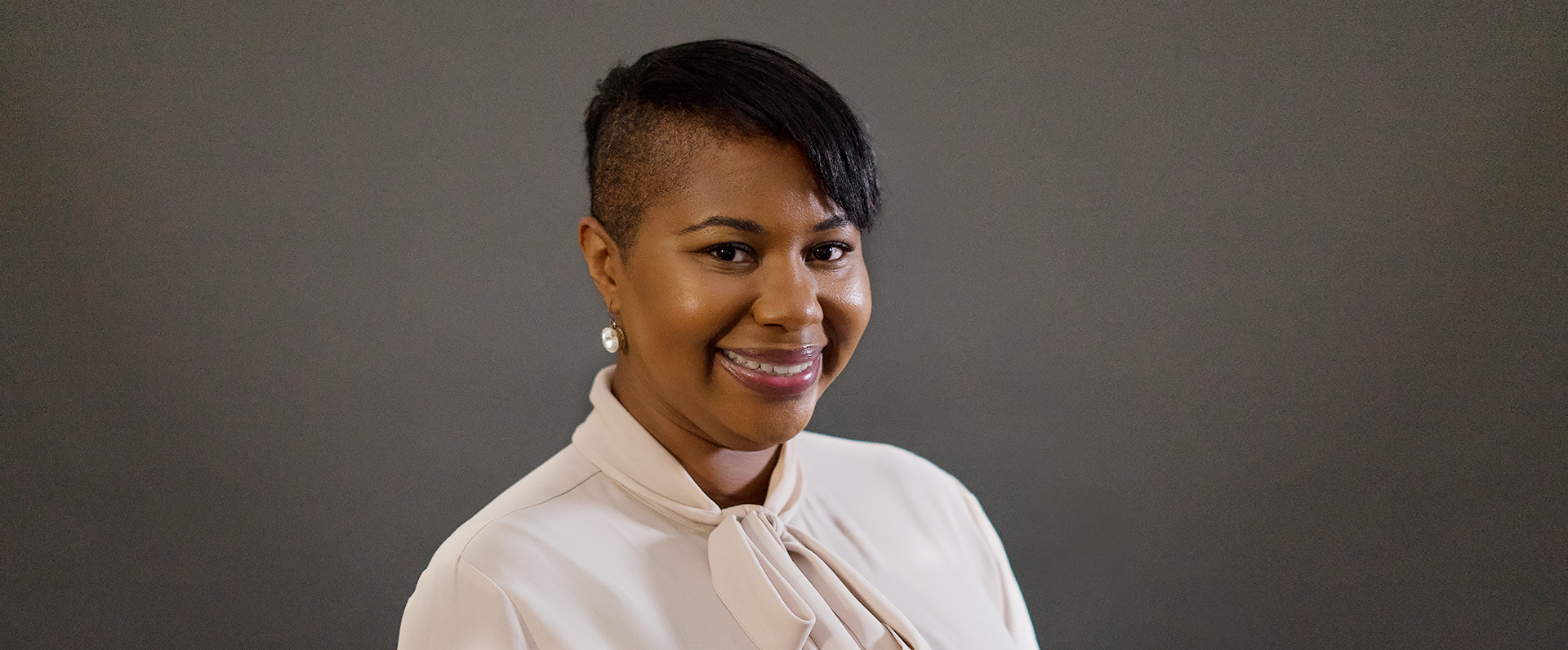 Director of Public Health Practice
Clinical Associate Professor of Social and Behavioral Sciences
Dr. LeConté Dill's community-engaged research interests are focused on addressing health inequities and fostering protective factors among urban youth of color. Using qualitative and arts-based research methods, she examines the relationship between adolescent development and multiple levels of violence. Dr. Dill has a commitment toward transdisciplinary research, and her work has been published in such journals as the American Journal of Public Health, Health Education & Behavior, Journal of Adolescent Research, American Journal of Community Psychology, and Meridians: feminism, race, transnationalism. Guided by Black Feminist epistemologies, her recent scholarship documents urban Black girls' strategies of resilience, safety, and wellness. Dr. Dill received the Highest Scoring Abstract Award from the Women's Caucus at the 2016 American Public Health Association Annual Meeting for her abstract entitled ""What if I stay?": Experiences of teen dating violence among urban African-American, West Indian, and Latinx girls."

Prior to joining NYU, Dr. Dill was an Assistant Professor in the Department of Community Health Sciences at the SUNY Downstate School of Public Health. Additionally, since 2015, she has been a Research Associate at the African Centre for Migration & Society at Wits University in Johannesburg, South Africa.

BA, Sociology, Spelman College, Atlanta, GA

MPH, Community Health Sciences, University of California Los Angeles, Los Angeles, CA

DrPH, University of California Berkeley, Berkeley, CA

Postdoctoral Fellow, Morehouse School of Medicine, Atlanta, GA

Behavioral Science

Community Health

Health Equity

Social Behaviors

Violence

Publications

Adjournment in Community HIV Prevention: Exploring Transitions in Community–Academic Partnerships

Dill, L. C. J., Gousse, Y., Huggins, K., Fraser, M. A., Browne, R. C., Stewart, M., Salifu, M., Joseph, M. A., & Wilson, T. E.

Journal title

Health promotion practice

Abstract

Abstract

Barbershop-based interventions have been increasingly implemented as a means to support culturally relevant and community-accessible health promotion and disease prevention efforts. Specifically, in neighborhoods of Brooklyn, New York, with high HIV seroprevalence rates, barbers have volunteered to support an initiative to help reduce sexual risk behavior. After implementing the Barbershop Talk With Brothers program for 5 years, we explored how program participation has affected barbers' HIV prevention and counseling skills to promote their clients' health, and assessed their views of next stages of the community–academic partnership, once the specific project ended. Through employing rigorous qualitative research methods with personnel at participating barbershops, key results include that although barbers self-identify as community leaders and even as health educators, they want ongoing support in educating customers about other topics like nutrition and physical activity, including upstream social determinants of health, such as housing and employment. They are also concerned regarding how best to support continuity of efforts and maintenance of partnerships between projects. These findings provide insight toward adjourning community-based participatory research projects, which can inform other academic researchers, organizations, and businesses that partner with community members.

Using text messaging to improve access to prenatal health information in urban african American and afro-caribbean immigrant pregnant women: Mixed methods analysis of text4baby usage

Blackwell, T. M., Dill, L. C. J., Hoepner, L. A., & Geer, L. A.

Journal title

JMIR mHealth and uHealth

Abstract

Abstract

Background: The Text4baby (T4B) mobile health (mHealth) program is acclaimed to provide pregnant women with greater access to prenatal health care, resources, and information. However, little is known about whether urban African American and Afro-Caribbean immigrant pregnant women in the United States are receptive users of innovative health communication methods or of the cultural and systematic barriers that inhibit their behavioral intent to use T4B. Objective: This study aimed to understand the lived experiences of urban African American and Afro-Caribbean immigrant pregnant women with accessing quality prenatal health care and health information; to assess usage of mHealth for seeking prenatal health information; and to measure changes in participants' knowledge, perceptions, and behavioral intent to use the T4B mHealth educational intervention. Methods: An exploratory sequential mixed methods study was conducted among pregnant women and clinical professionals for a phenomenological exploration with focus groups, key informants, interviews, and observations. Qualitative themes were aligned with behavioral and information technology communications theoretical constructs to develop a survey instrument used. repeated-measures pre- and post-test design to evaluate changes in participants' knowledge, attitudes, and beliefs, of mHealth and T4B after a minimum of 4 weeks' exposure to the text message-based intervention. Triangulation and mixing of both qualitative and quantitative data occurred primarily during the survey development and also during final analysis. Results: A total of 9 women participated in phase 1, and 49 patients signed up for T4B and completed a 31-item survey at baseline and again during follow-up. Three themes were identified: (1) patient-provider engagement, (2) social support, and (3) acculturation. With time as a barrier to quality care, inadequate patient-provider engagement left participants feeling indifferent about the prenatal care and information they received in the clinical setting. Of 49 survey participants, 63% (31/49) strongly agreed that T4B would provide them with extra support during their pregnancy. On a Likert scale of 1 to 5, participants' perception of the usefulness of T4B ranked at 4.26, and their perception of the compatibility and relative advantage of using T4B ranked at 4.41 and 4.15, respectively. At follow-up, there was a 14% increase in participants reporting their intent to use T4B and a 28% increase from pretest and posttest in pregnant women strongly agreeing to speak more with their doctor about the information learned through T4B. Conclusions: Urban African American and Afro-Caribbean immigrant pregnant women in Brooklyn endure a number of social and ecological determinants like low health literacy, income, and language that serve as barriers to accessing quality prenatal health care and information, which negatively impacts prenatal health behaviors and outcomes. Our study indicates a number of systematic, political, and other microsystem-level factors that perpetuate health inequities in our study population.

"The hook-up": How youth-serving organizations facilitate network-based social capital for urban youth of color

Dill, L. C. J., & Ozer, E. J.

Journal title

Journal of Community Psychology

Abstract

Abstract

Young people of color residing in distressed urban contexts face challenges in accessing social capital that supports positive development and the transition to educational and employment opportunities. Youth-serving organizations play potentially important roles for youth participants to access and leverage networks. This ethnographic study draws on qualitative interviews, conducted with adolescents at a youth-serving organization based in East Oakland, California, to examine how network-based social capital is activated and sustained for and by urban Black and Latinx youth. We found that relationships with supportive adult staff at the organization put youth in contact with caring, trusted adults of color outside of their families who serve as role models for them. These adults provide loving accountability to young people, serving as critical forces in distressed and stigmatized communities. We also found that adult staff activate social leverage to garner various current and future educational and professional opportunities for the youth there. These unique opportunities serve to boost young people's current self-esteem and also to prime them to envision positive futures for themselves. Overall, these findings point to the importance of interpersonal pathways embedded within neighborhood institutions in the activation of network-based social capital.

Stress, Socializing, and Other Motivations for Smoking Among the Lesbian, Gay, Bisexual, Transgender, and Queer Community in New York City

Jannat-Khah, D. P., Dill, L. C. J., Reynolds, S. A., & Joseph, M. A.

Journal title

American Journal of Health Promotion

Abstract

Abstract

Purpose: This study contributes to the emerging literature on lesbian, gay, bisexual, transgendered, and queer (LGBTQ) health disparities and tobacco use by examining the motivations for smoking among the New York City (NYC) LGBTQ population. Approach: We used grounded theory and blended methods from 3 grounded theorists—Strauss, Corbin, and Charmaz—for data collection, coding, and analysis. Setting: NYC has extensive legislation to prevent smoking; however, the current smoking prevalence of homosexuals is double that of heterosexuals. Participants: Study participants were leaders from 23 NYC LGBTQ organizations. Leaders were chosen to establish a relationship with community and to ensure cultural sensitivity. Eligibility criteria required holding a leadership position in an organization serving the NYC LGBTQ community. Methods: Interviews were transcribed verbatim and uploaded into Dedoose for analysis. An initial code list was developed from the interview guide. Key themes were identified as the themes with the most number of quotes. Results: Three key themes emerged from our interviews: image, socializing, and stress. Smoking was reported to be a socialization aid and a maladaptive coping technique for stress arising from interactions of conflicting identities. Conclusion: Future smoking cessation interventions among the LGBTQ community should equip smokers with healthy coping mechanisms that address the stressors that arise from the intersections of smokers' many identities.

A Comparison of Alternative Tobacco Product Usage, Knowledge and Beliefs Between the New York City Lesbian, Gay, Bisexual, and Transgendered Community and Heterosexuals

Jannat-Khah, D. P., Reynolds, S. A., Dill, L. C. J., & Joseph, M. A.

Journal title

Journal of Community Health

Abstract

Abstract

Within the United States, alternative tobacco product (ATP) and varies by geographic region, gender and age. Few articles have been published on the usage of these products among the lesbian, gay, bisexual, transgender or queer (LGBTQ) population. A web-based anonymous survey administered through Google Forms, was used to collect data on current tobacco usage, knowledge and beliefs from adult heterosexuals, homosexuals, bisexuals and transgendered persons residing in New York City from May 2014 to July 2014. Sixty-four individuals completed the survey; 30 were heterosexual and 32 identified as either lesbian, gay, bisexual, transgender or queer. Heterosexuals were found to have tried cigarettes, on average, almost a year before the LGBTQ respondents. Social networks were influential to LGBTQ respondents for an introduction to smoking; 48.00% were introduced by friends, 28.00% by family, 12.00% by a significant other and 9.09% by someone else. For heterosexuals, 73.68% reported that friends introduced them to smoking. More heterosexuals reported trying hookah (N = 10), snus (N = 4) and roll your own cigarettes (N = 5). On average respondents knew of eight different tobacco products, regardless of sexual identity. To our knowledge, we present for the first time a comparison of people who tried, current and former users of ATPs, beliefs and knowledge about ATPs, and sources of knowledge of ATPs by sexual identity from NYC. More research is needed to examine the impact of social networks and the upcoming FDA regulations on ATPs have on the overall prevalence of usage among the LGBTQ community.

"Wearing My Spiritual Jacket": The Role of Spirituality as a Coping Mechanism Among African American Youth

Journal title

Health Education and Behavior

Abstract

Abstract

There is growing evidence in the theoretical literature regarding the importance of religion and religiosity in people's lives, particularly concerning their health and well-being. Spirituality, a related but different concept, has been less well studied, especially empirically, but shows promise as a mechanism for coping with deleterious social and health circumstances. This article details a qualitative exploration of the role of spiritual coping in the lives of urban African American youth. Data were gathered through in-depth, semistructured interviews with 20 African American youth, ages 12 to 20 years. The findings indicate that urban African American youth have multifaceted dimensions of their spirituality, including the role of prayer in their lives, an unwavering faith in a higher power, and the importance of giving back to their communities. Such findings offer counterstories, generated through ethnographic research, to the dominant discourses regarding urban African American youth. Ultimately, this study's findings have implications for research and practice related to the mechanisms of both ill-health and wellness among youth.

Son of the soil....daughters of the land: poetry writing as a strategy of citizen-making for lesbian, gay, and bisexual migrants and asylum seekers in Johannesburg

Dill, L., Vearey, J., Oliveira, E., & Martinez Castillo, G.

THE ENDURING ATLANTA COMPROMISE: Black Youth Contending with Home Foreclosures and School Closures in the "New South"

Dill, L. C. J., Morrison, O., & Dunn, M.

Journal title

Du Bois Review

Abstract

Abstract

Waves of migration to and flight from Atlanta by both White and Black residents and businesses have constantly imagined and re-imagined the city as both politically regressive and racially progressive, and from an environmental health perspective, as both a riskscape and a safe haven. We argue that the persistent racial, social, environmental, and health inequities in Atlanta have been fostered and exacerbated by the exponential growth of the city and the persistent rhetoric of it being "the city too busy to hate." This paper is informed by extant research on housing and transportation policies and processes at work in Atlanta since the end of the Civil War, and in particular, the predatory and subprime lending practices during the past thirty years. This paper examines how young people, living in a neighborhood where over 50% of the houses are currently vacant and contending with threats of school closures, experience the contemporary foreclosure crisis. Using qualitative data from focus groups with middle school youth, this paper offers youth-informed perspectives and local knowledge by offering responses of marginalized populations in Atlanta who inhabit, rather than flee, their built and social environments.

"I want a second chance": Experiences of African American fathers in reentry

Dill, L. J., Mahaffey, C., Mosley, T., Treadwell, H., Barkwell, F., & Barnhill, S.

Journal title

American Journal of Men's Health

Abstract

Abstract

With over 700,000 people on average released from prison each year to communities, greater attention is warranted on the experiences and needs of those who are parents and seeking to develop healthy relationships with their children and families. This study seeks to explore the experiences of African American fathers in reentry. Qualitative data from 16 African American men enrolled in a fellowship program for fathers were collected from a focus group and analyzed for common themes and using standpoint theory. Four themes emerged that focused on fathers' commitment toward healthy and successful reintegration postincarceration: redemption, employment, health care, and social support. Focus group participants actively strive to develop and rebuild healthy relationships with their children through seeking gainful employment and through bonding with like-minded peers. Barriers in accessing health care are also discussed. Research findings may inform future programs and policies related to supporting fathers and their children in reentry.

"I'm Not Just Runnin' the Streets": Exposure to Neighborhood Violence and Violence Management Strategies Among Urban Youth of Color

Dill, L. C. J., & Ozer, E. J.

Journal title

Journal of Adolescent Research

Abstract

Abstract

This article examines the experiences of 25 youth of color living in East Oakland, California. Building on empirical studies examining violence prevention efforts on the behalf of and among youth and using an ethnographic approach, this study samples young people, with varying levels of education, income, and motivation for involvement, attending the same youth-serving organization in East Oakland. The findings offer a frame of "violence management strategies" for the active ways in which youth strategically avoid unsafe spaces and people and seek out safe spaces and people on a daily basis within their neighborhoods marked by high rates of crime, violence, and physical disorder. These findings lift up youth as experts of their own neighborhoods. The implications of these findings for adolescent research, practice, and policy are discussed.

Extreme data reduction: the case for the research Tanka

Furman, R., & Dill, L. C.

Journal title

Journal of Poetry Therapy

Abstract

Abstract

This article demonstrates how research Tankas can be used as a means of data reduction and representation in qualitative research. This study consists of a secondary analysis of several data sources, and utilizes a process of co-constructed data analysis using the thematic analysis and research poetry. The authors explore the nature of poetry in qualitative research. Original data are juxtaposed with cocreated themes and research poems which are used as containers for data reduction and the creation of additional layers of meaning. Implications for qualitative research area presented.

Girls and Young Women Living in the Slums of Kampala: Prevalence and Correlates of Physical and Sexual Violence Victimization

Swahn, M. H., Dill, L. C. J., Palmier, J. B., & Kasirye, R.

Abstract

Abstract

This study determined the prevalence and correlates of victimization among girls and young women in Kampala. The study population, a convenience sample of youth living in the slums, were 14 to 24 years of age, and participants in community-based drop-in centers (N = 313). Overall, the prevalence of physical fights (37%), being threatened or injured with a weapon (28%), and being raped (30%) was high and increased with age. Multivariate analyses revealed that sadness, drunkenness, and hunger were associated with multiple forms of victimization. Findings suggest that additional services are needed to address the cumulative impact of victimizations, depression, and living conditions.

Girls living on the streets and in the slums of Kampala: psychical and sexual violence victimization

Swahn, M., Dill, L., Palmier, J., & Kasiyre, R.

Poetic Justice: Engaging in Participatory Narrative Analysis to Find Solace in the "Killer Corridor"

Journal title

American journal of community psychology

Abstract

Abstract

The author engaged with adolescents at a community-based youth organization as "co-researchers" to delve deeper into the lived experiences of youth of color residing in an urban neighborhood undergoing change. Participatory narrative analysis was used to empower participants to produce texts to make sense of their lives and their home, school, and neighborhood contexts. The process of engaging youth as co-researchers and experts in issues pertaining to their own neighborhood is discussed. Nuanced analyses of poems-as-data is shown to be critical in informing the recent surge of interdisciplinary, community-engaged, place-based initiatives focused on neighborhood revitalization, violence prevention, and positive youth development.

Interventions to improve access to fresh food in vulnerable communities: A review of the literature

Smith, D., Miles-Richardson, S., Dill, L. C., & Archie-Booker, E.

Journal title

International Journal on Disability and Human Development

Abstract

Abstract

Background: "Food desert" is a term used to describe lowincome communities without access to healthy, fresh food within a one-mile radius of their residence. The limited access to healthy foods in urban African-American communities may be a critical factor in the development of nutritional disorders and associated chronic disease in this vulnerable population. Research has shown that community gardens are a promising intervention for addressing food quality and access issues. This study aimed to assess whether improving the local food environment through community gardens can increase accessibility to healthy foods in Metropolitan Atlanta communities assumed to be food deserts. Methods: A systematic literature review was conducted to identify best practices of community garden projects in order to address food deserts in metropolitan cities. Next, a windshield survey was conducted in the Adamsville community in metropolitan Atlanta, Georgia to determine if a food desert was present, and to provide an analysis of the local food environment. Results: Twenty-nine articles were reviewed and eight best practices were identified as effective strategies in metropolitan cities. We found that community gardens had only minimal impact on food access issues in urban communities due to seasonal accessibility and low yield. The windshield survey revealed that the Adamsville community was not a food desert because it had access to healthy foods within a half-mile radius. Conclusion: While the literature review revealed that community gardens had a minimal impact on food access in urban communities, food policy advocacy and supermarket tax incentives were identified as effective ways to promote healthy community development.

Impact of the built environment on behavioral and sexual health: policy implications and recommendations

Satcher, D., Okafor, M., & Dill, L.

Journal title

ISRN Public Health

Inscriptive restorations

Dill, L. J. In American journal of public health.

Poetry therapy, men and masculinities

Furman, R., & Dill, L. C.

Journal title

Arts in Psychotherapy

Abstract

Abstract

Therapists have long utilized poetry with various at risk male populations. Yet, in spite of its use, therapists have also been aware of the dilemmas associated with using poetry in a population whose behavior and identity may at times run counter to the core tenants of poetry therapy. However, the literature of poetry therapy does not fully explore what therapists need to know about men and masculinities in order to work with them. This article helps prepare therapists using poetry to become more sensitive to gender issues and utilize this understanding in their practice with men. It explores some of the key concepts from gender and masculinities studies and provides examples for how these concepts can be used in practice.