The Cross-Continental MPH Program was designed so that a cohort of students would travel together, learn together, challenge each other, and experience this unique and intensive program together. We do take into account that our students may vary in age, experiences and times in the lives so we offer the option for students to find their own accommodations when it is possible. We encourage our students to form bonds with their peers since one day your peers will be your colleagues. NYU values community and we hope that Cross-Continental MPH cohort students' experience will be enhanced by being part of the program and larger NYU community.
Tuition and Fees
---
Cross-Continental MPH students are charged tuition, fees and housing on a per-term basis for each of the three required terms of the program. The tuition and fee charge each term is $30,174, which includes tuition, registration fees, and all program-related travel for the fall and spring terms.
Housing costs are billed separately and on a per-term basis and can vary depending on the site and accommodations chosen. See below for more details on housing options available at each site and associated costs.
NYU Housing during the fall and spring semesters is a condition of enrollment.
Summer: NYU DC
---
The residence hall makes up half of the NYU Washington, DC Global Academic Center - which is located at 1307 L St NW. Each residential floor contains mostly 4-person, 2-bedroom, 1-bathroom apartments as well as a limited number of studio apartments and a student lounge. Students also have access to a game room, resource center, laundry room, serenity space, and ample multipurpose space. A full-time Residential Life Coordinator and part-time Residential Life Administrators reside in NYU Washington, DC to provide advice, guidance, support, programming, and activities.
Student Housing: The amenities list can be found here.               
Double (primary option): A two-bed room that is shared with another resident and is in a 2 bedroom apartment. Each double bedroom has two beds, two desks, two desk chairs, and two wardrobes.
Single (secondary option): A private, studio-style room with one bed, one desk, one desk chair, and one wardrobe.
Costs: Please visit the NYU DC site for more information. 
Meals: Each student apartment has its own kitchen with a refrigerator, microwave, stove top, toaster oven, and basic set of pots and pans. There is no meal plan offered at NYU DC.
Graduate students have the choice of finding their own accommodations while studying at NYU DC during the summer term.
For more information, please visit the NYU DC website.
Fall 2019: NYU Buenos Aires
---
NYU Buenos Aires is an exceptional and intimate learning community in one of the world's great cosmopolitan cities. Students visiting the BA site have the opportunity to pursue course work from a range of disciplinary perspectives while enhancing their language skills. The BA curriculum centers around questions of social justice as well as the role of public intellectuals, cultural memory, media and the arts. Classes offered in English and Spanish use Buenos Aires itself as a window onto Latin American culture and the geopolitics of the global south. Daily life at the site is complemented by a robust offering of extra and co-curricular offerings as well as by strategic collaborations forged with local institutions, including art museums, heritage sites, civic and state institutions, faculties of law, medicine and health professions. 
Housing
Students are responsible for securing their own housing while studying at NYU Buenos Aires, but we be provided a list of realtors that other students have used in the past. 
For more information, please visit the NYU Buenos Aires website.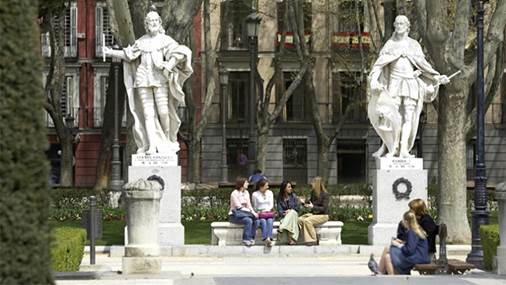 Spring 2020: NYU Madrid
---
At the historical crossroads of Europe, Africa and the Americas, Spain is a culturally diverse nation comprised of 17 autonomous communities that proudly proclaim unique identities. A modern, cosmopolitan city, Madrid, Spain's capital, is located in the center of the Iberian peninsula and is a convenient point of departure from which to explore the entire country: from its rich Christian, Jewish and Muslim past in Toledo and al-Andalus to its cutting edge architecture and design in Barcelona and Bilbao. 
Housing
Although NYU Madrid provides apartment-style residences, these accommodations are primarily for undergraduates. Based on availbility, graduate students would not be guarenteed single rooms or graduate student only apartments. 
Graduates students are encouraged to arrange their own accommodations while studying at NYU Madrid. 
If you do opt-in to NYU housing, you will be billed directly from the NYU site. And remember, you will be studying and living in another country, so please be prepared for differences. Bedrooms are generally smaller than in the United States and amenities you are accustomed to may not be available.
Apartment-Style Residence
Students who reside in this residence, located in the Chamberí neighborhood of Madrid, live in double suites: two single bedrooms with a shared kitchenette and bathroom. NYU residential life members live in the residence to assist students in acclimating to life in Madrid, dealing with practical matters in the residence, and adjusting to their new home. NYU students make up a small portion of those who live in the building. Other residents include Spanish and international students enrolled at local universities. The residence is approximately a 30 minute commute by metro to the NYU Madrid academic center.
Chamberí is a largely residential neighborhood with the popular Plaza de Chamberí and Plaza de Olavide. The residence is a 5 minute walk from the lively Malasaña district, and a 10-15 minute walk from the equally vibrant Chueca district.
The building has WIFI connection, laundry room, study and common areas and an amazing rooftop. Linen, blankets, pillows and towels are provided.
Cost: Double suites (two single bedrooms with a shared kitchenette and bathroom) - $5,951
Students will be charged in US dollars by semester through the NYU Bursar Office on their NYU E-bill. Scholarships and aid awards in excess of tuition and fees will credit against the cost of housing. Payments are to be made to the University Bursar in the e-suite online payment tool.
For more information, please visit the NYU Madrid website.
Fall 2018: NYU Accra
---
NYU Accra utilizes Church Crescent, a housing facility located in a residential neighborhood and within walking distance to the NYU Accra academic center. The University of Ghana-Legon and other diverse parts of the city are all a short ride away.
Students will be housed in either Church Crescent or NYU approved off-campus apartments. Meal plan costs are included in the housing rates so students do not have the choice of opting in or out.
Church Crescent
Doubles or Triples within duplex units
Houses 7 students
Private bathroom
Full kitchen with everything you need to cook and eat
Things to Know
30 students and 2 CRAs (Community Resource Assistant)
Located near markets:
Makola Market

Koala Supermarket
Meal Plan
Students are provided with light breakfast and lunch items to prepare in their residence. There are also clean water dispensers. For dinners during the week, there is a meal plan that is split between two restaurants, Buka (Monday, Wednesday and Friday nights), that serves traditional Ghanaian, Nigerian and West African food, and sunshine Cafe (Tuesday and Thursday nights), a restaurant that serves Mediterranean, Indian and Ghanaian food, as well as sandwiches and large, delicious salads. 
Costs - Fall 17/Spring 18
$5,872 - $6,333*
*Room rates are site specific and are generally determined by room type, rental costs, and associated support services. Final rates subject to change.
NYU approved off-campus apartments
Apartments consist of 2 private bedrooms, with 1 or 2 bathrooms, in a fully furnished apartment with shared living space, kitchen, television, and WiFi. Apartments are only arranged on an 'as needed' basic based on semester enrollment at NYU Accra, otherwise students will reside at Church Crescent.
Students are provided with light groceries each week to prepare in their residence, and are also able to dine at Buka and Sunshine Café.
For more information, please visit the NYU Accra website.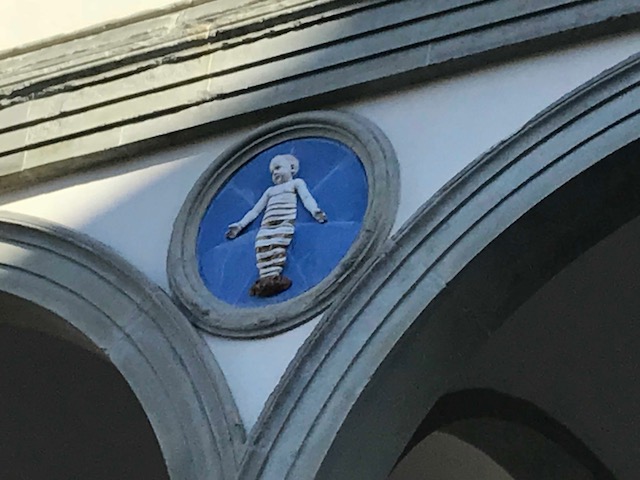 Spring 2019: NYU Florence
---
Florence is a city where you can easily walk or use public transportation to get anywhere. Most upper classman will live off-campus, while a few may reside at the two campus villas, Natalia and Colletta, as Residence Life Staff. All students are supported by NYU Florence's Residence Life Staff, regardless of where they reside.
Any graduate student interested in becoming a Resident Life Staff member should alert gph.global@nyu.edu once you accept your offer into the program. Resident Life Staff members do not pay for housing on campus, and are provided a single with a meal plan, in exchange for their resident life role and duties. Interested students need to apply and will be interviewed for the positions.
Housing
Off-Campus Residences may be described as dormitory-style facilities located in the center of Florence. Residences are high-occupancy living arrangements (meaning a large residence, an entire floor, or an entire building houses NYU Florence students in apartment-style suites with several bedrooms, shared common areas, and bathrooms) and offer specific amenities, including Internet and cleaning/linens service. Bedrooms consist of singles (limited availability), doubles, triples, and quads.
| | | |
| --- | --- | --- |
| Single Bedroom | 1 person to 1 bedroom | $10,608 |
| Double Bedroom | 2 persons to 1 bedroom | $7,185 |
| Triple Bedroom | 3 persons to 1 bedroom | $6,715 |
| Multi-person Bedroom | 4 persons to 1 bedroom | $5,908 |
Students living off campus cannot enroll in the on-campus meal plan but can purchase individual meals on campus.

Off-campus housing is located throughout various urban and residential neighborhoods around the city of Florence, mostly within the historic city walls.

Students must use public transportation (one or more buses) to travel between the NYU Florence campus and their living situations. Taxis are expensive but are the safest way to travel at night. Students should budget for these expenses and leave plenty of time for the commute.

The Residences are generally in older buildings, ranging from the 13th to 19th centuries, not modern high-rises.

Facilities vary greatly since few buildings were originally constructed as student accommodations, as now utilized. Location, dècor, furnishings, appliances, and floor layouts vary significantly from living situation to living situation. Toasters, microwaves, air-conditioning units, dishwashers and DVD players are NOT considered standard amenities in off-campus housing.

All Off-Campus Residences have laundry facilities, although some may not have dryers. In most cases the machines are coin operated, and fees may vary from one living situation to another.

Sheets, blankets, pillows, towels, and basic kitchen utensils are supplied. Students should bring or purchase an extra towel for travel and wash cloths, if desired. Those who choose to bring their own sheets should avoid bringing plain white sheets, as these may easily be confused with those provided by the cleaning company.

Students are supported via Peer Advisors and Residence Hall Managers who provide programming, assistance, emergency support, etc.; however, these individuals may not live in every housing location.

For phone service, one cellular telephone is issued to each Residence by the Facilities Office. Students are responsible for the care and return of these cell phones, and the phones must stay in the living situation in a space where all students have access. For personal use, most students purchase their own cellular phone upon arrival. To make long-distance calls, many students use a VoIP service, like Skype, or locally purchased international calling cards.

A suite may house from 4-15 students, and an entire Off-Campus Residence may host from 4 to 45 students. NYU Florence will only accept roommate requests based upon bedroom type, not larger groupings.
For more information, please visit the NYU Florence website.