SEARCH Lab
Students involved in the Social Epidemiology and Research in Community Health (SEARCH) program actively engage in data collection, writing, and data analysis for projects related to neurological and cardiovascular disease prevention and behavioral interventions with an eye toward addressing health disparities in diverse populations.
About the Lab
The Division of Social Epidemiology in College of Global Public Health at NYU operates under the belief that social, as well as biological processes shape the health of populations and communities. Social epidemiology is distinguished by explicitly investigating the ways in which one's surroundings, including social, cultural, psychological, political, and economic circumstances interact to create and/or prevent health, disease, and well-being, rather than treating such determinants as mere background to biomedical phenomena. Dr. Bernadette Boden-Albala leads the Division of Social Epidemiology at GPH. She is Principal Investigator on several grants using demographic and behavioral information to explore risk factors for disease both domestically and globally.
 
The Social Epidemiology and Research in Community Health (SEARCH) program is guided by faculty members within the Division of Social Epidemiology - Dr. Boden-Albala, Dr. Nina Parikh,  Dr. Emily Goldmann and Eric Roberts.  SEARCH fosters student-faculty research partnerships and provides students with writing, quantitative/qualitative and research administrative skills. SEARCH participants gain valuable research experience, earn letters of recommendation, develop key skills related to data collection and analysis, recruit and assist in clinical trials, co-author manuscripts and conference presentations, use specific skill-sets (graphic design, language translation), develop research protocols, and advance independent projects.
Overview of Projects
Our current work at SEARCH is related to the following projects:
Discharge Educational Strategies for Reduction of Vascular Events (DESERVE):  DESERVE is an innovative discharge intervention aimed at secondary stroke prevention and risk factor reduction. This intervention includes multimedia education and health care linkage using a community health worker model and follow-up calls promoting integration into community resources. The DESERVE trial was a randomized-controlled-trial of the intervention vs. usual care in a multi-ethnic cohort of approximately 550 mild stroke/TIA patients.  The trial evaluated the effectiveness of the intervention to reduce blood pressure, individual stroke risk factors and future stroke risk. The DESERVE study methods are outlined in the following paper:
Stroke Warning Information and Faster Treatment (SWIFT):  Tissue plasminogen activator (tPA), the only approved treatment for acute ischemic stroke, is significantly underutilized likely due to poor lay information about stroke as an emergency and how to recognize signs of a stroke. In order to improve outcomes in acute ischemic stroke, it is critical to raise awareness and recognition of stroke symptoms. The SWIFT trial evaluated the effectiveness of an interactive stroke educational program compared to standard educational materials, at increasing stroke knowledge, and improving emergency room arrival times upon onset of stroke symptoms. SWIFT enrolled over 1,100 individuals who had a stroke or transient ischemic attack (TIA). All participants were administered pre and post (30 days and 1 year) intervention surveys assessing stroke knowledge/behavior. In additional, participants were contacted every 12 months to check health status and document new stroke events associated with emergency room arrival time. To read more about the SWIFT study and results, see the following links:
 
National Initiative for Minority Involvement in Neurological Clinical Trials (NIMICT): The National Institute of Health (NIH) policy calls for the inclusion of under-represented groups such as women and minorities in clinical research. Low minority recruitment and retention in neurological clinical trials remains a significant challenge limiting safety and efficacy of treatments in the general population. The goal of NIMICT is to expand our knowledge of barriers to recruitment and retention of female and minority population in neurological clinical trials. Funded by the National Institute of Minority Health and Health Disparities (NIMHD) and the National Institute of Neurological Disorders and Stroke (NINDS), NIMICT captures the breadth and depth of researcher expertise, identifies unique challenges, and expands on the current state of minority recruitment and retention in neurological clinical trials.   As a deliverable, NIMICT has composed an online toolkit to aid researchers' efforts, NIMICT.com. To learn more about NIMICT's research methods and findings, click the links below:
Families/Friends Understanding Risk Reduction through Educational Reinforcement (FURRThER): FURRThER is a culturally-tailored, social network-based intervention targeted at management of vascular risk factors. Catastrophic events such as stroke tend to bring family and friend networks together, and while they are gathered, the FURRThER team will assess everyone's vascular risk and work with them to reduce risk. The intervention will also involve an interactive web portal through which family/friend groups can communicate with each other and with program staff about risk reduction goals and activities. We are currently piloting this project among patients at NYU Langone Hospital.
 
Washington Heights/Inwood Infrastructure for Comparative Effectiveness Research (WICER): The aim of WICER was to establish an infrastructure for comparative effectiveness research by linking hospital and clinic data with community level data. It includes the development, validation and implementation of surveys focused on social resources and social networks. The following papers describe some of WICER's findings: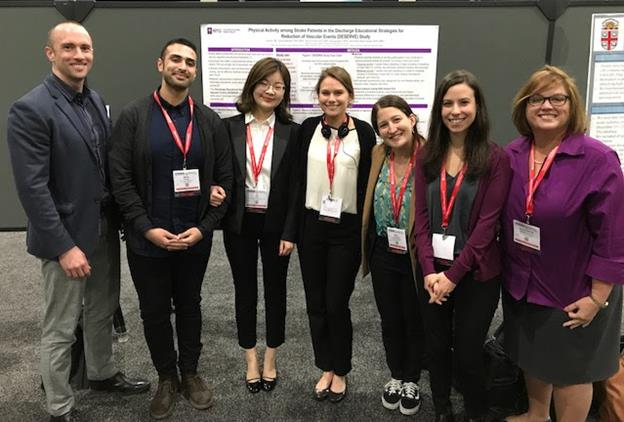 Pictured above (left to right): Eric Roberts, Bilal Khan, Jie Sun, Emily Nangle, Dr. Emily Goldmann, Noa Appleton, and Dr. Bernadette Boden-Albala at the 2018 International Stroke Conference in Los Angeles, CA
The SEARCH research team, including four Research Assistants, presented posters at the 2018 International Stroke Conference, the premier international meeting for stroke researchers. The posters reported findings from Dr. Boden-Albala's Discharge Educational Strategies for Reduction of Vascular Events (DESERVE) study, a randomized controlled trial of a secondary stroke prevention intervention among multi-ethnic stroke survivors in NYC. The topics of the abstracts included the impact of the DESERVE intervention on physical activity as well as factors associated with risk perception, medication knowledge, medication adherence and sleep patterns among stroke survivors. Additionally, one abstract reported on themes that emerged from a qualitative analysis of follow-up calls to discharged stroke patients.
Our Team
Dr. Bernadette Boden-Albala, DrPH, MPH is the leader of the SEARCH program, providing overall research direction and guidance. She is the Senior Associate Dean of Research and Program Development at GPH, Interim Chair of the Department of Epidemiology and Professor of Public Health, Neurology and Dentistry. She is an internationally recognized expert in the social epidemiology of stroke and cardiovascular disease and specializes in the design of intervention strategies for prevention and preparedness of stroke and vascular risk factor reduction.
Dr. Nina Parikh PhD, MPH co-founded SEARCH along with Dr. Boden-Albala and currently guides the program's projects and activities. She is a Clinical Associate Professor of Social and Behavioral Sciences at GPH. Dr. Parikh's work has focused on examining the social, psychosocial, and cultural factors related to the health needs of older adults  and developing evidence-based strategies that address and mitigate health inequities for this and other underserved groups, in particular immigrants, diverse ethnic and racial groups, and those with inadequate health literacy.
Dr. Emily Goldmann, PhD, MPH guides the SEARCH program along with Dr. Parikh and advises students on their independent analyses and research projects. She is a Clinical Assistant Professor in the Department of Epidemiology at GPH. Trained as a psychiatric and social epidemiologist, Dr. Goldmann's research centers on the social determinants of mental illness and suicidal behavior. Her recent work has examined comorbidity between mental and physical illness and the role of social context in comorbidity. 
Noa Appleton, MPH is a Research Manager for the Division of Social Epidemiology. She coordinates the SEARCH program and manages students' daily activities. She received her MPH in Chronic Disease Epidemiology from Columbia University Mailman School of Public Health. Since starting at GPH, she has worked on the NIMICT, DESERVE and FURRThER projects described above.  
Eric Roberts, MPH is an Associate Research Scientist at GPH and is currently in the dissertation phase of a PhD degree in Epidemiology at Columbia University. He provides biostatistical and epidemiological consultation to SEARCH Research Assistants working on independent analyses.