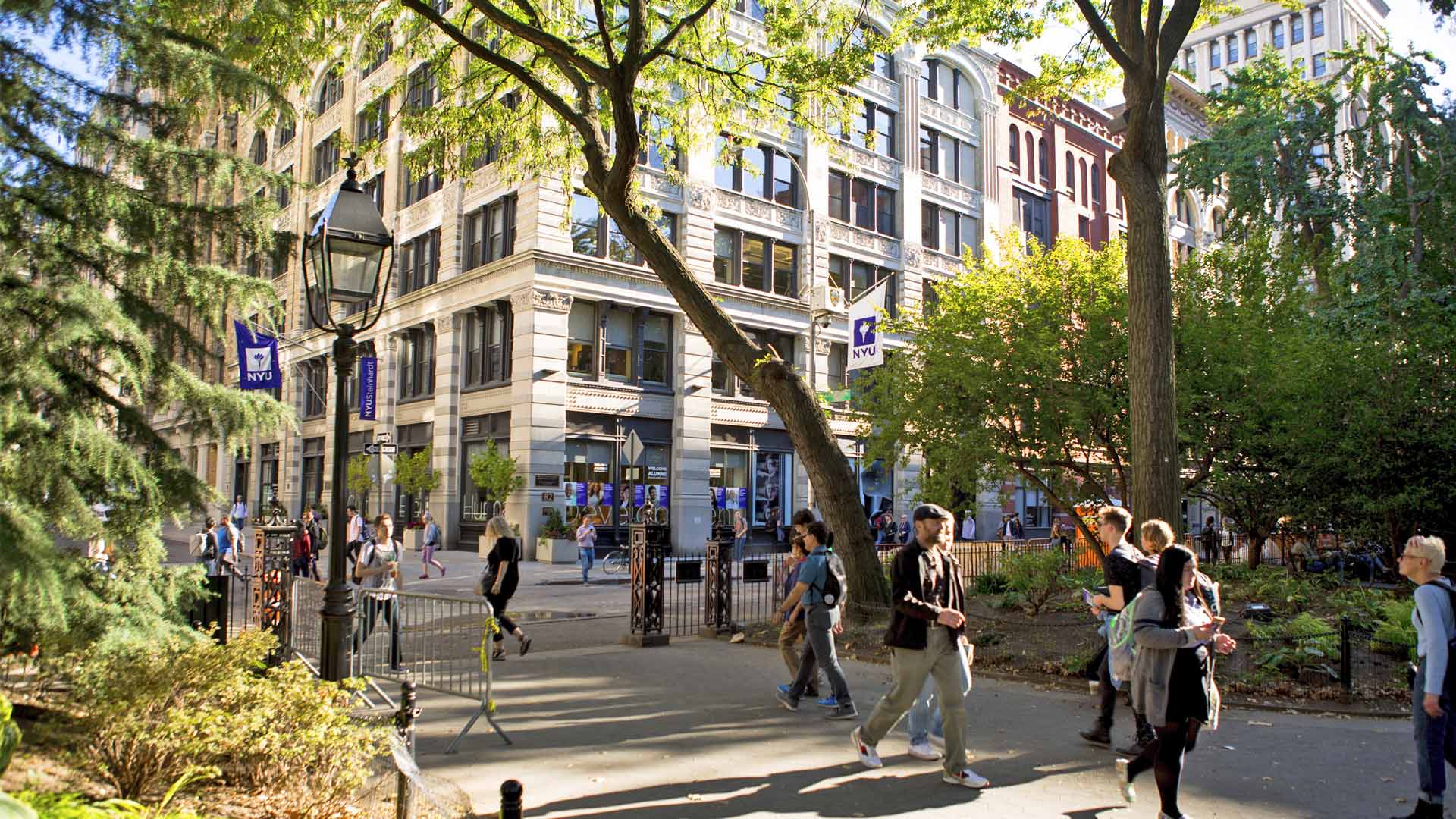 We are all in this together!
As we begin our "new normal" of working remotely, the NYU School of Global Public Health continues to monitor and respond to the coronavirus disease (COVID‑19) outbreak. 
The Office of Student Affairs created this page to provide GPH students with resources and guidance for studying and working from home.
First and foremost, stay healthy and safe.
---
GPH Student Affairs Team
Please know the GPH Student Affairs Team cares deeply about you and is working around the clock with various GPH and University offices to resolve any questions that may arise amidst constantly changing conditions.
We will assist you during this time. Just know we will get through this together - one day at a time. 
The GPH Student Affairs team will continue to respond to your emails, to have advising meetings (remotely) and to assist however we may during our usual business hours (Monday-Friday 9am-5pm). 
All advising questions should be directed to your GPH Program Advisor. If you are unsure of whom to contact, do not hesitate to send an email to gph.studentaffairs@nyu.edu.
Please stay healthy, stay safe and take always good care of yourselves and the people you love. 
---
NYU Returns
Consult this page for official updates from NYU regarding the current status of the COVID-19 virus and its impact on the university community. 
NYU faculty, administrators, and staff have been focused intently and working on plans for academic year 2020-2021: developing new safety and health protocols, aligning courses and classes with health guidelines, upgrading technology, and enhancing professional support for faculty. We are committed to you, our students, receiving the excellent education you expect from NYU.
Testing & Quarantining | 

View the most up-to-date information

here

.

Campus Activities and Spaces | 

View the most up-to-date information

here

.

Health Information | 

View the most up-to-date information

here

.
➪ Supporting Each Other Through COVID-19
Coronavirus is not specific to any ethnicity or race, and NYU is committed to ensuring no one in our community is ostracized, bullied or mistreated due to ignorance around this disease. We're proud to report that the vast majority of our population has met this challenge with patience and understanding. If any member of our community believes they have experienced harassment or discrimination, we encourage them to report concerns to the Bias Response Line by email at bias.response@nyu.edu or phone (212) 998-2277.
---
International Students 
There are currently travel restrictions in place in many countries due to the ongoing 2019 coronavirus outbreak that may affect your travel. NYU OGS has compiled some resources to assist you in determining if you decide to travel internationally. As always, if you have any concerns, please contact the
Office of Global Services
. Any email updates sent from their office will continue to be posted also on their
Immigration Updates and Events page
For more information visit this page.
➪ Schedule an Online Appointment with an OGS Advisor
If you need to speak with an OGS advisor one-on-one, make sure to schedule an online appointment!  
Please note that this service is intended for newly admitted and currently enrolled NYU students in addition to NYU alumni. If you are a prospective student, please review NYU admissions information. 
➪ Applications and Document Pick Up
If you have applied for an updated I-20 or DS-2019 from the NYU OGS office, you can continue to pick up your document at the location you indicated in your application until Wednesday, March 18 at 3:00pm. If you instead prefer for your document to be shipped to you or you are unable to pick up your document by Wednesday, please complete the OGS document release form. Please remember, if you are leaving the US, you do NOT need your I-20 in order to leave the country. If at all possible, we are encouraging students to have us ship your document to you so that we can continue to support social distancing during this time.
If we have not yet printed your I-20/DS-2019, or you plan to submit an application to the OGS office soon, they will now be shipping your documents to you if you require a new I-20/DS-2019. OGS will continue to process all student requests during this time, though processing times have increased due to the current situation. Please know OGS is trying to work as quickly as they can.
➪ Travel Signatures Available by Online Requests
If you are traveling and need a travel signature on your I-20 or DS-2019, you can request a travel signature remotely by completing the OGS document release form. Please remember, if you are leaving the US, you do NOT need your I-20 signed in order to leave the country. If at all possible, OGS is encouraging students to have them ship your document to you so that they can continue to support social distancing during this time.
---
Applied PracticeThe GPH Practice Committee has determined that in light of the global pandemic, May 1st is not a realistic summer deadline for submitting the Practice Learning Contract (PLC).
As a result, this deadline has been moved to July 1st, 2020.
If you will need an extension beyond this date, please reach out to the GPH Applied Practice Office at gph.practice@nyu.edu to request one by June 30, 2020.
We hope this extension allows you to focus on your wellness, your spring coursework and not worry about searching for a practice experience at this time. We will work with you to be flexible in meeting deadlines as well as assist in providing resources and opportunities for internships.
☛ NOTE | If you are not able to finish the hours before classes start in September, you will be allowed to finish these hours during the Fall semester. 
Thesis Students
Students in Biostatistics (MS & MPH), Epidemiology and Social & Behavioral Sciences concentration
If you are taking Thesis I in the Fall you may concurrently complete practicum hours during the semester.
The access code to register for GPH-GU 2686 Thesis I (2) has been removed. 
Internship Students
MPH Students in Community Health Science & Practice, Environmental Public Health Sciences, Global Health, Public Health Management & Policy and Public Health Nutrition concentrations
You may continue to have the option to complete your practice hours exclusively in the Fall semester, along with your courses.
The Fall deadline for submitting your PLC is August 1st and will remain unchanged. 
The access code to register for GPH-GU 2359 Applied Practice Experience Seminar (2) has been removed. 
☛ NOTE | These changes will not have any impact on your program requirements and graduation.
You should also know that GPH staff and faculty are aware of the reduced internship opportunities available to you in the coming months and are working to build a list of internship opportunities specifically for your cohort in the coming weeks.
---
Student Remote Instruction Guide
➪ Access to Technology
You must have a computer at home with internet access and access to your NYU email account. If you do not have access to a reliable computer or reliable internet, please make your advisor and instructor aware of this right away (See additional info below about Library and Data Services Resources).
➪ Technology Skills
We believe you know how to use email, web browsers, word-processing software, download files, and create attachments. We kindly ask that you be open-minded during this time, willing to solve technology problems and not get easily frustrated with technology glitches. Your instructors will be empathetic of this unique situation, just as we hope you'll be empathetic with them. 
➪ Resources
Please contact askIT@nyu.edu (24/7) for technology assistance. You can also peruse the servicelink knowledgebase for troubleshooting guides for all NYU-supported tools (like NYU Classes, NYU Stream, Zoom, Google Drive, etc). 
Don't forget, your peers are your support! Don't hesitate to ask a friend for help or guidance should you need it.
➪ Communication
Be willing to communicate using technology tools like video or text chat and understand that quality learning can and will take place without in-person interaction. If you feel you are not following along or keeping up with the class material, we urge you to be proactive and alert both your instructor and your academic advisor of your situation. While only you are in control of your learning, we understand that remote-instruction will be new to many people, and we recognize this might take some patience and require additional accommodations.
➪ Zoom
Learn about using NYU's video conferencing platform, Zoom, by reading this Zoom Guide for Students. NYU Zoom is available to all current NYU community members! Zoom is a free, easy-to-use video and audio conferencing service.
For technical support when using Zoom, we recommend you contact Zoom's 24/7 technical support (this includes a chat function) for faster resolution. You can also review Zoom's support resources for answers to anything you might be unsure of.
➪ On-Campus Study Spaces & Coffee BreaksAre you on campus taking an in-person or blended class? Looking for a space to study in between classes?
Note: Checkout 
CUPS
app that helps you discover coffeeshops in your area and includes a subscription service for local coffee shops (15% off every cup).
➪ Be Proactive and Self-Motivated
Be motivated and disciplined with your assignments, and be always comfortable with reaching out and asking for help when you need it. Your instructor might be distracted by the task of providing remote instruction. This means you might need to be proactive with your education and ask for help and guidance when you feel like it is needed. 
➪ Time Commitment
Please devote to your remote-courses 6-9 hours a week for a 3 credit course, just like an in-person course. Please don't think that because it is offered remotely, it is less work or the quality is diminished. The work and quality will remain the same, it will just be delivered to you differently.
➪ Growth Mindset
Be sure to have a growth mindset and see struggles or difficulties as a natural part of getting better at something. When you encounter something you can't yet do, you should increase your effort and try new strategies. There are many people to support you at NYU (GPH Academic Advisors, GPH Student Affairs, NYU IT, NYU Wellness, etc.) should you decide you need assistance.
➪ Contacts
➪ Make A Plan
Remote-instruction will require increased structure and time management planning. Check your syllabus for course changes, and commit to due dates on your calendar. Designate study times for each class, and stick to them.
➪ FREE! Non-NYU Resources For Staying Organized
➪ Look Ahead
It can't be emphasized enough how important it is to look ahead when engaging in remote-instruction. Check the syllabus and course map for assignments that will be due. Always know when assignments are due, and don't wait until the last minute to complete them. 
Working from home can make you more distracted, and you might start to engage with course work at odd hours (like Sunday nights at 2 AM). Remember that your instructors may not be available outside their normal working hours. They might not be able to address your questions on the weekends. Plan for this, and be proactive with your outreach.
---
Travel Guidance
Check this page for travel guidance. You can always email travelsafety@nyu.edu if you have questions about specific destinations. Other NYU resources to use include NYU's travel guidance, and please register all of your travel plans (personal or otherwise) on NYU Traveler. Finally, ensure you have the SAFE NYU app installed on your phone, and that your phone is always charged during your travels.
---
Health and Wellness
NYU's Health and Wellness Center (HWC) provides comprehensive services available to you. We want to remind you about the services they provide and how they may apply to COVID-19. 
☛ Do not come directly to SHC if you have fever, cough, shortness of breath and/or trouble breathing – or if you think you've had contact with someone who has COVID-19. 
Additional health-related information from the University is available here.  If you are feeling anxious or uneasy, please don't hesitate to turn to the Wellness Exchange at (212) 443-9999, chat via the Wellness Exchange app (iPhone or Android) anytime, make an appointment, or email wellness.exchange@nyu.edu.
Lastly, check out NYU tips and resources to maintain your mental health.
MindfulNYU hosts a wide offering of FREE yoga and meditation classes throughout the week during the academic year. All classes are now being offered on Zoom and the schedule can be found on the NYU Global Spiritual Life Website.
NYU Wellness Workshops (previously known as "Toolkits") are designed to help students develop new skills that enhance personal, academic, and social well-being. 
NYU Relaxation Oasis A joint collaboration between Counseling and Wellness Services and the Wellness Exchange that was founded on the belief that mindfulness, the simple act of being aware of one's experience in the present moment, can be transformative to the NYU community.
Additional Non-NYU Health and Meditation Services:
---
Library and Data Services Resources
NYU libraries are working to make services and resources available virtually and in electronic formats. Do not hesitate to contact Hope Lappen (hope.lappen@nyu.edu) with questions or for assistance in finding alternative formats or resources.
One-on-one and small group consultations are available virtually.
In addition, Hope Lappen is offering informal office hours via Zoom for anyone who wants to drop in and ask a question (groups are welcome as well). Check the calendar for days/times and the link. No need to set up an appointment. 
➪ Additional resources
➪ E-resources
NYU Libraries already has one of the largest collections of e-resources for research and we're rapidly expanding! Find materials using the search bar on the library homepage.
In addition to long-standing collections available in Ebook Central we expanded access this week by adding the EBSCO ebook collection on a trial basis. Check out the EBSCO ebook collection and let us know if it's a resource you find useful.
You can also browse our databases.
➪ Computers and software
Virtual Computing Lab (VCL) is available for NYU students. Get started at the VCL webpage.
Students who need a computer for studying remotely may borrow a Chromebook for the rest of the spring semester by completing the NYU Chromebook Request Form.
➪ Have you borrowed materials from NYU?
Many of you who've borrowed materials from Dibner and Bobst (including the Avery Fisher Center and the Computer Center) don't plan to be back on campus till Fall Semester, so you want to extend your due date beyond May 22nd. Works for us!  You can renew your borrowed items through Tuesday, September 8, 2020.
➪ IT Student FAQs
If a student does not have a functioning computer/laptop

,

they can request to borrow a Chromebook from the university by completing the

NYU Chromebook Request Form

.

If a domestic student is without access to home internet service

, we are encouraging them to explore this

list of internet service providers

from Educause offering free or discounted services to college students during this period.
---
Wasserman Career Development Center
As of Friday, March 13th, the Wasserman Center physical locations are closed, but all staff are working
remotely
until further notice.
---
Additional Non-NYU Resources*
Remaining inside is a good way to protect yourself and others from the coronavirus, and is an important measure to help "flatten the curve" of daily cases that put pressure on our health care system. What's there to do while stuck indoors? We've compiled some suggestions to help make your time self-isolated as interesting – and perhaps even as productive – as possible.
☛ Note | the websites on this page are provided to assist you with your search based on feedback from other students who found the sites helpful. Please keep in mind that NYU does not have any relationship with these companies and inclusion on this list does not constitute a recommendation or endorsement.
➪ Responsibilities
Get your taxes ready

| 

With no brunches to go to, games to watch, or really any public fun to be had, this is the perfect time to start wrapping up your taxes.

Clean and get organized

 | 

Cleaning is something that's necessary to do. Do your laundry, purge your home clean, and tidy up like there's no tomorrow. Let your creative side show and take an opportunity to make some fresh and new executive decisions for your living space. Move things around, play with your decor, give things a springy new feeling!

Exercise

| 

Quarantine or not there's still plenty of ways to stay in good health. It might not be the same as your routine workout but there's plenty of options and workouts that are being streamed to do from home.

Check in on those close to you

| 

Having strong mental health in times of seclusion is certainly as important as having good physical standing too. Call or Facetime your friends and family routinely, it will be much appreciated. Apps & Software that

enable group video chatting are

Houseparty

&

Zoom
➪ Online Streaming Services
➪ Audiobooks
➪ Things to do
➪ Virtual Museum Tours & Field Trips
As governments across the world implement social distancing efforts to curb the spread of coronavirus.  This left operators of tourist attractions with the opportunity to develop a new way of engaging people! Museums, historical sites, and national parks have stepped up to deliver their signature experiences by offering virtual tours to anyone from the comfort of their homes.

Take a break from studying to get lost on Mars, visit the inside of an active Volcano, or the first-ever- Museum of the World because the Student Affairs Team, compiled some of the top-rated virtual experiences below:
➪ Resources for Parents
➪ Donate
➪ Industry Announcements
Spectrum | 

Community Assistance: We're committed to serving our valued customers and ensuring they maintain reliable access to the online resources and information they want and need. To ease the strain in this challenging time, beginning Monday, March 16, we commit to the following services. 

We will offer free access to Spectrum broadband and WiFi for new K-12 and college student households that our network currently passes for the next 60 days. We'll partner with school districts to make sure local communities are aware of these tools to help students learn remotely. We'll open our WiFi hotspots across our footprint for public use. We'll continue to offer Spectrum Internet Assist, our high-speed broadband program to eligible low-income households.

Xfinity | 

All Xfinity WiFi Public Hotspots are now open to everyone on the "xfinitywifi" SSID. Public hotspots can be found in small/medium businesses and outdoors in commercial areas. Non-Xfinity subscribers need to accept Terms and Conditions to access the network and repeat when requested to continue to receive free unlimited access.

Comcast | 

Offering

Internet Essentials

package free for low-income customers for 60 days.
Contact NYU IT for 24/7 technology assistance