Meet the Lab Director
Emmanuel Peprah, PhD is an Assistant Professor of Social and Behavioral Sciences, and the Director of Implementation Science for Global Health at New York University College of Global Public Health (GPH). Dr. Peprah has extensive experience developing a portfolio of funded research that addresses the burden of both communicable and non-communicable diseases by utilizing methods that promote the uptake of evidence-based interventions (EBIs) into routine clinical practice and community settings in low resource settings.
Implementing Sustainable Evidence-based interventions through Engagement (ISEE) Lab at NYU School of Global Public Health
---
Mission
To educate, to discover, to engage, and to improve the health of communities in low- and middle-income countries via delivery of evidence-based implementation strategies to achieve optimal health outcomes.
Vision
To develop
leaders
in implementation science who will transform global health and promote sustainable quality of life and wellbeing.
Goals
Faculty and students in Dr. Peprah's laboratory, Implementing Sustainable Evidence-based interventions through Engagement (ISEE Lab), focus on the following areas: 1) advancing the science of implementation via instrument development or adaption, 2) maternal child health, 3) sickle cell disease, and non-communicable disease, 4) HIV/AIDS and communicable disease, and 5) global health, genomic medicine, and health equity. We strive to understand the who, why, where, and how interventions are adopted and maintained by certain communities and not others. Because context is important to consider in global health improvement endeavors, approaching interventions with cultural sensitivity and innovation for diverse populations in low resource settings and continuous engagement of key stakeholders is crucial to improving health outcomes and wellbeing. Our research is based on well-studied implementation science principles, theories, frameworks, and measures.
 
---
Research GroupsSection on Advancing the Science of Implementation in Global Setting (ASI)
Many instruments have been developed to improve fit of an evidence-based intervention (EBI) for the context. However, tools that address implementation outcomes (e.g., feasibility, appropriateness, adoption, sustainability) and scalability have not been readily adapted to low- and middle-income countries. Moreover, as the field continues to evolve, there is an opportunity and need to develop strategies that can assist researchers/policy makers/practitioners identify the best evidence for implementation in global settings. The research that ASI undertakes, has a core mission of developing tools/instruments/methodology  to advance the field of implementation science by either creating and/or adapting available tools/methods in a context specific manner for low resource settings. This includes novel processes to evaluate the quality of evidence to produce the optimal intervention and/or implementation strategies to address our core research priority areas, including maternal health, sickle cell disease, HIV/AIDS and non-communicable diseases such as CVD. The core of ASI is evidence generation to guide the development of hybrid implementation studies that assess the clinical effectiveness of EBIs focused on our core priority research areas. ASI underpins the research of ISEE and its tools and methods develop interdigitate IMH, ISCD, and IPWH, as described below.
Our work:
Instrument to evaluate Feasibility of Implementation Outcomes in LMICs 

Develop and administer a survey to capture researchers/experts/implementers' perceptions of contextual factors influencing feasibility of CVD-related EBIs in LMICs.

Test psychometric qualities of survey questions to situationally tailor new or existing feasibility assessment tools suited for LMIC settings. 

Assess relative weights of contextual factors' influence on feasibility of EBIs in LMICs.  

Meta-analysis for Assessing Quality of IS outcomes

Create new consolidated framework for conducting meta-analysis of implementation science-focused systematic reviews.

Test usability of new framework in assessing quality of studies and synthesizing data extracted for implementation science-focused systematic reviews.
Section Leader: Temi Ojo, MPH (to790@nyu.edu)
 
Section on Adapting Interventions to Improve Maternal Health Outcomes (IMH)Globally, obstetric hemorrhage (OH) remains the leading cause of maternal mortality, despite the fact that most cases are preventable. Much of the OH-associated mortality is ascribed to challenges surrounding deployment of interventions rather than a lack of available evidence-based interventions (EBIs). In low- and middle-income countries (LMICs), where OH-attributable mortality is highest, there is a growing interest in implementation research as a means to bridge the 'know-do' gap between proven interventions and their reliable implementation at scale. The maternal health outcomes section of the ISEE lab focuses on implementing EBIs to prevent OH through collaborative implementation research with partners in LMICs (e.g.,Tanzania and Nigeria). We are engaged in proposed research that will assess contributing factors to OH-related morbidity and mortality at urban facilities in Nigeria. Results of needs assessments will inform development of an EBI to prevent OH: a modified tool developed in the US to assess OH risk during the antenatal period. This tool will be adapted to the local context and integrated into systems for timely referral of those at greatest risk of OH to tertiary hospitals with capacity for emergency comprehensive obstetric care (EmOC), including transfusion of blood and blood products.  
Our Work: 
Collaborate with Institute for Health Metric (IHME) on Global Burden of Disease for Maternal Health outcomes data

Conduct a hybrid clinical effectiveness and implementation trial of an insertable vaginal cup to help women manage urinary incontinence due to obstetric fistula and improve quality of life
Section Leader: Nessa Ryan, PhD, MPH (ryann01@nyu.edu)


Section on Implementing EBI for Sickle Cell Disease (ISCD)
Sickle cell disease (SCD), an inherited blood disease characterized by anemia, severe pain and other vasoocclusive complications, and early mortality, is endemic to populations residing in sub-Saharan Africa, yet evidence-based interventions are rarely available, accessible or widely adopted for disease management. The mission of the section for SCD at the ISEE lab is to understand the who, why, where and how interventions for SCD management are adopted by certain communities and not others, and ultimately implement sustainable and scalable evidence-based interventions in a context appropriate manner. Because context matters, approaching interventions with cultural sensitivity and innovation for diverse populations in low resource settings, and continuous engagement of key stakeholders is key to improving health and overall health outcomes. Currently, we are examining the evidence in the existing published literature for sickle cell disease management strategies in low-and middle-income countries. Findings will inform the most effective evidence-based interventions and suitable implementation strategies for SCD management in low-resource settings.
Our Work: 
Collaborate with investigators in the Sickle Pan-African Research Consortium (SPARCo) to develop EBI to address SCD

Develop an evidence-based protocol to assess implementation outcomes of EBI for SCD in LMICs

Assess the scalability of EBI for SCD management in LMICs
Section Leader: Joyce Gyamfi, EdD, MS (gyamfj01@nyu.edu)


Section on Advancing EBI to Improve Outcomes for People Living with HIV/AIDS (IPWH)
Sub-Saharan Africa (SSA) has large populations of people living with HIV (PWH), with most individuals on antiretroviral therapy (ART). Available data from United Nation Office of Drugs and Crime (UNODC) indicate that drug use is increasing in the general population for countries where data exists (e.g., Nigeria and South Africa) but in other countries (e.g. Uganda), data is lacking. Moreover, it has been documented that PWH both in the United States and some African countries (e.g., Nigeria and South Africa) have a higher prevalence of alcohol or tobacco use compared to the general population. Although data are available for the general populations; data on Substance Use (SU )for PLHIV in SSA does not exist in a rigorously collected, large scale population study.  The section on HIV/AIDS will build the capacity of rigorous data availability by creating a new cohort of PWH who use substances (i.e., HIV+/SU+) in Africa, and characterize the magnitude of SU and substance use disorders (SUD) in Nigeria, South Africa, and Uganda. This discovery cohort will document and elucidate the several aspects of substance use (e.g., frequency, and periodicity), mortality, clinical outcomes, and elucidate inflammation associated with SU for PWH in SSAs. We will use a multi-omics approach (i.e., genome, transcriptome, and proteome analysis) to elucidate genetic inflammasome activation in PWH in SSA populations and examine its relationship to SU frequency.
Our Work: 
Section leader: Emmanuel Peprah, PhD (ep91@nyu.edu)
---
Areas of Interest/ Collaboration
Global Public Health,  Genomic Medicine, and Health Equity:Although ISEE is interested in assessing EBI and implementing interventions to improve health outcomes for global populations, we also have an interest in promoting groundbreaking genomic and epidemiological research that elucidate disease and disorders in understudied populations. Dr. Peprah has been cited in some notable publications highlighting the significant perspective that broad representation of populations is needed in genetic studies. With inclusion of diverse populations, we can better understand the molecular and genetic mechanism that underlie disease. This knowledge is essential to develop EBI that can address disease management and control. 

Dr. Peprah has championed a public health and genomics medicine approach a in a few notable articles that have been published in the lay media.

Global Public Health and Genomic Medicine

Global Public Health and Health Equity 
ISEE has an interest in working with various partners, both local and global to advance our core priority areas. If you have an interest in working with us on these projects please email Dr. Joyce Gyamfi. NYU student inquiries are welcomed.
---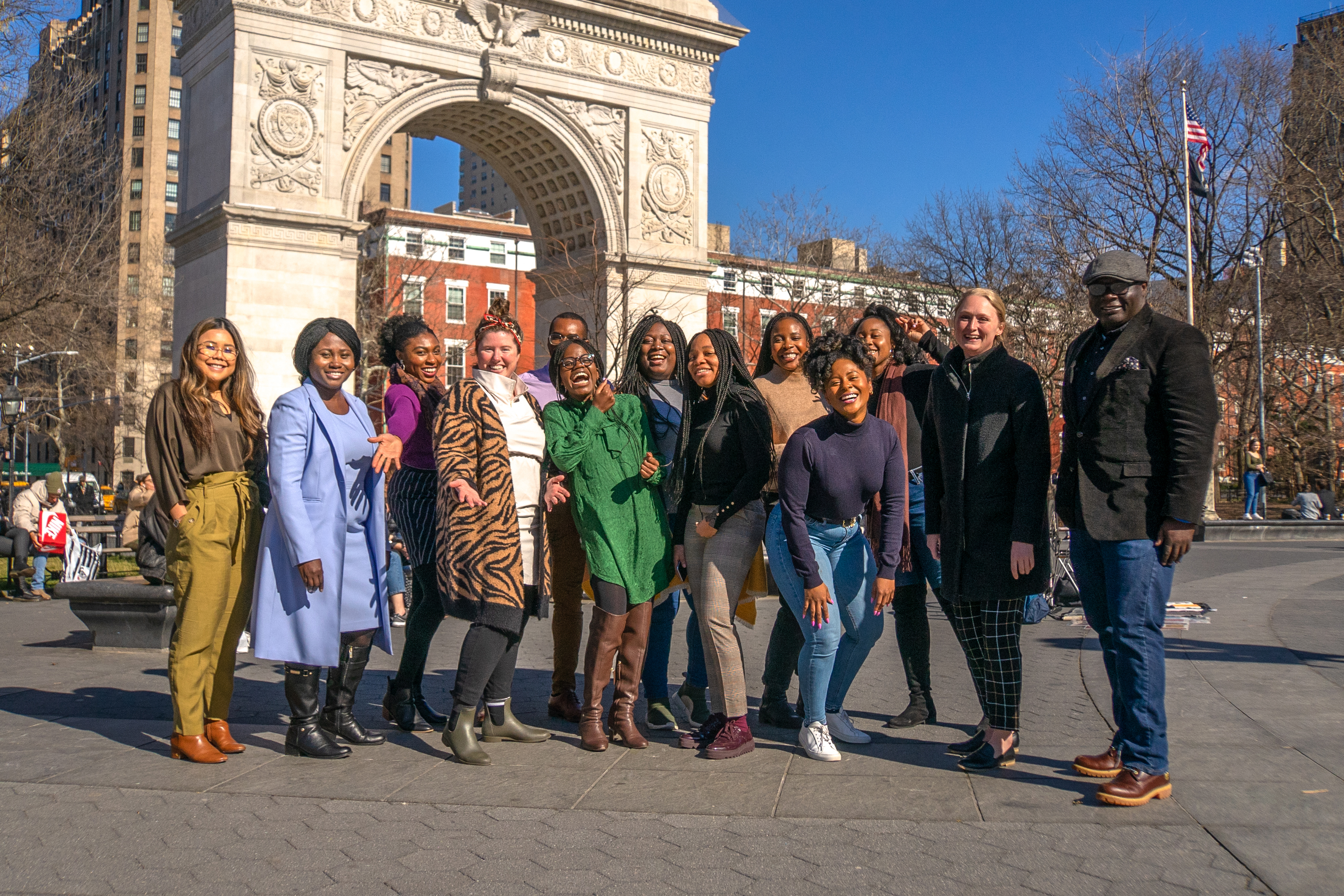 ISEE Lab Members
ISEE is composed of talented multidisciplinary individuals with various areas of expertise level and diverse areas of concentrations including Epidemiology, Biostatistics, Community Health, Health Education, Healthcare Management, Genetics, and Global Health.  ISEE is something that grew organically and included very high preforming self-motivated individuals. As a laboratory, we not only learn, but grow, and value team work to accomplished our important and impactful work. 

Dr. Emmanuel Peprah, ISEE Lab Director 
Dr. Nessa Ryan, IMH Section Leader
Dr. Joyce Gyamfi, ISCD Section Leader
Ms. Temi Ojo, ASI Section Leader

Current Students (2019-2021 Cohort)
Deborah Adenikinju
Bethanny Boyd
Chinenye Chukwu
Nicole Dastparvardeh 
Amy Diawara
Lotanna Dike 
Chioma Egekeze 
Scholastica Enechukwu 
Sabrina Epou 
Harshit Nanda 
William Nkemdirim
Anya Snyder 
Siphra Tampubolon 


All lab members are provided opportunities to build critical analytical skills, options for presentations, and interpersonal skills development through contributions to meetings, literature reviews, data analysis, manuscript preparations, conference presentations, IRB submissions, and grant proposals, and other activities.