November 1, 2018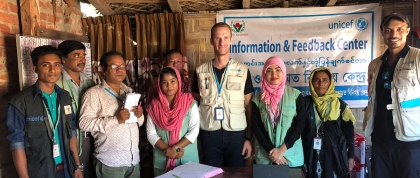 Global Health Students' Experiences Working with Rohingya Refugees
Pictured Above: Corbin meeting with Information & Feedback Centre staff.
In October 2018, MPH students Emily Holzman, Jessie Drescher, and Corbin Kappler, from the global health concentration, completed their internship experience with UNICEF's Cox's Bazar field office in Bangladesh. The students had the opportunity to join experts in the field, gain experience in the UN system, and develop an in-depth understanding of the programs being implemented in Cox's Bazar. Reflecting on the internship, Emily stated: "This experience was truly invaluable—working directly with Rohingya refugees provided so much insight into how humanitarian response works and its effect on these populations."
Over the course of the 6-week internship, each student worked on individual projects to assess current programs in the camps, collect community feedback, and make recommendations for future interventions. The projects focused on strengthening the link between various parts of the agency and communicating with communities. Emily, for example, worked directly with the Nutrition Sector to assess community perceptions and beliefs around nutrition services. She also evaluated the feasibility of establishing community feedback meetings in the camps, where community members could come together to discuss their opinions around nutrition practices. Through working with the Health Section, Jessie concentrated her efforts on designing a community vigilance team that would mobilize during and after a cyclone to keep the community informed of where to access health services. This project sought to create a system that could assist in avoiding a largescale disease outbreak. Finally, Corbin project focused on the impact of the information & feedback centers that are intended to provide Rohingya with key life-saving behavior messaging as well as information on services within the camps. His evaluation provided insight into areas to strengthen ties with the community as well as more efficient ways to manage the way information is disseminated within the camps.
To carry out each of these projects, the students attended sector-level meetings, received feedback from UNICEF colleagues, conducted research, and most importantly, spoke with and listened to community members. Through key informant interviews and focus groups, the students learned about how Rohingya seek services, different barriers to accessing care, and more. At the culmination of their experience, the students presented their findings and recommendations to UNICEF's Cox's Bazar and Dhaka offices. The feedback from UNICEF was positive, and the students hope to return to Cox's Bazar to ensure the implementation of their recommendations within the programs. The group also plans to present their work at UNICEF HQ in New York in the coming weeks.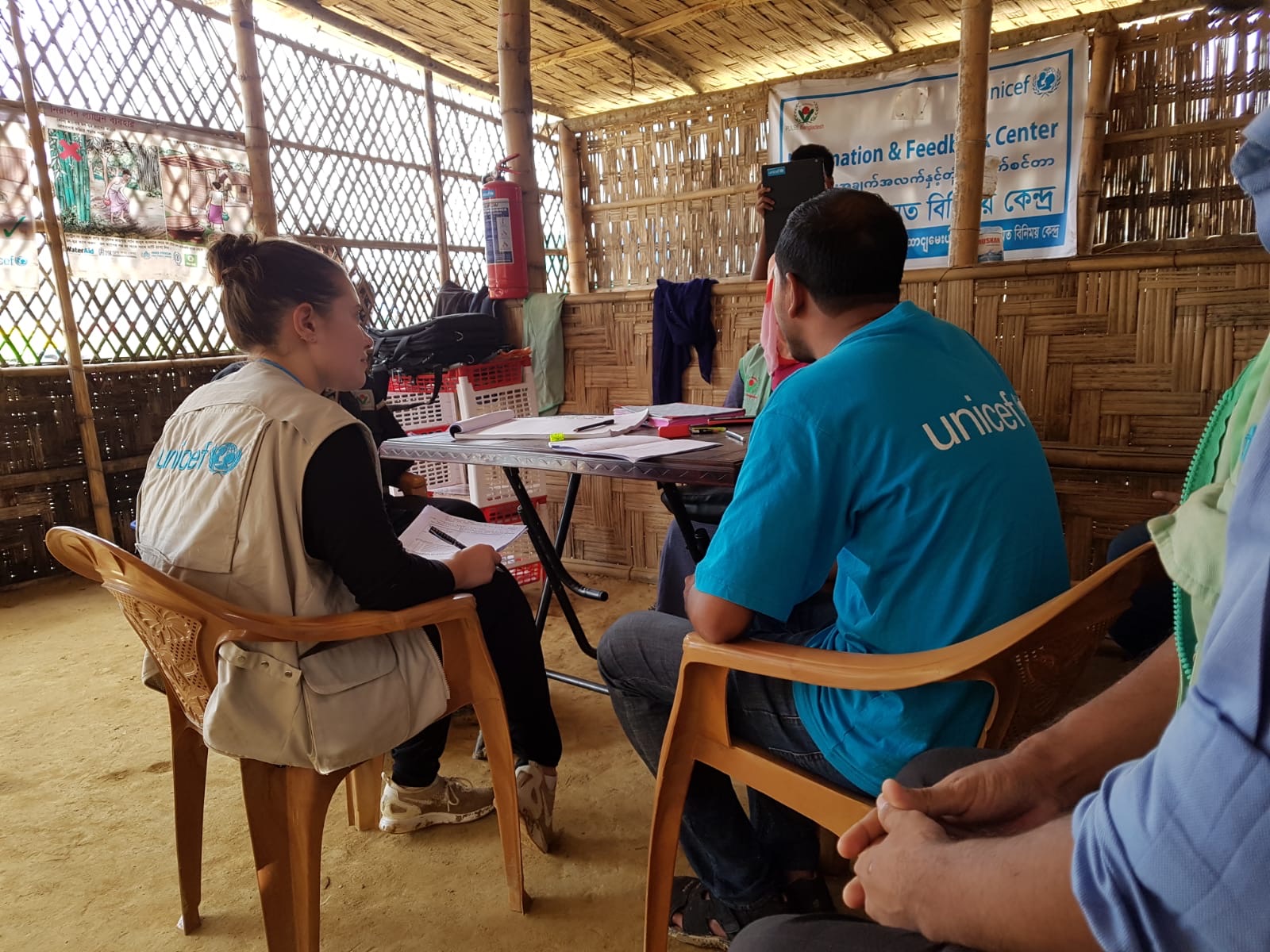 Pictured Above: Emily conducting key informant interviews in a camp.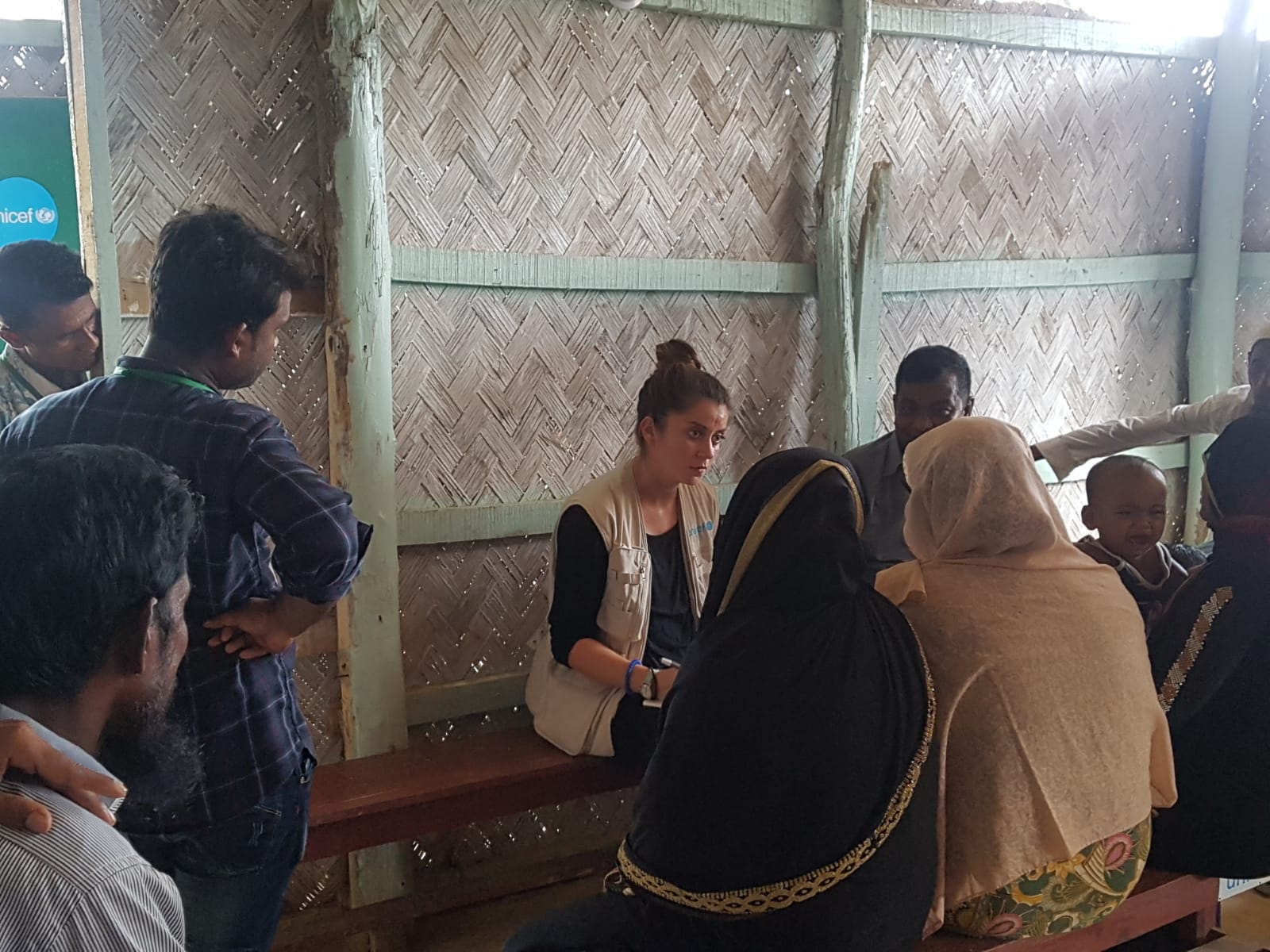 Pictured Above: Jessie conducting a focus group in a health center.