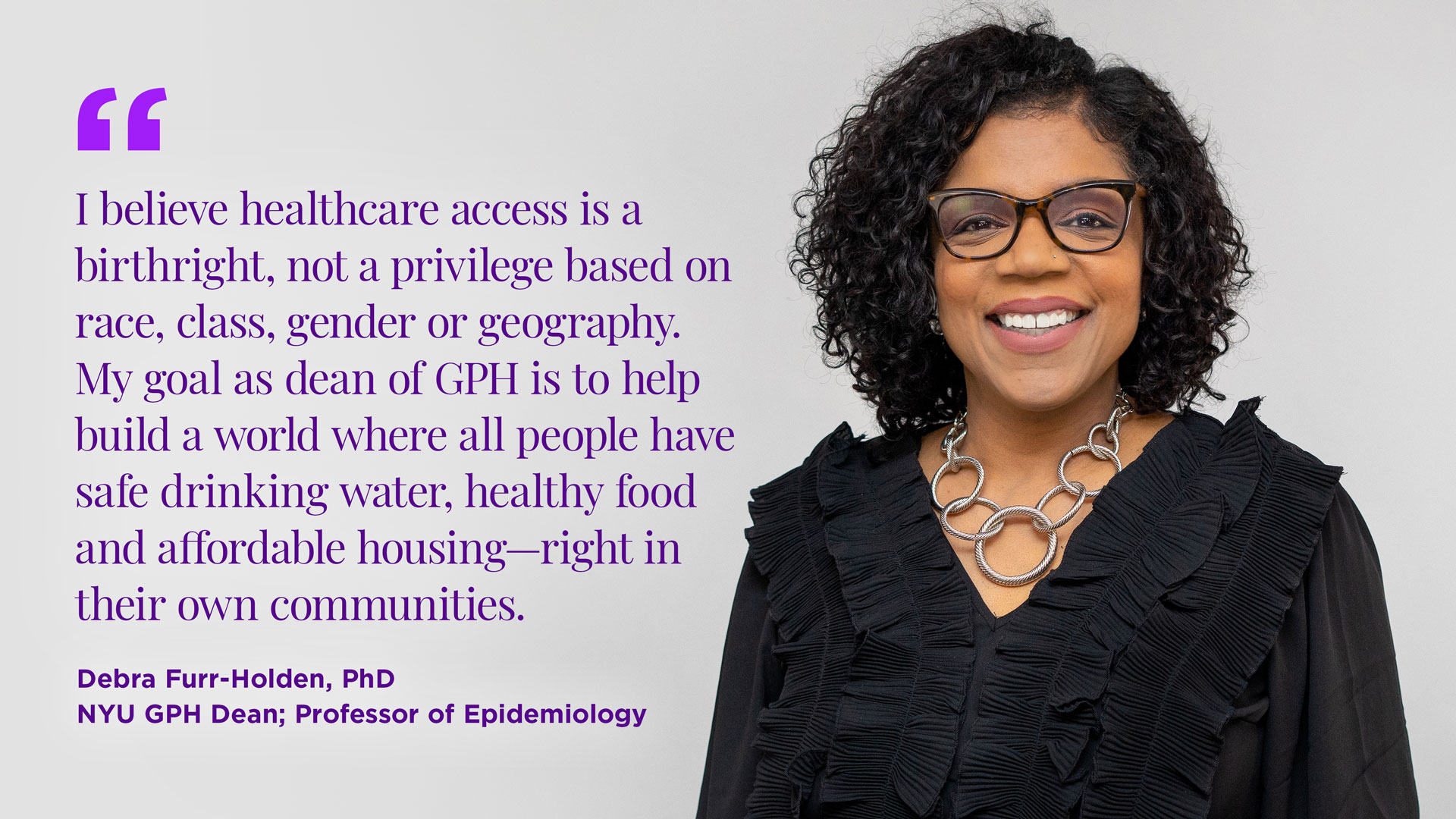 Of all the forms of inequality, injustice in healthcare is the most shocking and inhuman.
Welcome to the NYU School of Global Public Health! I'm so glad you've been called to explore the field, whether you found your way here as a prospective student, applicant to a faculty or staff position, or as a potential donor.
I stumbled into the field of public health as an undergraduate research assistant, and early on I realized how critical prevention is to the equation of health. Public health spoke to me in a powerful way: the idea that I could prevent people from getting sick in the first place by impacting the environments where they live, work, play, worship and go to school. I fundamentally believe that people should be able to age in place and maintain their dignity at the same time.
This fuels my passion to bridge the health disparities gap. Despite innovation and technological advances in public health, people globally are suffering and dying from preventable and treatable conditions. Why can't they experience health and healthcare access as a birthright, not as a privilege based on race, class, gender or geography? I believe that together, we can build a world where this is indeed possible. My work in Flint, Michigan during the Flint Water Crisis called me to stand for a world where all people are ensured access to basic human commodities like safe drinking water, healthy food and affordable housing -- right in their own communities.
I truly believe that the work we do to ensure global health equity must be done with people, and not for them, or on their behalf. As a leader in public health, NYU GPH has the honor, privilege and opportunity to elevate the training and capacity of people around the world to powerfully transform the global health landscape. I'm proud to stand alongside some of our brightest and boldest leaders to do that work.
Public health is full of extraordinary people who are drawn to the field with a burning desire to make a difference in the world. If you've heard a similar calling, I encourage you to answer it right here at NYU GPH!
Debra M. Furr-Holden, PhD
Dean of the School of Global Public Health;
Professor of Epidemiology
gph.dean@nyu.edu
---
About the Dean
The NYU School of Global Public Health begins a new chapter along its path to excellence in education, research, policy and practice with the appointment of C. Debra M. Furr-Holden, an epidemiologist and passionate advocate for health equity, as Dean of GPH and Professor of Epidemiology. A public health professional with broad expertise in health disparities and policy-level interventions toward health equity, her scholarship encompasses a range of topics including drug and alcohol dependence epidemiology, psychiatric epidemiology, and prevention science.
Dean Furr-Holden hails from Michigan State University, where she was the C.S. Mott Endowed Professor of Public Health and associate dean for public health integration. In announcing her appointment, effective July 2022, NYU President Andrew Hamilton noted Dr. Furr-Holden's extensive experience working with local and national policymakers, her skill at team-building and success as a mentor, and her exceptional talent as a communicator on public health and health equity issues.
Indeed, it is Dean Furr-Holden's action-oriented research and commitment to training the next generation of public health practitioners that dovetails perfectly with GPH's mission to use data-driven interventions and cutting-edge innovation to identify and implement equitable solutions to both domestic and international public health challenges.
In addition to her endowed professorship at MSU, Dr. Furr-Holden served as director of the NIH-funded Flint Center for Health Equity Solutions at the College of Human Medicine. During the Covid-19 pandemic she was appointed to the Michigan Coronavirus Task Force on Racial Disparities, the Greater Flint Coronavirus Task Force on Racial Inequity, and the New York City African American Covid-19 Task Force. Most notably, in Michigan and Flint the racial disparity in Covid-19 cases and deaths among African Americans was eliminated.
Prior to her appointments at MSU Dr. Furr-Holden was an assistant (2007) and later associate (2011) professor at Johns Hopkins' Bloomberg School of Public Health, where she retains an appointment as an adjunct professor. Before Johns Hopkins, she was a research scientist at the Pacific Institute for Research and Evaluation and a faculty member at Morgan State University.
Dean Furr-Holden is a widely published scholar whose writings include more than 120 peer-reviewed papers in high impact journals. In 2021 she published a seminal article in Addiction that highlighted racial disparities in opioid overdose deaths over the past two decades, and she was recently quoted in an exclusive article in The New York Times examining the demography of deaths nationwide from Covid-19.
Dean Furr-Holden is the recipient of numerous awards and honors, including the White House Presidential Early Career Award for Scientists and Engineers; the Michigan State University College of Human Medicine Junior Faculty Mentoring Award; and the Meeting the Moment for Public Health Award, recognizing the Michigan Coronavirus Task Force on Racial Disparities, of which she is a founding member.
She received her BA from Johns Hopkins University's Krieger School of Arts & Sciences, and her PhD from Hopkins' School of Hygiene and Public Health (now the Bloomberg School of Public Health).
Sign up for the Public Health Roundtable newsletter for updates from the NYU School of Global Public Health