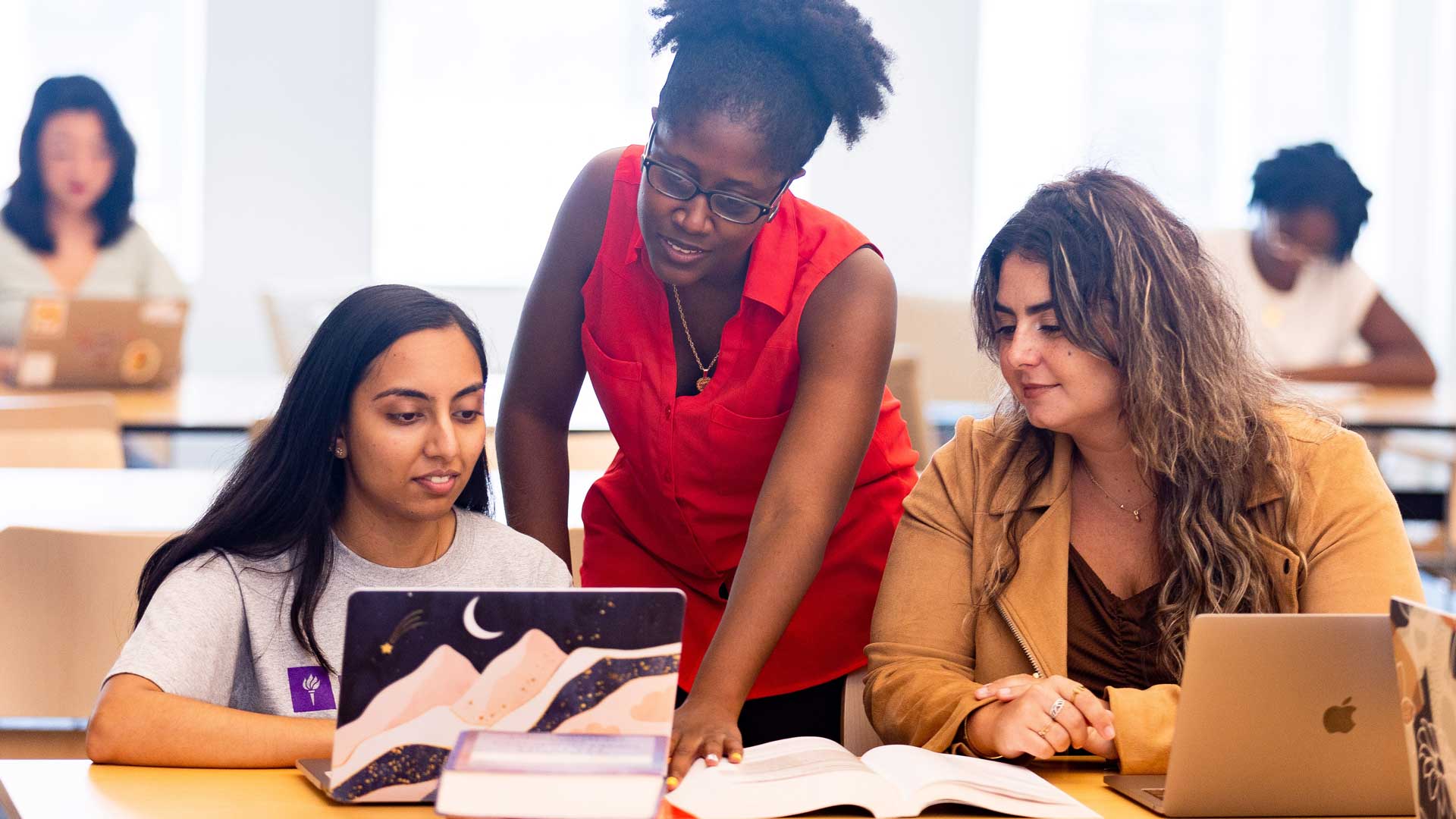 Welcome In-Person Students!
Congratulations again and welcome to NYU School of Global Public Health! 
We are very proud to count you as members of our community and are looking forward to meeting you and working closely together over the next few years! 
There are a few things you need to do prior to your first day and the GPH Office of Student Affairs has put together a checklist to help you get started here at NYU. Please refer to the next steps below to get started.
If you have any questions please do not hesitate to reach out to us via email to:
or connect with your onboarding ambassador.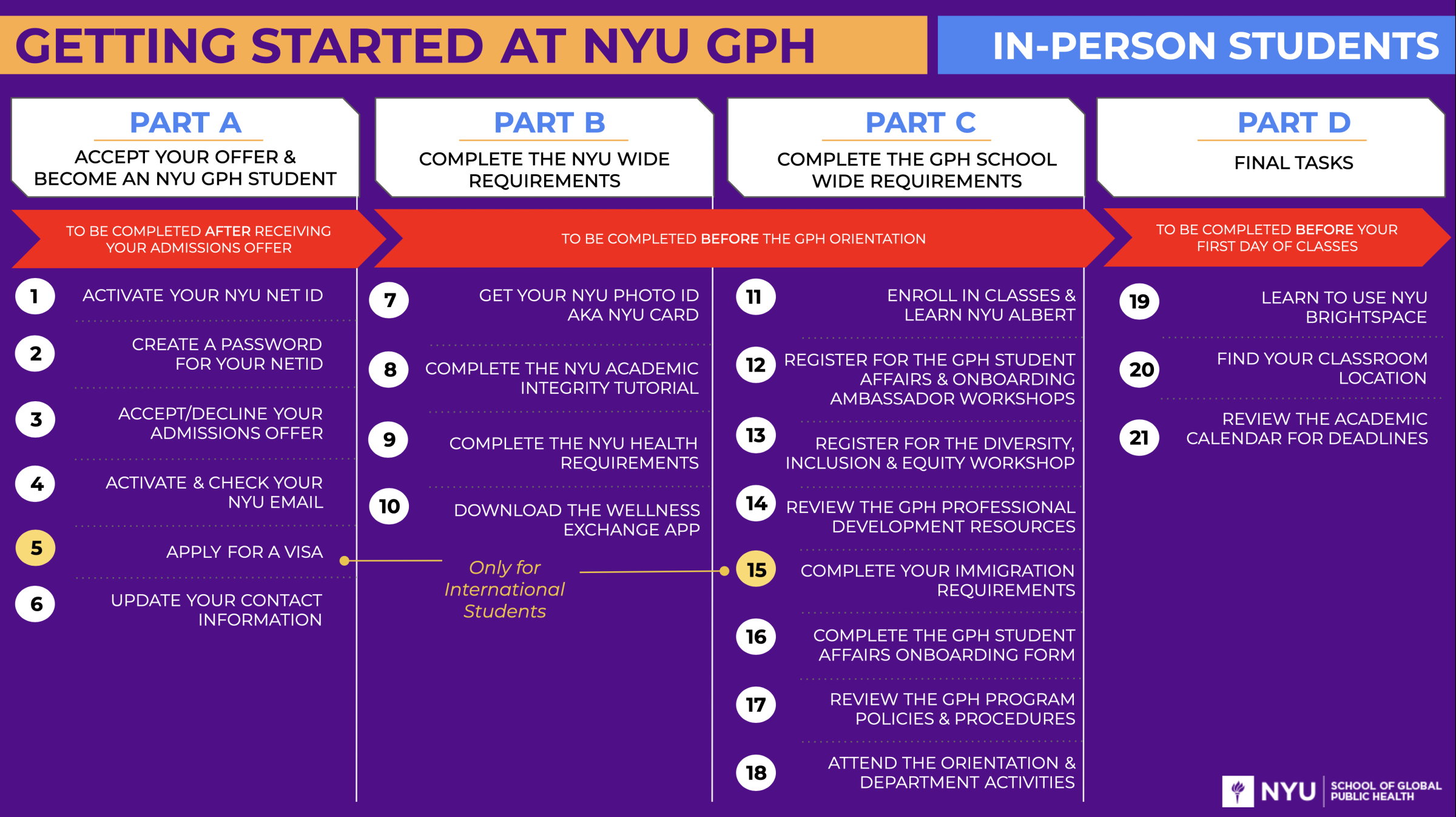 Resources in one click:

PART A | RIGHT AFTER RECEIVING YOUR ADMISSIONS OFFER
---
1 - Activate your NYU Net ID
Included in your acceptance email is your official University ID number (often it will be referred to as your N number because it starts with an N, and is followed by 9 digits). Write this number down or memorize it, as you will be asked for it throughout your academic career. At GPH, it will serve as your on-campus identification number. For example, you will need to provide your N number to schedule appointments at the Wasserman Center for Career Development or at our Health and Wellness Center. 
Now that you have a University ID, you must also activate another form of NYU identification called a NetID.
To obtain your NetID, log on to

https://start.nyu.edu

.

Click on the link on the right that says "

Don't know your NetID

?"

You will then be prompted to input your University ID number, date of birth and personal email address, if you have one.
After you have entered this information, click on "Continue" and you will be assigned a NetID.
Your NetID is a combination of your initials and a few random numbers, e.g., aqe123. It is different from your University ID.
Once activated (see below), your NetID provides access to authorized NYU online services and applications via desktop computers, laptops, and mobile devices, including end user devices such as laptops. Your NetID is your username for all NYU online services, including your NYUHome account, ALBERT, NYU wi-fi, as well as off-campus access to the New York University Libraries resources.
Your NetID is also used to create your default NYU Email address (e.g., aqe123@nyu.edu).
---
2 - Create a Password for your NetID
Once you have obtained your NetID go back to https://start.nyu.edu.
Toward the bottom of the page you will see a place to input your NetID and password.

Fill in your NetID and click "

Start

" (leave the password blank). 

This will prompt you to create a password, allowing you to log onto

NYUHome

. 

Passwords should be a mixture of letters and symbols, such as a combination of letters and punctuation. See also

NYU NetID: Password requirements and security tips
Visit the the IT Service section on the Current Student page if you would like to:
Change your current NYU NetID password
Reset a forgotten or expired NYU NetID password
Learn how to use the Multi-Factor Authentication (MFA)
---
3 - Accept/Decline your Admissions Offer
How to Accept Your Offer of Admission
To accept or decline your offer of admission you'll need to take the following steps:
1.) First, make sure you've logged in to the application portal to view your decision.
You will need to log in to the GPH Application Status Portal. To access the portal, you will need to use the Net ID and password you would have set up when you first applied. If you have not yet activated your net ID and set a password, go to the NYU Start Page and follow the instructions by clicking on the panel that says, "Activate NetID". You will then be prompted to enter your University ID, which was sent to you by email by gph.admissions@nyu.edu. The email subject line is "How to Accept your NYU Offer of Admission"
2.) Submit the Offer Reply Form
Once you've viewed your offer of admission, you'll see a link in the portal called "Respond to Your Offer of Admission". You'll need to submit this form to accept your offer and reserve a seat. If you have any questions or issues accepting your offer of admission please email gph.admissions@nyu.edu. 
Final Official Transcripts
☛ IMPORTANT NOTE: New York University and the School of Global Public Health mandate that all newly enrolling students have final official transcripts or WES evaluations (for international candidates) on file before the start of classes in the first term of registration.
If you have not done so, you must send a final, official transcript to the Office of Admissions at the address provided below or you can request to have your prior institution send electronic copies directly to gph.admissions@nyu.edu. Any transcript/WES evaluation you mail must be an original, official transcript with your degree conferral date listed in a sealed envelope with the Registrar's stamp or signature to be considered final and official.
Documents in a language other than English must be accompanied by notarized translations. Failure to do so before the start of the first term will result in a hold being placed on your registration.
Transcripts can be sent to the following address:
NYU Global Public Health, Office of Admissions

Attention: Final Transcripts
For any questions about your admissions offer or submitting your transcripts please email gph.admissions@nyu.edu.
Important Note
If for any reason you are no longer attending NYU GPH after accepting your initial offer, you must notify this change of status as soon as possible to avoid unexpected charges.
Please send an email communicating this change of status to all the following offices (you can copy all in the same email):
---
4 - Activate & Check your NYU Email
After you have activated your NetID, the system will process the activation, and your NYU Email and Google Education Accounts will automatically become active. Please allow the system time to process the activation of your credentials.
Once your NYU email is active, you can access your account via NYUHome by clicking the "NYU Email" card or navigating directly to email.nyu.edu.
☛ IMPORTANT NOTE: It is NYU policy that all communications are sent via NYU email. Incoming students must check the NYU email very often and use their NYU Email from now on.
See also:
---
5 - Apply for a Visa | Only for International Students
If you are studying at NYU GPH on a F1 or J1 visa, please review the information on the International Student Page: Preparing for your Arrival in New York City | Before you arrive.
Obtaining a visa is a crucial aspect of the preparations international students must make before arriving in New York.
The application process involves several tasks, so students are advised to take special care in filling out the required forms and to allow plenty of time for processing.
☛ Incoming International Students who need assistance with visa related questions and guidance on the visa interview process should reach out to newinternationalstudents@nyu.edu and including in their email message:
your NYU ID number (provided in your Admission Letter)
your NYU School (NYU School of Global Public Health)
your Country of Citizenship
---
6 - Update your contact information
It is important that you take the time to review, verify and update your contact information, which can be found under the "Personal Information" section of the Albert Student Center on NYU Home. Please be sure to review and update both your permanent and local addresses.
➪ NYU Emergency Alert
Please note that all students will be required to have an "NYU Emergency Alert" cellular phone number and emergency contact information on record in order to be eligible to register for classes. In order to avoid a delay in registering for your classes, we suggest that you verify this information prior to the start of the registration period.
➪ Pronouns and Name Pronunciation
Students now have the opportunity to add their pronouns, as well as the pronunciation of their names, into Albert.  Students can have this information displayed to faculty, advisors, and administrators in Albert, as well as other NYU systems. Students can also opt out of having their pronouns viewed by their instructors, in case they feel more comfortable sharing their pronouns outside of the classroom. To set  up your pronoun visit this page.
➪ Gender Identity in Albert
Students can indicate and edit their gender identity in their Albert Student Center. Students who would like to modify their gender identity on Albert or learn more should visit this page.
See also:

PART B | BEFORE THE GPH ORIENTATION
---
7 - Get your NYU photo ID aka NYUCard
☛ IMPORTANT NOTE: This step must be completed in order to attend the GPH Orientation.
Students must have an NYUCard in order to request services to gain entry into the libraries, Palladium Sports Centers, and all other University buildings. The NYUCard is also a way to get student discounts at museums around New York City. 
☛ All students studying on campus must get a NYUCard, NYU's student ID for entry into campus buildings and other campus identification purposes. You cannot get your NYUCard until after you register for class. 
Getting your NYU photo ID is now easier than ever. Starting here, you can now get your NYUCard in three easy steps.
➪ First Step: Log in at photoid.nyu.edu using your NYU NetID.
➪ Second Step: Submit your photo
Follow the instructions on the photoid.nyu.edu page to upload, crop, and submit your photo.
Submitted photos must meet the following criteria:
Your photo must be taken against a white background.

You must be facing straight towards the camera.

The top of your head and both sides must be completely visible in the photo.

You cannot be wearing a hat or dark sunglasses.

After cropping, your final photo must be at least 480 pixels wide by 600 pixels high.
➪ Third Step: Pick up your NYUCard
Once your photo is approved, you will receive an email to let you know where to pick up your NYUCard.
The name printed on your NYUCard will be your Preferred Name. Before submitting your photo, check your account in the Albert Student Center, to ensure your preferred name matches what you want to appear on the NYUCard.
Do not lend this card to anyone at any time for any reason. You can be subject to disciplinary proceedings if you are involved in fraudulent use of a NYUCard.
The NYUCard Center is located:
Washington Square Campus

| inside the Lobby on the ground floor of

7 Washington Place

(at the corner of Mercer Street).

Brooklyn Campus

|

inside

of

2 MetroTech Center

on the ground floor.
Information about the NYUCard Center's schedule may be obtained via this web page or by calling (212) 443-2273.
Students who need to replace a lost NYUCard will have the $25 replacement fee billed directly to their Bursar Accounts. 
It is important to not punch a hole in your NYUCard. Your NYUCard is a proximity card that includes a microchip and an antenna, punching a hole in your card will damage the microchip or antenna rendering it unreadable, and will result in a replacement charge of $25.
Should you have any questions, please contact the Card Center at nyucard@nyu.edu or 212-443-2273.
---
8 - Complete the NYU Academic Integrity Tutorial (Plagiarism)
While we all know stealing is wrong, recognizing plagiarism is not always as easy.
Plagiarism sometimes happens not as a result of conscious cheating, but because of a lack of understanding about what actually constitutes plagiarism.
This guide intends to:
clarify what plagiarism is,

identify the different types that exist, and

show you how to avoid it.
Recognizing the various forms of plagiarism is an important step in preventing it. Plagiarism is a serious academic offense and pleading ignorance will not protect you! 
As an incoming graduate student, you are required to complete the NYU Academic Integrity Tutorial. The tutorial will take around 30 minutes to complete. It is composed of three case studies: 
Getting Help

Working Together is Good, Right?

Plagiarism
At various points, you'll be prompted to answer questions, ​​​​​but there is no score or grade for this tutorial. Just be sure to read every slide carefully. 
Upon completion of this tutorial, you will be able to:
Understand academic integrity, plagiarism, and cheating.

Identify and locate NYU resources that support academic success.

Determine in which circumstances collaboration with other students is appropriate or permissible.  

Practice good decision-making whenever you draw on existing resources to create original academic work.
More information on Plagiarism and How to Avoid it can be found here.
Complete the NYU Academic Integrity Tutorial (Plagiarism)
---
9 - Complete the NYU Health Requirements
Next Stop NYU is the designed webpage that helps you navigate your path to New York University and through the mandatory health requirements, tasks, and deadlines. 
As an in-person student in New York City, you are required to complete all the following requirements that apply to you on the NYU Health Requirements Website and make sure you don't miss any:
Immunization Requirements

Student Health History Form

Sexual Misconduct Training "Think about it"

Enroll in or Waive NYU-sponsored Student Health Insurance
➪ Need Help Completing These Requirements?
Contact NYU Immunization Record Services to resolve any issues and ensure that you will not be de-enrolled. Don't wait until the last minute!
Complete the NYU Health Requirements
---
10 - Download the Wellness Exchange App
Download the Wellness Exchange App to chat with a counselor anytime. Literally 24/7. Available in six languages through the Wellness Exchange app for iPhone or Android.
The Wellness Exchange is your greatest mental health resource at NYU. Our 24-hour hotline can be reached at (212) 443-9999.

PART C | BEFORE THE GPH ORIENTATION
---
11 - Enroll in Classes and Learn NYU Albert
Shortly after you have accepted your offer and submitted your deposit, you will receive an email from the GPH Office of Registration with the courses to enroll in your first semester. You can also visit the webpage First Semester Courses by Concentration Page, where you can register for your courses using NYU Albert. 
This applies only to students enrolled in our master's programs. Doctoral Students will receive communication from their Doctoral Department (PhD or DrPH) regarding their classes.
Registration for Fall 2023 Incoming Students will open on Monday, June 5th, 2023.
IMPORTANT NOTEs
☛ It is your responsibility to register for courses in a timely manner. It is highly recommended that all students register for courses as soon as registration on Albert begins. 
☛ Students are responsible for any financial, administrative and/or personal arrangements that may affect timely course registration. Such arrangements include payment of outstanding balances, financial aid, immunizations, visa status, and employer work arrangements. 
Learn how to use NYU Albert:
ALBERT, the NYU student information services website, is easy to use and can provide you with a wealth of up-to-date information that will help you make quicker and more informed decisions about your class schedule. The guidelines on the GPH Current Student section and on the Registrar website will help you navigate the ALBERT registration pages.
For more information on how to register for classes, you can visit the GPH Registration Guidelines section on the Current Student page and also use the Student Self-Service Enrollment Guide.
Visit also:
---
12 - Register for the GPH Student Affairs Workshop & Onboarding Ambassador Workshop
The Office of Student Affairs will be hosting two virtual workshops over the summer: the GPH Student Affairs Workshop & the GPH Onboarding Ambassador Workshop.
You are required to register for one session of each webinar (on NYU Zoom). Below you will find a list of many time options and registration links. 
Additionally, you must register with an NYU email address and must be logged in your NYU account prior to registering.  
IMPORTANT NOTE about NYU Zoom: Be sure to confirm that you're using the full-featured NYU version of Zoom and haven't been redirected to the free, public version of Zoom at zoom.us. 
1) GPH Student Affairs Workshop aka GPH 101
The GPH Student Affairs Workshops are designed to introduce you to important school resources and policies in order to support your transition into graduate studies. Whether you'd like to learn how to navigate your studies, select your courses or seek guidance on professional development, we have a session just for you! 
Register for one of the following times listed in Eastern Standard Time (EST):
Tuesday, June 6th 
Wednesday, July 12th 
Wednesday, August 2nd
Wednesday, August 23rd
2) GPH Onboarding Ambassador Workshop
Are you looking for opportunities to make friends as well as build leadership and professional skills? Then this session is for you! There are a multitude of ways for graduate students to be involved in the GPH community. Join this webinar as our Onboarding Student Ambassadors share ways to maximize your student experience through engagement opportunities, student leadership and student resources.
Register for one of the following times listed in Eastern Standard Time (EST): 
Tuesday, June 13th
Wednesday, July 19th
Thursday, August 10th
Tuesday, August 22nd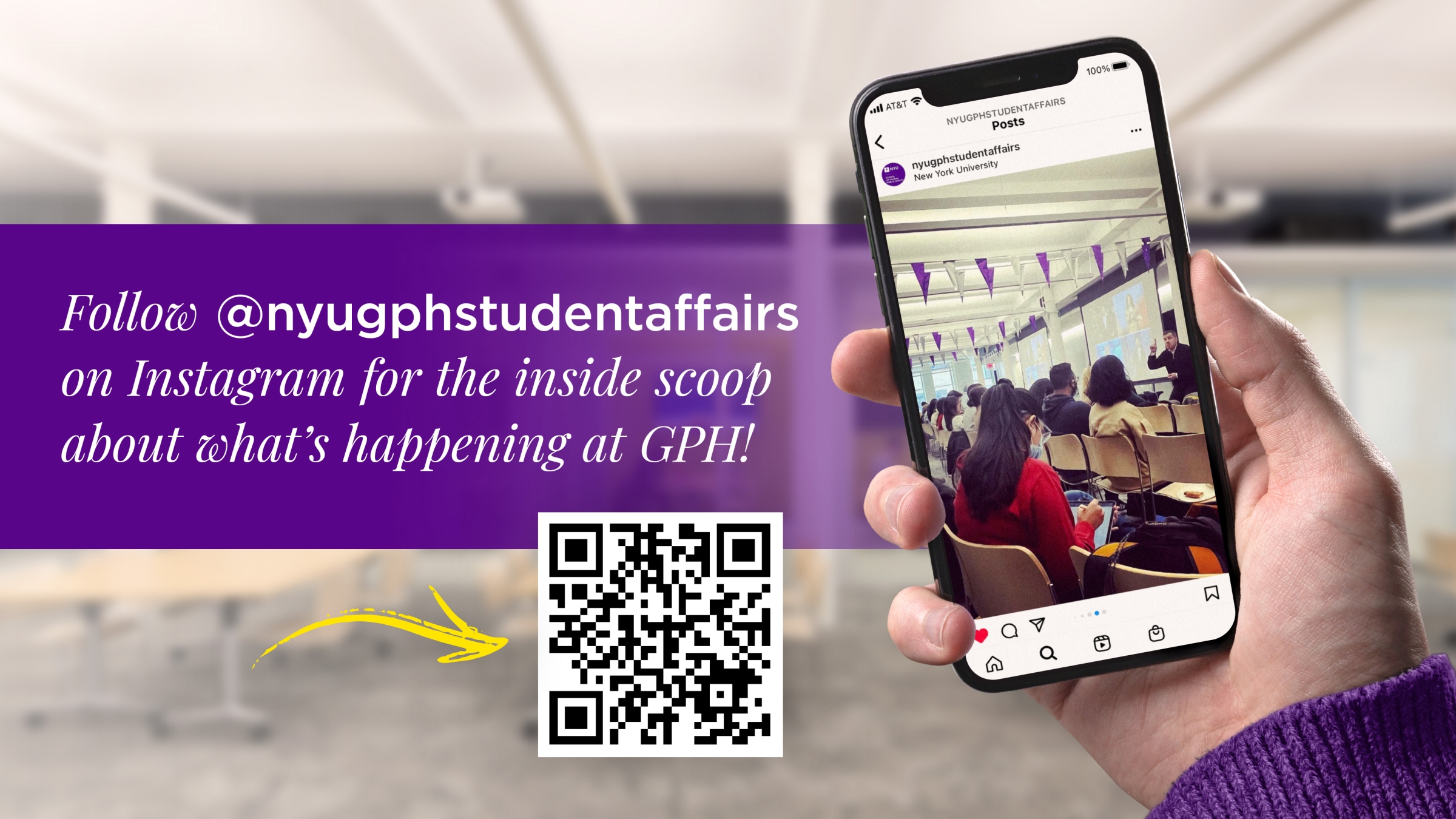 ---
13 - Register for Diversity, Equity & Inclusion Workshop
NYU GPH values the diversity of its students and is strongly committed to maintaining an inclusive scholarly environment. As a school we continually strive to foster a dynamic, rigorous teaching and learning community that embraces a broad spectrum of viewpoints and approaches.
The GPH Office of Student Affairs in partnership with United Solutions Consultancy Group created a mandatory two-part workshop that includes a series of community learning sessions around diversity, equity & inclusion.
This workshop is designed to create a space in which students can engage in deep and critical conversations around topics of diversity, equity and inclusion in the field of Public Health and beyond. We will examine the complex and intersectional nature of racism and how it is embedded at multiple levels in healthcare and other systems. By seeking both domestic and international student perspectives we hope to help students create a broader vision for what an equitable and diverse practice can be.
To attend this webinar and receive the Zoom Link, you are required to register for one Session (July or August) for both parts (1 and 2):
July Session - Equity + Diversity: Our Vision for Community
PART 1

| 

Thursday, July 13th from 8:00 AM EST to 12:00 PM EST with a 30 min. break included | Register Here

PART 2

 | 

Friday, July 14th from 8:00 AM EST to 12:00 PM EST with a 30 min. break included | Register Here
August Session - Equity + Diversity: Our Vision for Community
PART 1

| 

Thursday August 3rd from 5:30 PM EST to 9:30 PM EST with a 30 min. break included | Register Here

PART 2

 | 

Friday August 4th from 5:30 PM EST to 9:30 PM EST with a 30 min. break included | Register Here
---
14 - Learn About Important GPH Professional Development Resources
I) NYU Wasserman Center for Career Development
NYU Wasserman Center for Career Development, offers various resources and services to our public health students. Take advantage of our career services specifically designed for public health students early in your academic career. 
Below you will find a pre-recorded webinar video from our Graduate Student Career Development Team at Wasserman talking about how to access career support, the types of programs and services they provide, and the career outcomes that Wasserman users enjoy. 
II) NYU Library & Data Services
In academic writing it is essential that you acknowledge the sources of your information and ideas, both in your text through in-text citations and in a bibliography or reference list at the end of your work. This presentation covers the basics of referencing; what it is, why you should do it and which style you should be using in order to avoid plagiarism.  In addition, the last portion of the webinar will be dedicated to data services resources offered by NYU!
The presentation is hosted by your assigned Public Health librarian, Hope Lappen, Life Sciences Librarian.
III) GPH Applied Practice Experience
Note: the following does not apply to doctoral students 
The NYU Master of Public Health program requires all students to complete an Applied Practice Experience Program (APE) which includes:
 180-hours of hands-on public health practice, and 

two courses taken in the final year of the academic program.
The APE provides students the opportunity to become familiar with the kinds of organizations that put into practice the theory, concepts, and methods taught in the Masters program. Students will be able to choose their own field placement with NGOs, governmental agencies, multilateral institutions, community-based organizations, or private sector companies based within the US and overseas. 
As an incoming graduate student, you are required to watch the welcome video below from our Director of Practice, Dr. Karyn Faber. She is the point person for APE and is available to answer any questions related to their requirement. You can also learn more about their requirement via our webpage: NYU GPH | Applied Practice Experience.
IV) GPH Thesis
Note: the following applies only to students in the Biostatistics (MPH & MS), Epidemiology (MPH & MS) and Social & Behavioral Sciences (MPH) programs.
The thesis is a paper addressing a specific public health topic, with the general expectation that the finished product demonstrates concentration competencies, meets academic and professional standards, and is of a quality useful to some external audience (e.g., journal readers, practitioners, advocates, other researchers).
With faculty support, you'll identify your topic and population of interest, preferably based on your work in the site where your applied practice hours are undertaken, which serve as the basis of the Thesis.  
As an incoming graduate student, you are required to watch the welcome video below from our Director of Thesis, Dr. Nina Parikh. She is the point person for Thesis and is available to answer any questions related to the requirement. You can also learn more about the requirement via our webpage: NYU GPH | Thesis.
---
15 - Complete Your Immigration Requirements | Only for International Students
Now that you have your visa and planned your trip, all international students at NYU must make sure to take care of all these things once you arrive. Please review the information on the Preparing for your Arrival in New York City | When you arrive. For detailed information visit this page.
---
16 - Review the GPH Program Policies & Procedures
All students in the program are expected to understand and adhere to program policies and procedures while matriculated in the NYU GPH Graduate program. 
All students are responsible for being aware of, and adhering to, the standards set forth by the NYU School of Global Public Health (GPH Resources, Forms & Policies).
---
17 - Complete the GPH Student Affairs Onboarding Form 
Please note that all incoming graduate students must complete the GPH Student Affairs Onboarding form.
In order to complete the Onboarding form, you must have read and completed the following sections below:
8 - NYU Academic Integrity (Plagiarism)

9 - NYU Health Requirements

16 - GPH Program Policies and Procedures
The GPH Onboarding Form must be completed no later than the first day of class.
---
18 - Attend the Orientation Activities
Orientation is designed to foster academic and professional success while at the School of Global Public Health. 
At orientation, you will be able to meet and network with other GPH students, faculty, and staff who will support your transition to graduate studies. All students are expected to attend.
Prepare for your transition to GPH by reviewing the complete schedule on this webpage.

PART D | BEFORE YOUR 1ST DAY OF CLASSES
---
19 - Learn to Use NYU Brightspace
The NYU Learning Management System (Brightspace) is NYU's new digital learning platform. From accessing course materials, to collaborating online with classmates and instructors, NYU LMS (Brightspace) offers a ton of resources to meet your learning goals and needs. Each course that you take at NYU might feature a corresponding course website with learning materials. Most commonly, that website will be a "course site" in the NYU LMS (Brightspace).
Review the Brightspace Student Guide, it provides helpful information about navigating to the site, tips for staying on top of all your coursework and other features that your instructors might use. 
---
20 - Find your Classroom Location
If you are pursuing your degree in person, classroom locations are displayed using a code on Albert. To find these locations, use this website. 
---
21 - Review the Academic Calendar
The Academic Calendar provides all relevant holidays, breaks, commencement, school start/end dates as well as Registration and Bursar dates.
---
...Learn More about Resources for Students
Finally, make sure to review our GPH Current Student page to find out the thousand resources that will make your life easier at GPH! From academic support services, career development, free Microsoft Office and registration guidelines – to housing options, health & wellness, athletics and much more!