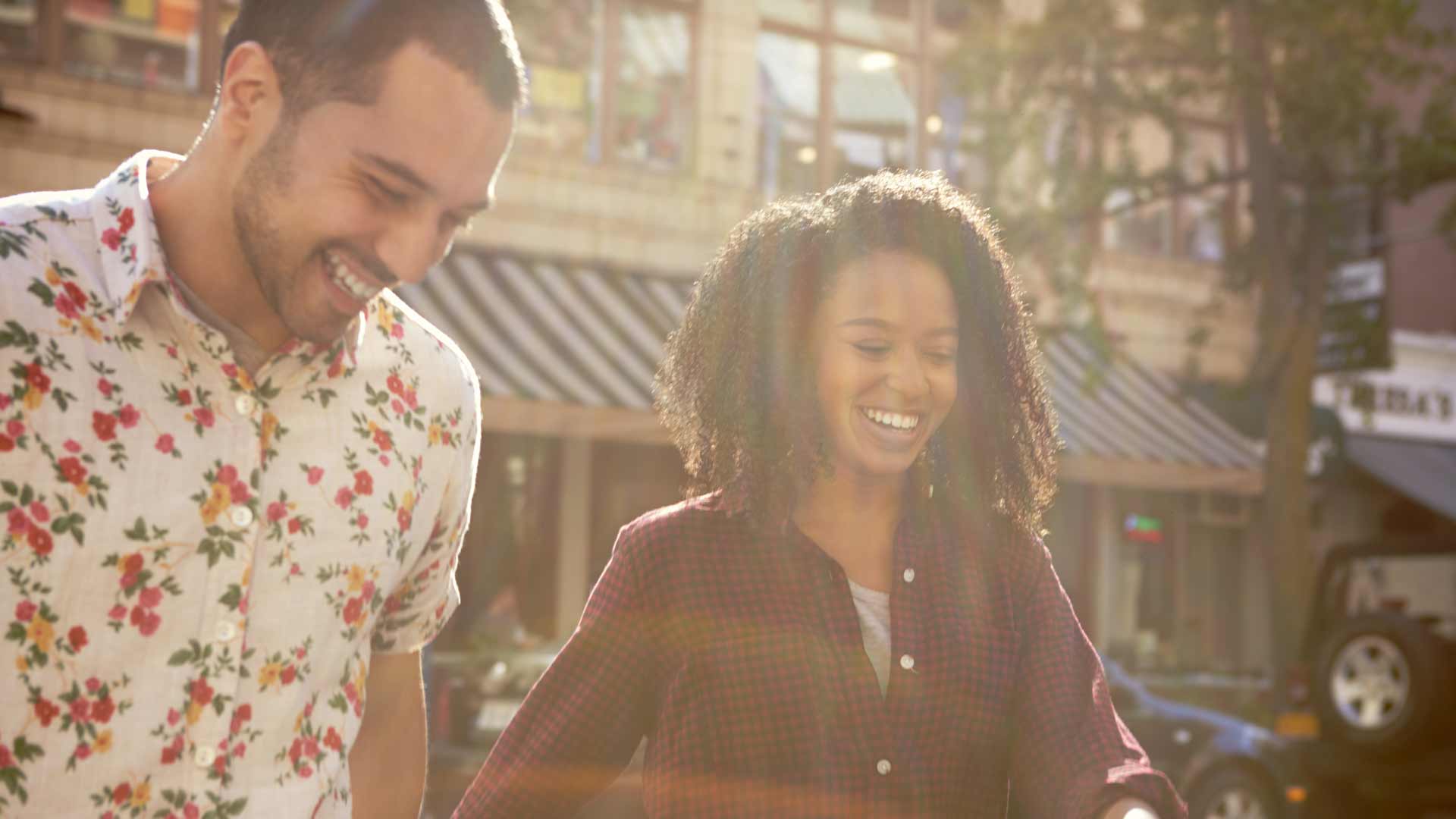 Geographically, New York isn't huge, but more people live here than any other city in the U.S.. If you're coming from a smaller place or less populated place, living here might feel a bit overwhelming at the beginning but it will probably also feel exciting. 
As you get to know the city better, its quirks and secrets become known and that makes living here all the better.
For more information, visit also the Student Life Resource Page on the Current Student Page.
---
Housing
Searching for an apartment in New York City can be challenging. Whether you are relocating from abroad, a current NYU housing resident, or considering a change of your current living situation, the apartment hunting process is often bewildering for even long time New Yorkers.
➪ On-Campus Living
NYU On-Campus graduate housing is extremely limited. On-campus housing is managed by a waitlist process. Since on-campus housing is not guaranteed, GPH graduate students are strongly encouraged to seek their own accommodations. On-campus housing offers will be extended only if space becomes available. 
---
➪ Off-Campus Living
The NYU Center for Student Life provides students with general advice and resources in the apartment search process. Although the center does not provide actual apartments, the NYU Off-Campus Living web-page provides information and resources on a number of housing-related topics, including apartment search links based on student suggestions, neighborhood resources links, general advice on the housing search process, broker information, tenants' rights and resources, and workshops to assist with apartment searches. See below the housing search process in 10 steps. Make sure to review each one so that you are well prepared for your search:
---
➪ Additional Resources
Several websites may help you in the search for rooms and apartments in New York City and/or Jersey City:
Price is generally commensurate with the apartment's quality and location. 
---
International House
An independent non-profit organization founded in 1924, the International House has built a rich history of bringing together students from around the world to share experiences and life lessons in peace building and understanding. Housing through International House is independent of NYU and must be requested directly through their website. 
Please note: the websites outside of NYU that we link on this page are provided to assist you. NYU doesn't have any relationship with these companies. Inclusion on this list does not mean we are recommending or endorsing these companies. Be always very cautious and watch out for rental scams. 
Review here some tips on how to avoid rental scams in NYC.
---
NYU Intergenerational Home Share ProgramNYU & NY Foundation For Senior Citizens Intergenerational Home Share Program is an intergenerational home sharing program that aims to bolster housing stability, economic security, and meaningful social bonds between community dwelling adults 60+ years of age and graduate students.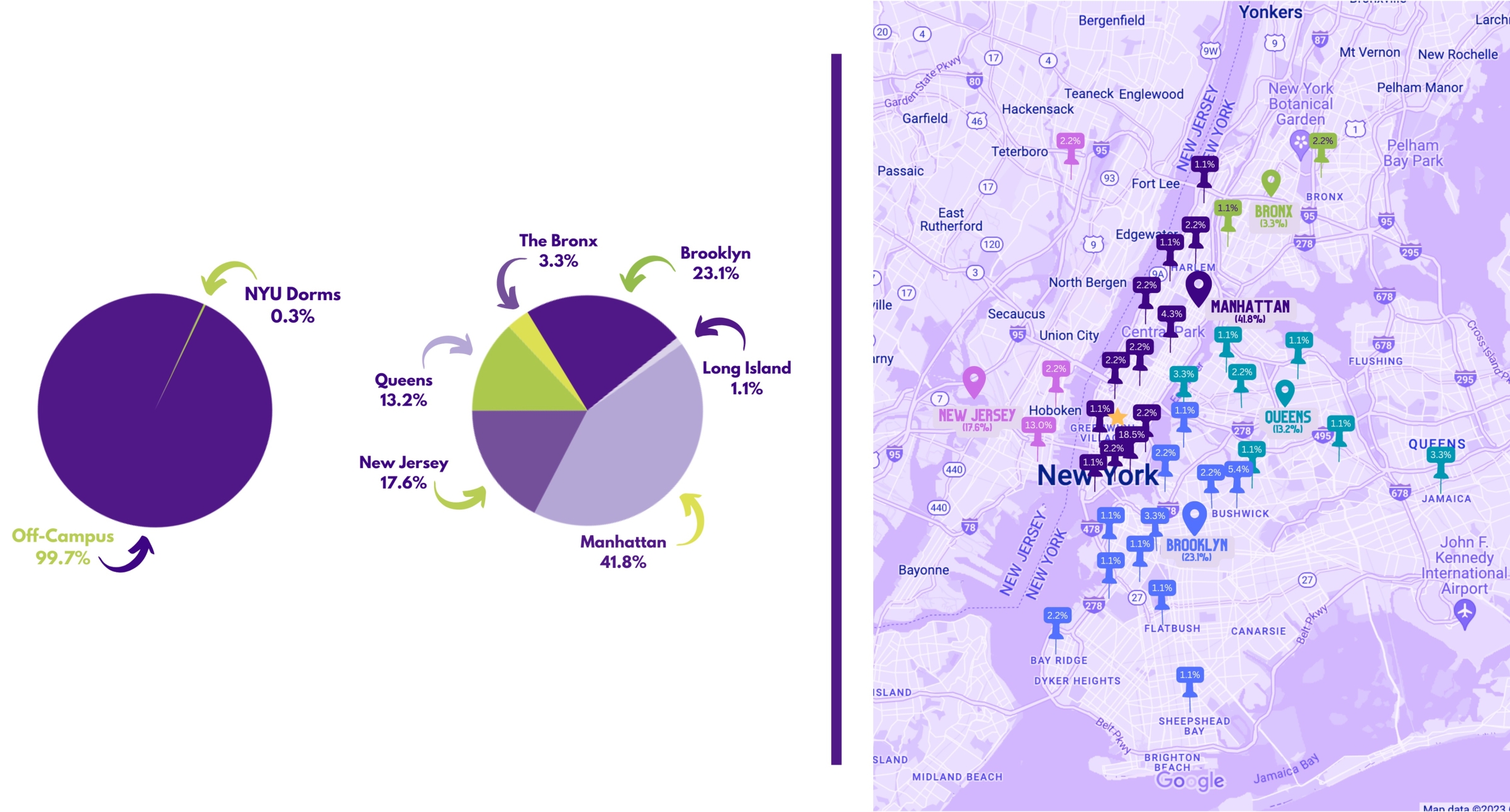 Tips from our GPH Graduate Students
☛ Housing
Resources

 

Signing the Lease 

Be prepared with 2-3 months rent before signing

First month's and a deposit (1-month's rent) are usually required, some places may ask for last month's rent 

TIP:

be wary of paying in cash, check is safer 

Tour the apartment before signing or putting down a deposit 

Plan to stay in one place for the duration of your program

Make sure the apartment is affordable long term

Try to account for potential fluctuations in rent

Amenities

 

Location to public transportation - account for commute time and distance to closest bus stop or subway station

Prioritize your "apartment essentials." Here are some things to keep in mind: 

Washer and dryer 

Dishwasher 

Central A/C

Heat and Water - ask if it is included in rent or separate utility payment

Identify whether laundry facilities are available in-unit or in-building 

If not, find out where the closest laundromat is 

Consider security - doorman, keycode, etc 

Find out if the super lives in-building 

General Info 

Start your search 2-3 months before planning to move-in

Reach out directly to the apartment rental agency for info on upcoming offers or prices 

This process moves FAST 

Do your research ahead of time on the neighborhoods you're interested 

Make sure you have a good idea of your budget

Understand where you're willing to compromise 
☛ Guarantor
Where to find your guarantor: 

Reach out to your friends and family first 

Parents, older siblings, and family members are a good option

Identify people who you trust and whose average income is about 80x your rent 

Ask your roommates if their families would be willing to act as a guarantor 

Other options include a third party guarantor 

TIP:

payment is typically 80% of 1-month's rent 

Rhino

Rhino is an organization made up of real estate professionals and industry leaders who provide support and advice regarding the rental and home ownership processes 
☛ Broker
Where to find your broker: 

Check with your apartment complex 

Social Media (Tiktok, Instagram, Facebook) 
TIP: Negotiating with your broker is acceptable, don't be afraid to work on a student budget.
---
Transportation in NYC
The center of NYU is its Washington Square campus in the heart of Greenwich Village. One of the city's most creative and energetic communities, the Village is a historic neighborhood that has attracted generations of writers, musicians, artists, and intellectuals. Beyond the Village, New York City becomes an extension of the University's campus.
...But now where do I go?
Since New York City is the largest (by population), busiest, and most culturally diverse city in the United States, you might be tempted to believe that getting around is a nightmare. That's wrong! With an excellent public transportation network and lots of other enticing options, navigating the characterful neighborhoods within its 5 boroughs, visiting famous attractions, and getting a feel of the city is easier than you think.
Here are the best ways to explore NYC, whether you prefer to walk, bike, sail, or take in its buzz and magic from above.
---
➪ Metropolitan Transportation Association (MTA):
Operating on a 24/7 basis throughout all 5 boroughs, the New York City Transit system is one of the most extensive and complex public transportation systems in the world. 
The subway system is run by the Metropolitan Transit Authority (MTA). On their website you can find useful information about the status of each subway line, as well as subway and bus maps.
When entering the subway stations, you need to be aware of what direction you would like to travel. Trains in Manhattan run Uptown/Queens, Uptown/Bronx and Downtown/ Brooklyn. In the outer boroughs the trains run toward the last stop or towards Manhattan. Some subway entrances only allow entrance to one direction so be sure to check before you swipe your MetroCard. The correct entrance might be across the street or in some cases around the corner.
You must purchase a MetroCard® to ride NYC Transit subways, local buses, select buses, and express buses, as well as Staten Island Railway. MetroCards may be purchased and refilled at subway Station Booths, MetroCard Vending Machines, and at other vendors.
The cost of a standard ride is $2.75. You can buy as many rides as you want on a Pay-Per-Ride MetroCard, from $5.50 to $80. Or you can buy an Unlimited Ride MetroCard for a period of seven days for $33 or 30 days for $127. There is no student discount.
---
➪ Biking
Citibike, NYC's bikeshare program offers 13,000 bikes and 850 stations across Manhattan, Brooklyn, Queens, and Jersey City. 
Citibike offers several payment options. A single, 30 minute ride costs $3, a day pass costs $12, and an annual membership costs $169. Members of  NYU Federal Credit Union receive a discounted rate at $5/month. 
There are several docks around campus. 
---
➪ Taxis
Licensed New York yellow taxis are a more expensive New York City transportation option. Taxis are found on all Manhattan streets and are a convenient and fast way to get around the city. Other (sometimes more expensive) options include Uber and Lyft.
---
➪ NYU Campus Shuttle
With an NYU ID, students can access NYU's free campus transportation service, which shuttles students between the Washington Square campus and residence halls. Service is operated using trolleys, buses, and vans. Service and schedules vary depending on the University calendar. More information can be found on the Transportation page.
Download the SafeNYU app for real-time updates on the NYU Campus Shuttle. 
---
➪ Saferide
Safe Ride vans provide overnight service in Manhattan. 
Safe Ride is an on-demand, shared ride service which is available for transportation to and from NYU facilities in Manhattan, and to three local mass transit stations during the academic term from midnight to 7 a.m.
To request service, please use the Safe NYU Mobile App (available via your smartphone's app store) or call the Department of Public Safety at (212) 998-RIDE (7433). You can also request a ride via your computer by using the Safe Ride web portal. A van operated by Academy Bus will be dispatched to transport you
---
➪ Parking
For those commuting to New York by car, there are several parking garages around NYU. Some garages offer discounts to NYU students with a valid NYU Card.
---
Transportation to and from NYC
➪ Air
New York has three main airports: John F. Kennedy International Airport (JFK), LaGuardia Airport (LGA), and Newark Liberty International Airport (EWR). 
Several companies operate shuttle busses from each airport to destinations such as Port Authority Bus Terminal or Grand Central Station. 
Cabs and car services are available at the airport and, even though they cost more, they are your best bet if you have a lot of luggage. Plan on spending at least $25 to $40 depending on the airport and time of day.
---
➪ Rail
Metro-North provides rail service between Grand Central Station, Penn Station, and Hoboken Terminal and locations north of NYC. More information is available at the Metro-North website.
Long Island Rail Road (LIRR) provides rail service between Long Island and NYC. More information is available at the LIRR website. 
PATH trains provide service between New Jersey and Manhattan. More information is available at the PATH website. 
New Jersey Transit: Links major points between NYC, New Jersey (including Newark International Airport), and Philadelphia. Full-time students are eligible to receive a rail, bus, or light rail monthly pass at 25% off the regular monthly pass price through NJ TRANSIT's Quik-Tik program.
---
➪ Bus
Several companies offer bus service from NYC to locations such as Boston, Philadelphia, Washington D.C., Baltimore, and more. For up-to-date ticketing information, use the following websites:
---
Explore New York City
Now that you've completed your onboarding process at NYU, get to know your new home! As one of the world's great walking cities, it's no surprise that the best way to explore New York is on foot. More than anything else, this will offer you the unique chance to capture the soul of this bustling mega metropolis, immerse yourself in its colorful sights and sounds, meet the locals, and admire the architecture. Plus, it costs nothing.
Of course, the city is huge, but mapping out the attractions you want to visit, grouping them by neighborhoods, and covering one area at a time will save you lots of time, money, and energy.
For your convenience, the NYU Center for Student Life has compiled several resources as a starting point for your research: Tourist Attractions, Tours, Museum and Libraries, Theaters and Movies, Music, Dance and Sport. 
Visit also the GPH Current Student Page (Student Life Resources) for more information.
See below for additional resources: 
Please note: the websites outside of NYU that we link on this page are provided to assist you. NYU doesn't have any relationship with these companies. Inclusion on this list does not mean we are recommending or endorsing these companies.