The statistics below reflect employment data from the 2021 graduating class.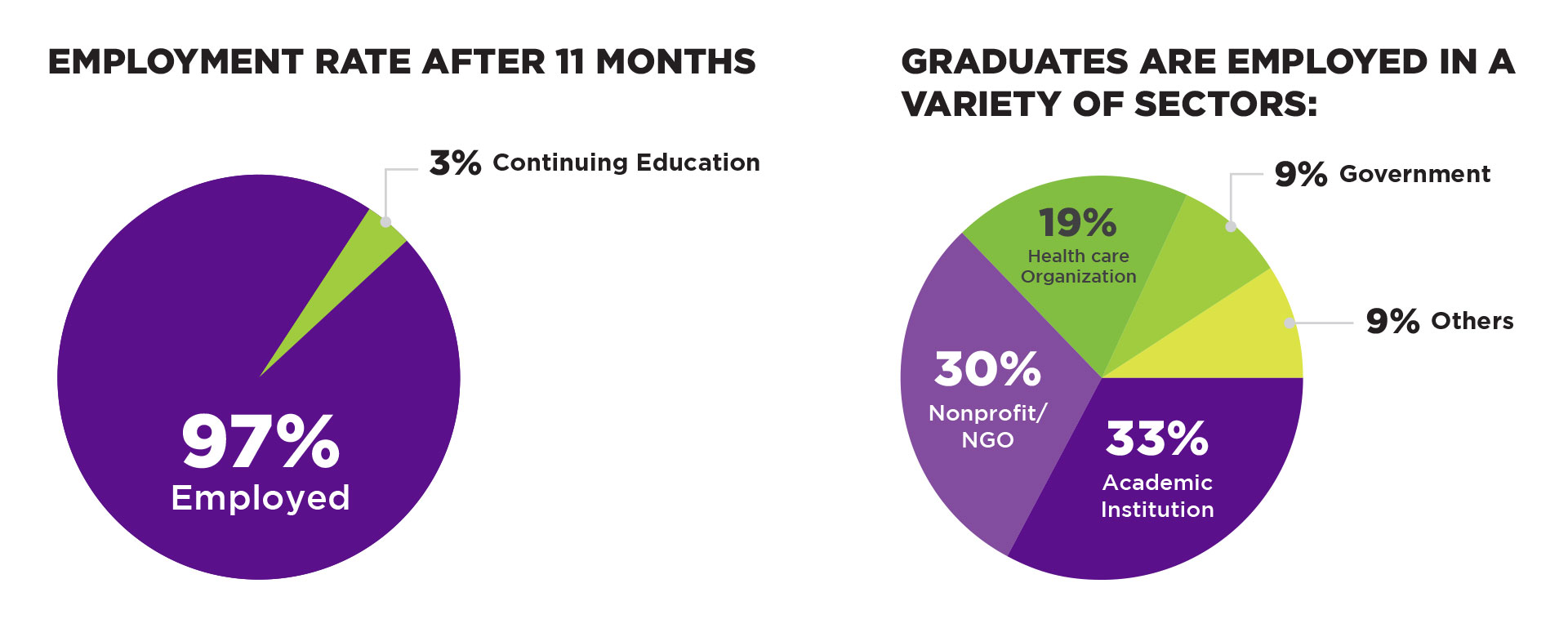 Employment rate after 11 months:  
Employed: 97%; Continuing Education: 3%
 
Graduates are employed in a variety of sectors:
Academic: 33%; Nonprofit/NGO: 30%; Health care: 19%; Government: 9%; Other: 9%;
 

Over 2,600 Masters and Doctoral graduates work around the globe in 42 countries.
Associate Director, Research Partnerships, The Michael J. Fox Foundation for Parkinson's Disease
Behavioral Scientist, Centers for Disease Control and Prevention
Biostatistician, NYC DOHMH
Chief Operating Officer, Florida Institute for Health Innovation
City Research Scientist, NYC Department of Health and Mental Hygiene
Clinic Coordinator, The Canadian Centre for Refugee and Immigrant Health Care
Clinical Research Project Manager, Palo Alto Veterans Institute for Research
Consultant, Becton, Dickinson & Co.
Data Analyst, NYC Department of Health and Neutral Hygiene
Dietician/Nutritionist, New Mexico Department of Health
Director, Pfizer
Global Research Fellow, International Centre for Trade and Sustainable Development
Health and Benefits Consulting Analyst, Mercer
Health Education Coordinator, Mount Sinai School of Medicine
Health Educator, Harlem Children's Zone
Infection Control Epidemiologist, Johns Hopkins Medicine
Nutrition Program Manager, Community Healthcare Network
Principal, GE Healthcare Partners
Program Coordinator, Columbia University Medical Center
Program Coordinator, Human Rights Clinic, HealthRight International
Program Manager, Parker Institute for Cancer Immunotherapy
Project Director, HIV Center, New York State Psychiatric Institute
Project Director, Trenton Health Team
Project Manager, NYC DOHMH
Public health specialist, Ministry of Health, Saudi Arabia
Recruitment Manager HIV Research, Children's Aid Society
Research Coordinator, Mount Sinai Medical Center
Senior Director, Global Policy and External Affairs, EMD Serono, Inc.
Senior Director, Mount Sinai
Senior Oncology Pharmacist, Memorial Sloan-Kettering Cancer Center
Senior Research Assistant, University of Ghana
Tuberculosis Controller, Texas Department of State Health Service