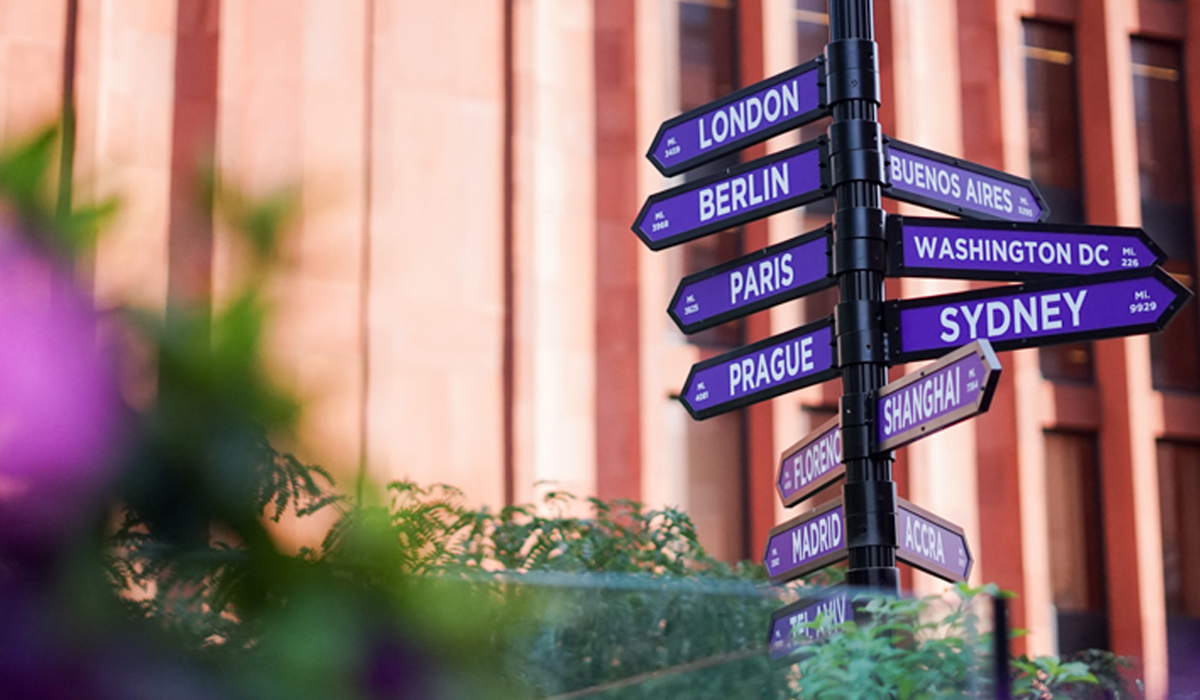 The School of Global Public Health (GPH) is located in one of the greatest cities in the world—New York City—placing you in proximity to some of the city's most challenging public health concerns.
However, ever-growing and complex global health concerns mean that diverse public health difficulties affect the entire world. Our graduate programs ensure that you gain a truly global perspective on public health issues through study abroad opportunities, faculty research and applied learning experiences that span six continents, giving you a unique advantage in becoming the next generation of public health innovators and pioneers.
Where Can I Travel?
The MPH program offers ten areas of concentration and multiple dual-degree options, all of which offer diverse opportunities for global experiences. Students in our MS and MA programs are also eligible for some of our study abroad opportunities.
Frequently Asked Questions (FAQs)
Beyond NYU's eight interdisciplinary schools here in New York City, we are part of a global network of degree-granting institutions and campus centers around the world. You'll have academic opportunities for travel throughout your degree program, such as taking a Global Non-Communicable Disease Epidemiology & Control class in London, or studying health emergency preparedness in Cuba.

Abu Dhabi, United Arab Emirates

Accra, Ghana

Berlin, Germany

Buenos Aires,

Argentina

Florence, Italy

London, United Kingdom

Madrid, Spain

New York City, USA

Paris, France

Prague, Czech Republic

Shanghai, China

Sydney, Australia

Tel Aviv, Israel

Washington, DC, USA

Q: Can I select more than one study abroad course?
A: No - you can only select one course to enroll in during J-term. If you have questions about the course, you should attend the Information Session or contact the faculty member.

Q: When can I book my flight?
A: Students should not book their flights until they are told to do so from GPH administrators. Each course must meet minimum enrollment in order to run a course.

Q: How do I send in my passport?
A: Passports should be submitted using the link listed in the "how to enroll" section at the top of this page. You do not need to include a subject line or text in the email body. Passports should be saved in a PDF or JPEG format as LAST NAME LOCATION. Upon submission, you will receive an email letting you know that it has been submitted properly.

Q: When can I register?
A: Once you have completed the "how to enroll" tasks, you will receive an access code and can register.

Q: Do J-Term courses count as part of my Spring course load?
A: Yes.

Q: What does the program fee cover?
A: In general, a program fee covers housing and activities (including local transportation), but it depends on the course. Please scroll to the course you are interested in for specific details on what the fee covers. In some locations, housing and the activity fee are separate since housing at the NYU site is optional and students are billed directly from the site.

Q: Does financial aid cover the program fee?
A: Yes, though you must contact the Office of Financial Aid (212-998-4444 or financial.aid@nyu.edu) to discuss this with them; it is not automatically covered.

Q: Is airfare included?
A: No, airfare is not included in the program fee unless otherwise noted.

Q: Will I need a visa?
A: Depending on your nationality and the country you are visiting, you may need a visa. Please review the course details for more information.

Q: Can I arrive early?
A: Yes, but you are responsible for finding your own accommodations. Students must check in and check out on the listed dates per program. If you require a visa, you will need to check with the Office of Global Services as to whether you can arrive early or depart after the program dates.

Q: Can I travel on the weekend?
A: Yes, if your coursework allows you the time to travel outside of your host city, but you must notify the site administrators and gph.global@nyu.edu in advance of confirming your plans, and enter your information here

GPH offers courses abroad throughout the year in several of our Global Network sites and beyond. You'll get a chance to immerse yourself in another location and culture while also enriching your educational experience. We encourage you to check out our study abroad: past semesters section below to learn where our students have traveled and what they studied.

Summer 2022 Study Abroad

GPH-GU 5232 Disease Elimination and Eradication Strategies for Infectious Diseases in LMICs (3 credits)

Location: Abu Dhabi, UAE
Instructor: Prof. Chris Dickey

Students will examine the core principles of disease elimination and eradication (E&E) - with a focus on challenges in low-resource settings - and co-develop a draft strategy in a specific country. Students will analyze case studies to better understand lessons learned, challenges faced, and effective interventions needed to achieve disease E&E. The class will provide an introduction to ethical issues in disease E&E, political, social, behavioral, and environmental/climate factors, health system strengthening, the integration of disease E&E programs with existing health systems, and communication and advocacy. Different thinking models (systems, design, strategic & evaluative) will be introduced to help students in their development of interventions to reduce and eventually eliminate disease in a given geography. 

This is a hybrid course that contains an asynchronous online component that will include a combination of short, recorded lectures and written content that will introduce key concepts through a series of five modules that will then be further developed and applied during the face-to-face portion. During the intensive, 8-day live course, students will work on teams alongside public health practitioners primarily from the Middle East, North Africa, and West Africa who are actively working on addressing issues revolving around disease elimination and eradication. Participants will hear from and engage with a number of subject-matter experts on past and continued efforts to eliminate and eradicate diseases such as lymphatic filariasis, onchocerciasis, malaria, and polio, that continue to be endemic in their respective geographies.

Pre/Co-requisites: GPH-GU 2106/5106 and GPH-GU 2140/5140

Eligibility: MPH students in CHSP, ENV, GH, PHN, PHPM, SBS, and SDG.

The first part of this course meets online from 5/23-6/10. The second part takes place in Abu Dhabi.  Travel to Abu Dhabi is optional, but highly encouraged. For those traveling:

Arrival: Sunday, June 12th
Course dates: Monday, June 13th - Monday, June 20th; class will be held at the NYU AD campus
Departure: Tuesday, June 21st
Hotel arrangements will be arranged and paid for you.
Breakfast and lunch will be covered; students are responsible for dinners;
Students are responsible for booking flights - do not book flights until instructed to do so.

Interested students must complete this google form application no later than Wednesday, March 30th. Please note there are limited spots in this course. Once you complete the application, we will reach out to notify you of your status and provide the permission number to enroll in the class. If you have any questions or concerns, please reach out directly to Kiera Bloch at kiera.bloch@nyu.edu.

Late applications and confirmation fee payments will not be accepted. Students that do not deposit on time risk losing their spot in the course.

Program day-to-day schedules and syllabus content are subject to change and will be distributed in advance of departure. Some courses may require online modules or advanced readings to be completed prior to travel.

Students should make sure they are up to date with their immunizations and contact NYU Travel Medicine to see if any vaccinations are required before travel.

If you need a housing or academic accommodation, please contact the Moses Center as soon as you are admitted.

Students are responsible for obtaining their visas, if needed, but will be provided guidance from GPH and the Office of Global Services (OGS).

All international students should contact OGS regarding their status and to obtain a travel signature.

NYU Traveler/Egencia is the preferred methods for students to book their flights since your information will automatically be uploaded to NYU Public Safety. The following student travel websites are also popular, though not endorsed or necessarily recommended by NYU:

Student Universe
STA Travel
CheapOAir
GenerationFly
SecretFlying

Capstone projects and internships are two of the MPH program's culminating experiences that give you on-the-ground exposure to real-world public health challenges, often overseas. In 2016-2017, here are a few of the places our students put their problem-solving and practical skills to work.

Greece

Israel

Italy

Madagascar

Uganda

Ukraine

USA

We are invested in producing research of the highest caliber through large scale, multi-school, multi-disciplinary and multi-site research projects. You can work side-by-side with our prestigious faculty around the world on systems-changing research around the world, from how neighborhood characteristics influence population health and health disparities to how and why infectious and non-communicable diseases spread in populations.

Australia

China

Ghana

Greece

Grenada

India

Kenya

Moldova

Nepal

Sri Lanka

South America

Sweden

Thailand

Uganda

Ukraine

USA

Vietnam

West Africa