November 2, 2018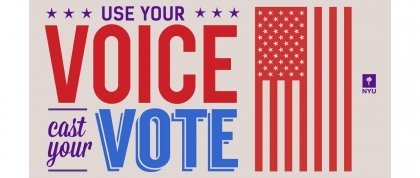 A Message from Dean Cheryl Healton
Dear Colleagues:
 
With the midterm elections just days away, GPH students are eager to exercise their right to vote and have their voices be heard.  Several were interviewed last week by CBS This Morning for a segment set to air on November 6th about whether and why they plan to vote.
This election has become a referendum on many contentious matters that relate to the health and well-being of our communities.  When we head to the polls next Tuesday, we'll cast ballots for representatives who share our values and represent our views on the issues most important to us.
With the nation reeling from the news of pipe bombs targeting elected officials and other prominent Americans; the fatal shooting of two people in Kentucky who were targeted when the gunman failed to enter a predominantly black church because the door was locked; and the tragic massacre at Tree of Life Synagogue in Pittsburgh last weekend, it's clear that as a country we're at a crossroad. Nearly all the pressing problems we're struggling to address as a nation are grounded in public health, including two of the toughest to solve: gun violence and hate crimes.
"Hate crimes reported to police in America's ten largest cities rose 12.5 percent in 2017. The increase was the fourth consecutive annual rise in a row and the highest total in over a decade," according to an analysis by the Center for the Study of Hate & Extremism; California State University, San Bernardino.
The idealism and optimism of our students set an example for us all despite the troubling times we face.  As many people have observed, "The best way to predict your future is to create it."
So as we prepare to cast our votes next Tuesday, click the image below to watch a brief video from our students, and be inspired by the bedrock American ideals they express loud and clear.  Your vote matters -- now more than ever!
  
Cheryl G. Healton, DrPH 
Dean