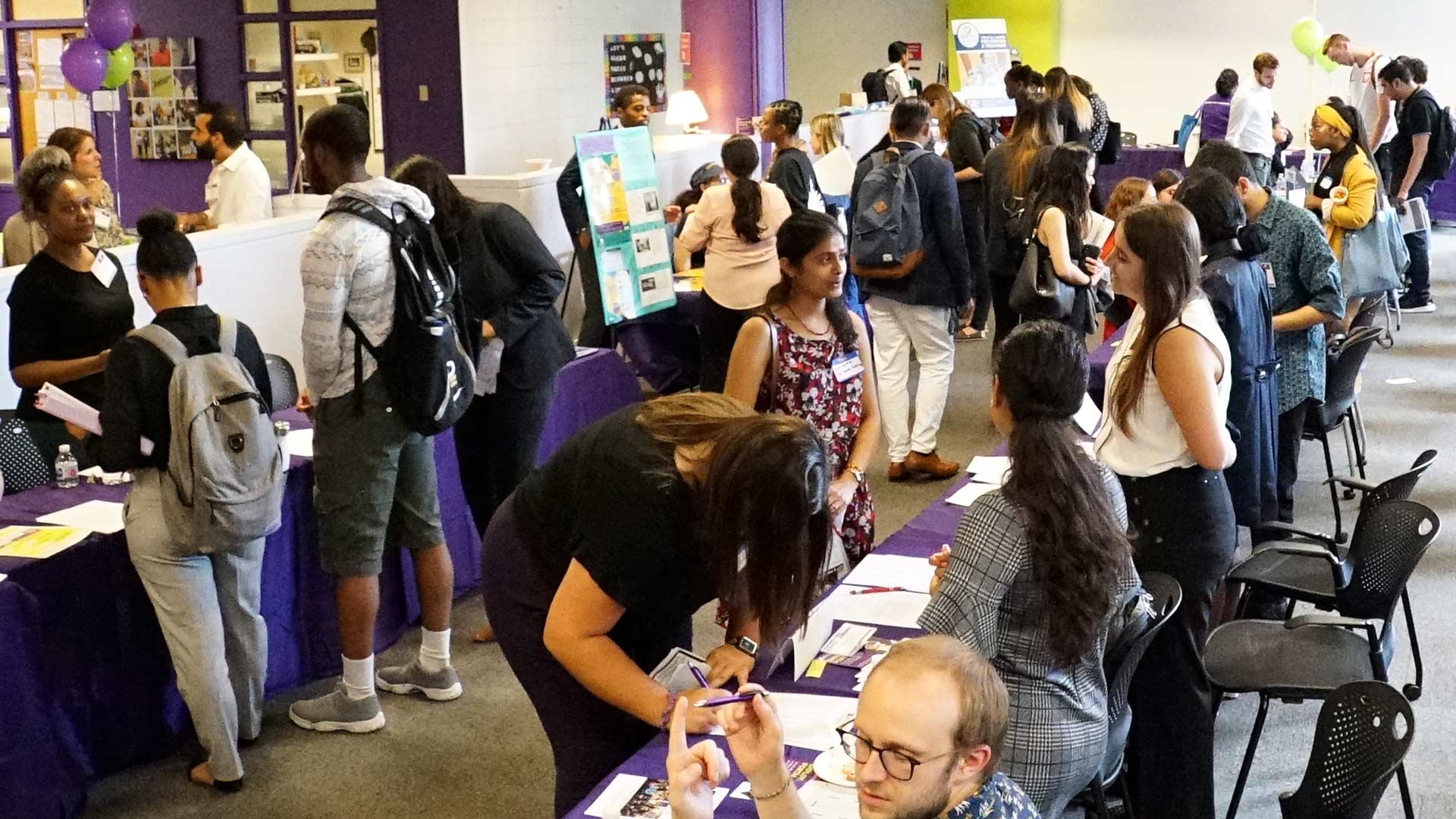 On Friday, September 13, 2019, the GPH Office of Student and Alumni Affairs and the GPH Office of Research hosted the Fall 2019 Research Expo, a College-wide event designed to provide students with opportunities to network with public health employers, as well as NYU faculty and coordinators from centers, labs, initiatives, and programs associated with GPH. This event was held on the final day of the GPH Career Week and had a record-breaking 240+ student attendees! Along with the career resources, students were able to learn more about on-campus GPH student clubs and GPH & NYU offices that will enhance their experiences while matriculated at NYU. In attendance were 36 different employers, many of whom were alumni, and 13 student clubs and GPH resources.
The event introduced me to a lot of interesting research going on at NYU and broadened my knowledge of possible careers in public health.
Attendees were even able to take free professional headshots for their LinkedIn, Handshake, or other professional networking profiles at a booth set up by the GPH Communications team. 
An episode for the IAMGPH podcast was also recorded with some of the employers including Mount Sinai Health System, Healthright, the Tobacco Research Lab, and many others. These employers discussed what their organizations do, what they are looking for in the ideal employee, how students can make themselves competitive candidates, and general advice for public health students who are beginning their job searches.
This was a really great way to spread the word about the Health and Human Rights Association (HHRA). We had a lot of interest and sign-ups from new and even second-year students who hadn't heard about the Association.
Bureau of Maternal, Infant, and Reproductive Health (BMIRH), Sexual and Reproductive Health Unit (SRHU) at NYC DOHMH

WorkWell NYC at NYC DOHMH
HRTP: A Public Health Internship Program at NYC DOHMH
Mount Sinai Health System
NYC Health + Hospitals
PAGNY Health and Research Foundation
PeaceCorps
Susan G. Komen Greater NYC
CapraCare
Bellevue/NYU Program Program for Survivors

Department of Population Health at NYU School of Medicine
Division of Biostatistics at NYU Langone
Health Disparities Research Training Program (NYU Center for the Study of Asian American Health)
NYU Rusk Rehabilitation Department of Research
Researching Inequity in Society Ecologically (RISE) at NYU
Section for Global Health at NYU School of Medicine
Sleep and Health Lab at NYU Langone  
Academic Community Collaborative to Engage Stakeholders (ACCESS)

Agent Based Modeling Laboratory
Applied Global Public Health Initiative
Attachment & Health Disparities Lab
Center for Drug Use and HIV Research
EMPOWER Lab
Global Health Implementation Research Lab
Health Care Management (HCM) Research
Health Claims Data Lab & Milliman
Implementation Science Lab of Dr. Peprah
Last Mile Populations Lab at
HealthRight International
Measurement, Learning & Evaluation Lab
Opioids and Police Safety
Population Impact, Recovery, and Resiliency
(PiR2) Program
Public Health Nutrition Research Lab
Technology Enhanced Learning Lab
Tobacco Research Lab
Dr. Xu Quantitative Lab