May 31, 2019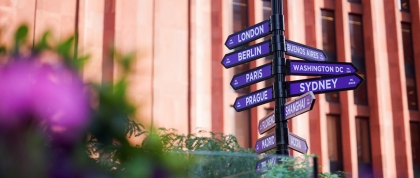 Dear Colleagues and Students:
The Spring semester has come to a close so it's the perfect time to provide a year-end report with some of the College's key accomplishments.
We are enormously proud of these significant achievements:
The College just graduated six PhD students, 204 MPH students, and 17 MA students.
Of those graduates just surveyed, 87% said they would recommend their program to a friend.
76% of our Master's-level students were employed either full-time or part-time while enrolled in a degree program.
GPH has been ranked one of the best Grad Schools in Public Health according to U.S. News & World Report.
We have our first Fulbright scholar, Simon Sandh.
All GPH degrees are now part of STEM-designated programs.
We are offering a new Master of Science in Biostatistics and – coming soon – Epidemiology, as well as a new hybrid advanced certificate in Public Health Disaster Science, Policy and Practice in conjunction with GPH's Program on Population Impact, Recovery and Resilience (PiR2).
It's our first year breaking $10 million in annual projected research funding.
GPH core and joint faculty received grant funding from the American Foundation for AIDS Research; the Gates Foundation Grand Challenges Explorations; the National Institutes of Health; the National Science Foundation; the NYU Undergraduate Research Integrity Program; the Staten Island Foundation, and the truth® Initiative. And a faculty member was named an Early Career Faculty Innovator Program Fellow at the National Center for Atmospheric Research.
GPH has become a new hub of expertise on addiction, opioids and HIV/AIDS as the Center for Drug Use and HIV/HCV Research joins with top scientists from the National Development & Research Institutes (NDRI), who will relocate next week to GPH.
GPH's intensive, one-year Cross-Continental MPH has now expanded from NYU DC, Accra, Abu Dhabi and Florence to Buenos Aires and Madrid.
GPH received industry accolades for both its website and its popular public health podcast, 5% and Falling.
On behalf of the GPH Advisory Board, faculty and staff, we wish you a restful and safe summer no matter where your travels take you. We look ahead to an even more productive year starting in the fall.
All the best,
Cheryl G. Healton, DrPH
Dean