November 5, 2019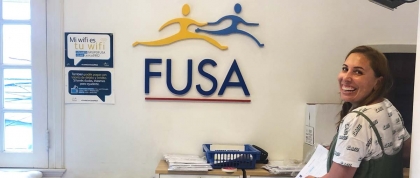 The Cross Continental Experience Blog by Jessica Will, C-C MPH Student
Pictured Above: C-C MPH student Jessica Will at Casa FUSA
Typically, my blog posts focus on lighter themes, but for this post, I wanted to feature a main interest of mine and how it's taking shape in Buenos Aires. While our Cross-Continental Master of Public Health program centers around social epidemiology, I'm specifically interested in topics around women's rights and reproductive rights. 
So far in Buenos Aires, I've had the opportunity to explore new spaces around women's rights through my C-C MPH fieldwork and events at NYU Buenos Aires. 
As part of the program, all of us need to complete 180 hours of fieldwork with an organization within or related to public health while in Buenos Aires. Based on our area of interest, a cohort colleague (hey Zoe) and I were lucky enough to be placed at Casa FUSA to complete our required hours.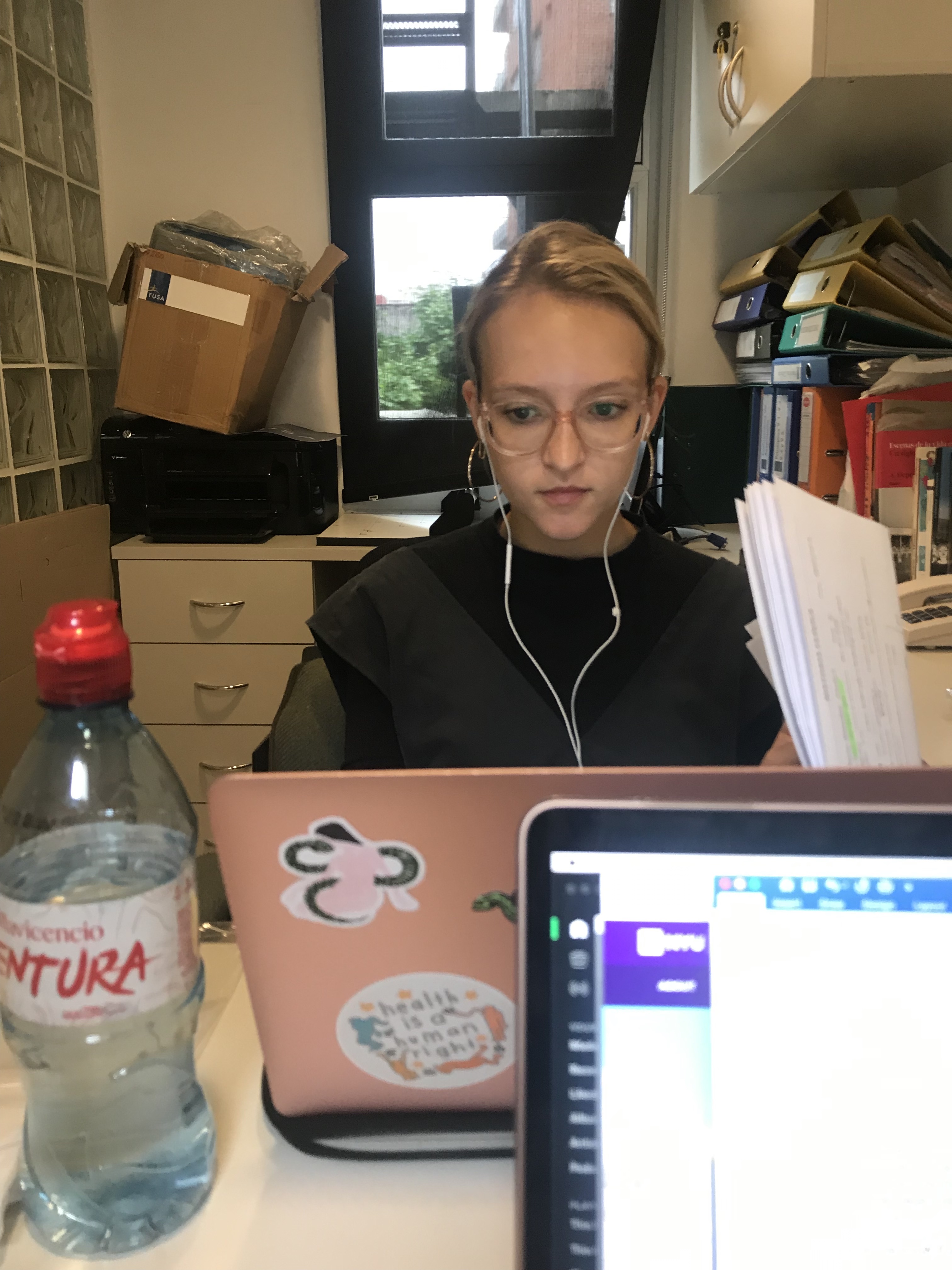 Pictured: Fellow C-C MPH cohort student, Zoe Costomiris, inputting data at Casa FUSA
FUSA is part of the International Planned Parenthood Federation, and they promote access to holistic healthcare for adolescents and young adults to allow them to know and exercise their sexual and reproductive rights. FUSA also advocates for the creation and implementation of public policies that promote and protect sexual and reproductive health and rights. Casa FUSA was founded in 2014 and was the first health clinic in the city of Buenos Aires to specialize in adolescents and young adults. Casa FUSA provides accessible comprehensive health care for adolescents and youth, along with information that allows them to make responsible and free decisions about their life plans and fully enjoy their sexuality in a healthy environment.
Basically, FUSA does amazing work, and I'm super happy to be a part of that while in Buenos Aires. As part of our fieldwork, we're creating a reporting framework, then designing and implementing an ecological study.
As mentioned in previous posts, NYU Buenos Aires hosts a variety of talks for students to attend in order to learn more about specific subjects related to Argentina. This past week, NYU BA hosted Miriam Lewin, an Argentine journalist and author, for her talk entitled "Dictatorship and violence against women." In 1977, Lewin was kidnapped due to her political activism, and spent a year in a clandestine torture center in Buenos Aires, and then spent 10 months in ESMA, a concentration camp where 5,000 people were killed. Throughout her career, she has focused on women's rights and has highlighted the specific ways in which women were targeted during the military dictatorship(s). During her talk at NYU BA, she discussed how sexual violence was only recently categorized by the UN as a crime against humanity.
I feel extremely privileged to have the opportunity to hear first-hand accounts and work directly with people and organizations that are helping to further women's rights and reproductive rights in Argentina and beyond.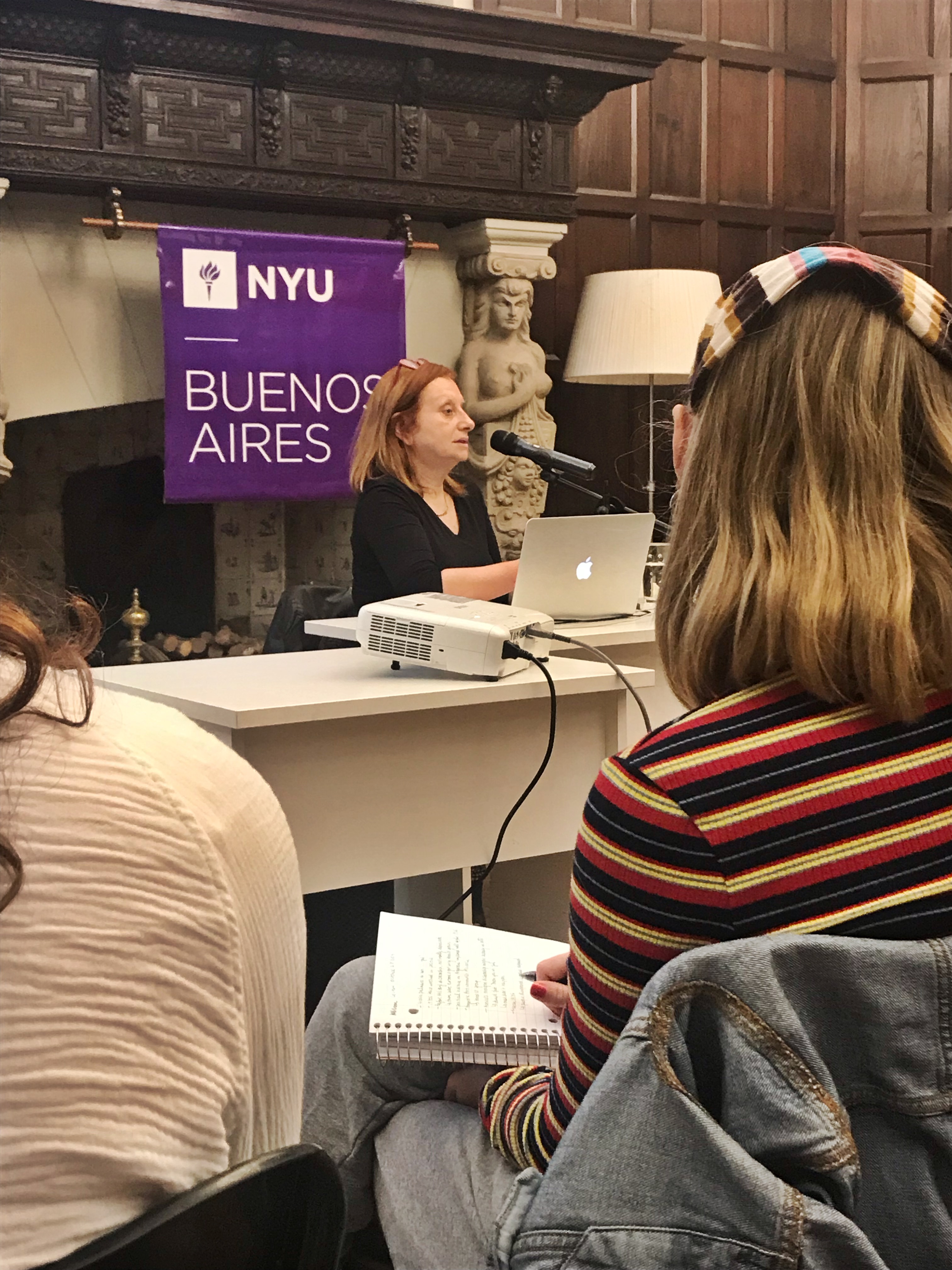 Pictured: NYU BA students listen attentively to Argentine journalist and author, Miriam Lewin, during her talk "Dictatorship and violence against women."