December 19, 2019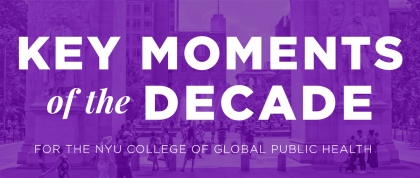 As 2019 winds down and this decade comes to a close, it is the ideal time to take a moment to reflect on our many accomplishments and look ahead to the decade to come. There is no doubt that we are at a pivotal moment for the health of our planet and people.  But how we respond to these pressing public health threats lies in all our hands.
Looking inward, the past ten years have been nothing short of momentous for us here at the College of Global Public Health. From the events leading up to the formation of the College in 2015 to all the new programs created and our exponential growth since — we are filled with excitement, pride and gratitude.
Please join us as we look to the next decade and to a new headquarters for GPH at 708 Broadway that we'll soon call home. With it, comes great hope and possibility as we continue to work to make GPH an extraordinary place to learn, work and thrive — and where we feel a great sense of belonging. May the New Year also bring with it the 20/20 vision required to clear-headedly take on our challenges and the capacity to exercise the good will to act in the best interests of us all.
Happy Holidays!
Cheryl Healton, DrPH
GPH Dean and
Professor of Public Health Policy and Management


Key Moments of the Decade
2011
The University-wide Master of Public Health program and Steinhardt's Master of Public Health program consolidate in the Global Institute of Public Health (GIPH).
New York State approves the undergraduate combined majors.
2014
Steinhardt's PhD in public health transfers to GIPH.
2015
NYU's Board of Trustees formally approves the creation of the College of Global Public Health (NYU GPH).
The Center for Bioethics transfers from Arts & Science to GIPH.
2016
New York State approves GIPH departments including Epidemiology; Biostatistics; Environmental Public Health Sciences; Public Health Policy & Management; and Social & Behavioral Sciences.
2017
GPH graduates its first PhD in public health. 
2018
Dr. Don Des Jarlais and his research team joins GPH.
The Center for Drug Use and HIV/ HCV Research (CDUHR) joins GPH.
2019
Top scientists from the National Development & Research Institutes relocate to GPH.
GPH is granted full accreditation as a school of public health by the Council on Education for Public Health.
GPH introduces two new programs: Master of Science in Epidemiology and Master of Science in Biostatistics.
GPH receives industry accolades for both its website and its popular public health podcast, 5% and Falling.
GPH ranked in the 69th percentile of all schools and programs of public health and in the 96th percentile of public health programs by the US News & World Report 2020 rankings.