June 29, 2020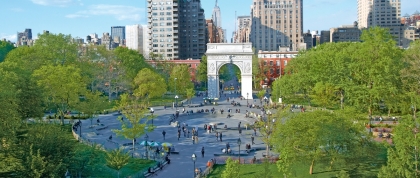 NYU GPH faculty—led by Melody Goodman, PhD, associate dean for research and associate professor of biostatistics—will partner with the NYU Langone Dental Medicine Postdoctoral Residency Program on a new project titled, "Improving access to and delivery of oral health care services for vulnerable and rural populations across the life course." The project is funded by a new five-year, $3.25 million grant from the Health Resources and Services Administration (HRSA) to NYU Langone.
The grant will train NYU Langone Dental Medicine faculty to use motivational interviewing techniques to deliver age-appropriate oral, primary, and behavioral health care services, and conduct screening and referral projects regarding the social determinants of oral health and human papillomavirus vaccination. Funds will also be used to develop a culturally competent sugar-sweetened beverage educational campaign, enhance the didactic education and clinical training of dental residents, and support dental fellows in earning an Advanced Certificate in Public Health from NYU GPH.
Dr. Goodman will lead a team of GPH faculty in creating a series of online training modules covering topics in public health. Emily Goldmann, PhD, MPH will develop a module on mental health; Jennifer Pomeranz, JD, MPH, will develop a module on sugar-sweetened beverages; and Danielle Ompad, PhD, will develop a module on the opioid epidemic and substance use disorders. In addition, Dr. Goodman will serve as the faculty advisor for the dental fellows who enroll in NYU GPH's advanced certificate program.
"We are delighted to provide foundational public health training with an emphasis on the social determinants of oral health to dental fellows and help prepare them to deliver high quality oral health care to diverse patient populations," said Dr. Goodman.
The grant is led by NYU Langone's Martin Lieberman, DDS, Vice President of Graduate Dental Education, and Mary E. Northridge, PhD, MPH, Director of Dental Research.
Press Contact
Rachel Harrison
rachel.harrison@nyu.edu