January 23, 2023
Pictured: Indigenous Women's Day Protest outside of COP27
Climate change has increased extreme weather events, vector-borne diseases, and exacerbated food and water scarcities leading to worsened health outcomes, especially in vulnerable regions and communities. Today, 1 in 5 premature deaths are caused by air pollution. This is a critical decade for our planet to work together to mitigate and adapt to the effects of climate change. In November of 2022, nearly 200 countries gathered to take action against one of the most significant threats to human health –climate change. As part of the William N. Rom Climate Fellowship of 2022 – 2023, two MPH Environmental Health students traveled to Sharm El-Sheikh, Egypt to attend the 27th annual United Nations Climate Change Conference (COP27) of the Parties.
In response to the growing public health challenge of climate change, the William N. Rom Climate Fellowship was established to support student-led climate research at NYU CGPH. This year, fellows Hyacinth Burrowes and Dia Beggs had the opportunity to observe and participate in conversations surrounding climate change and public health at COP27. Continuing their work on climate change and public health, the William N Rom fellows will work on further analyzing the role of health in nationally determined contributions (NDC) during the fellowship. The fellowship is shared with the United Nations Development Program who will supervise the students in developing case studies and policy recommendations that strengthen these health commitments. The fellows will present their work at the School of Global Public Health's Earth Day 2023 event.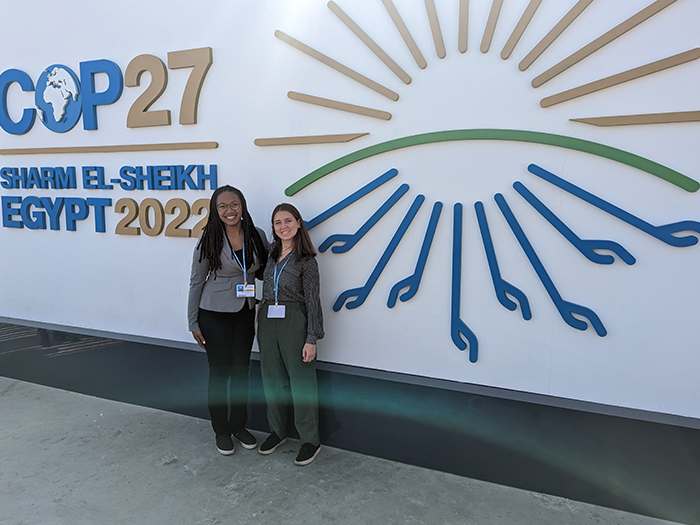 Pictured: Fellows Hyacinth Burrowes and Dia Beggs outside of COP27 in Sharm El Sheik.
After another year of increasing extreme weather events, flooding, heatwaves, food supply challenges, pollution, and the increase of zoonotic, water-borne, and vector-borne infectious disease, the impact of the climate on public health has never been more apparent. Additionally, the countries who have contributed the least to global greenhouse gas emissions are disproportionately impacted by the negative effects of climate change. While the global north continues to burn fossil fuels, the global south faces an increasing burden of climate-related disasters, extreme heat, food insecurity, communicable disease, and various health system strains. Many conversations at COP27 grappled with issues of climate justice at the global level. Moreover, there was a push for negotiators to establish a loss and damage fund to assist vulnerable countries in their plans to adapt and mitigate the worst effects of climate change.
The conference consisted of two main areas: the Green Zone and the Blue Zone. The Green Zone was intended to foster dialogue and awareness through exhibitions, performances, and talks. Meanwhile, the Blue Zone hosted the climate negotiations, side events, and pavilions. The pavilions, or individual spaces for each country or organization to showcase their climate progress and engage in discussions, filled five warehouse-like buildings alone. It took us about half of a day just to walk around and see all of the pavilions. Each pavilion was uniquely and creatively designed to reflect its country or organization. For example, the Brazil pavilion was decorated with walls of foliage to evoke the Amazon rainforest. The Ocean Pavilion had an aquarium-inspired structure. The World Health Organization Pavilion was set up with a backdrop inspired by human lungs.

Pictured Left: The Green Zone at COP27
Pictured Right: The World Health Organization Pavilion at COP27
In addition to the pavilions, we attended events shaped by concerns over the health effects of climate change with a particular focus on the impact on maternal and child health. Women responsible for domestic tasks feel an increased burden during periods of flooding and drought, and sometimes children forego schooling to assist with the shifted burden. When these extreme weather events begin to impact the region's food security, adolescent girls are more likely to go hungry than their male counterparts. Lastly, mortality rates of women are higher than mortality rates of men in climate disasters. In order to address these health disparities, some countries have adopted Gender Action Plans. Nepal continues to be a leader in gender equity and women empowerment in the context of climate change.
After about 15 days of negotiating, the conference culminated in a decision to establish a loss and damage fund for countries hit the hardest by climate change. While the operationalization of the fund as well as the specific dollar amount remain undefined, the breakthrough decision marks a step toward progress. Lastly, countries in attendance reaffirmed their commitment to limit the increase in global temperature to 1.5 degrees Celsius, which would avert the most catastrophic effects of climate change.

Pictured Left: Hyacinth and Dia attending a panel discussion on clean cooking at the UN Climate Change Pavilion
Pictured Right: UNFCCC Panel, Achieving NDC Targets through Clean Cooking Action with Forrest Robinette, Dr.Donee Alexander, Norah Magero, Dr.Rob Bailis, Koen Peters (left to right)
Authors
Hyacinth Burrowes, MPH
Environmental Public Health Sciences
Dia Beggs, MPH
Environmental Public Health Sciences