September 22, 2017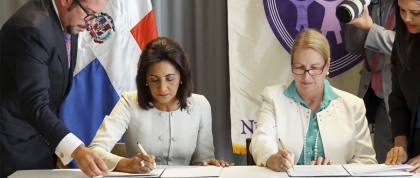 On September 20, 2017, New York University's (NYU) College of Global Public Health (GPH) and the Dominican Republic's Office of the First Lady joined together in the signing of a memorandum of understanding targeting the Human Papillomavirus (HPV) in the Dominican Republic. Through this partnership, objectives are focused on effective prevention and complete viral eradication.
According to the US Center for Disease Control and Prevention, "About 14 million people become newly infected with HPV each year. HPV is so common that most sexually-active men and women will get at least one type of Human Papillomavirus at some point in their lives."  
 
In the Dominican Republic, it is the second most prevalent preventable cause of cancer deaths among women of reproductive age (18-45) and it is the number one cause of years of potential life lost for women due to cancer.
 
With so many lives at stake, nearly two years ago, Dr. Cheryl Healton, Dean of NYU GPH, encouraged the GPH Director of Global Women's Health, Dr. Tara Shirazian, to establish a GPH HPV Task Force with several of its faculty, including Dr. Danielle Ompad, Erica Jean Lieberman, Nancy Van De Vanter and Natalia Frias from the DR. Starting in April 2017, approximately 110,000 nine- and ten-year-old girls were vaccinated, which represented half of the girls in this age group, and another wave of vaccinations is scheduled to occur in late October. 
 
More must be done to educate the public, however, as misinformation about HPV is prevalent, and many - especially on social media - associate HPV vaccination with encouraging early sexual activity or implying that children are sexually active, causing parents to opt out of the vaccine.  
To begin to correct that, Dean Healton was honored to meet with the First Lady of the Dominican Republic, Candida Montilla de Medina, on Wednesday to sign a memorandum of understanding between NYU GPH and the First Lady's Office to further pledge the College's support to work with the country on this and other key preventable public health problems facing people in the DR. With co-leadership from the First Lady, key local agencies, the Huntsman Cancer Center and GPH, a meeting is scheduled to convene in November to share experience thus far with the HPV efforts and hopefully institutionalize the effort. The result will be the eventual near eradication of cervical cancer. Screening is stated to be key if initiatives of the co-partnership are to reach many who are at risk of cervical cancer in the country in a timely manner.
The College of Global Public Health is proud to enter into the collaboration and will continue to keep the public apprised of the successes there. A great debt of gratitude is due to all who have worked tirelessly on the project.