November 15, 2017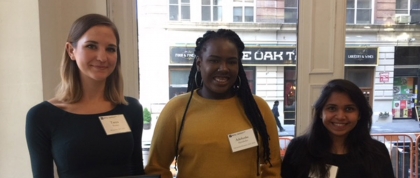 Extending Congratulations to the Ellen Gstalder Memorial Scholarship 2017-2018 Honorees
Cover Photo: Pictured left to right, Tanya Braune, Adefunke Ajenikoko, and Alomi Malkan.
Once again, we honor the memory of Ellen C. Gstalder, who was accepted to NYU to study Public Health Nutrition in our MPH program, but sadly lost her life to leukemia in 2004. Her parents, Bobbi and Herb Gstalder, and her family and friends established a scholarship in her memory at the College of Global Public Health. Last weekend an extended group of GPH faculty, students, and alumni gathered to announce the 2017-2018 recipients and finalists of the Ellen C. Gstalder Memorial Scholarship. 
Adefunke Ajenikoko was selected to receive the scholarship, and Tanya Braune and Alomi Malkan were named as "rising stars" in the Public Health Nutrition program. Congratulations to all!
Adefunke Ajenikoko is a nutritionist and second year MPH student working as a study coordinator on the Goals for Eating and Moving (GEM) Study under Dr. Melanie Jay at NYU Langone Health. The GEM study is a cluster randomized control trial of a technology-assisted weight management intervention to promote weight loss through counseling and increased engagement in an intensive lifestyle program. She also works as a research assistant for the Technology Assisted Dietary Assessment-Kids (TADA-Kids) study under Dr. Niyati Parekh and Dr. Andrea Deierlein. The study is testing and modifying the web based pictorial Vioscreen food frequency questionnaire. Adefunke's research interests includes incorporating nutrition education into primary care and doctor visits to increase weight loss and decrease the comorbidities that accompany obesity. She strives to grow as a public health professional to see what nutrition improvement interventions can be put in place to improve the maternal and child health of underserved communities.
Hear more from Adefunke in episode 7 of the I AM GPH podcast.
Tanya Braune is a second year MPH student and research assistant for the TADA-Kids study where she also works on the development of a new technology-assisted dietary assessment tool for children between 7 and 13 years old. Additionally, Tanya spent Summer 2017 working with the Children's Nutrition Program in Leogane, Haiti alongside the monitoring and evaluation fellow in the launch of new programs. Her role included home visits, malnutrition monitoring, screening events, and educating families on breastfeeding, adequate nutrition and family planning. At local clinics, she assisted nurses in the insertion and removal of various birth control methods. Currently in NYC, Tanya continues to collaborate with the Program's director to develop a new breastfeeding program.  Her experience in Haiti solidified her passion to work in lower income countries with the most vulnerable communities, particularly mothers and children.
Alomi Malkan is a second year MPH student in the Epidemiology concentration working as a Project Coordinator on a family-based intervention focused on non-communicable disease prevention. Recognizing the role of nutrition in preventing and containing diseases, Alomi sought research opportunities in nutrition and came across a research assistant position for a pilot study in the GPH Public Health Nutrition department. The new skills she gained from the position pushed her to further engage in another study about family centered interventions under the supervision of Dr. Niyati Parekh. Alomi has come to acknowledge and appreciate the power of nutrition as a tool in fighting public health issues. She has decided to train herself in nutritional epidemiology as she writes her final thesis on "Weight perception in young children and its effect on their dietary intake." Upon graduation, her plan is to work with an organization actively involved in public health nutrition research to provide actionable ideas that can produce a positive impact on people's lives.