April 26, 2023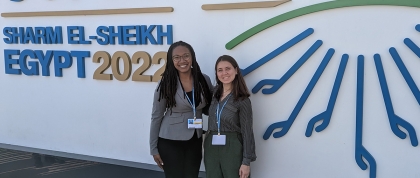 Pictured: Fellows Hyacinth Burrowes and Dia Beggs outside of COP27 in Sharm El Sheik.
In January 2023, GPH William N. Rom Climate Fellows Hyacinth Burrowes and Dia Beggs recounted their experience, event proceedings, headlining topics and culminating decisions of the 27th annual United Nations Climate Change Conference (COP27) in Sharm El-Sheikh, Egypt. Their attendance allow them to join the conversation and strategize ways to take action against one of the most significant threats to human health –climate change. Fueled by the discussions, the fellows immediately were onboarded to the HIV and Health team at the United Nations Development Program (UNDP). They worked closely with the team to analyze gendered health approaches to UNDP-supported energy transitions and assessing the degree to which health is considered. For their culminating experience, both students presented case studies and policy recommendations to strengthen these health commitments. Descriptions of the projects and their findings are listed below:
(1) Gender and Health in Energy Transitions:
This project responded to UNDP's organization-wide need to better integrate gendered health in its energy portfolio, for more impactful development outcomes. Fellows evaluated 16 UNDP energy projects for their engagement with gendered health. The fellows created an analytical framework in order to evaluate the projects based on current literature and existing gendered health themes. Common gendered health themes in the selected energy projects included reference to gendered health when mentioning the following: healthcare access; reproductive and maternal health; and water, sanitation, and hygiene. Additionally, the fellows found that while gendered health was mentioned in the planning and/or background sections of 62.5% of energy project documents, only 25% include gendered health in the implementation and outcome sections. Their results culminated in an internal report analyzing gendered health issues and why it is important for global development.
(2) Health in the Nationally Determined Contributions (NDCs):
Fellows examined the process of NDC development in countries that have health-sensitive NDCs, or national climate agendas. The UNDP HIV and Health team asked the fellows to conduct a process evaluation in a few "champion" countries to better understand how UNDP can support further health-sensitivity in future NDC revisions. This is crucial because while some countries have described health-related activities in their NDCs, there is limited understanding as to how this health inclusion came to be. This work is ongoing and the planned methods for this deliverable include a combination of questionnaires, focus groups and informal meetings. The results will be an internal report and later a public guidance document.
(3) Loss and Damage Case Studies.
The third project area involved conducting country case studies for the purpose of highlighting the role of health in climate loss and damage, particularly in the aftermath of natural disasters in Pakistan and Bangladesh. While COP27 concluded in the historic decision to establish a Loss & Damage Fund, many details such as the role of health have yet to be decided. The fellows participated in the UNDP Loss and Damage Consultative Group and provided feedback on how to address health within plans for loss & damage.