March 11, 2018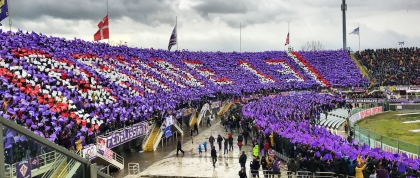 The Aftermath of Italy's Decisive Campaign
The Cross Continental Experience Blog by Rory Curtin, CCMPH Student
Photo above courtesy of Diana Klatt: Over the weekend Florence's calcio team, Fiorentina, played against Benevento and won 1-0. The game was played with special memorial to team Captain, Davide Astori, who passed away on March 4th (the day of the elections).
March 11, 2018
The morning after Trump was elected I rode the G train from Metropolitan Ave to South Brooklyn to look at an apartment I'd been thrilled to catch on Gypsy Housing the week before. I felt listless, paralyzed, as the train rose above ground and looked out over "our America", the land of people who had but propelled Him forward with their hatred, greed, and fear, to become President of the United States. I was shaken from my stupor only when a woman stood up suddenly from her bench and began to shout. "I'm afraid", she said. "I am afraid because not only am I a women, but I am Black, and I have daughters, and they are women and they are Black, and now they must grow up in a country that breeds racism". "Why?", she wailed at the top of her lungs. "Why did you let this happen? Who are you people that voted for such a monster!"
    
The same shock and dismay hangs like an opaque mist around the city of Florence right now. Six days ago a Senegalese man selling umbrellas on the Ponte Vencchio (a bridge in the center of Florence) was shot to death seven times by an angry Italian man. The shooter is alleged to have intended to commit suicide over financial troubles, but killed Diene, a 54-year old father and husband, instead. Other sources claim that the shooter was lashing out, blaming asylum seekers such as this innocent street vendor for the economic crisis, unemployment rates, and other political troubles facing Italy. This crime amplifies the effect of another xenophobic shooting in the small Italian town of Macerata in February, when Luca Traini injured six African-born migrants in reaction to the death of a young Italian woman. To the dismay of leftist activist, many are vocalizing their support for the violent actions of these two men. Why? Largely responsible for these sentiments is certainly the nation's hung parliament. Voted into office last week, Lega (led by Matteo Salvini) and The Five Start Movement (led by Luigi di Maio) have come into office spouting hateful anti-immigrant rhetoric to fuel their political campaigns. 
The young and educated Italian friends I have made here are equally, if not more, outraged as by the outcome of the election and the preceding events, as are my peers here in the MPH program. We are aspiring public health practitioners in a world that you must question whether a holistic balance can ever be brought, if citizens of nations are so resentful of difference, and so insensitive to the strife others have had to endure. 
However, as I said, visceral regret for the outcome of last Sunday's election is being felt by those who are the change-makers of our generation- students, teachers, journalists, artists. As followed in the wake of Trump coming to power, people have immediately become less tolerant of what was overlooked in past decades. For example, issues of sexual discrimination, violent gun laws, and racism, were kept under their rug during the Obama Administration. However with politicians like Trump, and hopefully now in Italy, complacency becomes unacceptable. 
Italy has already begun to retaliate. Two days ago a group of 10,000 gathered in the Piazza Santa Maria Novella, a ten minute walk from the Duomo (an equal distance from my apartment as well) for a "March Against Racism". So much of what we are seeing here resembles the days following our U.S. elections that it is uncanny. My only hope is that a similar momentum will also follow suit. Though a brief reprieve from far-right populist politics in Europe was brought by France's new Prime Minister and Germany's Merkel, this era has come to an abrupt end. 
Good news- Right on cue, our professors from NYU arrived today for two exiting weeks of a Social Epidemiology intensive lead by Dr. Bernadette Boden-Albala and Dr. Eric Roberts. Here, we will have the opportunity to discuss these election results, which will be exceptional. In a conversation with one of our other NYU professors back in New York, they eloquently reflected that, "perhaps right now is the best possible time for you all to be studying in Florence, in light of the political climate…difficult, but important". I entirely agree with this sentiment and know that having professors Boden-Albala and Roberts to delve into the complexities and uncertainties of global public health at such time  a world will be invaluable. 
As mentioned, there will be two weeks of relevant actives here at NYU Florence. Following the week-long Social Epidemiology intensive, there will then be the International Human Rights Conference. A wave of influential characters in public health, medicine, and economics, will arrive on campus for this. Additionally, our team of five graduate students will not be idly attending lectures either, but have the opportunity to present at several forums. With Dr. Chris Dickey's class on Social Enterprise, we will be talking about the cooking class we have initiated with a migrant from Nigeria who lives in a SPRAR center outside of the city, and a cooking school at the touristic center of Mercato Centrale. (In brief, this project aims to promote integration and social inclusion for the greater purpose of decreasing food insecurity among migrants in the community). Also, each member of our Thesis/Capstone class with Dr. Nathan Bertelsen will be presenting on the various topics we have undertaken this year. 
All in all there is a lot going on. Some things (a.k.a. the mess which is Italy's government) are admittedly bad, but not without their silver-linings. I am eager to report all that we learn in the coming weeks. In the meantime, I encourage anyone reading this blog to try and follow the Italian news these days, it's relevant! 
Ciao, Rory 
P.S. Italy won in the Fiorentina game (see title photo)!