April 13, 2018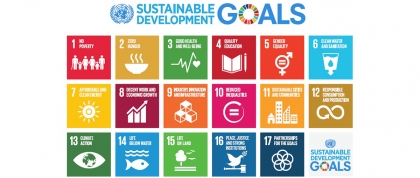 Students challenge each other to a cook-off in efforts to raise awareness of food insecurity and the importance of nutrition in global public health.
April 13, 2018
Dear Colleagues and Students:
Globally, one in nine people are undernourished and the vast majority of these people live in developing countries. Poor nutrition causes nearly half of all deaths in children under five – 3.1 million children each year. In 2015, 17 Sustainable Development Goals (SDGs) were developed by the United Nations, which include a universal call to action to end poverty and hunger, to maximize human health, and protect the planet. 
Together, the SDGs aim to end all forms of hunger and malnutrition by 2030. Goal #2 specifically aims for Zero Hunger, ensuring that all people have access to sufficient and nutritious food year round. 
To engage our Public Health Nutrition MPH students in this call to action, we hosted our annual Zero Hunger Cooking Challenge last week--an event that personally feeds my soul—to spread awareness about world hunger, food waste and food security. Organized to celebrate National Nutrition Month, this challenge demonstrates our college's commitment to and recognition of nutrition as an important factor in global public health. This year's event was co-sponsored by the GPH Delta Beta Chapter of the public health honor society, Delta Omega.  Dr. Danielle Ompad is our committee chair. 
The MPH student chefs who took part in the cooking challenge developed culturally-appropriate, nutrient-dense recipes to appeal to vulnerable populations that are at a risk of malnutrition. They were charged with developing tasty, colorful and low-budget meals to nourish the population they selected. This competition is open to all GPH students and serves as an excellent opportunity for them to learn about food issues, discover the culture of a new country, and critically think through the challenges of scaling up meals in a public health setting. 
Chef Lourdes Castro, RD, the author of three Latin cuisine cookbooks and an adjunct professor at NYU Steinhardt, worked closely with our students both on their cases and in the kitchen on the day of the Cooking Challenge. 
We had five teams representing Guatemala, Morocco, Philippines, Puerto Rico and South Africa.  The public health cases ranged from addressing child welfare to HIV needle exchange, elder care to obesity, and disaster-affected areas. 
Students and their faculty mentors had three hours from collecting their ingredients to plating their foods for the five judges and approximately 70 guests to taste. They were also surprised with a secret ingredient (spinach) just prior to the commencement of cooking, and were tasked with including it into an existing dish. 
Five judges evaluated the teams and their meals from many perspectives: 
1. Scott Barton, NYU Alumni, is an executive chef and culinary consultant who specializes in Brazilian cuisine;
2. Dr. Andrea Deierlein, is a maternal and child nutrition specialist; she judged the nutritional value of meals;
3. Dr. Joyce Moon Howard, evaluated meals through the lens of a community health practitioner;
4. Dr. Rudolf Knippenberg, brought his experience as a health professional and physician who, while working for the United Nations, witnessed the negative impact of poor maternal, newborn, and child healthcare across the globe;
5. McKenzie Pickett, MPH student and co-president of the GPH Student Governing Council, who works to activate and empower the GPH community in students' studies, community creation, and political engagement.
And – drumroll, please -- the winner was TEAM South Africa!
Congratulations to the participating students and their faculty mentors, Drs. David Abrams and Ray Niuara, for guiding the team through recipes modified from Nelson Mandela's favorite meals. A special touch was added by David – a South African native -- whose creative South African fabric and wooden animals inspired just the right mood for the team. 
Team Puerto Rico was led by Dr. Jose Pagan; Team Philippines was coached by Dr. Danielle Ompad; Team Morocco was led by Dr. Alexis Merdjanoff, and Team Guatemala was inspired by Dr. Julie Avina.  They also concocted delicious drinks and created colorful dishes for everyone to share. The creativity, energy and professionalism of the teams made us all proud!
We offer a huge round of thanks to our judges, mentors and student chefs.
In closing, special guest Shada Moghraby, from the World Food Programme (WFP), spoke about and promoted the WFP's new social media campaign, #Recipe for Disaster, whose goal is to reduce and ultimately eliminate food waste.  To this end, the GPH Nutrition Without Borders student club members and Nutrition faculty will partner with WFP to support this important campaign.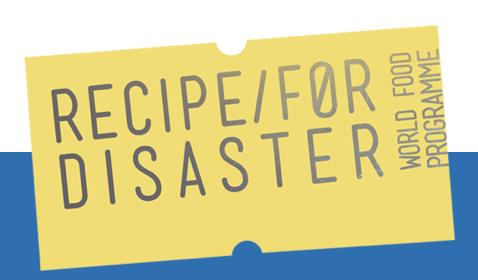 Consistent with the new thinking of cooking schools within medical school education (Tulane University), this kind of hands-on experience with food, cooking and creating dishes for a cause is an important experience for our public heath students, while inculcating cultural sensitivity and creating a sense of community within our student and faculty body. 
Thank you to all who took part and attended!  

Dr. Niyati Parekh
Director, GPH Public Health Nutrition