March 29, 2019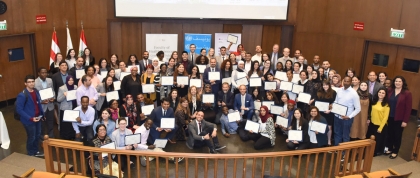 Pictured Above: GPH students and faculty, and colleagues from the American University of Beirut (AUB), UNICEF, WHO, and government ministries in Beirut, Lebanon for the course in Behavioral Communication Strategies for Global Epidemics.
Dear Colleagues and Students,
Over Spring Break, GPH students traveled to Beirut, Lebanon for the fifth annual class in Behavioral Communication Strategies for Global Epidemics. The course was created during the Ebola outbreak in 2014, in partnership with UNICEF and in recognition of the need to change the way we address disease outbreaks.
Students worked on interdisciplinary teams using systems thinking, anthropology, behavior change strategies, human-centered design, network analysis, and bottleneck analysis. This year we saw the best examples yet of innovative, human-centered interventions, and students more than held their own among experienced UNICEF, WHO, and government ministry colleagues (listed below).
Ten teams of intermingled GPH students, government, and UN staff (listed below) were tasked by UNICEF with proposing interventions that address real-life, complex health challenges such as Chikungunya in Sudan, Monkeypox in Nigeria, Ebola in DRC, and ruined health systems in Iraq, Syria, and Yemen.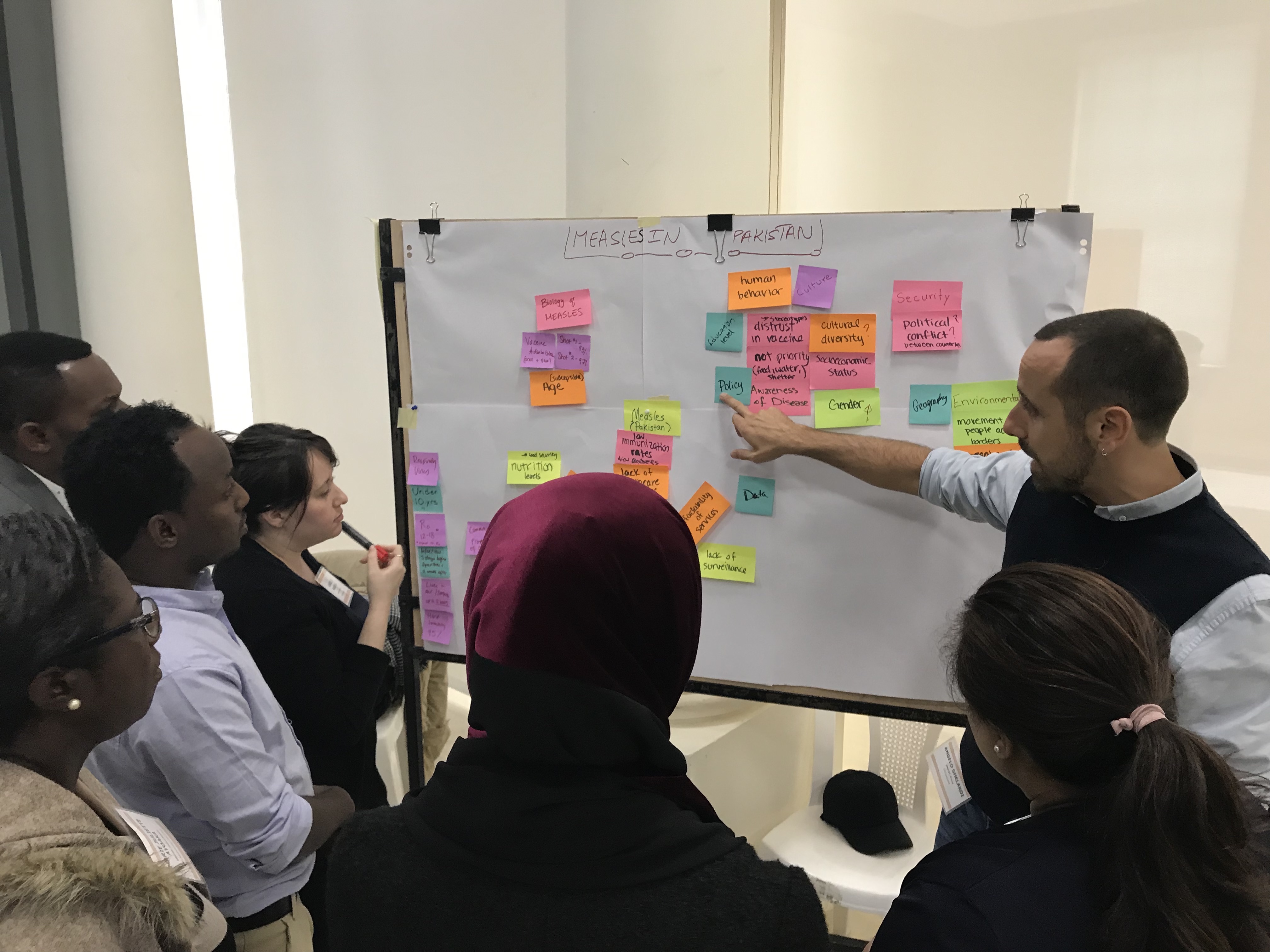 Pictured: Teams participating in a systems mapping exercise.
To supplement lessons and give context to the complexity of these case studies, students visited an informal Syrian refugee settlement in the Bekaa Valley outside of Beirut. Here, they were able to interview refugees in their homes and report on the observed infrastructure and behaviors that could contribute to a cholera outbreak.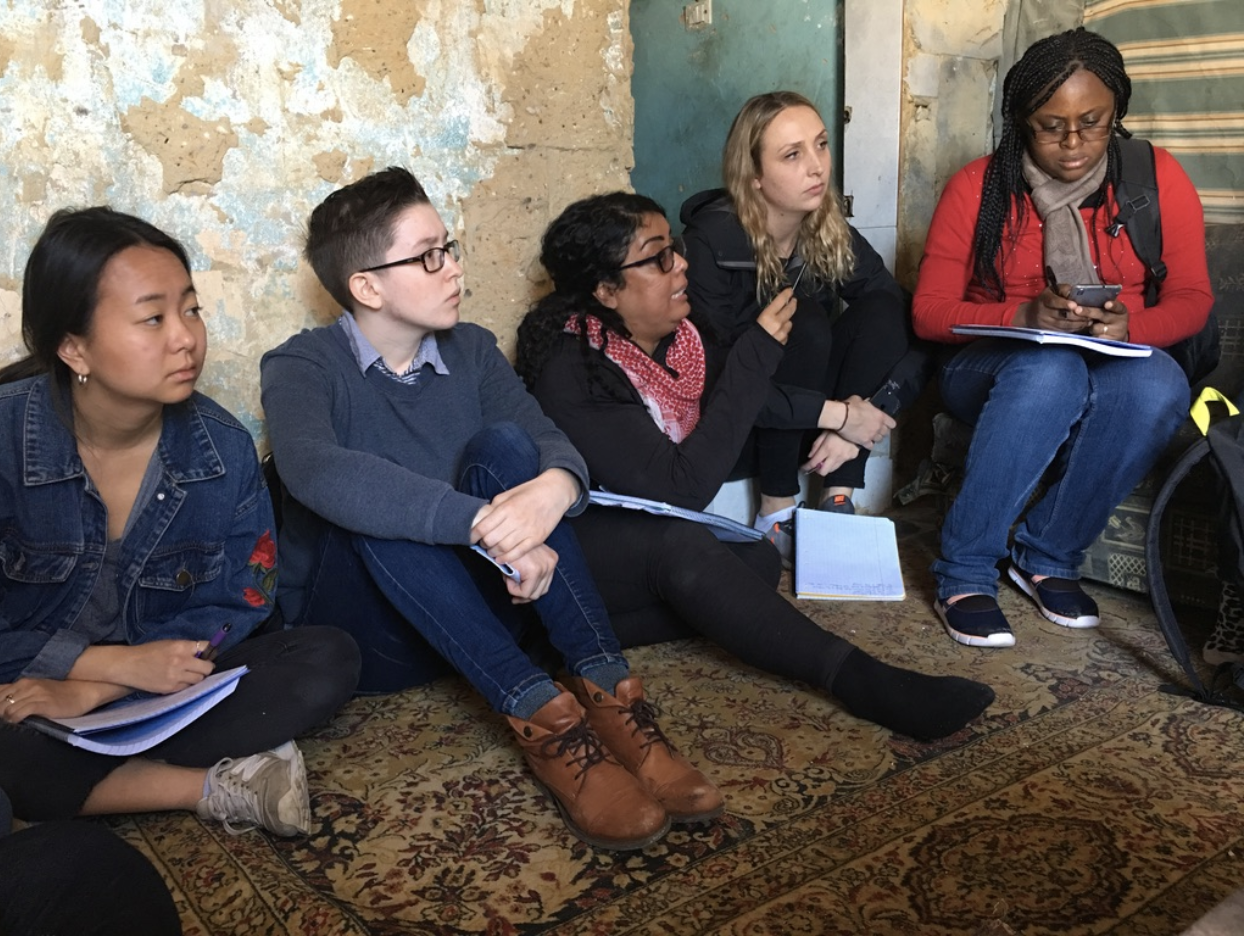 Pictured: Course participants in the field: Marthe Nguegium (UNICEF - Cameroon); Katherine Baumann (NYU); Alison Clement (UNICEF - US); Ansar Rasheed (UNICEF - Yemen); Angelina Cui (NYU)
At the end of the week, each team presented their proposals at the American University of Beirut (AUB). The winning team designed an intervention to make it easier for the women in ISIS-liberated Iraq to access the healthcare system. Many of the excellent proposals by other teams will ultimately be implemented in their respective countries.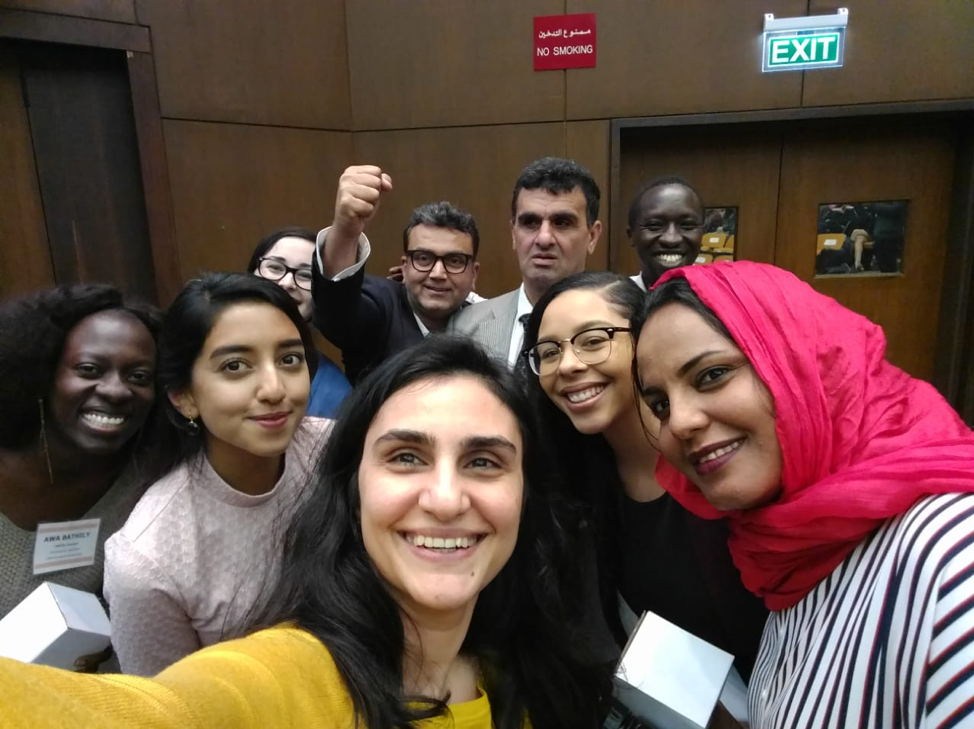 Pictured: The Winning Team: Mehreen Karim (NYU GPH); Awa Bathily (UNICEF - Senegal); Paul Bagambe (UNICEF - Rwanda); Sutton King (NYU GPH); Fazal Ather (UNICEF - Jordan); Mohamad Nassar (UNRWA); Sohanda Hassan (Sudan government ministry); Hannah Parsons (NYU GPH); Sonia Butris Ilias - Team Mentor - UNICEF Lebanon
In just one week, students exceeded expectations, earned the respect of colleagues with decades of experience, and left with professional connections and internship offers. We're proud of their hard work and motivation, and look forward to future iterations of the course with our new partners at the American University of Beirut -- and to more celebrations with traditional Lebanese dancing!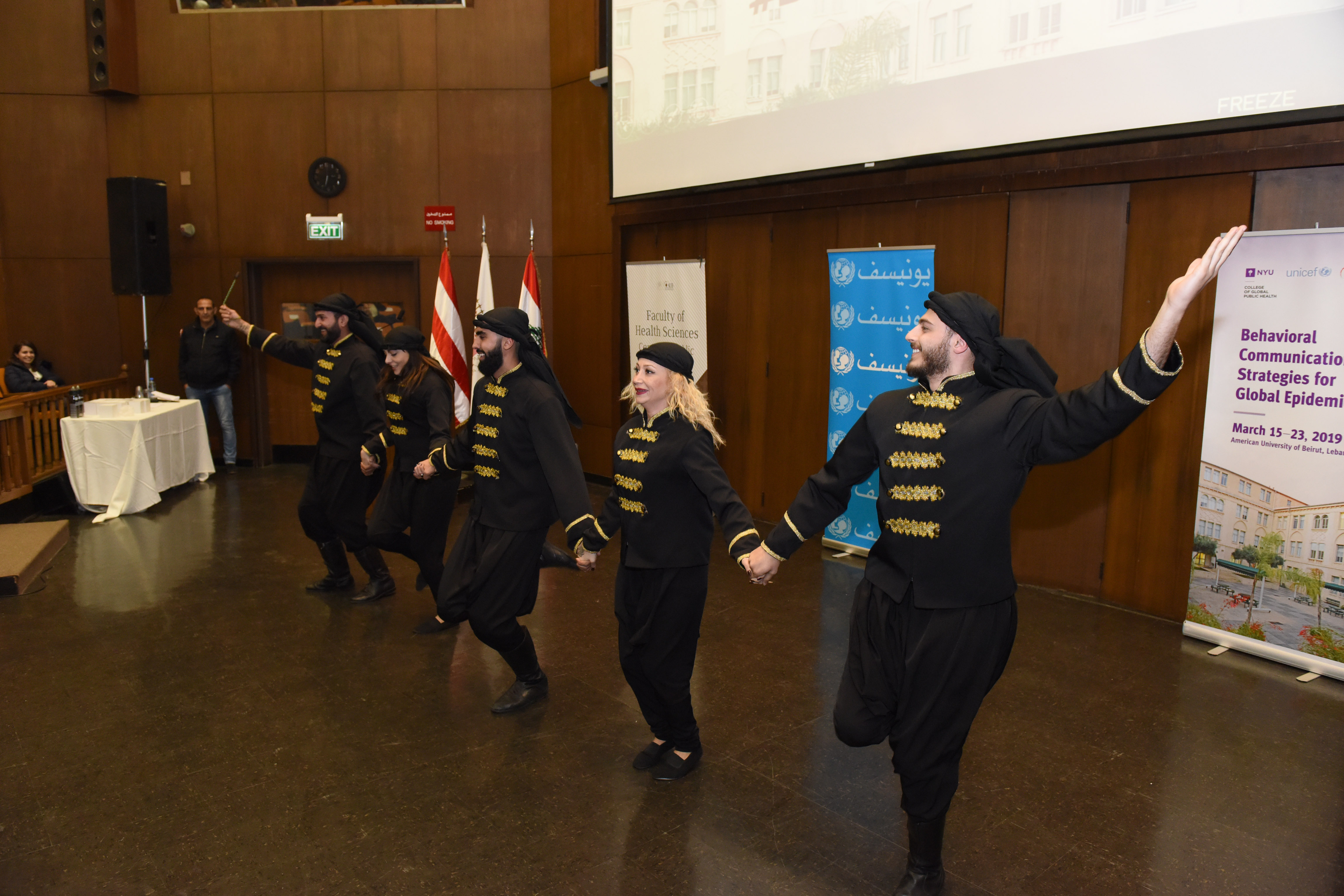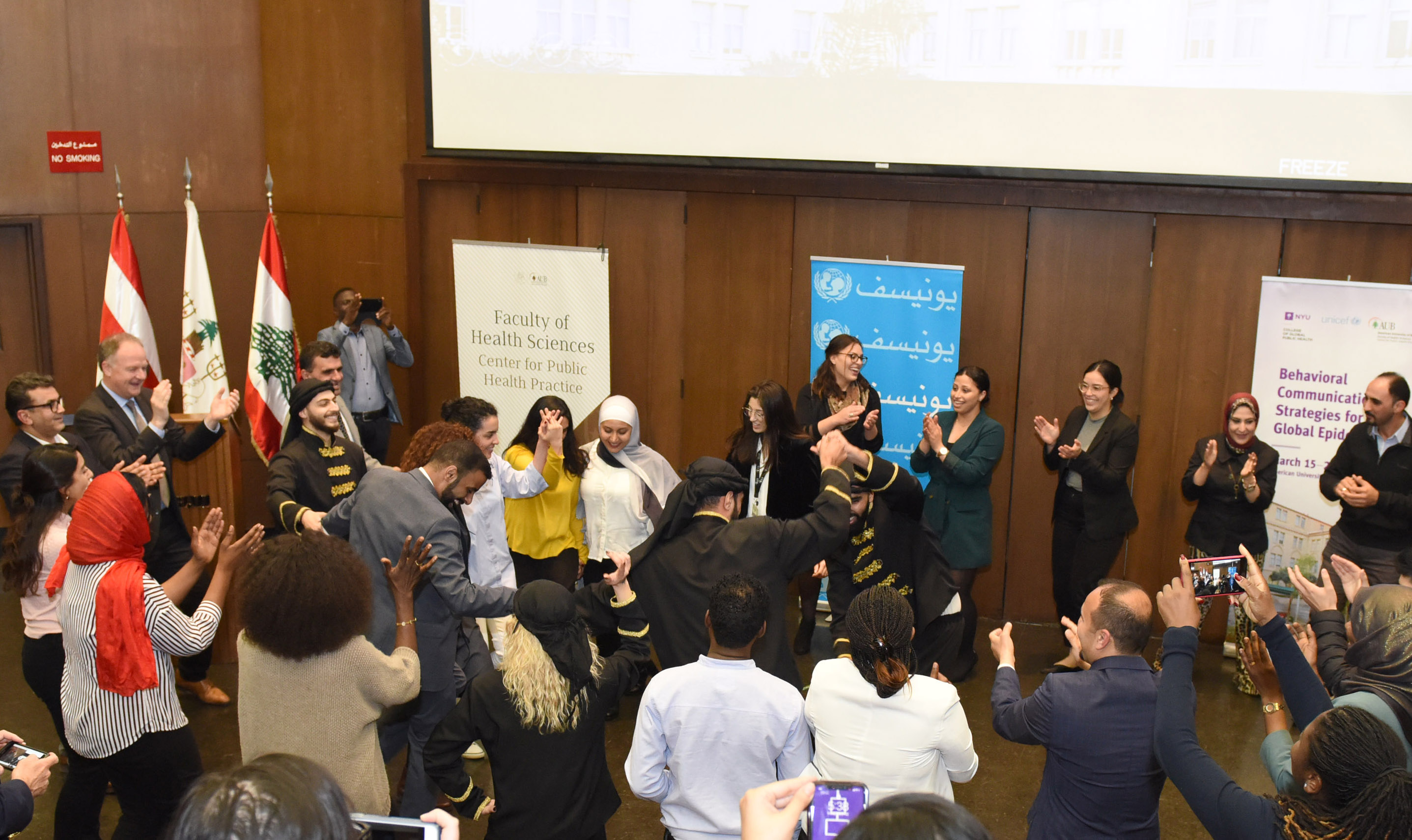 Pictured: Traditional Lebanese dancers; Dance performance with audience participation
Chris Dickey, DrPH, MBA
Director of the Program in Global Health
Clinical Associate Professor of Global Health
Ashley Newcomb
Second year MPH candidate
-------------------------------------------------------------
Teams: 
#1        Guatemala - Zika virus
#2        DR Congo - Ebola virus
#3        Nigeria - Monkeypox
#4        Yemen - Cholera
#5        Syria - Preparedness/Large-Scale Displacement
#6        Lebanon - Measles
#7        Sudan - Chikungunya & Dengue Co-Infection
#8        South Sudan - Cholera
#9        Pakistan/Afghanistan Border - Measles
#10      Iraq - Prevention and Systems Building
Thank you to the star lineup of experts who joined our course and led class discussions including:
Guest Lecturers:
Clay Shirky (NYU); Juliet Bedford (Anthrologica); Rafael Obregon (UNICEF); Erma Manoncourt (M&D Consulting); Sherine Guirguis (CommonThread); Sawsan Abdelrahim (AUB), and Abla Sibai (AUB).
Judge panelists from:
UNICEF, Anthrologica, GPH, AUB, and Beyond International (an NGO that manages health services for Syrians with refugee status in Lebanon).