February 27, 2020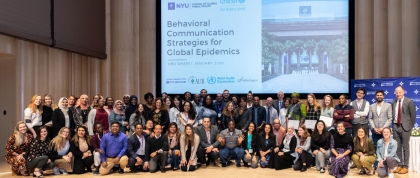 Pictured: BCSE 2020 class at NYU Abu Dhabi after final intervention pitches.
A Student Perspective Piece by MPH Student, Jenna Mote
From January 13th-21st, we joined Dr. Chris Dickey, UNICEF, Anthrologica, M&D Consulting, WHO EMRO, and the American University of Beirut for the sixth iteration of the NYU School of Global Public Health's Behavioral Communication Strategies for Global Epidemics (BCSE) course at NYU Abu Dhabi in the United Arab Emirates.
Over the last 5 years, this model has produced novel interventions to address issues presented by UN agencies in NYC, Ghana, Nepal, and Lebanon. To date, more than 275 NYU GPH students, UN professional staff, and government ministry employees, from more than 60 different countries have participated.
After completing 6 weeks of foundational online coursework, we arrived in the United Arab Emirates to start the course on the NYU Abu Dhabi campus. GPH students were dispersed onto teams with UNICEF staff, WHO staff, and working professionals from governments in countries that are either experiencing (or are at risk of) an outbreak or a humanitarian health challenge. This year, there were 25 UNICEF, 2 WHO, and 1 government staff from 18 countries on our teams. Teams were charged with creating interventions in response to case studies on the following topics: HIV in Pakistan; measles and Ebola in DRC; cVDPV2 in Somalia; EPI preparedness in Syria; cholera in Yemen; and dengue in Sudan. Each team member was given a professional "Avatar" including Anthropologist, C4D Specialist, External Comms Expert, Epidemiologist, Social Protection/Economist, M&E/Data Expert, and Environmental Scientist/WASH. What was really interesting about this is that everyone was given an avatar that is a role they have never held before, which not only challenged us to think outside of the box, but leveled the playing field a bit with such experienced colleagues on our teams.
First, we were instructed to create a system's map of the outbreak or health challenge in our case study, thinking through the sociocultural, political, geographical, and financial environment in which their outbreak exists to find leverage points where they might be able to focus their intervention.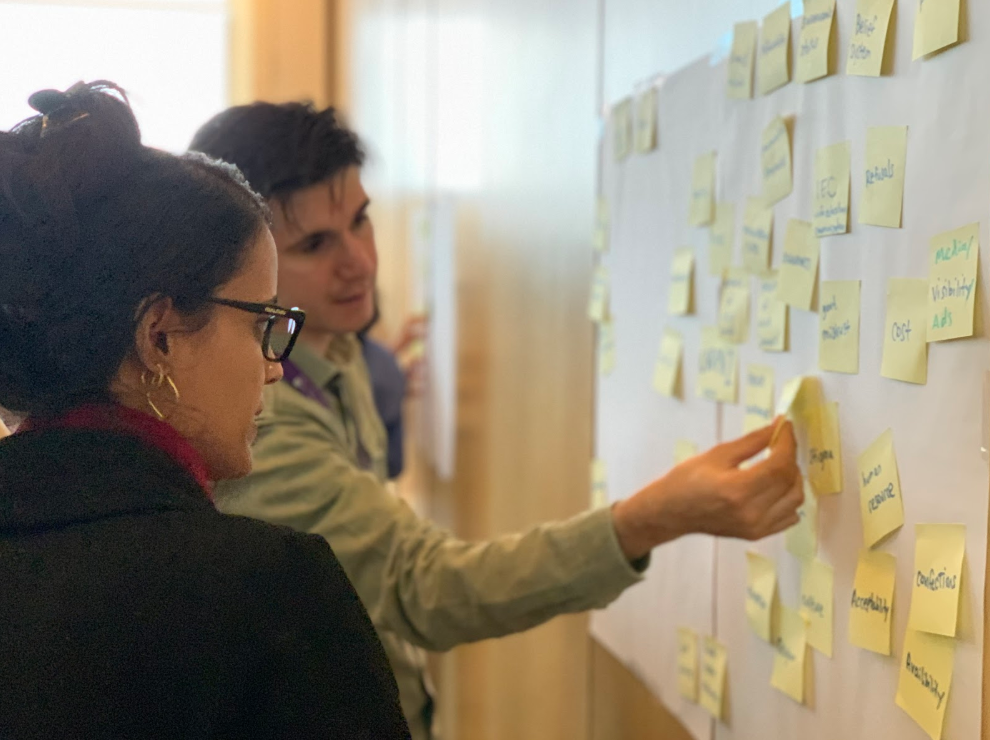 Pictured: Team cVDPV2 in Somalia, Karmen Alkubati (UNICEF Yemen) and Rasan Baqi (UNICEF Iraq).
We worked through exercises with really engaged faculty throughout the week to test the assumptions of our systems maps and begin shaping our interventions to reduce the burden of disease in affected communities. We had the privilege of working with Peggy Hanna (WHO Lebanon) on risk communication and IHR and Drs. Olivia Tulloch (CEO of Anthrologica) on anthropology and strategy and governance, Erma Manoncourt (Founding President of M & D Consulting) on human behavior and communications theory, social determinants of health, and monitoring and evaluation,  Clay Shirky (Vice Provost for Educational Technologies at NYU) on social networks, Nada Melhem (American University of Beirut) on field epidemiology, and Genevieve Begkoyian (UNICEF Lebanon) on community engagement.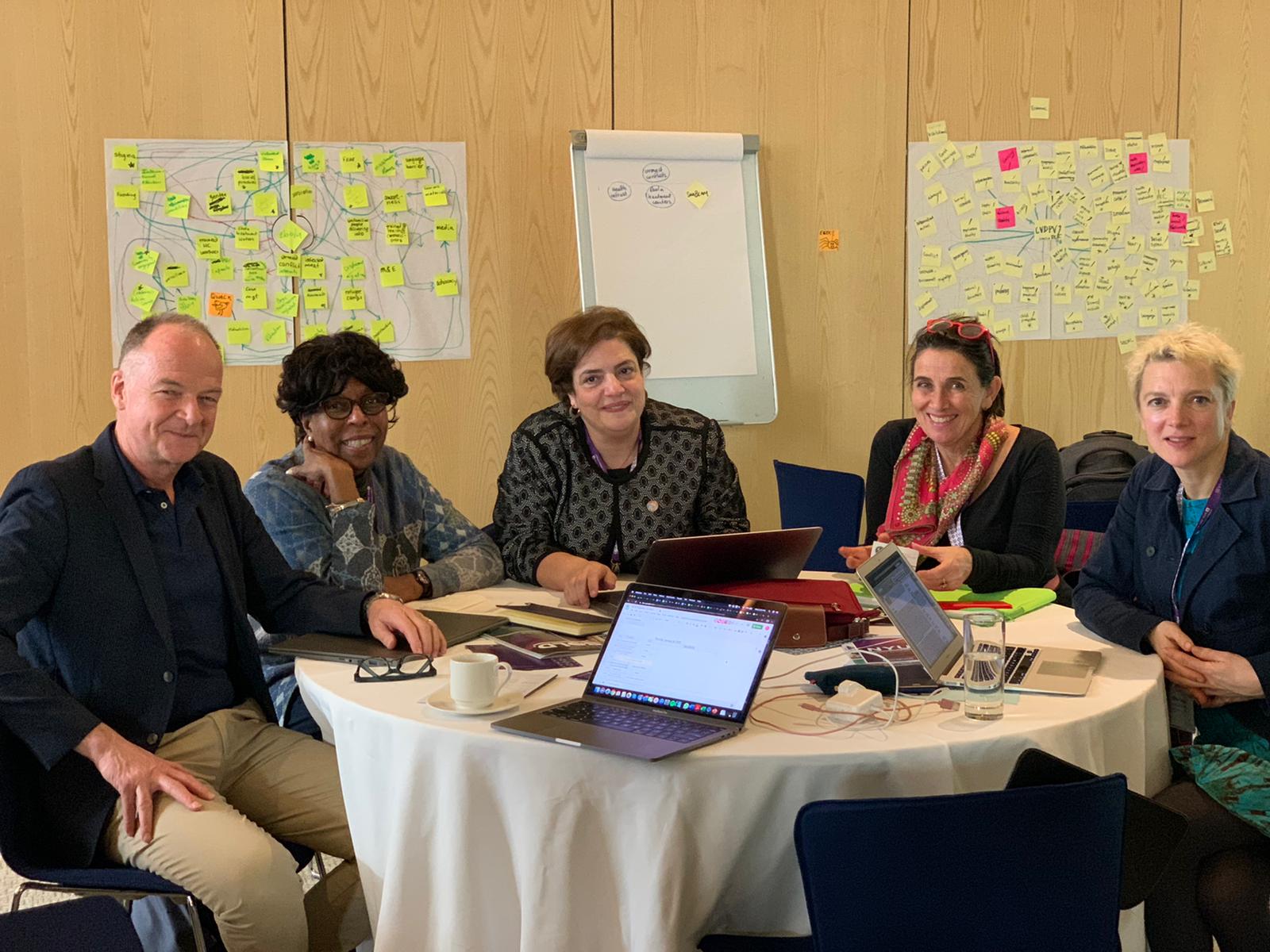 Pictured: From left to right, Dr. Chris Dickey, Dr. Erma Manoncourt (M&D Consulting), Peggy Hanna (WHO), Genevieve Begkoyian (UNICEF), and Olivia Tulloch (Anthrologica).
We worked, relentlessly, for a week developing our interventions to respond to our case studies. Finally on Friday, we pitched our proposed interventions to Simon Bland (CEO at Global Institute for Disease Elimination), Saba Brelvi (NYU Abu Dhabi)  and Essam Ali (UNICEF UAE).  They asked us questions, poked holes through our strategy, and we defended our proposals-- it was intense.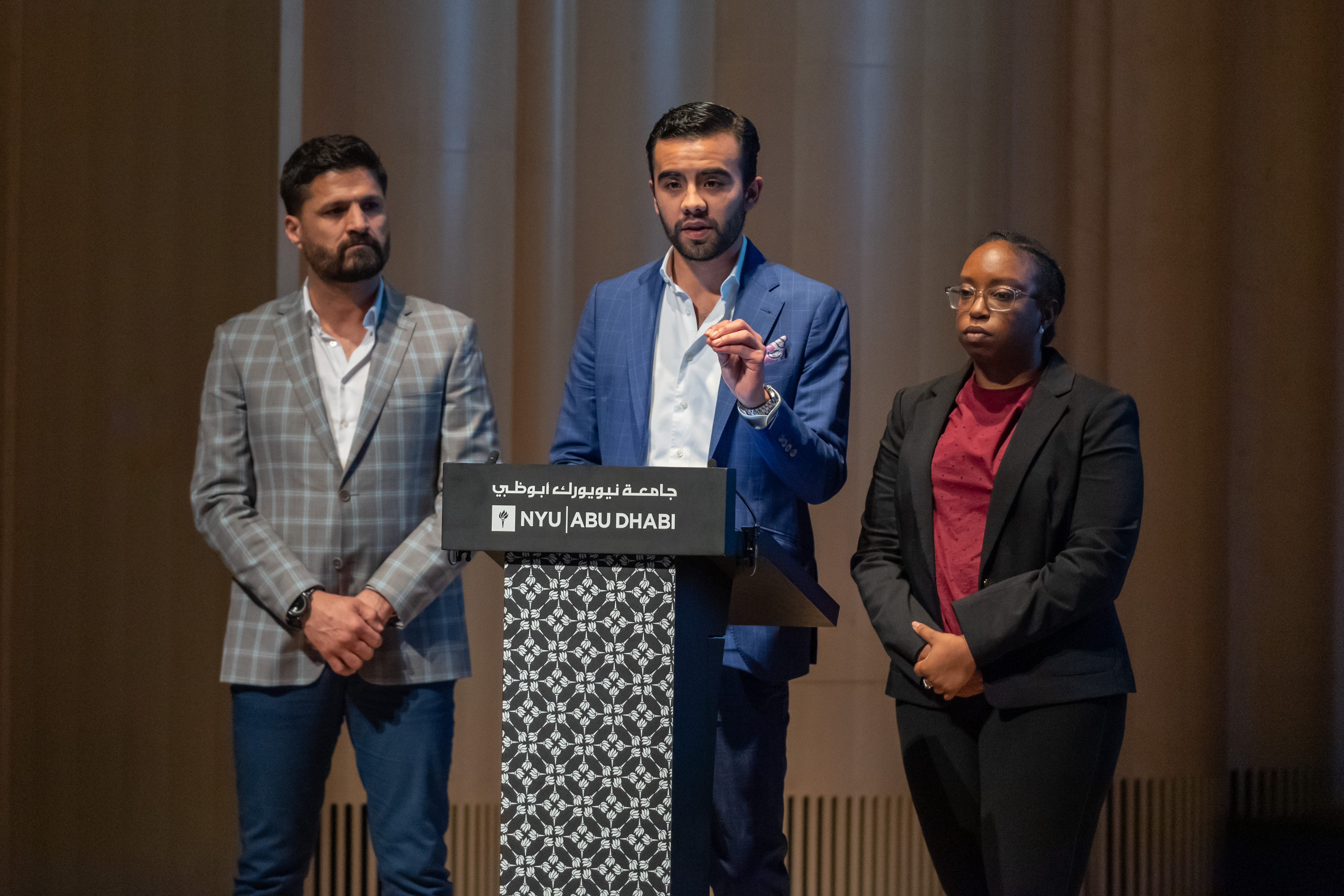 Pictured: Ahmadullah Amarkhil (WHO Afghanistan), Oscar San Roman Orozco (NYU '21) and Miah Roberts (NYU '20) presenting their intervention for the HIV outbreak in the Sindh Province of Pakistan.
As the judges deliberated, we left the room, mostly just relieved the hard part was finally over. The judges finally crowned team measles in DRC the winner-- an innovative intervention to increase vaccination rates in the Ituri district of the DRC through the use of location, communication, and technology services. The winning team included Madison Zavoda (NYU '21), Reyna Bhandari (NYU '21), Olivia Spandier (NYU '20), Mohammad Alamgir (UNICEF Bangladesh), Adade Alode Messan (UNICEF Togo), Roukayatou, Mamadou Konate (UNICEF Niger), and Mario Lemos (UNICEF Mozambique).
The opportunity to work with colleagues and professionals who share similar interests was truly eye opening and a great learning experience. I liked that the course allowed me to utilize skills I have learned in both the MPH program and the course itself. 
(Miah Roberts '20).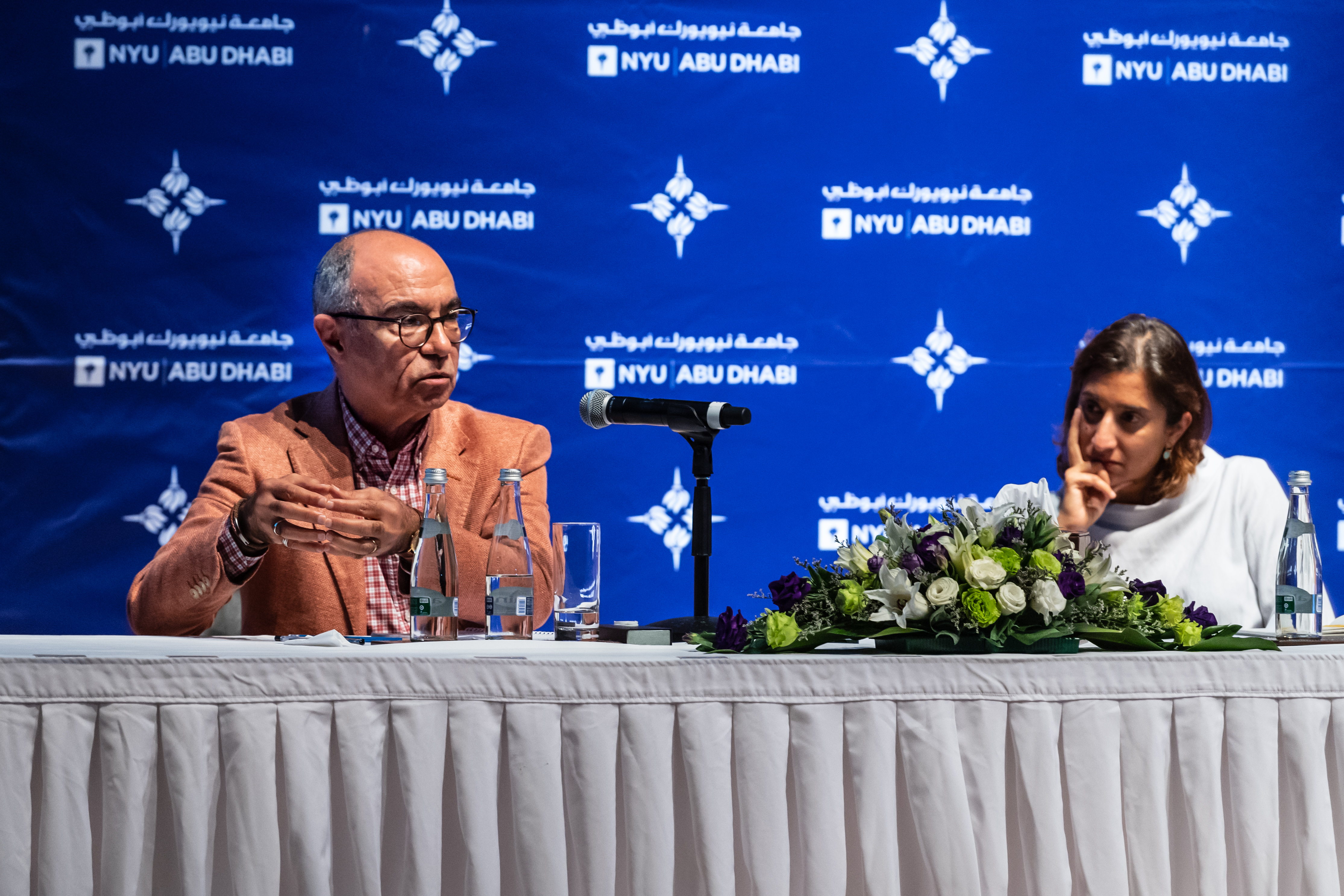 Pictured: Judges Essam Ali (UNICEF UAE) and Saba Brelvi (NYU Abu Dhabi) asking teams questions about their proposed interventions.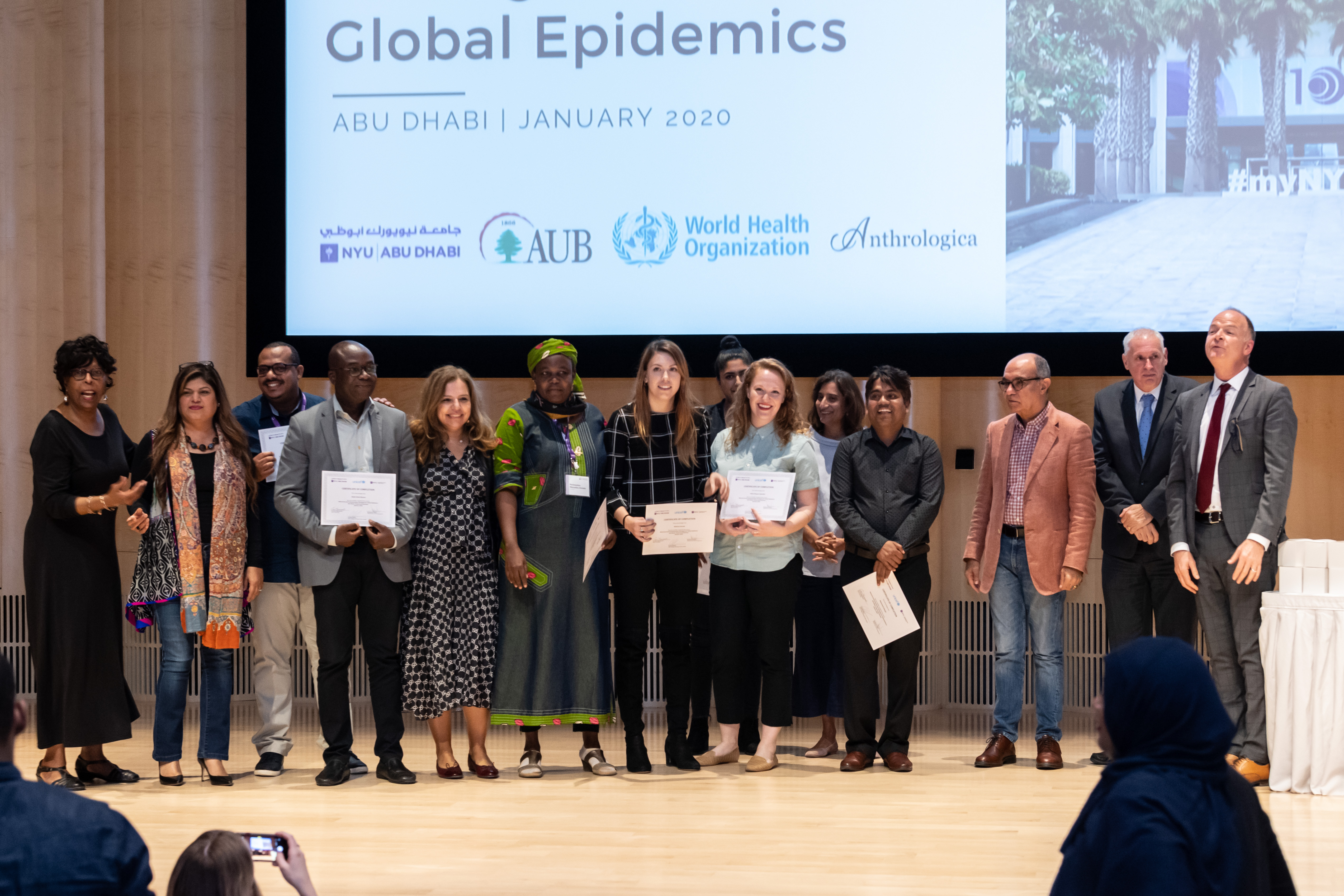 Pictured: BCSE 2020 winners, team measles in DRC including Madison Zavoda (NYU '21), Reyna Bhandari (NYU '21), Olivia Spandier (NYU '20), Mohammad Alamgir (UNICEF Bangladesh), Adade Alode Messan (UNICEF Togo), Roukayatou, Mamadou Konate (UNICEF Niger), and Mario Lemos (UNICEF Mozambique).