COVID-19
Pandemic Perspectives
Sign up for email updates from NYU GPH
GPH Perspectives
[April 16, 2020] No Room for Racism in COVID-19 ResponseUndergraduate Student Cassi Niedziela reflects on history's exploitation of minorities for health and stresses that the COVID-19 pandemic should not be a repeat of such actions.
This pandemic requires global solidarity and cooperation to ensure effective response measures around the world, but racism is unfortunately still front and center on the global stage. Two French doctors recently proposed that clinical trials for a COVID-19 vaccine be conducted in Africa by claiming that African people, "like prostitutes, are highly exposed and don't protect themselves." This language indicates an old "colonial mentality" that Black and African lives are expendable and people who live in Africa are unwilling or unable to protect themselves from the virus. Yet, one of the primary reasons for struggling health systems across the continent is colonization and the centuries of exploitation that came with it.
[April 10, 2020] Food as a National Security ThreatDrs. Joyce O'Connor and Niyati Parekh urge us to recognize this time of pandemic as an opportunity to increase awareness of food insecurity and food waste, and offer practical solutions. Living in the richest country in the world, no citizen should go hungry.
The COVID-19 crisis has highlighted -- and exacerbated -- the problem of food insecurity in the United States. Groups that are newly at risk of hunger include those who have lost their jobs (over 16 million in the last three weeks), households with children who depend on meals at schools that are now closed, and older adults who are most vulnerable should they contract the virus, making it difficult if not unsafe to go out for food. The most immediate problem is food access, since multiple factors have caused supply chains to be disrupted.
[April 3, 2020] Clearing the Air: Ripple Effects of COVID-19CEO of Pure Earth and the Global Alliance on Health and Pollution Richard Fuller discusses the ripple effects of COVID-19 on reducing pollution in low- and middle-income countries.
We are all seeing the satellite images revealing dramatic reductions in air pollutants in cities under lockdown from the COVID-19 pandemic. Some refer to this as a silver lining. Reducing pollution in low- and middle-income countries is both needed and admirable, but the price being paid is much too high.
[March 26, 2020] Understanding Underlying Conditions: COVID-19, HIV and Drug UseDrs. Don Des Jarlais and Holly Hagan urge us to look at the effects and risks COVID-19 poses to those with one or more severe "underlying conditions."
By now, we're all familiar with the caveat that people who contract COVID-19 may be at higher risk for more severe illness if they have "underlying conditions" -- primarily those who are elderly, are immune-compromised, or who have chronic illness... Now think of those who are living with that triple threat.
[March 19, 2020] Surface Survival of COVID-19Dr. Jack Caravanos gives an account of the various surfaces on which the COVID-19 virus can survive on and for how long.
In summarizing a recent New England Journal of Medicine article on Covid-19 surface survival,  the biggest take home message is that metals and plastic surfaces (and, by extension, countertops and desks) can remain "contaminated" for days. Daily disinfecting of these surfaces is strongly recommended.
[March 19, 2020] (Pro)Social DistancingWith social distancing being the main action to prevent COVID-19 transmission, Dr. Mari Armstrong-Hough encourages us that we must practice prosocial distancing.
As we all adjust to new, sometimes isolating routines in response to Covid-19, it's worth reflecting on the ways in which social distancing is itself a social act. Humans are social beings. In fact, a lot of what we do is for the benefit of others. Prosocial behaviors are those that benefit our social communities, such as helping, comforting, or sharing. Engaging in these behaviors makes us feel good and, importantly, makes others feel good about us.
[March 13, 2020] School Closures Could Mean Billions LostDr. Joshua Epstein explains the consequences of school closures which sound beneficial but can cause deep rooted effects on the economy and population health.
As you all know, a national emergency has now been declared in the U.S. by the White House. There are unprecedented school closures in several countries and they are quickly mounting here, including in New York State. Given the immediacy of this issue, Dr. Epstein updated a 2009 study that he and his colleagues published in PLoS Currents estimating the potential impact of school closures on the U.S. economy and on health care workers. Adjusting for inflation, this updated analysis finds that a month-long closure of all U.S. K-12 schools and daycare centers could cost more than $50 billion in lost productivity.
NYU Answers Desperate Need for Medical Face Shields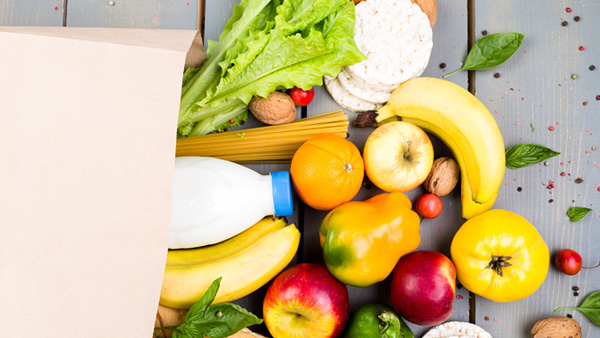 Food Safety
There is growing concern among some over the safety of food bought in supermarkets or prepared in restaurants. Dr. Jack Caravanos answers the question "Can you get coronavirus from food?" on Vice.com.
Read More on Vice.com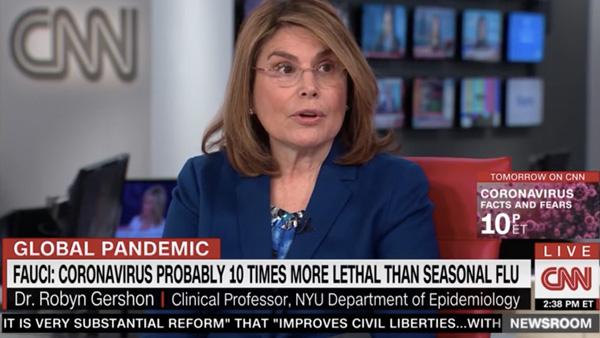 Facts Help Calm the Panic
After a press conference with Dr. Anthony Fauci where he described COVID-19 as being ten times more lethal than the seasonal flu, Dr. Robyn Gershon told CNN, "We have to keep in mind that 80% of cases will have mild symptoms. So even though we will have more cases, the bulk of the severe ones will be in those over age 80 and with chronic disease."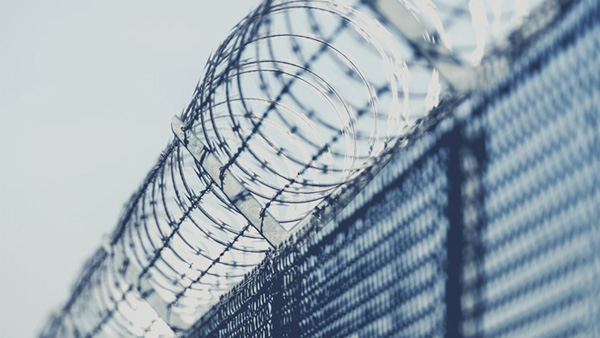 Behind Prison Gates
Dr. Homer Venters voiced his concern on Michigan Radio over the lack of action taken to protect prison inmates against COVID-19. "The primary thing is to get these facilities less crowded, and particularly less full of people who have the risk factors for serious illness and death." He said if action isn't taken soon, it could be too late.
Listen to the interview on MichiganRadio.org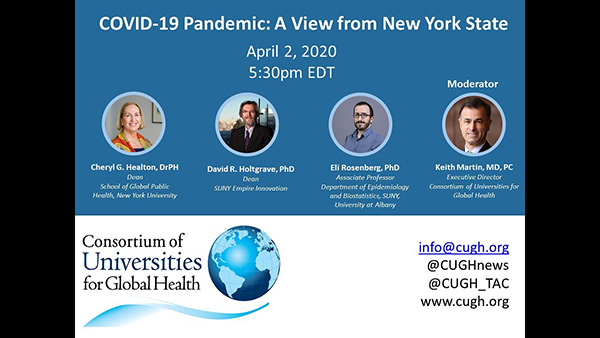 COVID-19 Pandemic: A View from New York State
Hear from public health experts Drs. Cheryl Healton, David Holtgrave, Eli Rosenberg, and Keith Martin as they discuss the situation in New York State, which has become the epicenter of the COVID-19 pandemic. Learn about the reality on the ground, what they need, what others can learn from their plight, what LMICs are facing, and what we must do now to flatten the curve of the pandemic.
Watch Video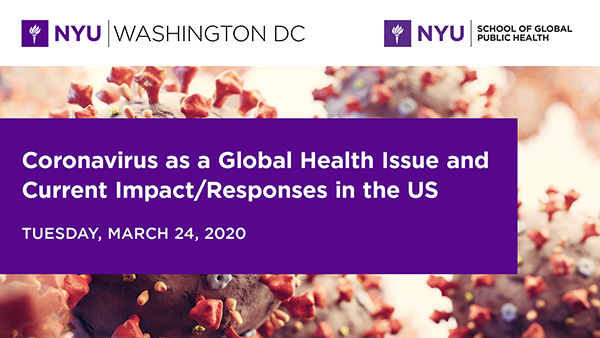 Coronavirus as a Global Health Issue and Current Impact/Responses in the U.S.
Watch this informative conversation on COVID-19. This discussion focuses on science-based facts about the pandemic and answers questions about the uncertainties we face as a global community. 
Watch Video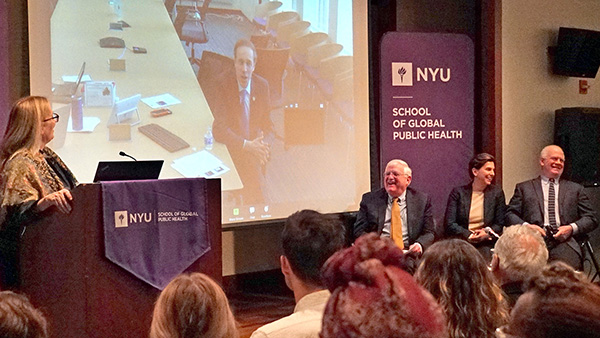 Understanding COVID-19: A Panel Discussion on the Novel Coronavirus Outbreak
Watch this panel discussion on the novel coronavirus outbreak (COVID-19) featuring keynote speaker Howard A. Zucker, MD, JD, Commissioner of Health of the State of New York. This event took place on February 28, 2020.
Watch Video