COVID-19
Pandemic Perspectives
Sign up for email updates from NYU GPH
GPH Perspectives
[July 31, 2020] Make Ridesharing Safer for All 
Andrew Burgie details a new GPH project with the Independent Drivers Guild to create safety training modules for rideshare drivers. 
I've embarked on a new project with the Independent Drivers Guild, which represents over 80,000 rideshare drivers from Uber, Lyft, and Via in the New York City region. These for-hire drivers must protect themselves and their customers from exposure to COVID-19, while making a living picking up passengers from all walks of life.
[July 24, 2020] Learning How to Keep Our Transit Workers Safe 
Drs. Robyn Gershon, Alexis Merdjanoff, and Rachael Piltch-Loeb describe their new research in partnership with the Transport Workers Union, Local 100 to better understand the physical and mental health risks for NYC's transit workers during the COVID-19 pandemic. 
With roughly 73,000 workers, New York City has the largest and most diverse transit workforce in the U.S., and nearly 70 percent are members of a minority group. Testing in mid-May found that more than 14 percent of transit workers had evidence of the COVID-19 antibody. Several thousand have become sick, and more than 100 have died. At one point, more than 7,000 were on home quarantine because of workplace exposure.
[July 17, 2020] A Dangerous Trend in Obesity & COVID-19
Dr. Niyati Parekh highlights the links between poor nutrition, obesity, and increased risk of mortality among COVID-19 patients, pointing to the need to flatten the obesity curve in parallel to the COVID-19 curve.
Obesity in the U.S. is a serious health problem, and it poses an additional threat in the face of the COVID-19 pandemic, boosting the risk of complications in infected individuals. Obesity is associated with a cluster of metabolic derangements including pre-diabetes, diabetes, high blood pressure, and higher levels of inflammation that compromise the body's immunity and reduce healing. Poor glycemic control and diabetes are independent predictors of mortality among COVID-19 patients.
[July 10, 2020] An Unwise Decision to Withdraw from WHO
Dr. Chris Dickey underscores the vital need for leadership and attention provided by WHO for complex health threats, as well as the relationship between NYU GPH, WHO, and global health.
The announcement on Tuesday that the Trump administration plans to formally withdraw from WHO is disappointing and short-sighted. Leaving WHO will make all of us - and the populations we serve - more vulnerable to adverse health outcomes if the withdrawal is completed in 2021 as scheduled. Hopefully, a new administration will reverse the decision and avoid what would almost certainly be a catastrophic outcome for global health.
[June 26, 2020] Granting Status Where Status is Due
Dr. Julie Avina urges America to demonstrate its gratitude to foreign-born frontline workers and grant them the citizenship status they deserve. 
Since the days of the American Revolution, the U.S. military has relied on foreign-born and non-citizen enlistees, who at times made up almost 25 percent of our troops. Over the years hundreds of thousands of those foreign-born soldiers, through Acts of Congress or presidential order, were granted expedited citizenship to ensure allegiance and impart gratitude. The U.S. war on COVID-19 is no different from wars past. Today we find ourselves relying on foreign-born workers who are fighting the virus in our communities and across the country.
[May 21, 2020] COVID-19's Devastating Impact on Small Primary Care Practices
Dr. Donna Shelley addresses the challenges that primary care practices face due to the COVID-19 pandemic, as well as how to strengthen, rebuild, and reopen these facilities in the wake of this crisis.
Reading the latest coronavirus news and watching daily briefings, it's easy to miss the devastating economic burden COVID-19 is putting on independent primary care physicians. "Our practice is losing tons of money and we don't know how long we can last," said one.
[May 15, 2020] Cities Around the World Respond to COVID-19
As a moderator for the weekly Partnership for Healthy Cities COVID-19 Response webinar series for mayors and COVID-19 leaders in over 70 cities around the globe, Dr. Diana Silver discusses the many common challenges that cities face due to the pandemic.
From Accra to Amman, from Colombo to Freetown, from Helsinki to Chicago, from London to Dakar, cities and city governments are at the forefront of the response to the pandemic. I've learned over the past few weeks that although the resources to address problems are different, many problems that cities are facing are similar. 
[May 8, 2020] The Hidden Meanings of Wearing a Mask
Dr. David Abrams uncovers some of the most common reasons behind wearing a mask (or not wearing one.)
What does wearing -- or not wearing -- a mask mean these days? There's a broad range of opinions on masks, from benign to passionately ideological, and the reasons underlying a decision to wear one or not are unique to each person.
[May 8, 2020] Could Nicotine Moderate the Severity of COVID-19?
Dr. Raymond Niaura considers the possibility that nicotine could ameliorate some of the consequences of COVID-19, citing a meta-analysis conducted with data from China, the U.S., and France.
Without a doubt, cigarette smoking remains a major global public health concern, given the well-known risks for cancer, cardiovascular and pulmonary diseases, and premature death. So it seems reasonable that smokers would also be at greater risk for complications related to COVID-19 -- but it turns out that association is not as straightforward as initially thought.
[May 1, 2020] A Rising Pandemic of Stigma: Impacts of Stereotypes and Prejudices
Drs. Supriya Misra, Emily Goldmann, and Lawrence Yang urge us to examine the intersection of the harms to mental health that Asian Americans face with anti-Asian, COVID-related stigma in order to promote the well-being and recovery of these communities during and after the pandemic.
Because the COVID-19 pandemic originated in China, stigma against Chinese/Asian Americans has escalated. Against a backdrop of historical discrimination against Chinese as "perpetual foreigners" who are "dirty" and "disease-ridden," the FBI has reported a surge in hate crimes based on the misbelief that Asian Americans are responsible for the novel coronavirus' effects.
[April 24, 2020] Resilience in a Pandemic of Isolation
Dr. David Abramson explains how to conceptualize human resilience and how to successfully overcome the lonesomeness of the COVID-19 pandemic.
Social distancing takes a toll on most of us. Our worlds have become vividly self-contained, lived mainly within the walls of our homes and the social sphere of immediate household members, if present. When we "Zoom" with one another and our students, it is as if we are speaking to one another from our cocoons. This is clearly a time that demands resilience.
[April 16, 2020] No Room for Racism in COVID-19 ResponseUndergraduate Student Cassi Niedziela reflects on history's exploitation of minorities for health and stresses that the COVID-19 pandemic should not be a repeat of such actions.
This pandemic requires global solidarity and cooperation to ensure effective response measures around the world, but racism is unfortunately still front and center on the global stage. Two French doctors recently proposed that clinical trials for a COVID-19 vaccine be conducted in Africa by claiming that African people, "like prostitutes, are highly exposed and don't protect themselves." This language indicates an old "colonial mentality" that Black and African lives are expendable and people who live in Africa are unwilling or unable to protect themselves from the virus. Yet, one of the primary reasons for struggling health systems across the continent is colonization and the centuries of exploitation that came with it.
[April 10, 2020] Food as a National Security ThreatDrs. Joyce O'Connor and Niyati Parekh urge us to recognize this time of pandemic as an opportunity to increase awareness of food insecurity and food waste, and offer practical solutions. Living in the richest country in the world, no citizen should go hungry.
The COVID-19 crisis has highlighted -- and exacerbated -- the problem of food insecurity in the United States. Groups that are newly at risk of hunger include those who have lost their jobs (over 16 million in the last three weeks), households with children who depend on meals at schools that are now closed, and older adults who are most vulnerable should they contract the virus, making it difficult if not unsafe to go out for food. The most immediate problem is food access, since multiple factors have caused supply chains to be disrupted.
[April 3, 2020] Clearing the Air: Ripple Effects of COVID-19CEO of Pure Earth and the Global Alliance on Health and Pollution Richard Fuller discusses the ripple effects of COVID-19 on reducing pollution in low- and middle-income countries.
We are all seeing the satellite images revealing dramatic reductions in air pollutants in cities under lockdown from the COVID-19 pandemic. Some refer to this as a silver lining. Reducing pollution in low- and middle-income countries is both needed and admirable, but the price being paid is much too high.
[March 26, 2020] Understanding Underlying Conditions: COVID-19, HIV and Drug UseDrs. Don Des Jarlais and Holly Hagan urge us to look at the effects and risks COVID-19 poses to those with one or more severe "underlying conditions."
By now, we're all familiar with the caveat that people who contract COVID-19 may be at higher risk for more severe illness if they have "underlying conditions" -- primarily those who are elderly, are immune-compromised, or who have chronic illness... Now think of those who are living with that triple threat.
[March 19, 2020] Surface Survival of COVID-19Dr. Jack Caravanos gives an account of the various surfaces on which the COVID-19 virus can survive on and for how long.
In summarizing a recent New England Journal of Medicine article on Covid-19 surface survival,  the biggest take home message is that metals and plastic surfaces (and, by extension, countertops and desks) can remain "contaminated" for days. Daily disinfecting of these surfaces is strongly recommended.
[March 19, 2020] (Pro)Social DistancingWith social distancing being the main action to prevent COVID-19 transmission, Dr. Mari Armstrong-Hough encourages us that we must practice prosocial distancing.
As we all adjust to new, sometimes isolating routines in response to Covid-19, it's worth reflecting on the ways in which social distancing is itself a social act. Humans are social beings. In fact, a lot of what we do is for the benefit of others. Prosocial behaviors are those that benefit our social communities, such as helping, comforting, or sharing. Engaging in these behaviors makes us feel good and, importantly, makes others feel good about us.
[March 13, 2020] School Closures Could Mean Billions LostDr. Joshua Epstein explains the consequences of school closures which sound beneficial but can cause deep rooted effects on the economy and population health.
As you all know, a national emergency has now been declared in the U.S. by the White House. There are unprecedented school closures in several countries and they are quickly mounting here, including in New York State. Given the immediacy of this issue, Dr. Epstein updated a 2009 study that he and his colleagues published in PLoS Currents estimating the potential impact of school closures on the U.S. economy and on health care workers. Adjusting for inflation, this updated analysis finds that a month-long closure of all U.S. K-12 schools and daycare centers could cost more than $50 billion in lost productivity.
NYU Answers Desperate Need for Medical Face Shields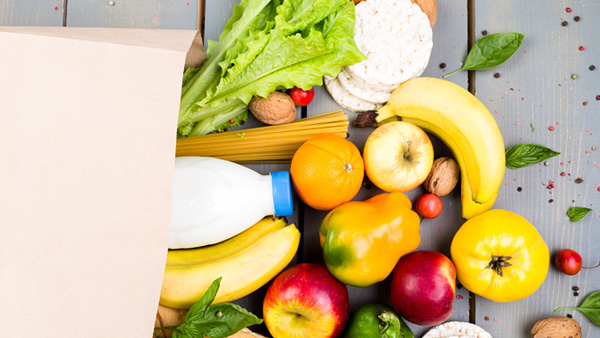 Food Safety
There is growing concern among some over the safety of food bought in supermarkets or prepared in restaurants. Dr. Jack Caravanos answers the question "Can you get coronavirus from food?" on Vice.com.
Read More on Vice.com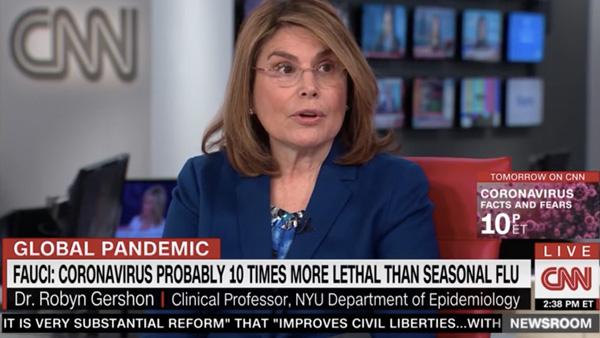 Facts Help Calm the Panic
After a press conference with Dr. Anthony Fauci where he described COVID-19 as being ten times more lethal than the seasonal flu, Dr. Robyn Gershon told CNN, "We have to keep in mind that 80% of cases will have mild symptoms. So even though we will have more cases, the bulk of the severe ones will be in those over age 80 and with chronic disease."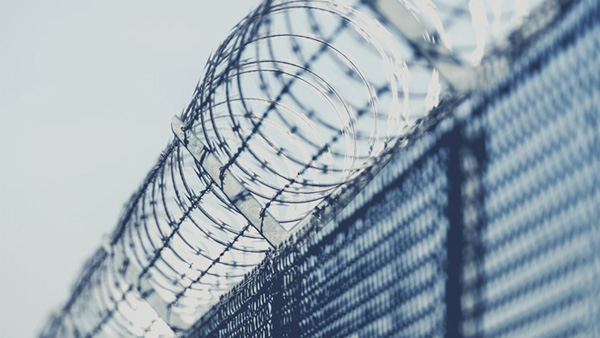 Behind Prison Gates
Dr. Homer Venters voiced his concern on Michigan Radio over the lack of action taken to protect prison inmates against COVID-19. "The primary thing is to get these facilities less crowded, and particularly less full of people who have the risk factors for serious illness and death." He said if action isn't taken soon, it could be too late.
Listen to the interview on MichiganRadio.org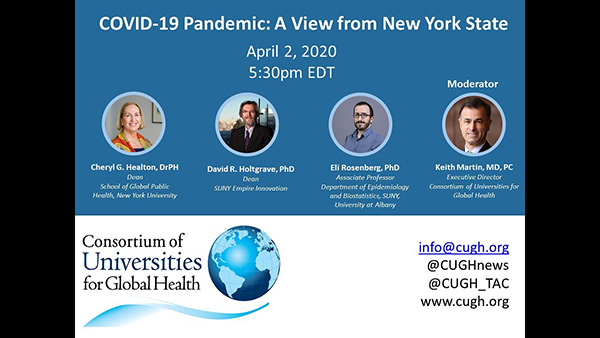 COVID-19 Pandemic: A View from New York State
Hear from public health experts Drs. Cheryl Healton, David Holtgrave, Eli Rosenberg, and Keith Martin as they discuss the situation in New York State, which has become the epicenter of the COVID-19 pandemic. Learn about the reality on the ground, what they need, what others can learn from their plight, what LMICs are facing, and what we must do now to flatten the curve of the pandemic.
Watch Video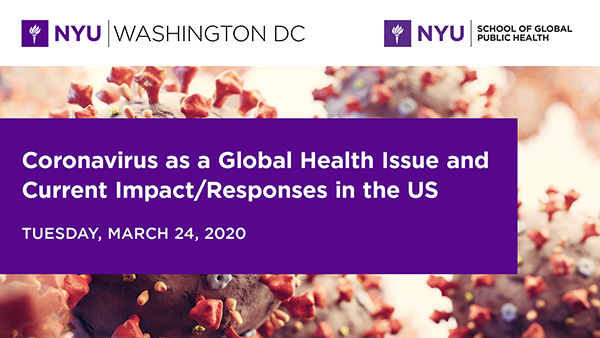 Coronavirus as a Global Health Issue and Current Impact/Responses in the U.S.
Watch this informative conversation on COVID-19. This discussion focuses on science-based facts about the pandemic and answers questions about the uncertainties we face as a global community. 
Watch Video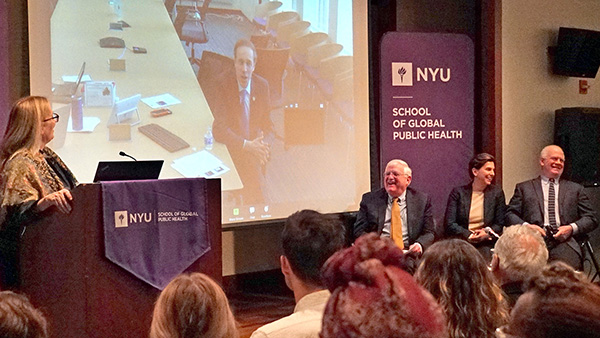 Understanding COVID-19: A Panel Discussion on the Novel Coronavirus Outbreak
Watch this panel discussion on the novel coronavirus outbreak (COVID-19) featuring keynote speaker Howard A. Zucker, MD, JD, Commissioner of Health of the State of New York. This event took place on February 28, 2020.
Watch Video