July 24, 2020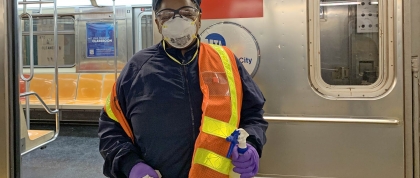 Photo Credit: TWU Local 100
With roughly 73,000 workers, New York City has the largest and most diverse transit workforce in the U.S., and nearly 70 percent are members of a minority group. Testing in mid-May found that more than 14 percent of transit workers had evidence of the COVID-19 antibody. Several thousand have become sick, and more than 100 have died. At one point, more than 7,000 were on home quarantine because of workplace exposure.
During this crisis transit workers, especially bus drivers, have also been the target of brutal physical attacks by the riding public (sometimes by irate customers who don't want to wear a mask, other times by riders who are angry that the driver is not enforcing mandatory mask use of other riders). 
Throughout the pandemic, they've experienced the loss of their colleagues at work, and have lost members of their own families and communities. The implementation of work site risk-reduction measures has been slow, and their effectiveness is still uncertain.
Since early March, we've been meeting with the leadership of the Transport Workers Union, Local 100 (TWU) to collaborate on research that will be a first step toward determining risk factors for COVID-19 exposure in this essential workforce.
We will incorporate data from a pilot study of roughly 200 workers, which we hope will lead to a much larger study involving thousands of transit workers across more than 70 job categories. Using confidential surveys, we want to understand the physical and mental health impacts of the pandemic and develop guidelines to prevent further adverse outcomes. 
Expert consultants round out our team, including David Vlahov, a senior infectious disease epidemiologist and nurse researcher from Yale; Beverly Watkins, an expert on community-engaged research and the daughter of a retired NYC transit worker; and Jon Rosen, a certified industrial hygienist and labor advocate. They have extensive experience working with labor unions and front-line workers employed in high risk jobs.
In closing, our focus on the mental health impacts of this virus on our transit workers is especially timely given that July marks Minority Mental Health Month (more on that below). This pandemic is taking a terrible toll on all aspects of our health and to better understand and address those impacts will help us safeguard the lives of more frontline workers in the months and years to come.
Robyn Gershon, MHS, DrPH
Clinical Professor of Epidemiology
Alexis Merdjanoff, PhD
Clinical Assistant Professor of Social and Behavioral Sciences
Rachael Piltch-Loeb, PhD MSPH
Associate Research Scientist for the Program on Population, Impact, Recovery, and Resilience
Press release
NYU School of Global Public Health to Study Impact of COVID-19 on Transit Workers
Media coverage
New York Daily News
Occupational Health & Safety
Politico New York Playbook