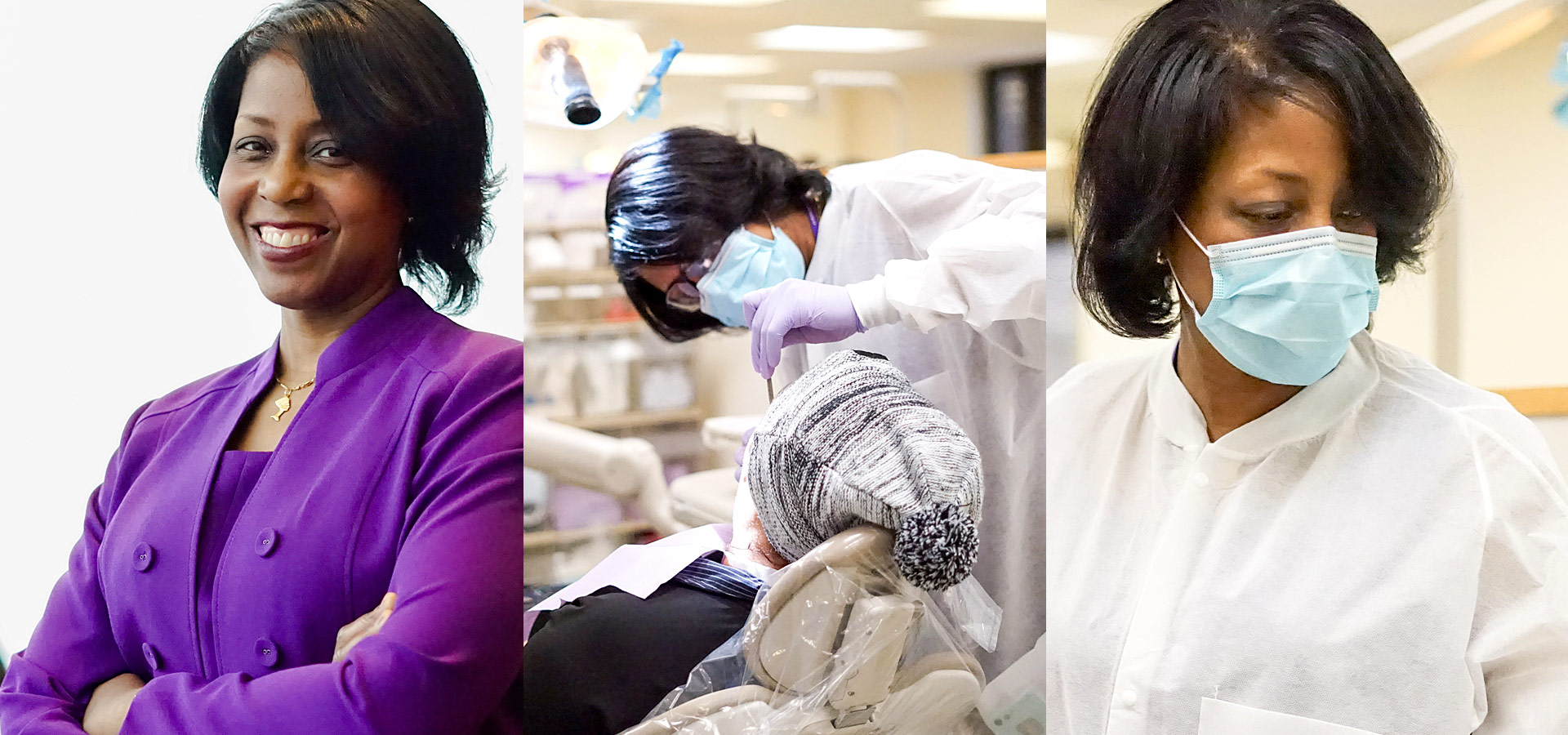 Like a duck to water, the dental field is a natural part of Dr. Fabiola Milord's life. Having now been a dentist for 25 years, she has acquired her own private practice, teaches at NYU College of Dentistry, and continues to advocate for oral health as a basic human right.
Three years into her dental career, Fabiola participated in more than 50 medical missions with non-profit organizations in various countries across Africa, North and Central America. Her expertise was highly sought after as people traveled far distances with extensive levels of decay and bone loss requiring several tooth extractions. The constant need for such treatments sparked Fabiola's desire to understand the disparities in the health system of these populations by asking the question "what's missing?" In pursuing a master of public health, she studied global health policy and relied heavily on courses focused on data software that would help her truly decode what target populations needed, wanted, and how to publicize their right to adequate oral hygiene.
It's not just about cutting teeth and taking people out of pain… a machine can do that. It's about being sensitive to what the patient needs and what the community needs.
Fabiola stresses that early detection of various medical illnesses is nearly impossible with a lack of awareness and access to quality care. During an interview, she explains how good oral health care is the basis and foundation for excellent health. The human body is a well oiled machine that requires all of its parts to be in good condition. When determining an individual's health status, the mouth is a great indicator for nutrition and a variety of diseases such as diabetes, oral cancer, periodontal and heart disease. In many cases, pregnant women are highly encouraged to see an oral hygienist to assess bacteria that can cause pain, cavities and travel across the placenta to infect a fetus.
Through her professorship, Fabiola now strives to inspire curiosity in community health and disparities within her students. Her research aims to discover optimal ways to educate and advise future dental practitioners that will promote greater career satisfaction. "Oftentimes, new graduates focus their efforts into obtaining income due to financial burdens incurred while pursuing their education, missing the grander scheme of their career choice." Fabiola encourages them to be better than her, stay disciplined, make a difference, and set a clear path to efficiently achieve their goals.
---
Listen to more of Fabiolas's story on the I AM GPH podcast:

I AM GPH
EP31 Oral Health as a Basic Human Right with Dr. Fabiola Milord
EP31 Oral Health as a Basic Human Right with Dr. Fabiola Milord
In this episode, NYU GPH Alumna Dr. Fabiola Milord shares with us her unconventional journey through Public Health, which began after she obtained a Doctor of Dental Surgery from New York University College of Dentistry. Through international not-for-profit organizations she has taken part in more than fifty medical missions treating impoverished men, women and children with stunning levels of decay and bone loss in a myriad of countries. Inspired by her travels and the need to emphasize oral health as a basic human right, Dr. Milord completed a Master's Degree in Public Health at New York University's College of Global Public Health. Dr. Milord currently serves as a full-time faculty member at New York University's College of Dentistry and, in this episode, she gives students and graduates valuable advice about how to forge a path in Public Health.