January 29, 2021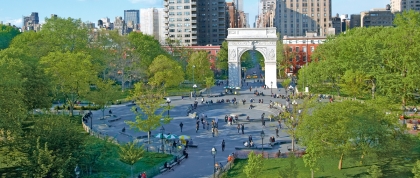 2021 is here, and with it comes a newfound sense of hope. In January we honored Martin Luther King, Jr. Day, followed by the inauguration of the 46th President of the United States and the first female Vice President, who is of both African American and Southeast Asian descent. Diversity, unity and integrity are resounding themes as we enter this new year.
We cannot forget 2020 and how transformative it was. The COVID-19 pandemic created unprecedented circumstances for everyone. The world stopped in many ways, yet we sprang into action to protect the public's health. Still, countless lives have been lost, health systems strained, economies fractured and livelihoods put at risk. The outcry for racial justice following George Floyd's murder resulted in a palpably charged United States, and was compounded by a shock felt throughout the world.
Our most basic principle in public health is rooted in the social determinants of health. The events of both 2020 and 2021 magnify this, as we witness determinants at work. What it means for us as public health professionals is that our work is more visible than ever.
The inaugural GPH Alumni Association seeks to enhance that visibility, and to uplift all GPH alumni and students.
Who Are We?The GPH Alumni Association is led by a nine-member board of GPH graduates (pictured below) committed to building a strong and engaged network of alumni around the world. The Board aims to amplify the work of our talented community while curating events and activities that advance public health. Have you just released a paper? Did you earn a promotion? Are you looking to grow your team? Would you like to share your experience with public health students and perhaps be a mentor to them? The Alumni Association aims to support you and the vital work you do. It seeks to strengthen the ties between alumni and our school, and creating opportunities for you to grow your network, learn from your colleagues, and expand the innovative landscape of public health.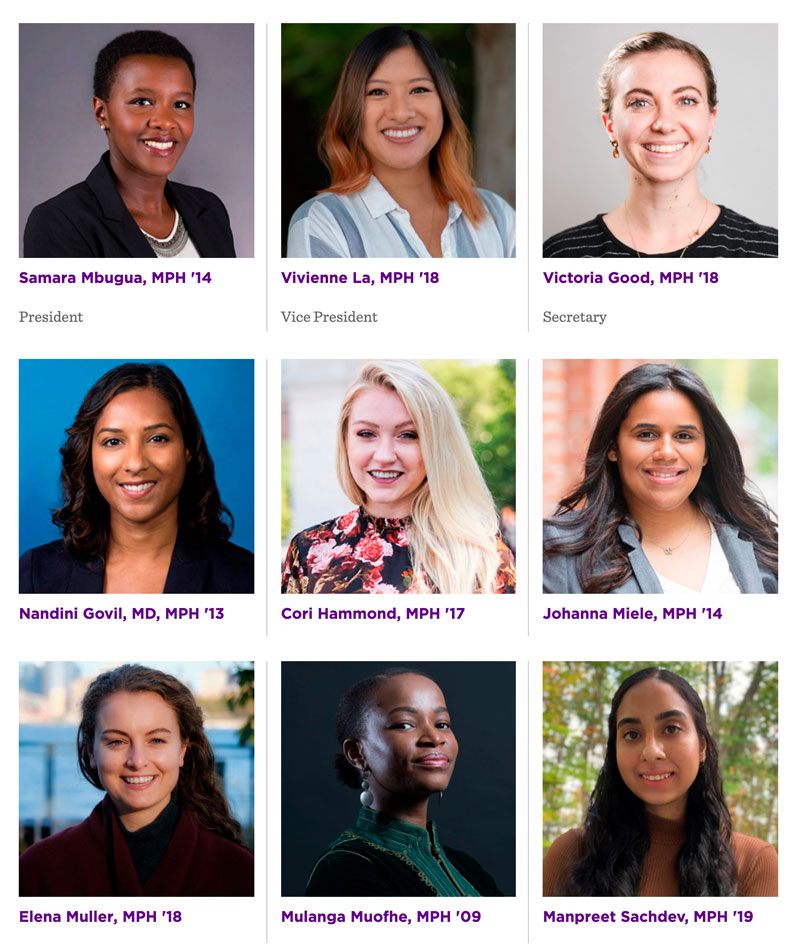 How to Get Involved?The Alumni Board is composed of three primary committees and two ancillary committees, all of which (except for the Election Committee) are open to current GPH students and alumni. To join a committee, please fill out the GPH Alumni Board 2021 Committee Registration Form.
Primary Committees:
Alumni Engagement Committee - Liaise between NYU GPH alumni and the current student body.
Community Engagement Committee - Take ownership of the alumni network's public-facing representation and engagement with the support of the Board.
Election Committee - Recruit and evaluate potential Board members annually and facilitate elections for all Board members, including officers, with the assistance of the Office of Student and Alumni Affairs. Open to GPH faculty, Student Affairs employees and current Board members only.
Additional Committees:
Culture Committee - Define the culture of the Alumni Association and ensure that programming aligns with its mission.
Shared Interest Committee - Support alumni looking to develop groups with other alumni based on professional affinity or geographical location.
What's Next?As we begin a new year filled with hope, we reflect on all that occurred in 2020 and the resiliency we exhibited to meet each challenge. But this is just the beginning! We look forward to launching our programming this year, beginning with Black History Month. With your partnership and involvement, the GPH Alumni Association will be a great success! If you have any questions or suggestions of other ways to become involved, please reach out to us at gph.alumniboard@nyu.edu.
Upcoming EventGlobal Public Health Virtual Career Expo
Save the Date: Friday, March 5th
Is your company interested in recruiting outstanding Public Health students?
Join the Global Public Health Virtual Career Expo! The Expo is an excellent opportunity to meet promising public health candidates from diverse professional and academic backgrounds. It's a chance to connect with graduate students completing public health degrees who are seeking job, internship, and fellowship opportunities.
This event is FREE to organizations, and registration can be found in Handshake. Questions? Email gph.careerservices@nyu.edu.