July 17, 2020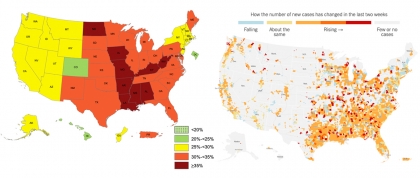 Image: The map on the left shows the prevalence of self-reported obesity among U.S. adults by state and territory (CDC). The map on the right reports the latest coronavirus case count in the U.S. provided by state and local agencies (New York Times).
Obesity in the U.S. is a serious health problem, and it poses an additional threat in the face of the COVID-19 pandemic, boosting the risk of complications in infected individuals. Over 70 percent of Americans are either overweight or obese.
Obesity is associated with a cluster of metabolic derangements including pre-diabetes, diabetes, high blood pressure, and higher levels of inflammation that compromise the body's immunity and reduce healing. Poor glycemic control and diabetes are independent predictors of mortality among COVID-19 patients.
Obese people also suffer from poorer lung function, increased airway resistance, impaired gas exchange, lower lung volume and low respiratory muscle strength. Studies in a small sample from Seattle during the early phase of the pandemic revealed that about 85 percent of obese patients required mechanical ventilation and 62 percent died. These data reveal the potential damage from the virus on those who are already faced with high rates of excess body weight.
In addition, there are concerns with weight gain in children and adults alike. Risk factors include limited opportunities for physical activity, more screen time that exposes people to junk food commercials on TV and social media, disturbed sleep routine, stress- and anxiety-related food consumption, and excess calories from increased alcohol consumption.
Household and external food environments have also changed. Interruptions in the supply chain due to a shortage of workers and delays in food deliveries have left consumers with no choice but to consume what they can access and afford. People end up consuming more shelf-stable and ultra-processed foods, which are typically higher in sugar, salt and fat. Such foods contribute to an obesogenic environment and in turn are linked to obesity-related chronic diseases. As we continue to adapt to the evolving COVID-19 crisis, it is imperative to flatten the obesity curve in parallel to the COVID-19 curve.
While excess body weight is a threat to Americans, the landscape is drastically different in low-income countries with low stockpiles of spare food. The World Food Programme anticipates that the pandemic will double the levels of hunger and micronutrient deficiencies. Burdened with already high rates of other infectious diseases such as tuberculosis, dengue, HIV and pre-existing malnutrition, these populations will be highly susceptible to COVID-19 mortality. We know that the demands of food insecurity are immediate but also long-term, and strategies to tackle food security must be considered as emergency preparedness planning efforts are underway.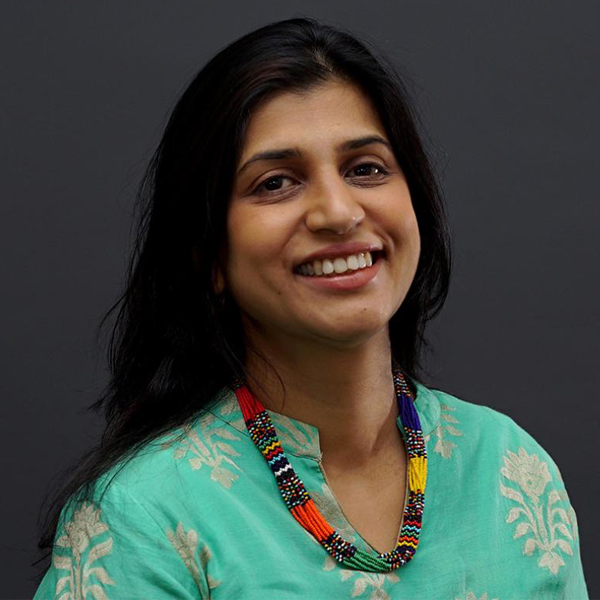 Niyati Parekh, MS, PhD
Director of Doctoral Studies and Associate Professor of Public Health Nutrition