April 26, 2023
To most Americans, the decennial Census comes and goes with little fanfare. But because it determines resource distribution and congressional apportionment, its accuracy is critical to the functioning of our nation. Unfortunately, participation among minorities is chronically low due to a historic mistrust of the government; this ultimately reduces the resources available to them and perpetuates inequities.
Robert L. Santos, the first Latino director of the U.S. Census Bureau, is working to rebuild trust in Census Bureau surveys and programs among minorities. In a recent visit to NYU GPH, Santos met with Dean Debra Furr-Holden along with faculty and members of the school's leadership, and spoke to students in the Department of Biostatistics about the importance of bringing your whole self to your work as a statistician. It's the same approach he uses: throughout his career he's been guided by his devotion to statistics, his love for helping people, and his Latino heritage. Santos told the students that a similar authenticity in their work will be essential to their success.
He explained that the Census is about more than data – it's about helping people, families and communities across the country. As public health professionals, biostatisticians can do that by using their personal experience to influence their efforts. He said, "I use my life experience, my culture, and my statistical training to basically inform what I believe to be better science."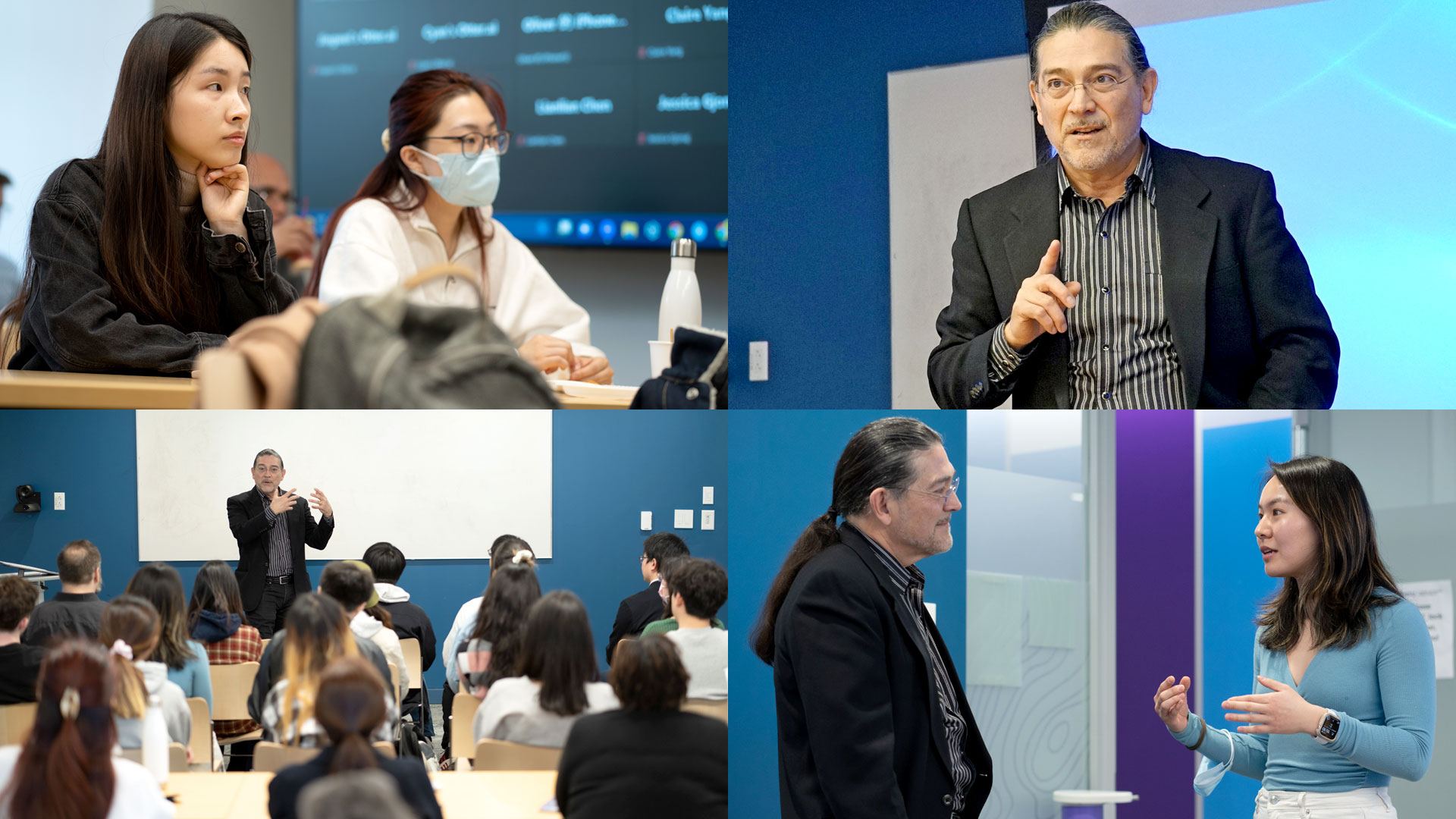 Santos offered advice about authenticity in statistics beginning with a story from his own career that involved critical thinking. He was asked to serve with a group that evaluated research applications. One study in particular proposed to give insured patients suffering from chronic pain the standard treatment of medication, but uninsured patients would be offered a less expensive treatment, something akin to meditation. Because of the study's great design and analysis, everyone was on board — except for Santos, whose unique perspective was based on the neighborhoods in his native San Antonio. Latinos don't want alternative care, he told them; they want what everyone else gets! Otherwise, you're creating a two-tier system, where the insured get the best treatment and the uninsured are encouraged to "think through their pain." 
By analyzing the study using his whole self, Santos recognized the health inequities that it perpetuated. The better science wasn't in the statistical design, he explained; it was in reframing the question based on cultural competence. As he told the students, with critical thinking "you'll be a more valuable partner, you'll be a more valuable leader and you'll do better research." 
Another way students can strive for authenticity in their statistical work is to reconsider longstanding research practices. For example, Santos acknowledged that Census questions need to disaggregate our nation's Black population. In decades past, almost all Black people were descended from enslaved people, making it logical to equate "Black" and "African American." But today, due to immigration, nearly 10 percent of the Black population in the U.S. consists of African immigrants, so those terms are no longer equal. To move past outdated assumptions, Santos recommended to students: "Decide for yourself as a researcher, what type of insights do you want to create? We need to constantly rethink what to measure and whether it's still relevant." 
Santos emphasized the need to consider cultural relevance in research. He cited campaigns against smoking or drugs which, while nationally effective, fail among minorities because they emphasize the individual: this is how it harms you. What's effective for Asians, Alaskan natives, American Indians and Latinos is a more community-oriented approach: this is how it harms your family. Santos explained, "If you switch the paradigm to address [an issue] from a culturally relevant perspective, then you get better outcomes." He acknowledged similar challenges with the Census: "It's really tough to get out of the paradigm that we start with an English questionnaire and Western concepts, and translate them into something else." He encouraged emerging statisticians to use authenticity to help rectify these problems and improve the quality of data.
Yuan Zhao, a PhD student in epidemiology, appreciates Santos' advice. "It's a valuable lesson for us: we need to think about involving diverse perspectives when doing health related research," she said, adding that her own studies help her be a more authentic statistician: "We learn not only the techniques but also research ethics and the real world implications."
Santos concluded by telling students that a key component of professional growth is to explore a diverse range of opportunities. His own career path involved a wide variety of experience: "You take lessons in one area and apply them in another. Recognize opportunities that can blossom up more branches to choose from. Go here and go there, and you'll climb your way very close to where you originally wanted to be, or something even better." 
He also emphasized the importance of joining professional organizations and building relationships. When you stay connected, he said, you can learn new leadership skills and develop a network that helps you find opportunities to grow — even when you're not actively searching for them. 
Most important was the connection between personal and professional growth. "Every successful person has been through a sequence of failures that they learned from," said Santos. He encouraged budding statisticians to "dig into yourself … everything you need is in yourself to figure out how you're going to succeed."
---