May 16, 2019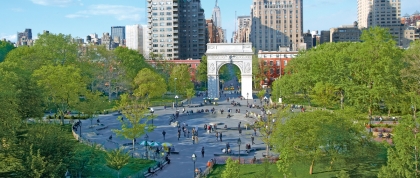 Issue 5 Volume 1
Final Dissertation Defenses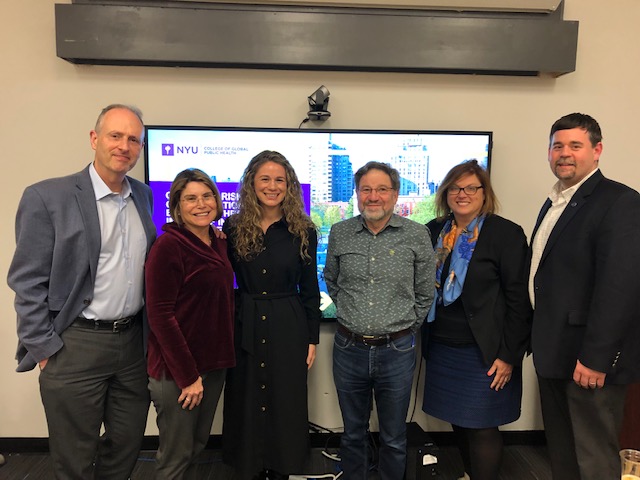 5th-Year PhD student, Rachael Piltch-Loeb (above with her doctoral committee) successfully defended her dissertation entitled "Influences on Intervention Receptivity in an Emerging Threat: Evidence from the 2016 Zika Epidemic from the United States Population" on April 2, 2019.
5th Year PhD student, Benjamin Spoer, successfully defended his dissertation entitled "Built, Food, and Sociodemographic Environments in GPS Geographies and their Associations with BMI, Obesity, and Type Two Diabetes" on April 5th, 2019. 
Dissertation Proposal Defenses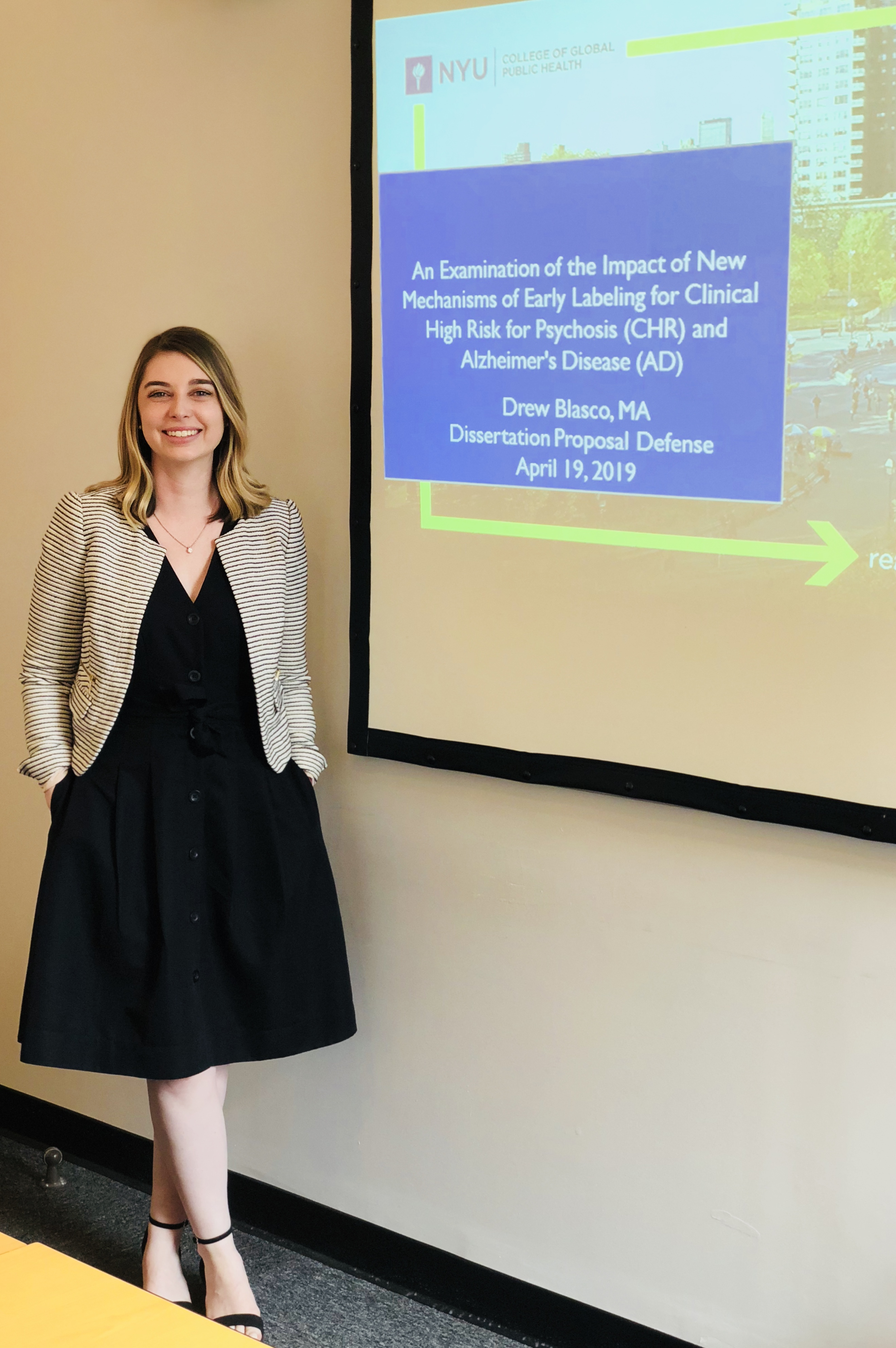 3rd-Year PhD student, Drew Blasco (above), successfully defended her dissertation proposal entitled "An Examination of the Impact of New Mechanisms of Early Labeling for Clinical High Risk for Psychosis (CHR) and Alzheimer's Disease (AD)" on April 19th, 2019.
4th-Year PhD student, Keely Jordan, successfully defended her dissertation proposal entitled "Assessing the quality of care for vulnerable populations: Evidence from humanitarian crises" on April 9th, 2019. 
PhD Student Publications 
2nd-Year PhD student, Ariadna Cappaso, was an author in the following publications: 
Capasso, A. & DiClemente, R.J. (2019) Alcohol and HIV: Barriers and opportunities to improving women's sexual and reproductive health. ARCH Women Health Care Volume 2(2): 1–3  and Pahl, K., Lee, J.Y., Capasso, A. et al. (2019) Sexual Risk Behaviors Among Black and Puerto Rican Women in Their Late Thirties: A Brief Report. J Immigrant Minority Health. 
1st- Year PhD student, Gawon Cho, published a chapter in the Oxford Research Encyclopedia of Psychology on the basics of measurement burst designs, a longitudinal research method, and how it can be used in studying development and health in adulthood. She wrote this chapter with researchers from SUNY-Stony Brook, where she studied before coming to NYU. The chapter is entitled: Cho, G., Pasquini, G., & Scott, S. (2019). Measurement burst designs in lifespan developmental research. In Oxford Research Encyclopedia of Psychology. Oxford University Press.
3rd- Year PhD student, Alexandra Guttentag, co-authored a paper entitled "Crowdsourcing for Food Purchase Receipt Annotation via Amazon Mechanical Turk: A Feasibility Study" which was recently published on JMIR Publications.
Fellowships
2nd-Year PhD student, Gabriella Meltzer, has been selected to participate in the NSF-NCAR Early Faculty Innovator Program with her faculty mentor, Dr. Alexis Merdjanoff. Gabriella and Alexis will be in residence this summer and next at the National Center for Atmospheric Research (NCAR) to work on their project exploring aging in high-risk coastal regions.
Global Research
2nd- Year PhD student, Jacqueline Litvak, will be spending part of the summer in Israel at Yitzhak Shamir Medical Center analyzing prenatal nutritional data in the EHF cohort, one of the largest birth cohorts in Israel.