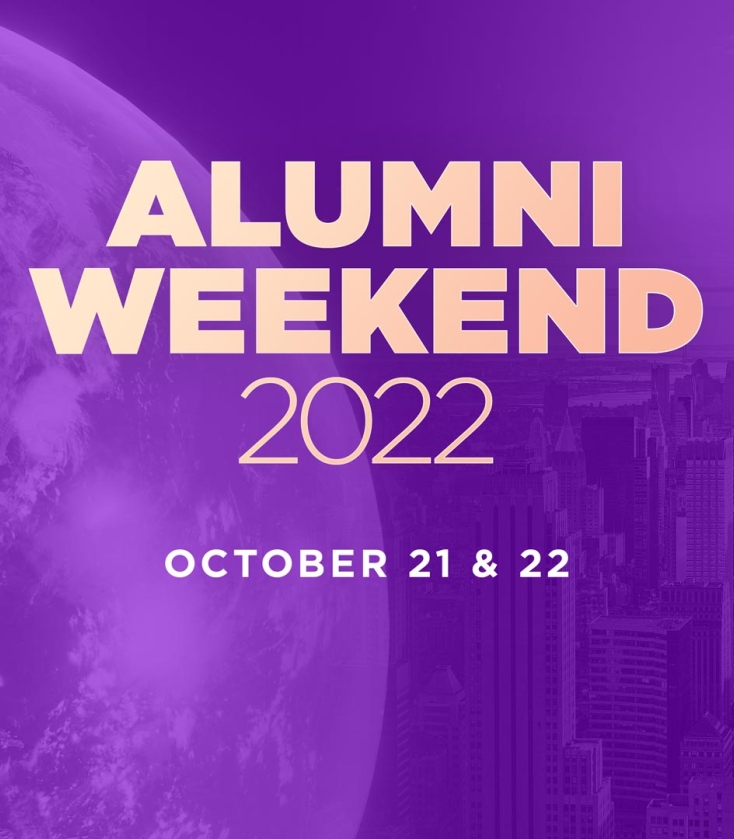 Calling all public health alumni! Join us on October 21 and 22, 2022 for a weekend of reconnecting with friends, networking with industry leaders and touring GPH's new headquarters at 708 Broadway, three blocks from Washington Square Park.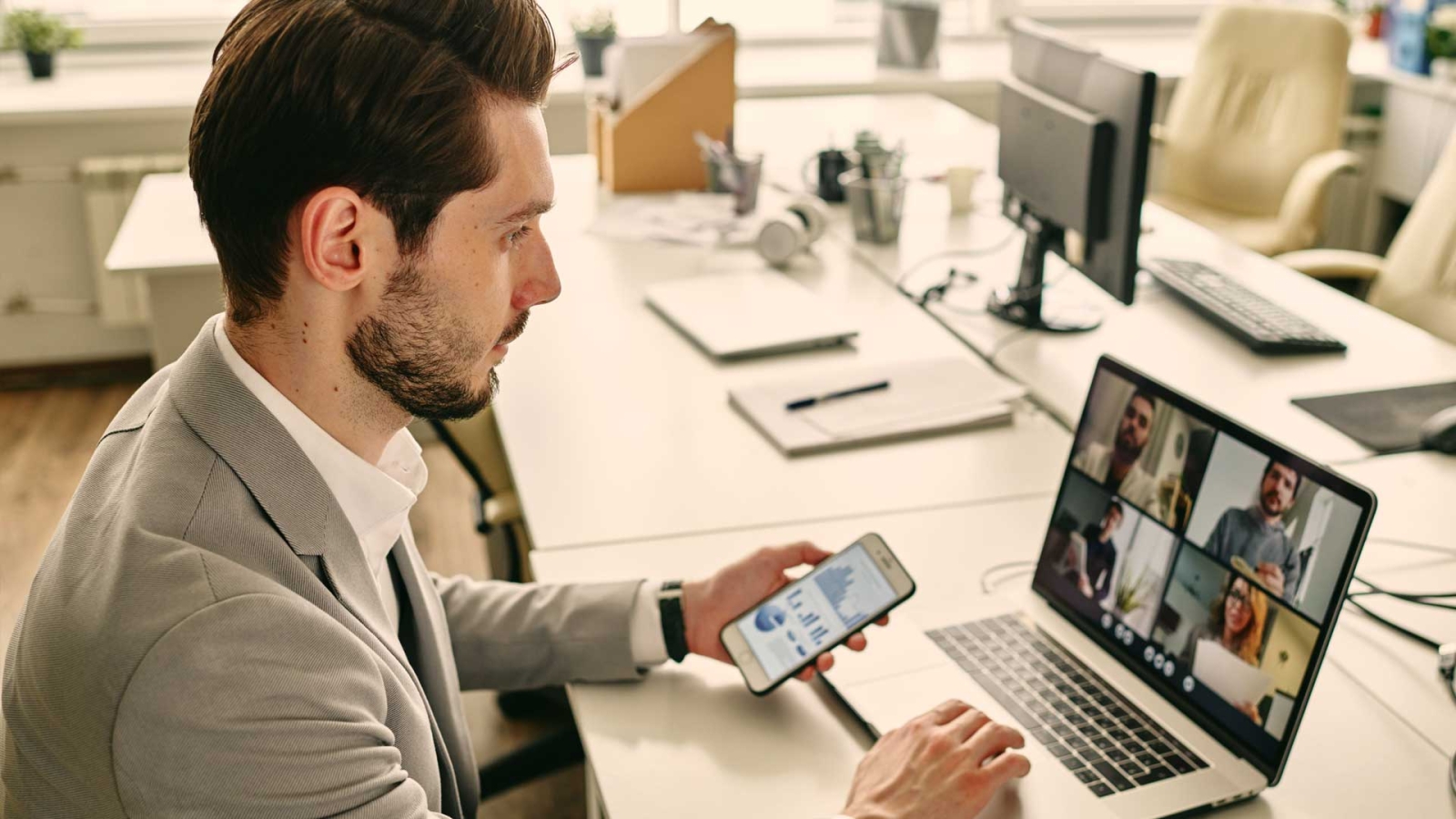 Alumni Board Office Hours
Friday, October 21, 4:00PM
Online via Zoom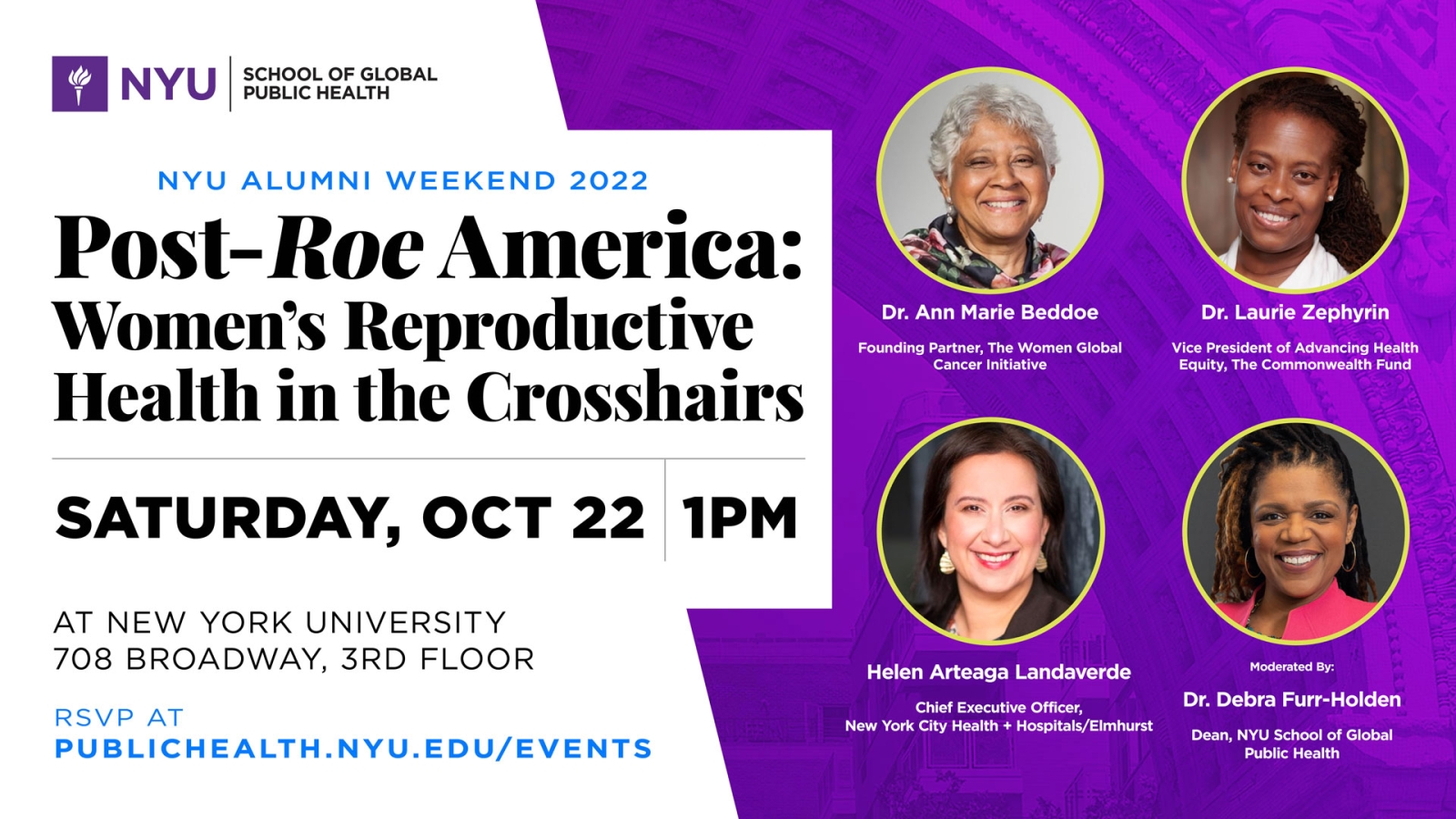 Post-Roe America: Women's Reproductive Health in the Crosshairs
Saturday, October 22, 1:00PM
708 Broadway, 3rd Floor
Event Details
This event is hosted by the GPH Alumni Board. Current students and GPH alumni are welcome to attend.

The GPH Alumni Board is excited to help you by answering any questions you may have!

Do you want help narrowing down your career interests? 
Want advice on resume writing from someone working in our field? 
Need internship advice? 

Join us on Friday, October 21st at 4:00 PM on Zoom to meet with several of our Board members and to get your questions answered!

[Alumni Weekend Registration Required]

NYU GPH invites alumni to a marquee homecoming event at 708 Broadway

Being pregnant in the U.S. carries serious health and safety risks. In fact, research shows that a safe and legal abortion is actually 14 times safer than childbirth. While political rhetoric surrounding abortion has hit a fever pitch, at the end of the day those of us in the field of public health must stay squarely focused on the fact that the health of women -- especially those in our most vulnerable populations -- is now in the crosshairs.

Join Ann Marie Beddoe (GPH 2014), Founding Partner of The Women Global Cancer Initiative, Helen Arteaga Landaverde, Chief Executive Officer of New York City Health + Hospitals/Elmhurst, and Laurie Zephyrin, Senior Vice President for Advancing Health Equity at the Commonwealth Fund for a timely conversation on women's reproductive health in a post-Roe America. 

Moderated by NYU GPH Dean Debra Furr-Holden, they will discuss the effects on vulnerable populations as they lose critical access to reproductive care, while helping create a better understanding of the context and complexities of this critical issue.

About the Speakers:
Ann Marie Beddoe, MD, MPH, is a gynecologic oncologist whose global health work spans several low- and middle- income countries, with a focus on Liberia. She first visited Liberia in 2008 and has worked extensively since then to improve cancer awareness and reproductive health workforce capacity, working closely with the Ministry of Health and the administration of the national medical center. As one of the founding members of the National Cancer Committee in Liberia, she was instrumental in developing the country's first National Cancer Policy. Dr. Beddoe has focused much of her research on health disparities and making reproductive and cancer care accessible. She co-founded The Women Global Cancer Initiative, a non-profit whose mission is to improve cancer care for women globally. It has funded multiple cervical cancer screening projects in Liberia, Latin America and the Caribbean, and established a scholarship to support the training of candidates from low- and middle-income countries in women's cancer care. Dr. Beddoe is a graduate of SUNY Downstate Medical School, where she also did her residency and fellowship training; and is a 2014 alumna of NYU GPH. She currently heads the Division of Global Women's Health at Mount Sinai Medical Center. She is also an active speaker at church-based communities, where she advocates for routine cancer screening and early intervention.

Helen Arteaga Landaverde, MPH, is Chief Executive Officer at New York City Health + Hospitals/Elmhurst. She is the former Assistant Vice President, Queens Network and Executive Initiatives at Urban Health Plan, a network of community health centers located in three boroughs in New York City. Helen is Ecuadorian and a long-time resident of Corona, Queens. Helen grew up understanding the role that health care had on a community. She dreamed of establishing a community health center that would provide quality health care to local residents. Following the death of her community activist father, she set out to build that health center in her beloved Corona. Working with Our Lady of Sorrows Church and other community leaders, she sought out Paloma Hernandez, the President and CEO of Urban Health Plan, Inc., to make her dream a reality. Together, they opened Plaza del Sol Family Health Center in June, 2009. Last year, Plaza Del Sol provided care to more than 29,000 patients regardless of their ability to pay. The health center was dedicated in her father's memory in 2014. Helen has a bachelor's degree from New York University and a Master of Public Health from Columbia University Mailman School of Public Health. Completed a fellowship with the National Hispana Leadership Institute and Harvard Kennedy School of Government in September 2010. In March 2016, she was appointed to the NYC Health + Hospitals Board of Directors and to the NYU Alumni Board of Directors. Currently completing her doctoral degree at CUNY-School of Public Health. She was one of 31 women selected by the New York City Commission on Women's Issues to be featured in "NYC Women: Make it Here, Make it Happen," a series highlighting women who made a difference in their communities. She also received the Community Impact Award, Humanitarian Award and City of New York American Dreamer Award.

Laurie Zephyrin, MD, MPH, MBA, is senior vice president for Advancing Health Equity at the Commonwealth Fund. She has extensive experience leading the vision, design, and delivery of innovative health care models across national health systems. From 2009–2018, she was the first national director of the Reproductive Health Program at the Department of Veterans Affairs, spearheading the strategic vision and leading systems change through the implementation of evidence-based policies and programs to improve the health of women veterans nationwide. In 2016–2017, Dr. Zephryin served as acting assistant deputy under secretary for Health for Community Care, and later in 2017, as acting deputy under secretary for Health for Community Care. While directing the VA's Community Care program, Dr. Zephryin spearheaded efforts to implement legislation, develop internal governance structures, and address patient outcomes through systemwide optimization of care delivery. As part of the leadership team, she also represented VA before Congress and other internal and external stakeholders. Zephyrin is a board-certified clinician. She is a clinical assistant professor of Obstetrics and Gynecology at NYU Langone School of Medicine (2013–present) and was previously an assistant professor at Columbia University, College of Physicians and Surgeons (2007–2012).

[Alumni Weekend Registration Required]

Join the NYU GPH Alumni Board and GPH alumni for an afternoon of drinks and networking at the Sky Room at Rosa Mexicano Union Square. Drinks and light hors d'oeuvres will be provided to attendees. This event is open to Alumni from any NYU school. Alumni may bring one guest from any school.

Celebrate a rich history of public health at New York University
Since the first health course was offered in 1931, over 2,500 alumni have launched their public health careers in over 44 countries, improving lives around the globe.
Learn More