June 8, 2017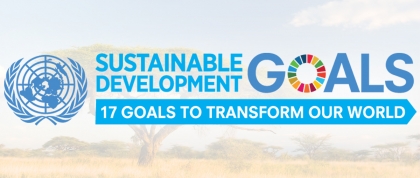 NYU College of Global Public Health and The African Centre for eHealth Excellence Team Up to Identify Low-Income African Scholars to Earn Masters of Public Health Degrees Focused on the United Nations' Sustainable Development Goals
Today, NYU's College of Global Public Health (GPH) and The African Centre for eHealth Excellence (Acfee) announced a partnership to work with select Health Ministries and other government agencies to nominate 20 students from low-income African nations for a scholarship that would reduce the cost of GPH's new SDG MPH degree by 90%. Through this novel partnership, GPH and Acfee will help ensure that 20 high-potential future health leaders in Zimbabwe, Rwanda, Uganda, Sierra Leone, Liberia and Malawi will develop competencies in public health program management and analytics, alongside the much needed skills in allocating scarce resources efficiently to achieve optimal health outcomes.
The candidates will be trained to help national and subnational governments achieve the ambitious and broad Sustainable Development Goals, which are not only holistic and intertwined but also the responsibility of every country on Earth.
"This new degree will develop exceptional analytic and strategic decision-making skills in public health," said Dr. Cheryl Healton, Dean of GPH, "so that the graduates of the program can help governments at all levels achieve health-related SDGs."
The SDG MPH includes courses in Data-Driven Decision Making In Global Public Health; Results Focused Strengthening Of Health Systems In LMICs; Monitoring And Management Of Public Health Programs For Equity; Accelerating Progress Toward the Health-Related SDGs; and Budgeting for Sustainable Health Return on Investment.
The program develops a number of critical competencies in public health, including the ability to analyze context specific causal pathways for the global burden of disease, health interventions, and health system platforms to set and monitor priorities for action, select evidence based planning and evaluation methods, and apply these to context specific theories of change for interventions, health systems, or equity in health, categorize health-related targets within the Sustainable Development Goals according to global burden of disease, disease control priorities and health system platforms, critically assess the different components of the global health governance infrastructure and health systems designs in different global contexts, and apply methods for analyzing costs, health return on investment, budgets, financing and sustainability.
"By providing the right skills to a relatively small number of well-placed individuals, we'll see a big improvement in health outcomes in the time-frame of the SDGs," said Dr. Chris Dickey, Global Health Program Director at GPH.
The courses are all available online, which provides a number of advantages for students, including: The reduced opportunity cost (of not having to take time off and live in a different city); The ability to immediately benefit from the transfer of critical skills from the classroom to the field - while classes are even in session; A network of well-trained, like-minded professionals from the continent who are in the program, and; The continuing support by GPH faculty, mentors, and other students as the strategies developed are negotiated and implemented.
Through the partnership with GPH, Acfee will work with Health Ministries in countries considered to be Low Income by the World Bank to identify candidates who will benefit most from the acquisition of these applied skills and are also in a position to help their respective countries achieve the SDGs. Once the nominated students are vetted by Acfee, they will apply to join the fall 2017 entering class of SDG MPH candidates and provide all of the necessary materials, including college transcripts, CV, an application essay, and at least 2 letters of recommendation.
Acfee will continue to help support the scholarship students throughout the program, by coordinating case studies, data sets, and practice experiences that will provide the most value to the respective Health Ministries. The scholarship students will also automatically receive an invitation to the Acfee Annual Meeting, which gathers senior personnel of Health Ministries from across Africa annually.
"We are excited to work with NYU GPH to strengthen health systems in Africa," said Dr. Sean Broomhead, Executive Director of Acfee. "The SDG MPH supports Acfee's mission to expand eHealth options on the continent and to build a network of skilled professionals devoted to improving health outcomes."
NYU College of Global Public Health
At the College of Global Public Health (GPH) at New York University (NYU), we are preparing the next generation of public health pioneers with the critical thinking skills, acumen and entrepreneurial approaches necessary to reinvent the public health paradigm.  Devoted to employing a nontraditional, inter-disciplinary model, GPH aims to improve health worldwide through a unique blend of global public health studies, research and practice. GPH is located in the heart of New York City and extends to NYU's global network on six continents. Innovation is at the core of our ambitious approach, thinking and teaching.  http://publichealth.nyu.edu/.
Acfee
The African Centre for eHealth Excellence (Acfee) has embarked on a journey to develop eHealth's capacity and leadership for African countries to support improved health outcomes for their people. Our entry point for achieving this is direct strengthening of countries' eHealth strategies and implementation plans, supported by the capacity and leadership development needed for sustainability and success.
To realize a vision of healthier Africans, health systems must be strengthened. eHealth is a key enabler in achieving this goal, though to be successful; eHealth needs to deliver more benefits for the people. Unlocking this potential and developing it with African countries is Acfee's main goal.
Acfee is an international network of eHealth professionals established in 2012 to develop leadership and capacity to advance eHealth in African countries. It's a non-profit company registered in South Africa with an advisory board that is made up of African health and eHealth professionals.
Acfee believes in eHealth's potential to contribute to health systems strengthening and transformation for better health for African people.
For more information, contact: Prof Peter Nyasulu, Executive Director-Academics (Acfee) peter.nyasulu@acfee.org