September 21, 2018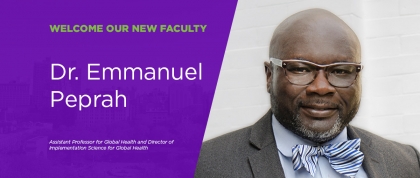 A New Assistant Professor for Global Health at the College of Global Public Health, and Director of Implementation Science for Global Health.
Emmanuel Peprah, Ph.D earned his B.A. from Texas A&M University and holds a Ph.D. from Meharry Medical College in Nashville, TN.
Dr. Peprah's research interests lie at the conflence of understanding what, why, and how some evidence-based interventions work in some populations and not others. The programattic focus of his research is understanding the contextual factors that influence the burden of co-morbidity in people living with HIV/AIDS (PLWH), with a particular focus on cardiovascular disease risk factors and mental health. As the burden of non-communicable diseases (NCDs) continues to increase, there is an opportunity to integrate NCD management into HIV care with implemention strategies that leverage the global infrasturcture designed to improve care delivery for PLWH. Dr. Peprah has built collaborations with multidisciplinary teams of investigators, both nationally and internationally, to address the high burden of comorbidity in PLWH globally.  He is also the founder of the Baakoye Foundation, a nonprofit philanthropic organization dedicated to serving people in sub-Saharan Africa, and co-founder of the Washington Leaders Index (WLI), which aims to empower the next generation of emerging leaders through active, innovative, and inclusive leadership programs. Both nonprofit organizations serve the needs of children and people globally within the domains of education and health.
Before joining GPH, Dr. Peprah was a senior program official at the National Institutes of Health (NIH), where he worked with senior leadership to oversee strategic planning, initiative development, and implementation of research priorities in the areas of translational research, implementation science, and global health. He led and managed HIV/AIDS programs and a $10 million portfolio as part of the National Heart, Lung, and Blood Institute's Trans-Omics for Precision Medicine Program. He was instrumental in launching the Human, Heredity, and Health in Africa (H3Africa) Initiative, a multimillion trans-NIH program, and served on its executive board. Dr. Peprah has received several awards for strategic planning, management, and implementation of large-scale NIH programs.
Please join us in a warm NYU welcome to Emmanuel Peprah!