July 29, 2020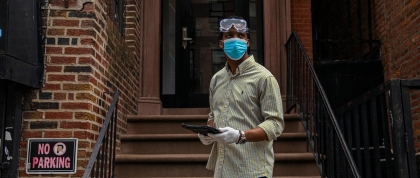 Pictured: MPH candidate Daniel Okpare (The New York Times)
My journey in public health truly began last fall when I enrolled in GPH, planning to earn a master's degree in health management by the spring of 2021. As I was completing my first year, the novel coronavirus threatened our beloved city, our country, and the rest of the world. New York City put out a call for people with a healthcare background to help track and trace the outbreak.
I saw it as an opportunity to serve my community and contribute to the pandemic response, and was glad I could gain work experience at the same time. So since June, I've answered the call to public health by joining New York's COVID-19 tracking initiative.
As a community engagement specialist, when I'm able to make contact with someone in person I put them in touch with our trace team of remote case investigators. They document their symptoms, refer them for testing according to established protocols, and provide them with instructions for quarantine, isolation, and educational resources.
We make a series of inquiries about their condition and needs: What are your symptoms? What difficulties are you having? What can we do for you? I work to build a personal connection that will lead to trust in the relationship between each person and our public health mission.
For me, the first week was really hard. You're following the script, inputting data, and talking to people -- all at once! It's more multitasking than I've been used to, and there were times it didn't go according to plan. But it's gotten better, and I feel I've been able to build people's trust. Being empathetic to their needs, I'm able to engage them in conversation. Sometimes I have to assure them I'm there to help, to keep them and their family safe.
Working as a community engagement specialist has been personally rewarding. I've had unique opportunities to give in-person support to a young black woman, a Latino family, and many others in my local community during very difficult times. With my knowledge of the healthcare system, I've been able to help people who have felt alone, scared, and worried.
This entire experience has reinforced my burning desire to pursue an impactful career in public health. I want to continue my grass-roots efforts, and increase my involvement in enhancing policies and programs that promote health, so that I can deliver not only improved access to better health but also greater equity in our healthcare system.
As I told the New York Times last month, "It's a prestigious opportunity to be part of the front line of response as a public health professional." Our goal as contact tracers is to help slow the spread of the virus, buy time for scientists to develop a vaccine, and effectively flatten the curve.
By Daniel Okpare
MPH Candidate, Public Health Management