October 15, 2020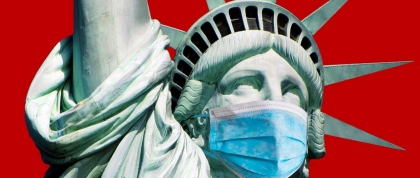 Pictured: The Statue of Liberty wearing a mask. Photo courtesy of: Getty Images
This piece originally appeared in In the Zeitgeist, the NYU Politics Society's online publication.
 
An opinion piece by Undergraduate Student Cassi Niedziela 

The COVID-19 response in the United States has been nothing short of embarrassing. From the start, President Trump downplayed the virus and fumbled the response, which made it more difficult for the nation as a whole to appropriately respond to this novel threat. And let's be clear – the pandemic is far from over in the U.S., as evidenced by rising caseloads in many parts of the country.

Throughout the pandemic, states have been left to advocate for themselves in order to receive enough supplies such as ventilators and personal protective equipment (PPE) for healthcare workers, and they have been able to decide for themselves when – or if – they take precautions such as shutting down non-essential businesses or encouraging mask usage. 

In fact, President Trump's decision to give more power to states during this public health threat has resulted in states competing with each other for much-needed resources. If there had been more coordinated federal oversight and direction, the federal government would have been able to direct resources where they were most needed and ensured that precautions were being taken nationwide to prevent the spread of the novel coronavirus. A national strategy would have also helped decrease the health inequities that have arisen on the basis of race, place, and socioeconomic status. 

These missteps have led to well over 200,000 deaths and a response that ranks horribly when compared to other wealthy countries around the world. These atrocities could have largely been prevented if the U.S. had competent leadership and a strong pandemic plan in place, but neither of those things were the reality, and countless people have suffered because of it.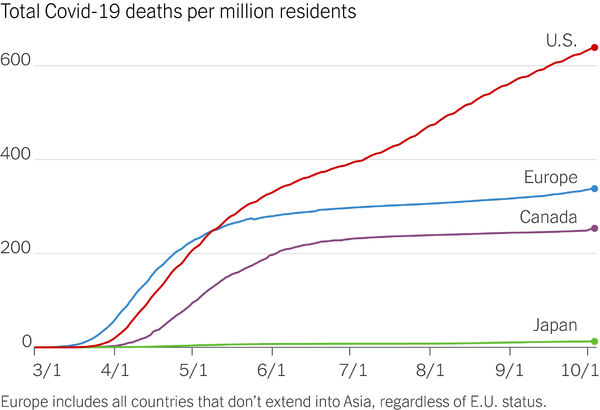 Pictured: A chart depicting total COVID-19 deaths per million residents, with the U.S. far outpacing Europe, Canada, and Japan. Photo courtesy of: The New York Times 

 
A state-based, patchwork plan to address COVID-19 is not what the U.S. needs. There is still hope to slow the spread of the virus and prevent thousands of unnecessary deaths, but if that is to happen, the U.S. needs a national, comprehensive COVID-19 strategy, and it needs it sooner rather than later.

So, what goes into a national, comprehensive COVID-19 strategy? Let's start with a  national mask mandate, expanded financial relief, and a robust contact tracing system. And the cherry on top of it all is to stress the importance of believing what scientists tell us and not inserting partisan bickering when it comes to protecting public health. Let's break it down.

National Mask Mandate
Wearing a mask has regrettably become politicized, but the science is straightforward – wearing a mask slows the spread of COVID-19 by protecting the wearer and those around them. States have failed to make the right choice and protect public health, and the virus does not respect the arbitrary nature of state borders, so the federal government should step in and implement a national mask mandate.

Furthermore, a national mask mandate would help shift community norms by giving "a strong signal or endorsement to a community to take masking seriously." Masks are undeniably awkward and uncomfortable at times, but if we promote masking as a small sacrifice that benefits communities, public perception can be shifted. 

Dr. David Abrams, a professor of social and behavioral sciences at the NYU School of Global Public Health, stresses the importance of also having national figureheads that promote mask usage. "It's crucial that all leaders and role models be seen to consistently wear masks. Actions speak louder than words," he said. 

Universal masking is a battle that can and should be won. Countless lives will be saved if a national mask mandate becomes the law of the land.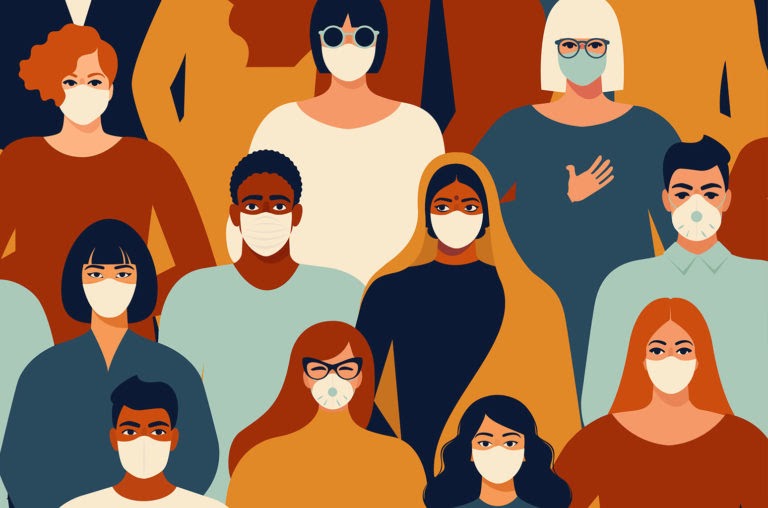 Pictured: A diverse crowd of people wearing masks. Photo courtesy of: Getty Images


Financial Relief
In order to minimize financial hardship for individuals and families, the U.S. needs to implement financial relief in the form of free testing and treatment for COVID-19, as well as more economic stimulus packages for people living in the United States below a specified income threshold. 

All COVID-19 testing and treatment should be free for the patient, regardless of citizenship status. Free COVID-related medical care would help minimize health inequities that are based on race, place, and socioeconomic status. And with a healthcare system that is overwhelmingly expensive for many, this measure will ensure that all people who need care will receive it. We are only as strong as our weakest link, so if certain communities are unable to get tested and treated due to financial barriers, the entire country will not be able to overcome the obstacle of the novel coronavirus.

Furthermore, the need for additional economic stimulus packages in the form of direct payments to individuals living in the United States, regardless of citizenship status, is overwhelming. Now is the time to try out a universal basic income for individuals, which will serve as a cushion for those struggling financially, while also stimulating the economy as a whole. This universal basic income would ideally be about $1,000 per person per month for those over the age of 18 at least until the pandemic is over. Financial relief should also come in the form of a strengthened social safety net such as expanded access to food stamps and rent relief. 

Robust Contact Tracing 
Contact tracing is effective at curbing the spread of disease when carried out properly. Unfortunately, many local health departments have not had adequate resources to carry out the necessary processes for effective contact tracing. While local health departments are likely best suited to carry out contact tracing in their own communities, as opposed to a state or national-level contact tracing team, given their proximity and familiarity with their own populations, they can only do so with increased funding.  

In some areas of the country, localities are experiencing a drastic rise in COVID-19 cases, which may make it difficult to carry out effective contact tracing due to the sheer number of cases and contacts involved. However, it is crucial that as many contacts as possible are located, so that they can self-isolate and prevent further spread of the virus.

Reliance on the Science
Finally, Americans need to stop with the partisan bickering and disagreement over basic facts. Science, quite frankly, is not up for debate. Facts are facts. It is sad that this must be said, but politicians – particularly those who currently occupy the White House and their allies – seem to have a difficult time understanding this basic concept. This incompetence is dangerous.

The United States needs to listen to scientists like Dr. Anthony Fauci about how to proceed with COVID-19 precautions. Testing guidelines, case counts, reopening protocols, and vaccine development should not be swayed by partisan agendas. There is simply too much at stake to ignore the facts, which is why the Scientific American endorsed a presidential candidate for the first time in its history. 

America is currently at a crossroads. We can choose to continue on the path we are on at the expense of countless more lives, or we can choose to believe science and invest in evidence-based approaches to battling a common enemy. Let's make the right choice.