March 25, 2021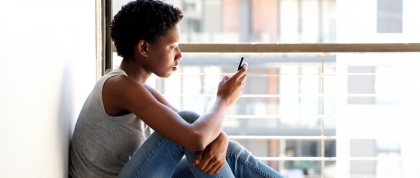 Now more than ever our lives are moving online – including our healthcare. Hospitals and physicians across the country have adopted virtual visits with patients. Communicative technology has gained popularity in the last few years, but the newest technology still has benefits and drawbacks when it comes to access.
Today, up to 76 percent of hospitals in the United States use telehealth in some capacity — a considerable increase from the 35 percent utilized ten years ago. However, community health centers that serve Black and Latino neighborhoods have reportedly had more challenges with rolling out telehealth. And Black Americans are still more likely than their white peers to have concerns about confidentiality, privacy and trust.
Health in Her HUE is an attempt to counteract this. It's a health app for women of color, by women of color -- one example of how innovations in communicative technology can make healthcare more accessible to communities that have historically been underserved in the healthcare system.
Ashlee Wisdom, founder of Health in Her HUE, explains: "When I came up with the name Health In Her HUE, I wanted the word HUE to represent something more than color; it's an acronym that stands for Health In Her Heard and Understood Experiences."
In a study by the Pew Research Center, Black patients are more likely than white patients to take advantage of telehealth nationally, but regionally, Black patients are still less likely to have the necessary broadband to make use of online health resources. As communicative technology expands in the healthcare field, physicians and hospitals using the technology will have to consider how existing discrepancies in access to the internet in many predominantly Black neighborhoods may influence who is actually using these resources.
"To stay true to our core mission of providing women of color access to care, content and community that centers their unique experiences, I have to keep them involved in our development process," said Wisdom.
The Health in Her HUE team makes sure to bring their own experiences to the table in other sections of the app as well. In addition to providing a list of physicians of color, the app has a community forum where users can anonymously post questions to be answered by Black health experts. It also includes a section of articles about Black Women's health that explore a range of topics, from reproductive health to mental health. The Health in Her HUE app is just one of the many ways we can expand the possibilities of communicative technology and healthcare access.
Author
Destine Manson
GPH Communications Editorial Assistant
---
For more from Ashlee Wisdom, check out her conversation with the GPH Alumni Board about health technology, entrepreneurship, and challenging the status quo in healthcare and society. Ashlee discusses how she is crafting her public health career and shares her experience launching her digital health startup, Health In Her HUE.