June 22, 2021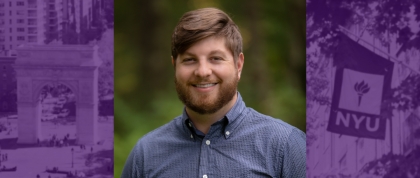 Pictured: Nick Mirin, MPH'21
 
The Public Health Journey of Nick Mirin, MPH '21
Upon completion of their bachelor's degree, some students know they want to pursue graduate school right away. Others chase opportunities in various fields as a way to explore their interests. Still others fall unexpectedly into work that they enjoy, but question what to study, where to go next, and how to get there. That was the experience of Nick Mirin.
As an undergraduate politics major at Davidson College with a background in policy and psychology, Nick became interested in clinical mental health and how those topics all intersected. He then worked as a community residence counselor at McLean Hospital, a world-renowned center for psychiatric treatment, where he observed that "only a fraction" of patients were people of color, and he became attuned to the barriers those communities encountered when they needed access to mental health care.
As Nick switched to working in the research side of the hospital, his focus shifted to the healthcare system and its flaws. After seeing how various populations were discouraged from accessing care, and gaining an awareness of the distinctions between research and clinical practice, he became passionate about wanting to impact healthcare "on a broader scale." He thought an MPH degree, which synthesizes the social and biomedical sciences, would equip him with the knowledge to have a positive impact on health policy. He especially wanted the scientific background that his peers and mentors had.
Nick applied and was admitted to some of the top public health schools in the country. He deliberated on each, considering which would best support his interests and needs. Then he attended NYU GPH's Admitted Students Day.
Enter Professor Stephanie Cook, whose presentation on adult attachment theory, stress processing, and intersectional discrimination aligned perfectly with Nick's interests. Her approach to her work strongly appealed to him; she analyzed the role sociological factors play in people's mental health and access to services, and used biomedical evidence to demonstrate the effects of discrimination and health inequities.
Chatting with her afterward, Nick told Prof. Cook of his enthusiasm for learning how to think about and analyze the issues that she discussed. She encouraged him, and they discussed everything from NYU's culture to her research on mental health. For Nick, NYU seemed like a perfect fit.
He found the people at GPH to be welcoming and approachable, and admired its mission to "uplift everybody involved, including master's students." He didn't find that at other schools; instead, he sensed a strong sense of competition and ego among both the students and the faculty.
Nick became convinced that GPH was the place for him when, in a chat with the graduating officers of the student club Mission for Mental Health (M4MH), they suggested he run for election as its next president. By then, Nick could clearly see his future at NYU, and after his election he and his fellow members decided to shift the focus of their activities to equity in mental health.
In addition to his work with M4MH, Nick has accomplished much more as a teaching assistant and a research assistant, and contributed to various publications and presentations. All of this growth began with Nick's friendly conversation with Prof. Cook, and the camaraderie he felt in the GPH community. Since then, Nick became an integral part of that community, and gained the skills, experience, and connections he needed to create change in public health spaces.