December 17, 2021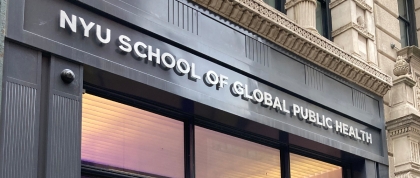 Dear Friends and Colleagues:

As the end of the year approaches, I want to stop just for a moment to breathe, take stock and marvel at the many accomplishments of our faculty, students and staff throughout 2021.
First, thanks to NYU we're settling into our new home at 708 Broadway. A new online brochure highlights both our school and the building, which we hope to officially christen at a formal ribbon-cutting in the spring.
Answering the call to action against the coronavirus pandemic, students have voted with their hearts and feet, coming in droves to study public health here and at our peer schools across the nation. Our own enrollment more than doubled from 2015-2019 -- a result of GPH's growing reputation, our 2019 accreditation, and the STEM designation of our master's degrees -- and currently stands at just over 1,000 students this fall. To our students: thank you for choosing to follow your passion here at GPH. Your hearts and skills are needed now more than ever.
This spring we were thrilled to have risen six places in just the past two years in the US News & World Report rankings. GPH now ranks higher than approximately 80 percent of all other schools and programs of public health. Coupled with the recent dramatic rise in applications and enrollment, we have enjoyed exceptionally rapid growth.
In 2021, GPH redoubled its efforts to increase diversity, equity and inclusion (DEI). Some of these measures include the creation of a new, senior-level dean position; the adoption of best practices for faculty searches; required attendance by faculty and staff at periodic trainings on anti-racism and bias; DEI statements on applications for open positions, in faculty annual evaluations, and in all course syllabi; and a review of GPH's core curriculum to ensure that it covers topics on anti-racism and DEI.
On the academic front, with the addition of a DrPH this year interest in GPH doctoral programs has significantly increased. We're indebted to Cheryl Merzel for her leadership inaugurating the DrPH, and to Danielle Ompad for shepherding the PhD. Thanks also to the four concentration directors for their hard work: Yang Fen in Biostatistics, Emily Goldmann in Epidemiology, Ji Chang in Public Health Policy and Management, and Nina Parikh in Social and Behavioral Sciences.
Our faculty research efforts have also grown exponentially under the stewardship of Melody Goodman. This year, among NYU schools (except for the School of Medicine, for which data was not included) GPH:
has the highest percentage of principal investigators (PI) with extramural funding (almost 50 percent);
submitted the largest number of proposals, for the largest dollar amount, per PI;
won the largest number of awards per PI, with the largest dollar amount per PI.
Among the major research awards this year to GPH faculty and their partners are:
a $1.7 million grant from the National Institutes of Health (NIH) for a data-science training program to improve health outcomes in Kenya (PI Rumi Chunara)
a $4 million grant from the NIH to improve preparedness against infectious diseases for transit and other public-facing workers (PI Robyn Gershon)
a $545,000 grant from the National Science Foundation to use agent-based modeling in socially accountable software systems (co-PIs Joshua Epstein and Erez Hatna).
Notable gifts to GPH include $500,000 for Lawrence Yang to establish the Li Ka Shing Family Foundation Initiative for Global Mental Health and Wellness. And Bill Rom has made a generous gift to establish the William N. Rom Climate Fellows program and to fund an annual environmental justice lecture.
Three new important centers were established this year, including the Center for Anti-Racism, Social Justice and Public Health (led by Melody Goodman), the Center for Disaster Science (led by David Abramson), and the Global Center for Implementation Science (led by Donna Shelley). Others will be finalized soon.
Many faculty were honored this year, including but not limited to:
Ana Abraido-Lanza was appointed to a National Academies of Sciences, Engineering and Medicine committee on lessons from the COVID-19 pandemic;
David Abrams and Ray Niaura were among 24 NYU professors named as the world's most cited researchers;
Linda Collins was featured in a special journal issue about her work with intervention optimization;
Stephanie Cook was named an NHLBI BioData Catalyst Fellow by the Renaissance Computing Institute at UNC Chapel Hill;
Melody Goodman was named a Fellow of the American Statistical Association, and was appointed to the PCORI Advisory Panel on Patient Engagement;
José Pagàn was announced as one of New York's most influential Latinos;
Lawrence Yang received a prize from the Brain and Behavior Research Foundation for his work in advancing psychiatric research.
A comprehensive list -- or even the highlights -- of our faculty and students who were published in major journals this year would be too long to include here, but we recognize them for their extraordinary work.
In addition to GPH's invaluable Advisory Board, we have also established a new Dean's Council, which is a select group of successful alumni, philanthropists and friends from the public and private sectors who provide advice and support to the dean in pursuing the school's strategic goals.
And a huge shout out goes to our human resources director, Solomon Worku, who was honored with an NYU HR Above and Beyond Award. His knowledge and skills are essential to the performance of all our GPH staff members, without whose tireless efforts we'd have much less to report on, this year and every year.
So that's our small snapshot in time of the impressive achievements and noteworthy milestones at GPH in 2021. We thank everyone for their hard work and extraordinary resilience in these challenging times, and we hope you'll join us in our optimism for the health and longevity of both our nation and our school in 2022, as we continue to battle this pernicious pandemic.
Here's wishing you and your loved ones the very best and happiest of holidays,
Cheryl G. Healton, DrPH
Dean