October 23, 2017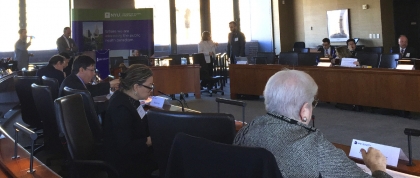 Commencement of the First Advisory Board Meeting.
Dear Colleagues and Students,
The College of Global Public Health (GPH) is growing faster than ever thanks to tenacity and wise advisement. On October 19th and 20th, we met for the first time with an esteemed group of globally- renowned public health leaders who convened in New York City to serve on our new college Advisory Board. Impressed by our dynamic public health footprint, the board advised us to continue to produce disruptive content, promote entrepreneurship, be like no other institution and reinvent the public health paradigm. 
The new strength of our network serves to further describe the strength of our school. Without further adieu, please join me in welcoming this terrific new team who will help advise GPH as we work to meet our bold goal to become one of the top ten schools of public health in the next decade: 
Richard M.K. Adanu, MBChB, FWACS, MPH, Dean and Professor University of Ghana School of Public Health; 
Mary T. Bassett, MD, MPH, Commissioner, The New York City Department of Health and Mental Hygiene; 
Mickey Chopra, MD, MSc, PhD Lead Health Specialist, The World Bank; 
Steve Davis, JD, MA, President and Chief Executive Officer, Program for Appropriate Technology in Health (PATH); 
Brian Levine, MD, Member, NYU Board of Trustees, Vice President NYU Alumni Association, Founding Partner and Practice Director, Colorado Center for Reproductive Medicine; 
Bernard Lo, MD, President and CEO, The Greenwall Foundation; 
Kelsey Louie, MSW, MBA, Chief Executive Officer, GMHC; 
Robyn Norton, AO FAHMS, Principal Director, Professor of Public Health UNSW Sydney, Professor of Global Health & Oxford Martin Senior Fellow University of Oxford; 
Ellen Rautenberg, MHS, Chair, New York State Health Foundation Board Former President and CEO, Public Health Solutions; 
Steve Schroeder, MD, Distinguished Professor of Health and Health Care, UCSF Department of Medicine; 
The Honorable William Sorrell, JD, Former Attorney General of Vermont; 
Marcia Thomas, EdD, MPH, MS, Associate Dean of Finance and Administration, Yale School of Nursing; 
Alberto Trejos, PhD, MA, Dean, INCAE School of Business; 
Howard Zucker, MD, JD, LLM, Commissioner, New York State Department of Health.
We're grateful to them for their extraordinary contributions to the future of our college. During our initial meeting, we provided a current overview of the College's programs, had an in-depth dialogue about the future of the College, and discussed how best to chart its course for maximum positive impact in improving the health of the world. 
Thanks to all of the faculty who were able to participate this time and we look forward to having many more faculty take part in future meetings of the Advisory Board.
Have a good week!
Cheryl G. Healton, DrPH
Dean