February 2, 2018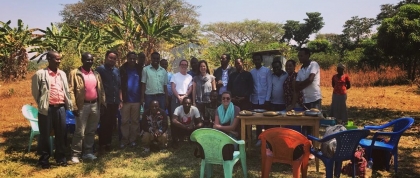 Dr. Yesim Tozan reports from Ethiopia, where she mentored the Ethiopia School-Feeding Capstone Project.
(Pictured Above: Capstone Team with school directors, teachers, and supporting community officials.)
Dear Colleagues and Students:
With a rapid increase in the population from 88.9 million in 2014 to 105 million in 2017, Ethiopia is the second-most populous country in Africa. About 84% of the Ethiopian population lives in rural areas, and the majority is engaged in small-scale agriculture and pastoralist activities. Over the past decade, Ethiopia has made important strides toward reducing hunger and improving child health. Between 2010 and 2016, mortality rates of children under five were cut by 40%, and stunting rates were reduced drastically, from 58% to 38%.
 
Since 2015, however, the country has been challenged by extended dry periods, poor rainy seasons, and an influx of refugees -- mainly women and children -- from neighboring countries, resulting in the need for food relief for 8.5 million people in the second half of 2017. Food insecurity has consistently been a pressing issue in Ethiopia, and malnutrition is a serious public health concern. In an effort to address food insecurity, various school feeding program models have been put into place over the past two decades. In collaboration with the Ethiopian Ministry of Education, World Food Programme (WFP) has been implementing school feeding interventions for about 20 years. Starting in 2012 WFP began implementing Home Grown School Feeding (HGSF) Programs in two regions in Ethiopia: Southern Nations Nationalities and Peoples Region (SNNPR) and Oromia.
 
At its core, the provision of home grown daily school meals aims to reduce the vulnerability arising from food insecurity, particularly in chronically affected areas, while improving overall health and nutrition of school-aged children and promoting school enrollment and attendance, as well as student performance, with a focus on girls' education. The HGSF program also has agricultural and community development objectives through linking school feeding with local small-scale farmer production by creating an ongoing market for farmers. In sum, the WFP's HGSF in Ethiopia is aimed to ensure every child has equal access to education, health and nutrition, and most of all to help attain Sustainable Development Goal (SDG) 2: Zero Hunger; SDG 3: Good Health & Well Being; SDG 4: Quality Education; SDG 5: Gender Equality, and SDG 6: Quality Work & Economic Growth.
This January Term I had the pleasure of mentoring a Capstone team of MPH students during their fieldwork in Ethiopia. Their project, designed in partnership with the WFP, focuses on validating and improving upon the existing "theory of change" underlying the HGSF program, which serves as a basis for the estimation of the economic return on investment. The Capstone team aims to identify potential bottlenecks in the existing HGSF program and its components, as well as to improve upon the context-specific nutritional components of the program to ultimately increase its nutritional and health impact on school-aged children.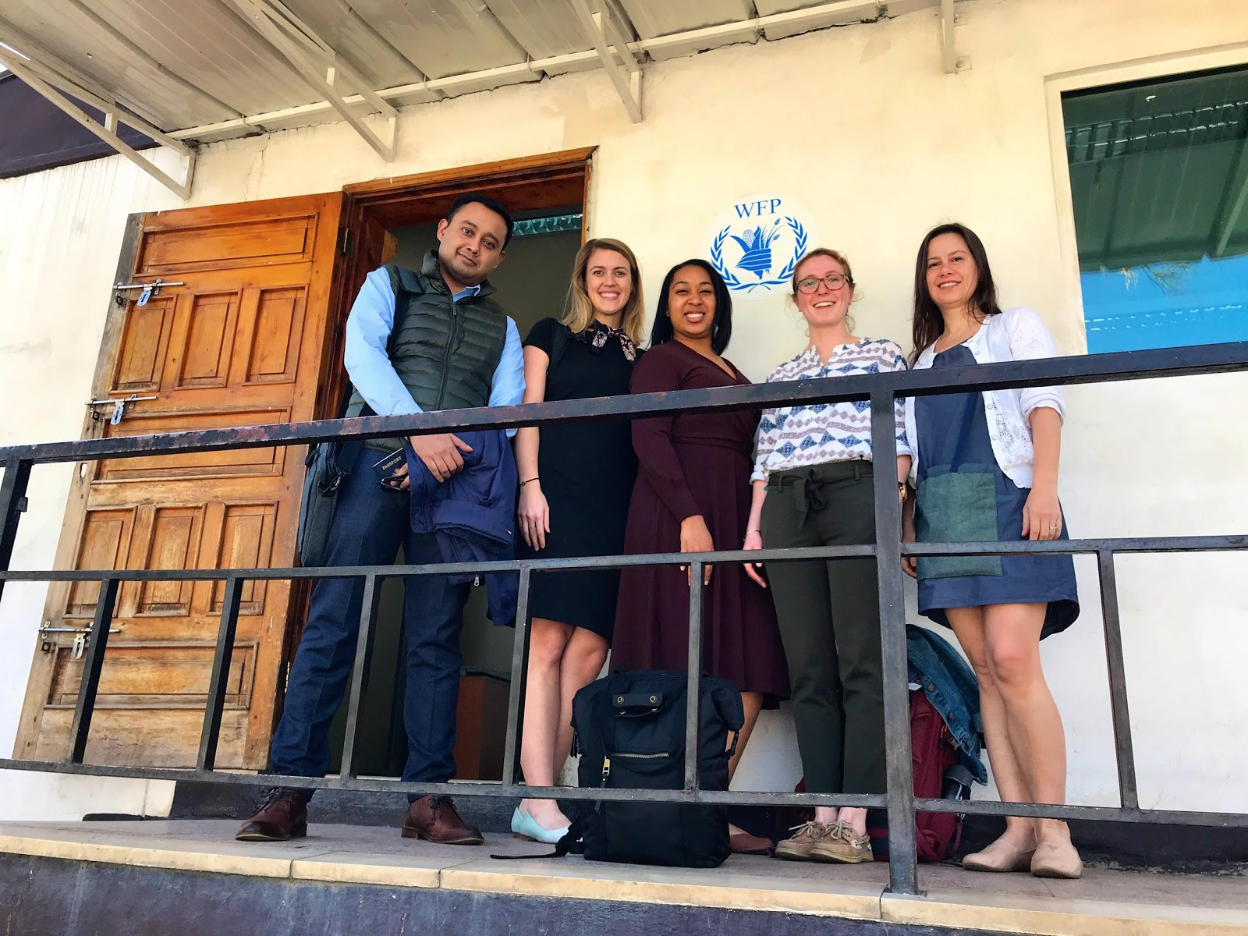 Picture: Capstone Team from left to right - Pratik Sourav, Ana Carolina Camargo, Amber McLeod, Kiera Bloch, and Yesim Tozan.
Over the course of two weeks, the team visited 12 primary schools in various regions of the country. These school visits exposed our team to different school feeding program models that coexist in the country, including the WFP's HGSF program, and the Office of the First Lady of Ethiopia's school feeding program targeting needy students in selected primary schools in Addis Ababa. Additionally, our team was afforded the opportunity to meet with key stakeholders involved with school feeding efforts at the programmatic and policy levels, including officials from the Ministry of Health, the Ministry of Education, regional and district government agencies, and farmers associations. Through these site visits and key informant interviews, the team aims to expand beyond the school itself to gain a systems-wide understanding of the different school feeding program models in place.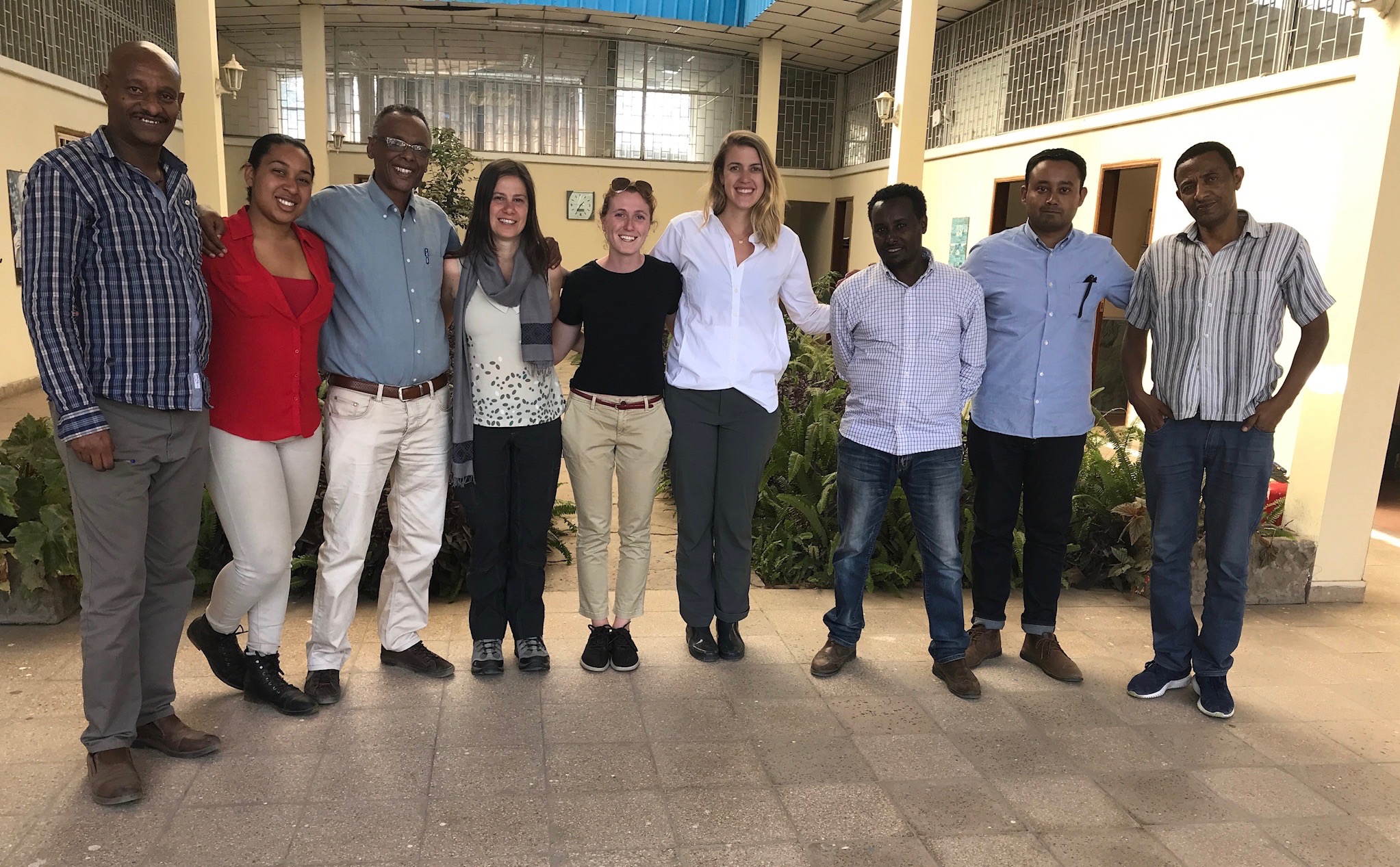 Picture: Capstone Team accompanied by officials from the World Food Programme and Ministry of Education
Accompanied by our colleagues at the WFP, we traveled from the capital city of Addis Ababa to Awassa, a major city in the SNNPR region of Ethiopia. With Awassa as our home base, the team visited several schools in SNNPR, including schools with the HGSF program, schools with an in-kind school feeding program where students take home food rations, and schools that did not have any school feeding program in place.
At each school we had engaging discussions with school principals, teachers, school committee members (some of whom were parents), village representatives, and district officials regarding the successes and challenges of implementing school feeding programs and the extent of community engagement and participation. These conversations will allow the team to gauge the ownership and sustainability of the program at the local level and the opportunity for implementing additional activities, such as deworming and Water, Sanitation and Hygiene (WASH) improvements. As WASH is closely linked with the success of school feeding programs, the team spent additional time after interviews collecting observational data on both the WASH infrastructure and school feeding procedures.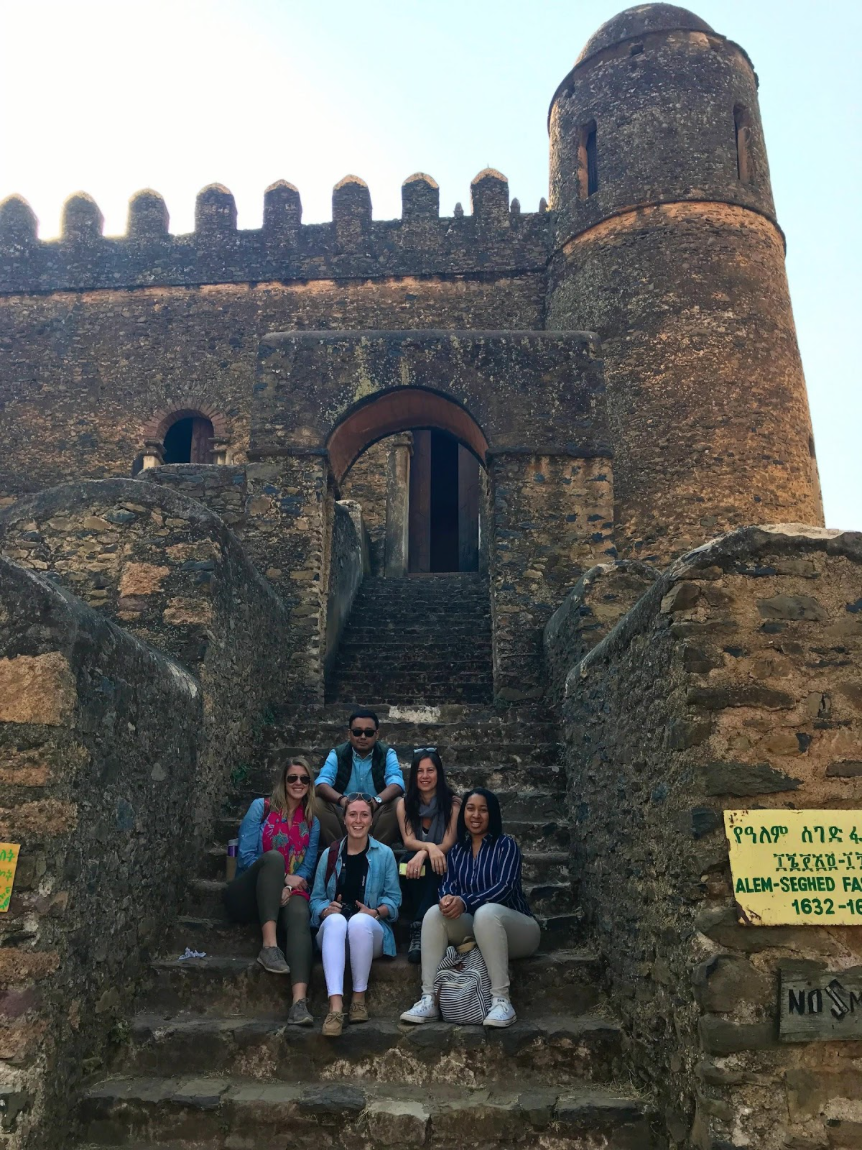 Picture: Capstone Team visits the fortress-city of Fasil Ghebbi
These encounters accompanied long nights of assessing acquired information, evaluating topic and interview guides, and planning for further observations -- all of this while immersing ourselves in the culture and traditions of our host country. We enjoyed many cups of the famous Ethiopian coffee, ate copious amounts of injera, participated in a number of traditional dance excursions, and traveled to Gondar to experience the heart of the Epiphany celebrations and to visit Fasil Ghebbi, one of the many UNESCO heritage sites in Ethiopia.
 
Our fieldwork in Ethiopia was full of adventure!
Yesim Tozan, PhD
Clinical Associate Professor of Public Health Policy and Management