July 24, 2020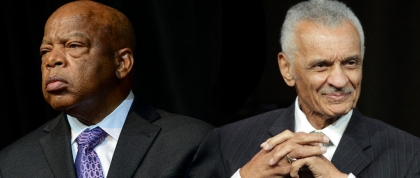 Image Source: Left, U.S. Rep. John Lewis in 2013. Photo by Riccardo S. Savi/Getty Image. Right, the Rev. C.T. Vivian in 2011. Photo by Frederick M. Brown/Getty Images.
Dear Colleagues,
The nation lost two extraordinary civil rights pioneers and leaders last Friday. Both Congressman John Lewis and Reverend C.T. Vivian were demonstrable contributors to the too slow march to creating a more just and equitable world for us all. The world is a lesser place with their passings, but their deeds live on to inspire us all. Their words speak for themselves and lift us up like nothing else:
Congressman Lewis once said "You are a light. You are the light. Never let anyone—any person or any force—dampen, dim or diminish your light. Study the path of others to make your way easier and more abundant. Lean toward the whispers of your own heart, discover the universal truth, and follow its dictates. […] Release the need to hate, to harbor division, and the enticement of revenge. Release all bitterness. Hold only love, only peace in your heart, knowing that the battle of good to overcome evil is already won. Choose confrontation wisely, but when it is your time don't be afraid to stand up, speak up, and speak out against injustice."
Reverend C.T. Vivian underscored that "Nonviolent, direct action makes us successful. We learned how to solve social problems without violence. We cannot allow the nation or the world to ever forget that."
We won't forget and we won't stop answering that courageous call to care, make progress and generate the "good trouble" required to change this world for the better.
We need non-violent confrontation because "Silence is Violence."
Sincerely,
Cheryl Healton, DrPH
GPH Dean and Professor of Public Health Policy and Management