December 17, 2020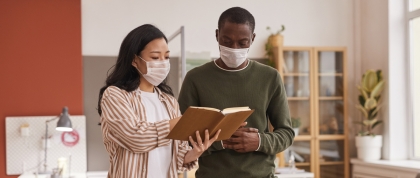 The Global and Environmental Public Health program (GEPH) hosted another successful mixer on Friday, December 4th with special guest Vincent Petit, Chief, Communication for Development -C4D Programme Division at UNICEF. The conversation blended seamlessly into a previous discussion with Thomas O'Connell, Health Systems Advisor at the World Health Organization. This week Dr. Petit joined GPH students to share how his work experience with behavior change has been guiding him through the new challenges of the pandemic.
As the Chief of C4D at UNICEF, Dr. Petit focuses on social and behavior change and risk communication and community engagement (RCCE) development. His work in RCCE requires gathering data via "social listening," a strategy to collect social and behavioral data to improve quality. Social listening relies on insights and feedback from the community on current response tactics.
The COVID-19 response has not been universal, asking slums to social distance and the poorest billion to stop working were weak interventions for marginalized groups. Dr. Petit mentioned that the inadequacy of public response, equity, inclusion and trust are the top crises that need to be addressed in the coming year.
As the new year approaches, Dr. Petit stresses the transition from an old fashioned, expert-driven approach to a people-led response. To best structure a community-led response, he suggests we incorporate social accountability mechanisms through frontline teams. For example, training frontline workers, not only in healthcare, but a variety of frontliners, to actively listen and engage with their communities. He also mentioned the power of listening to localized social media platforms in order to prevent the spread of rumors. Dr. Petit cleverly worded this as, "pre-bunking the infodemic...vaccinating people against information."
Social sciences that aim to understand people and why they believe certain things are crucial for strengthening systems response. Leaders cannot simply push the "truth" on the community, we must do a better job at communicating facts. Dr. Petit asked the rising public health professionals, "How do we engage and partner with tech companies...who are responsible for how information is pushed out?" On an individual level, there is a big push to think before sharing and improve digital literacy to fight against misinformation.
Dr. Petit's led an extremely engaging conversation about the socioeconomic impact of COVID-19 globally, ongoing social and behavior change challenges and the growing infodemic.