May 27, 2021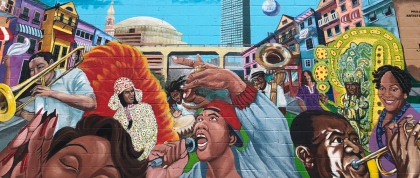 The National Academies of Sciences, Engineering, and Medicine has named Dr. Alexis Merdjanoff a recipient of the 2021 Early-Career Research Fellowship for the Gulf Research Program (GRP). She is one of seven fellows selected for the program's new Human Health and Community Resilience track.
Beginning June 1, Dr. Merdjanoff and the other fellows will spend two years pursuing research that contributes to advancing health equity and examines the social determinants of health in the Gulf States (Alabama, Mississippi, Louisiana, Florida, and Texas) and Alaska. Her research will focus on understanding how older adults can successfully age in high-risk coastal communities, and adapt to and prepare for coastal erosion, frequent flooding, and heatwaves.
"Climate change and disasters present mounting health risks to the U.S. population, especially for adults ages 65 and older. Understanding how we can invest in the structural and behavioral resources that older adults need in order for them to prepare and recover from climate-related disasters is our best way to limit their vulnerability to such events," said Dr. Merdjanoff, a clinical assistant professor of social and behavioral sciences at NYU GPH.
The Gulf States have faced decades of challenges that directly affect the health and well-being of people and communities: climate disasters such as hurricanes and floods, and the emotional distress that follows; a high prevalence of chronic diseases such as hypertension, diabetes, heart disease, and asthma; and environmental contamination exacerbated by the Deepwater Horizon Oil Spill and other offshore accidents. In the wake of disasters, communities of color and low-income families have been overwhelmingly affected.
Fellows' projects will explicitly focus on the root causes of individual and community health and well-being, known as social determinants of health. Fellows will apply a health equity lens and consider social determinants of health in emergency preparedness, response, and recovery activities. They will also work closely with communities to develop locally relevant resilience building strategies.
Since the awards are not attached to a specific project, the fellows are able to explore bold research ideas that they might not otherwise be able to pursue. Each will receive a $76,000 financial award, mentoring support, and a built-in community of current and past cohorts.
The National Academies' Gulf Research Program is an independent, science-based program founded in 2013 as part of legal settlements with the companies involved in the 2010 Deepwater Horizon disaster. To learn more about the Gulf Research Program's Early-Career Research Fellowships, visit nationalacademies.org/our-work/early-career-research-fellowship.
Press Contact:
Rachel Harrison
rachel.harrison@nyu.edu