August 22, 2023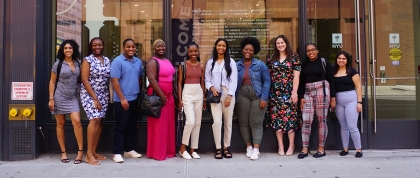 Pictured: RARE Program Students
Equity is a foundational goal of public health, and higher education offers many pathways to achieving equity in teaching and research. One way to make progress toward health equity is by increasing minority representation in both the classroom and the field. A prime example at GPH of this two-pronged approach is the RARE (Research and Racial Equity) program, which offers an 8-week summer internship to students with limited access to public health research experiences and engages them in research that's focused on health equity.
RARE pairs a select cohort of undergraduate scholars with GPH faculty mentors who guide their research over six weeks, culminating with a final presentation of their contributions to their faculty mentors' research. Students also work with peer mentors and receive professional development and skill-building workshops. In addition to taking introductory academic courses during their two-week orientation in epidemiology, data analysis software, and research methodology, they develop essential life skills such as interviewing and networking, Naloxone training, and financial literacy.
For each RARE scholar, however, the core experience comes from working with faculty mentors on research projects. Topics from this year include grandparents as caregivers, resilience from disasters, the impacts of the opioid epidemic, and strategies for mental health, among others. The common thread is that they focus on improving equity in public health.
Danielle Joyner, the project coordinator for the GPH Center for Anti-racism, Social Justice, & Public Health, which sponsors programs like RARE, emphasized how transformative programs like this can be for students from underrepresented communities. "It's just amazing when we get to change the narrative that students have about themselves and their future," she said. They're encouraged by working with public health professionals who reflect their backgrounds, and they gain knowledge that's directly relevant to their lives. "It's always so inspiring to be around students who are eager to learn."