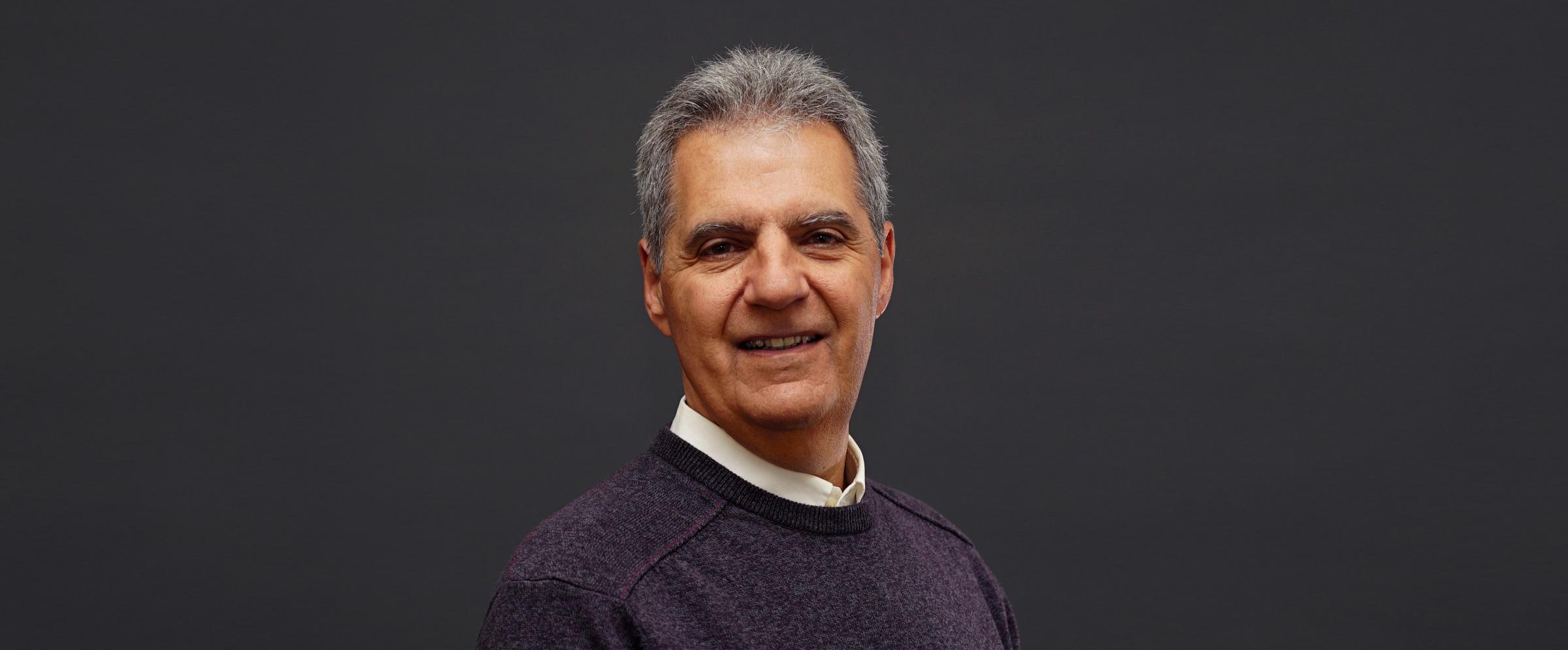 Clinical Professor of Environmental Public Health Sciences
For Dr. Jack Caravanos, life in the field ranges from jumping onto a motorcycle and navigating the jungles of Madre de Dios in the Peruvian Amazon studying toxic substances to traveling to remotes areas in Zambia, Indonesia, and Bolivia studying lead and other toxic wastes. By cooperating with local governments, his work provides safe, healthy, and evidence-based solutions for pollution problems in low- and middle-income countries.

In partnership with Pure Earth, an international non-profit organization, Dr. Caravanos is studying the impact of gold extraction with mercury in Peru and Indonesia. Since miners are in danger of mercury poisoning, his research team is planning interventions that teach safer techniques for gold extraction. In Kabwe, Zambia - a mining town with exposure to lead - his research will provide methods to institute safer mining practices and policy recommendations to improve environmental remediation laws.

Dr. Caravanos teaches Environmental Health for graduate students and Environmental Health in a Global World for undergraduate students. He also provides opportunities for student researchers in his ongoing projects, including in Indonesia (mercury) and Ghana (e-waste).

To learn more about Dr. Caravanos and his work, visit his website.

BS, Health Science, Hunter College, New York, NY

MS, Environmental Health Engineering, New York University, New York, NY

DrPH, Environmental Health, Columbia University, New York, NY

Presidential Award for Excellence in Community Service, Hunter College

(

2013

)

Presidential Award for Excellence in Teaching, Hunter College

(

2006

)

Artisanal Gold Mining

Dissemination and Implementation of Evidence-based Programs

Environmental Public Health Services

Global Health

Lead poisoning

Publications

Probabilistic estimates of prenatal lead exposure at 195 toxic hotspots in low- and middle-income countries

Zajac, L., Kobrosly, R. W., Ericson, B., Caravanos, J., Landrigan, P. J., & Riederer, A. M.

Journal title

Environmental Research

Abstract

Abstract

Background: Prior estimates of pediatric lead-related disease burden in low- and middle-income countries (LMICs) used population estimates of maternal blood lead levels (BLLs). This approach may underestimate fetal BLLs by not considering potentially high prenatal lead exposure from toxic hotspots. Objectives: We developed a probabilistic approach to using the Adult Lead Methodology (ALM) to estimate fetal BLLs from prenatal exposure to lead-contaminated soil at hotspots in the Toxic Site Identification Program (TSIP). Methods: We created distributions for each ALM parameter using published literature and extracted soil lead measurements from the TSIP database. Each iteration of the probabilistic ALM randomly selected values from the input distributions to generate a site-specific fetal BLL estimate. For each site, we ran 5000 model iterations, producing a site-specific fetal BLL distribution. Results: 195 TSIP sites, in 33 LMICs, met our study inclusion criteria; an estimated 820,000 women of childbearing age are at risk for lead exposure at these sites. The predicted geometric means (GM) for site-specific fetal BLLs ranged from 3.3 μg/dL to 534 μg/dL, and 98% of sites had estimated GM fetal BLLs >5 μg/dL, the current reference level of the United States Centers for Disease Control and Prevention (CDC), while 11 sites had estimated GM fetal BLLs above the CDC chelation threshold of 45 μg/dL. Discussion: The TSIP soil lead data and this probabilistic approach to the ALM show that pregnant women living near TSIP sites may have BLLs that put their fetus at risk for neurologic damage and other sequelae, underscoring the need for interventions to reduce lead exposure at toxic hotspots.

Assessment of the prevalence of lead-based paint exposure risk in Jakarta, Indonesia

Ericson, B., Hariojati, N., Susilorini, B., Crampe, L. F., Fuller, R., Taylor, M. P., & Caravanos, J.

Journal title

Science of the Total Environment

Abstract

Abstract

While lead-based paint has been banned for use in residential settings in most high-income countries, it remains commonly available in many low- and middle-income countries (LMICs). Despite its continued availability, little is known about the specific exposure risk posed by lead-based paint in LMICs. To address this knowledge gap, an assessment of home and preschool dust and paint was carried out in Greater Jakarta, Indonesia. A team of investigators used field portable X-ray Fluorescence (pXRF) to measure 1574 painted surfaces for the presence of lead (mg/cm2) and collected 222 surface dust wipe samples for lead loading (μg/m2) from 103 homes and 19 preschools across 13 different neighborhoods of Jakarta. The assessment found that 2.7% (n = 42) of pXRF measurements and 0.05% (n = 1) of dust wipe samples exceeded the commonly applied USEPA guideline values for paint (1 mg/cm2) and dust (floors: 431 μg/m2; window sills: 2691 μg/m2). Thus, contrary to expectations the locations analyzed in Greater Jakarta showed that exposure risk to lead-based paint appears low. Further study is required in other settings to confirm the findings here. Precautionary measures, such as the proposed ban on lead-based paint, should be taken to prevent the significant social and economic costs associated with lead exposure.

Conflicting conclusions or competing methodologies? Documenting soil lead pollution in Owino Uhuru, Kenya

A meta-analysis of blood lead levels in India and the attributable burden of disease

Ericson, B., Dowling, R., Dey, S., Caravanos, J., Mishra, N., Fisher, S., Ramirez, M., Sharma, P., McCartor, A., Guin, P., Taylor, M. P., & Fuller, R.

Journal title

Environment international

Abstract

Abstract

Multiple studies in India have found elevated blood lead levels (BLLs) in target populations. However the data have not yet been evaluated to understand population-wide exposure levels. We used arithmetic mean blood lead data published from 2010 to 2018 on Indian populations to calculate the average BLLs for multiple subgroups. We then calculated the attributable disease burden in IQ decrement and Disability Adjusted Life Years (DALYs). Our Pubmed search yielded 1066 articles. Of these, 31 studies representing the BLLs of 5472 people in 9 states met our study criteria. Evaluating these, we found a mean BLL of 6.86 μg/dL (95% CI: 4.38–9.35) in children and 7.52 μg/dL (95% CI: 5.28–9.76) in non-occupationally exposed adults. We calculated that these exposures resulted in 4.9 million DALYs (95% CI: 3.9–5.6) in the states we evaluated. Population-wide BLLs in India remain elevated despite regulatory action to eliminate leaded petrol, the most significant historical source. The estimated attributable disease burden is larger than previously calculated, particularly with regard to associated intellectual disability outcomes in children. Larger population-wide BLL studies are required to inform future calculations. Policy responses need to be developed to mitigate the worst exposures.

Geo-Spatial Characterization of Soil Mercury and Arsenic at a High-Altitude Bolivian Gold Mine

Johnson, G. D., Pavilonis, B., Caravanos, J., & Grassman, J.

Journal title

Bulletin of Environmental Contamination and Toxicology

Abstract

Abstract

Soil mercury concentrations at a typical small-scale mine site in the Bolivian Andes were elevated (28–737 mg/kg or ppm) in localized areas where mercury amalgams were either formed or vaporized to release gold, but was not detectable beyond approximately 10 m from its sources. Arsenic was measurable, exceeding known background levels throughout the mine site (77–137,022 ppm), and was also measurable through the local village of Ingenio (36–1803 ppm). Although arsenic levels were high at all surveyed locations, its spatial pattern followed mercury, being highest where mercury was high.

Lead intoxicated children in Kabwe, Zambia

Bose-O'Reilly, S., Yabe, J., Makumba, J., Schutzmeier, P., Ericson, B., & Caravanos, J.

Journal title

Environmental Research

Abstract

Abstract

Kabwe is a lead contaminated mining town in Zambia. Kabwe has extensive lead contaminated soil and children in Kabwe ingest and inhale high quantities of this toxic dust. The aim of this paper is to analyze the health impact of this exposure for children. Health data from three existing studies were re-analyzed. Over 95% of children living in the most affected townships had high blood lead levels (BLLs) > 10 µg/dL. Approximately 50% of those children had BLLs ≥ 45 µg/dL. The existing data clearly establishes the presence of a severe environmental health crisis in Kabwe which warrants immediate attention.

Pollution and global health – An agenda for prevention

Landrigan, P. J., Fuller, R., Hu, H., Caravanos, J., Cropper, M. L., Hanrahan, D., Sandilya, K., Chiles, T. C., Kumar, P., & Suk, W. A.

Journal title

Environmental health perspectives

Abstract

Abstract

SUMMARY: Pollution is a major, overlooked, global health threat that was responsible in 2015 for an estimated 9 million deaths and great economic losses. To end neglect of pollution and advance prevention of pollution-related disease, we formed the Lancet Commission on Pollution and Health. Despite recent gains in understanding of pollution and its health effects, this Commission noted that large gaps in knowledge remain. To close these gaps and guide prevention, the Commission made research recommendations and proposed creation of a Global Observatory on Pollution and Health. We posit that successful pollution research will be translational and based on transdisciplinary collaborations among exposure science, epidemiology, data science, engineering, health policy, and economics. We envision that the Global Observatory on Pollution and Health will be a multinational consortium based at Boston College and the Harvard T.H. Chan School of Public Health that will aggregate, geocode, and archive data on pollution and pollution-related disease; analyze these data to discern trends, geographic patterns, and opportunities for intervention; and make its findings available to policymakers, the media, and the global public to catalyze research, inform policy, and assist cities and countries to target pollution, track progress, and save lives.

Prevention-intervention strategies to reduce exposure to e-waste

Heacock, M., Trottier, B., Adhikary, S., Asante, K. A., Basu, N., Brune, M. N., Caravanos, J., Carpenter, D., Cazabon, D., Chakraborty, P., Chen, A., Barriga, F. D., Ericson, B., Fobil, J., Haryanto, B., Huo, X., Joshi, T. K., Landrigan, P., Lopez, A., Magalini, F., Navasumrit, P., Pascale, A., Sambandam, S., Aslia Kamil, U. S., Sly, L., Sly, P., Suk, A., Suraweera, I., Tamin, R., Vicario, E., & Suk, W.

Journal title

Reviews on Environmental Health

Abstract

Abstract

As one of the largest waste streams, electronic waste (e-waste) production continues to grow in response to global demand for consumer electronics. This waste is often shipped to developing countries where it is disassembled and recycled. In many cases, e-waste recycling activities are conducted in informal settings with very few controls or protections in place for workers. These activities involve exposure to hazardous substances such as cadmium, lead, and brominated flame retardants and are frequently performed by women and children. Although recycling practices and exposures vary by scale and geographic region, we present case studies of e-waste recycling scenarios and intervention approaches to reduce or prevent exposures to the hazardous substances in e-waste that may be broadly applicable to diverse situations. Drawing on parallels identified in these cases, we discuss the future prevention and intervention strategies that recognize the difficult economic realities of informal e-waste recycling.

Characterization and risk of exposure to elements from artisanal gold mining operations in the Bolivian Andes

Pavilonis, B., Grassman, J., Johnson, G., Diaz, Y., & Caravanos, J.

Journal title

Environmental Research

Abstract

Abstract

Artisanal and small-scale gold mining (ASGM) offers low-skilled workers an opportunity to elevate themselves out of poverty. However, this industry operates with little to no pollution controls and the cost to the environment and human health can be large. The objectives of this study were to measure levels of arsenic (As), manganese (Mn), cobalt (Co), lead (Pb), and mercury (Hg) in the environment and characterize health risks to miners and residents in an area with active ASGM operations. An exposure assessment was conducted at two different mining sites and a nearby village in the Bolivian Anders. The resulting measurements were then used to quantify cancerous and noncancerous health risks to children and adults working at and living near ASGM areas. Soil concentrations of As were well above background levels and showed great variations between the village and mining area. Mercury vapor levels at the two mining sites were approximately 30 times larger than the EPA reference concentration. The risk of developing non-cancerous health effects were primarily due to exposure to As and Hg. The probability of individuals developing cancer was considerably increased with adult miners having a probability of 1.3 out of 100. Cancer potential was driven by exposure to As, with de minimus cancer risk from all other elements. Based on the environmental characterization of elements in soils and Hg vapors, the risk of developing cancerous and non-cancerous health outcomes were above a level of concern based on EPA risk assessment guidance. Personal protective equipment was not worn by workers and Hg amalgam is commonly heated in workers' homes. Better education of the risks of ASGM is needed as well as simple controls to reduce exposure.

Environmental contamination in Nigeria

Burden of disease resulting from lead exposure at toxic waste sites in Argentina, Mexico and Uruguay

Estimating the Prevalence of Toxic Waste Sites in Low- and Middle-Income Countries

Dowling, R., Caravanos, J., Grigsby, P., Rivera, A., Ericson, B., Amoyaw-Osei, Y., Akuffo, B., & Fuller, R.

Journal title

Annals of Global Health

Abstract

Abstract

Background Exposure to heavy metals at contaminated industrial and mining sites, known also as hot spots, is a significant source of toxic exposure and adverse health outcomes in countries around the world. The Toxic Sites Identification Program (TSIP) developed by Pure Earth, a New York–based nongovernmental organization, is the only systematic effort to catalogue contaminated sites globally. To date, TSIP has identified and catalogued 3282 sites in low- and middle-income countries. The TSIP methodology is not designed to survey all contaminated sites in a country. Rather sites are prioritized based on their perceived impact on human health, and only a limited number of the most highly hazardous sites are surveyed. The total number of contaminated sites globally and the fraction of contaminated sites captured by TSIP is not known. Objective To determine the TSIP site capture rate, the fraction of contaminated sites in a country catalogued by TSIP. Methods Ghana was selected for this analysis because it is a rapidly industrializing lower middle income country with a heterogeneous industrial base, a highly urban population (51%), and good public records systems. To develop an estimate of the fraction of sites in Ghana captured by TSIP, assessors targeted randomly selected geographic quadrats for comprehensive assessment using area and population statistics from the Ghana Statistical Service. Investigators physically walked all accessible streets in each quadrat to visually identify all sites. Visual identification was supplemented by field-based confirmation with portable x-ray fluorescence instruments to test soils for metals. To extrapolate from survey findings to develop a range of estimates for the entire country, the investigators used 2 methodologies: a "bottom-up" approach that first estimated the number of waste sites in each region and then summed these regional subtotals to develop a total national estimate; and a "top-down" method that estimated the total number of sites in Ghana and then allocated these sites to each region. Both methods used cluster random sampling principles. Findings The investigators identified 72 sites in the sampled quadrats. Extrapolating from these findings to the entire country, the first methodology estimated that there are 1561 sites contaminated by heavy metals in Ghana (confidence interval [CI]: 1134-1987), whereas the second estimated 1944 sites (CI: 812-3075). The estimated total number of contaminated sites in Ghana is thus 7-9 times the number of sites captured through TSIP. On a population basis, it was estimated that there are between 31 and 115 contaminated sites per million inhabitants in Ghana. Conclusions The findings of this study indicate that the TSIP methodology provides a sound statistical basis for policy formulation. The statistical approaches used in this study can be replicated in other countries to improve estimates of the prevalence of contaminated sites. This information provides important input to calculations of the global burden of disease attributable to hazardous exposures at contaminated sites.

Estimating the prevalence of toxic waste sites in low- and middle-income countries: a Ghanaian case study

The Global Burden of Lead Toxicity Attributable to Informal Used Lead-Acid Battery Sites

The prevalence of toxic hotspots in former Soviet countries

Sharov, P., Dowling, R., Gogishvili, M., Jones, B., Caravanos, J., McCartor, A., Kashdan, Z., & Fuller, R.

Journal title

Environmental Pollution

Abstract

Abstract

Using a global database of contaminated sites, toxic hotspots in eight former Soviet countries were analyzed to identify the prevalence, types and sources of toxic pollution, as well as their associated potential public health impacts. For this analysis, polluted sites in Armenia, Azerbaijan, Kazakhstan, Kyrgyzstan, Russia, Tajikistan, Ukraine, and Uzbekistan were compiled and analyzed. The levels of contamination of seven key pollutants were assessed in each country. 424 contaminated sites were identified using data from Blacksmith Institute. Pesticides, lead (Pb), radioactive metals, arsenic (As), mercury (Hg), chromium (Cr), and cadmium (Cd) were the most commonly identified key pollutants. Collectively, these sites pose health risks to an estimated 6.2 million residents. The existing data on toxic hotspots in former Soviet countries likely captures only a small percentage of actual contaminated sites, but suggests potentially severe public health consequences. Additional assessments are needed to understand the risks posed by toxic pollution in the region.

Exposición a plomo: Una tarea pendiente en México

Téllez-Rojo, M. M., & Caravanos, J.

Journal title

Salud Publica de Mexico

Global, regional, and national comparative risk assessment of 79 behavioural, environmental and occupational, and metabolic risks or clusters of risks in 188 countries, 1990-2013: A systematic analysis for the Global Burden of Disease Study 2013

Failed generating bibliography.

Abstract

Abstract

Background: The Global Burden of Disease, Injuries, and Risk Factor study 2013 (GBD 2013) is the first of a series of annual updates of the GBD. Risk factor quantification, particularly of modifiable risk factors, can help to identify emerging threats to population health and opportunities for prevention. The GBD 2013 provides a timely opportunity to update the comparative risk assessment with new data for exposure, relative risks, and evidence on the appropriate counterfactual risk distribution. Methods: Attributable deaths, years of life lost, years lived with disability, and disability-adjusted life-years (DALYs) have been estimated for 79 risks or clusters of risks using the GBD 2010 methods. Risk-outcome pairs meeting explicit evidence criteria were assessed for 188 countries for the period 1990-2013 by age and sex using three inputs: risk exposure, relative risks, and the theoretical minimum risk exposure level (TMREL). Risks are organised into a hierarchy with blocks of behavioural, environmental and occupational, and metabolic risks at the first level of the hierarchy. The next level in the hierarchy includes nine clusters of related risks and two individual risks, with more detail provided at levels 3 and 4 of the hierarchy. Compared with GBD 2010, six new risk factors have been added: handwashing practices, occupational exposure to trichloroethylene, childhood wasting, childhood stunting, unsafe sex, and low glomerular filtration rate. For most risks, data for exposure were synthesised with a Bayesian metaregression method, DisMod-MR 2.0, or spatial-temporal Gaussian process regression. Relative risks were based on meta-regressions of published cohort and intervention studies. Attributable burden for clusters of risks and all risks combined took into account evidence on the mediation of some risks such as high body-mass index (BMI) through other risks such as high systolic blood pressure and high cholesterol. Findings: All risks combined account for 57·2% (95% uncertainty interval [UI] 55·8-58·5) of deaths and 41·6% (40·1-43·0) of DALYs. Risks quantified account for 87·9% (86·5-89·3) of cardiovascular disease DALYs, ranging to a low of 0% for neonatal disorders and neglected tropical diseases and malaria. In terms of global DALYs in 2013, six risks or clusters of risks each caused more than 5% of DALYs: dietary risks accounting for 11·3 million deaths and 241·4 million DALYs, high systolic blood pressure for 10·4 million deaths and 208·1 million DALYs, child and maternal malnutrition for 1·7 million deaths and 176·9 million DALYs, tobacco smoke for 6·1 million deaths and 143·5 million DALYs, air pollution for 5·5 million deaths and 141·5 million DALYs, and high BMI for 4·4 million deaths and 134·0 million DALYs. Risk factor patterns vary across regions and countries and with time. In sub-Saharan Africa, the leading risk factors are child and maternal malnutrition, unsafe sex, and unsafe water, sanitation, and handwashing. In women, in nearly all countries in the Americas, north Africa, and the Middle East, and in many other high-income countries, high BMI is the leading risk factor, with high systolic blood pressure as the leading risk in most of Central and Eastern Europe and south and east Asia. For men, high systolic blood pressure or tobacco use are the leading risks in nearly all high-income countries, in north Africa and the Middle East, Europe, and Asia. For men and women, unsafe sex is the leading risk in a corridor from Kenya to South Africa. Interpretation: Behavioural, environmental and occupational, and metabolic risks can explain half of global mortality and more than one-third of global DALYs providing many opportunities for prevention. Of the larger risks, the attributable burden of high BMI has increased in the past 23 years. In view of the prominence of behavioural risk factors, behavioural and social science research on interventions for these risks should be strengthened. Many prevention and primary care policy options are available now to act on key risks.

Protecting communities by remediating polluted sites worldwide

Hanrahan, D., Ericson, B., & Caravanos, J.

Journal title

Proceedings of the Institution of Civil Engineers: Civil Engineering

Abstract

Abstract

Millions of people worldwide are suffering health risks as a result of living near highly contaminated sites including abandoned industrial and mining sites, and polluting artisanal areas. More than 3000 sites across 50 developing countries have been identified. Nearly 100 million people are at risk at just these sites. The main impact falls on people in low- and middle-income countries, with children being particularly vulnerable. Interventions have been implemented at about 100 of these sites, with significant success in reducing impacts. This paper aims to draw the attention of practising engineers to the scale and impacts of the problem and to encourage expanded efforts to implement cost-effective solutions. Tackling contaminated sites is part of broader efforts under the umbrella of the Global Alliance on Health and Pollution to reduce environmental pollution, which is one of the largest contributors to the burden of disease worldwide. Clean-up is required but prevention of pollution must also be a high priority.

Spatial associations between contaminated land and socio demographics in Ghana

A simplified risk-ranking system for prioritizing toxic pollution sites in low- and middle-income countries

Caravanos, J., Gualtero, S., Dowling, R., Ericson, B., Keith, J., Hanrahan, D., & Fuller, R.

Journal title

Annals of Global Health

Abstract

Abstract

Background In low- and middle-income countries (LMICs), chemical exposures in the environment due to hazardous waste sites and toxic pollutants are typically poorly documented and their health impacts insufficiently quantified. Furthermore, there often is only limited understanding of the health and environmental consequences of point source pollution problems, and little consensus on how to assess and rank them. The contributions of toxic environmental exposures to the global burden of disease are not well characterized. Objectives The aim of this study was to describe the simple but effective approach taken by Blacksmith Institute's Toxic Sites Identification Program to quantify and rank toxic exposures in LMICs. This system is already in use at more than 3000 sites in 48 countries such as India, Indonesia, China, Ghana, Kenya, Tanzania, Peru, Bolivia, Argentina, Uruguay, Armenia, Azerbaijan, and Ukraine. Methods A hazard ranking system formula, the Blacksmith Index (BI), takes into account important factors such as the scale of the pollution source, the size of the population possibly affected, and the exposure pathways, and is designed for use reliably in low-resource settings by local personnel provided with limited training. Findings Four representative case studies are presented, with varying locations, populations, pollutants, and exposure pathways. The BI was successfully applied to assess the extent and severity of environmental pollution problems at these sites. Conclusions The BI is a risk-ranking tool that provides direct and straightforward characterization, quantification, and prioritization of toxic pollution sites in settings where time, money, or resources are limited. It will be an important and useful tool for addressing toxic pollution problems in LMICs. Although the BI does not have the sophistication of the US Environmental Protection Agency's Hazard Ranking System, the case studies presented here document the effectiveness of the BI in the field, especially in low-resource settings. Understanding of the risks posed by toxic pollution sites helps assure better use of resources to manage sites and mitigate risks to public health. Quantification of these hazards is an important input to assessments of the global burden of disease.

Blood lead levels in mexico and pediatric burden of disease implications

Caravanos, J., Dowling, R., Téllez-Rojo, M. M., Cantoral, A., Kobrosly, R., Estrada, D., Orjuela, M., Gualtero, S., Ericson, B., Rivera, A., & Fuller, R.

Journal title

Annals of Global Health

Abstract

Abstract

Background Although there has been success in reducing lead exposure with the phase-out of leaded gasoline, exposure to lead in Mexico continues to threaten the health of millions, much of which is from lead-based glazes used in pottery that leaches into food. Objectives An extensive historical review and analysis of available data on blood lead levels in Mexican populations was conducted. We used a calculated geometric mean to evaluate the effect of lead on the pediatric burden of disease. Methods An extensive bibliographic search identified 83 published articles from 1978 to 2010 with blood lead level (BLL) data in Mexican populations representing 150 data points from more than 50,000 study participants. Values from these publications were categorized into various groupings. We then calculated the incidence of disease and disability-adjusted life-years resulting from these BLLs using the World Health Organization's burden of disease spreadsheets for mild mental retardation. Results Reviewing all relevant studies, the geometric means of Mexican BLLs in urban and rural areas were found to be 8.85 and 22.24 ug/dL, respectively. Since the phase-out of leaded gasoline, the mean in urban areas was found to be 5.36 ug/dL and the average in rural areas is expected to be much higher. The U.S. Centers for Disease Control and Prevention's (CDC) upper limit of blood lead in children under the age of 6 years is 5 ug/dL and the current U.S. average is 1.2 ug/dL. Our results indicate that more than 15% of the population will experience a decrement of more than 5 IQ points from lead exposure. The analysis also leads us to believe that lead is responsible for 820,000 disability-adjusted life-years for lead-induced mild mental retardation for children aged 0 to 4 years. Conclusion Lead continues to threaten the health of millions and remains a significant cause of disability in Mexico. Additional interventions in reducing or managing lead-based ceramic glazes are necessary to protect the public health.

Case 2: Hurricane Sandy: training to improve response and recovery

Gotch, ., Rosen, ., & Caravanos, J. In Case Studies in Public Health Preparedness and Response to Disasters.

Comparison of burden of disease from toxic waste sites with other recognized public health threats in India, Indonesia and the Philippines

Niveles de plomo en sangre en méxico y su implicación para la carga pediátrica de la enfermedad

Caravanos, J., Dowling, R., Téllez-Rojo, M. M., Cantoral, A., Kobrosly, R., Estrada, D., Orjuela, M., Gualtero, S., Ericson, B., Rivera, A., & Fuller, R.

Journal title

Annals of Global Health

The pediatric burden of disease from lead exposure at toxic waste sites in low and middle income countries

Chatham-Stephens, K., Caravanos, J., Ericson, B., Landrigan, P., & Fuller, R.

Journal title

Environmental Research

Abstract

Abstract

Background: The impact of lead from toxic waste sites on children in low and middle income countries has not been calculated due to a lack of exposure data. We sought to calculate this impact in Disability Adjusted Life Years (DALYs). Materials and methods: Using an Integrated Exposure Uptake Biokinetic (IEUBK) model, we converted soil and drinking water lead levels from sites in the Blacksmith Institute[U+05F3]s Toxic Sites Identification Program (TSIP) into mean blood lead levels (BLLs). We then calculated the incidence of mild mental retardation (MMR) and DALYs resulting from these BLLs. Results: The TSIP included 200 sites in 31 countries with soil (n=132) or drinking water (n=68) lead levels, representing 779,989 children younger than 4 years of age potentially exposed to lead. Environmental lead levels produced a range of BLLs from 1.56 to 104.71. μg/dL. These BLLs equated to an estimated loss of 5.41-8.23 IQ points, resulting in an incidence of MMR of 6.03 per 1000 population and 76.1 DALYs per 1000 population. Discussion: Soil and water lead levels at toxic waste sites predict BLLs that lower the intelligence quotient (IQ), with the resulting MMR potentially limiting individual- and country-level development. The preventable burden of disease produced by these sites highlights the need for toxic waste sites to be systematically identified, evaluated, and remediated.