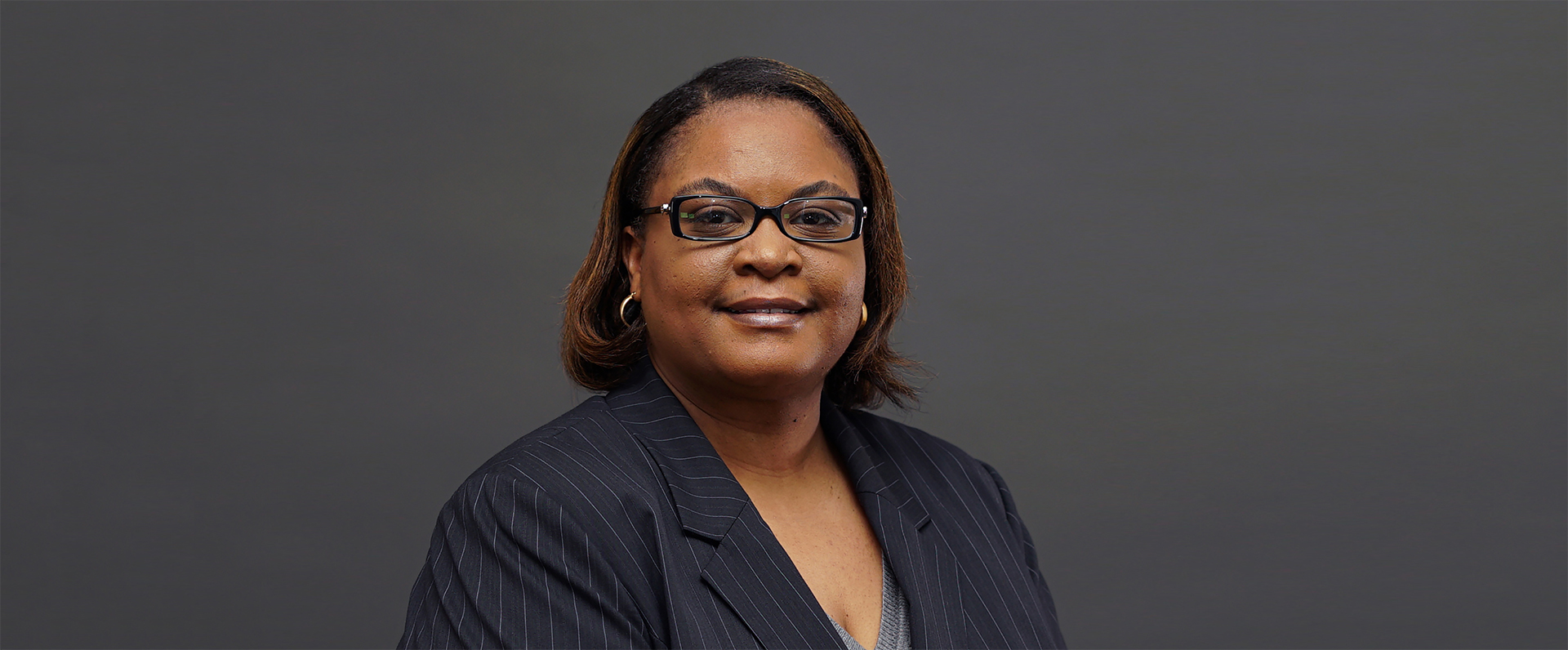 Vice Dean for Research
Professor of Biostatistics
Dr. Melody Goodman's efforts seek to understand the social risk factors that contribute to health disparities in urban areas, with the goal of developing culturally competent, region-specific, and evidence-based solutions through collaborative activities with community members, community-based organizations, faith-based organizations, and other community health stakeholders. The purpose of her work is the development of solutions for improving health in minority and medically underserved communities.  

Dr. Goodman conducts applied biostatistical and survey research for community-based interventions and health disparities research with a strong focus on measurement. Additionally, through academic-community collaborations, she implements, evaluates, and enhances the infrastructure of community-engaged research, in order to mitigate health disparities. As such, Dr. Goodman is the Principal Investigator of a Patient-Centered Outcomes Research Institute (PCORI) grant that aims to validate and implement a quantitative survey measure to assess the level of community engagement in patient-centered outcomes research (PCOR) and clinical effectiveness research (CER) studies from the community stakeholder perspective.

Previously, Dr. Goodman has been subcontracted by the National Human Genome Research Institute/NIH to analyze patterns of beliefs about the genetic causation of health conditions and health behaviors among community health center patients. She was the Principal Investigator on a NIH Partners in Research grant entitled Community Alliance for Research Empowering Social change (CARES). With numerous funders supporting her work, she has published over 70 peer-reviewed journal articles.

BS, Economics and Applied Mathematics & Statistics, State University of New York at Stony Brook, Stony Brook, NY

MS, Biostatistics, Harvard University, Cambridge, MA

PhD, Biostatistics (Minors: Social Determinants of Health Disparities and Theoretical Statistics), Harvard University, Cambridge, MA

Siteman Cancer Center "Rock Doc"

(

2013

)

Satcher Health Leadership Institute - Morehouse School of Medicine, Community Health Leadership Institute Intensive Cohort II

(

2013

)

Women of the Year - Health, National Coalition of 100 Black Women, Inc. - Suffolk Chapter

(

2010

)

President's Award for Teaching Excellence - Stony Brook University

(

2009

)

President's Award for Excellence in Team Achievement - Stony Brook University

(

2008

)

Biostatistics

Community Health

Community-based Participatory Research

Dissemination and Implementation of Evidence-based Programs

Health Disparities

Health Equity

Minorities

Minority Health

Quantitative Research

Publications

A pilot pragmatic trial of a "what matters most"-based intervention targeting intersectional stigma related to being pregnant and living with HIV in Botswana

A randomized implementation trial to increase adoption of evidence-informed consent practices

A Study Examining the Usefulness of a New Measure of Research Engagement

Bowen, D. J., Ackermann, N., Thompson, V. S., Nederveld, A., & Goodman, M. (n.d.).

Journal title

Journal of general internal medicine

Abstract

Abstract

Introduction: Engagement of relevant stakeholders' ideas, opinions, and concerns is critical to the success of modern research projects. We have developed a tool to measure stakeholder engagement, called the Research Engagement Survey Tool (REST). The purpose of this paper is to present the implementation and uptake of the stakeholder engagement measure REST among research teams, including the assessment of barriers and facilitating factors for use of the new research engagement measure in practice. Methods: In this implementation study, project team members participated in baseline and follow-up web-based surveys. Web-based interviews were conducted with a subset of project teams that implemented the REST. On the baseline survey, project teams were asked to provide details about up to three ongoing or recently completed projects, were asked if they agreed with compensation for REST completion, and were asked if they would like to send the survey to stakeholders or would prefer our project team to email their project stakeholders. Follow-up surveys contained questions on reactions to implementing REST and results of REST. Results: Project team members/researchers who completed the baseline survey (n=86) were mostly female (79%) and Non-Hispanic/Latino(a) White (76%). Those who implemented REST were also mostly female (86%) and Non-Hispanic/Latino(a) White (71%), with an average of 11 years in academic research. About 98% of all participants completing the baseline survey had the capacity to survey partners, while 100% of all teams who implemented REST did. A small portion of respondents indicated the time commitment of REST would be a barrier (29% of baseline survey respondents, 10% of those who implemented REST) and indicated workload would be a barrier (31% of baseline survey respondents, 14% of those who implemented REST). Discussion: The data presented here indicate that REST implementation is feasible in a volunteer group of ongoing research projects.

Acculturation and Depressive Symptoms Among Dominicans in New York City

Association of Disparities in Family History and Family Cancer History in the Electronic Health Record with Sex, Race, Hispanic or Latino Ethnicity, and Language Preference in 2 Large US Health Care Systems

Chavez-Yenter, D., Goodman, M. S., Chen, Y., Chu, X., Bradshaw, R. L., Lorenz Chambers, R., Chan, P. A., Daly, B. M., Flynn, M., Gammon, A., Hess, R., Kessler, C., Kohlmann, W. K., Mann, D. M., Monahan, R., Peel, S., Kawamoto, K., Del Fiol, G., Sigireddi, M., … Kaphingst, K. A. (n.d.).

Journal title

JAMA network open

Abstract

Abstract

Importance: Clinical decision support (CDS) algorithms are increasingly being implemented in health care systems to identify patients for specialty care. However, systematic differences in missingness of electronic health record (EHR) data may lead to disparities in identification by CDS algorithms. Objective: To examine the availability and comprehensiveness of cancer family history information (FHI) in patients' EHRs by sex, race, Hispanic or Latino ethnicity, and language preference in 2 large health care systems in 2021. Design, Setting, and Participants: This retrospective EHR quality improvement study used EHR data from 2 health care systems: University of Utah Health (UHealth) and NYU Langone Health (NYULH). Participants included patients aged 25 to 60 years who had a primary care appointment in the previous 3 years. Data were collected or abstracted from the EHR from December 10, 2020, to October 31, 2021, and analyzed from June 15 to October 31, 2021. Exposures: Prior collection of cancer FHI in primary care settings. Main Outcomes and Measures: Availability was defined as having any FHI and any cancer FHI in the EHR and was examined at the patient level. Comprehensiveness was defined as whether a cancer family history observation in the EHR specified the type of cancer diagnosed in a family member, the relationship of the family member to the patient, and the age at onset for the family member and was examined at the observation level. Results: Among 144484 patients in the UHealth system, 53.6% were women; 74.4% were non-Hispanic or non-Latino and 67.6% were White; and 83.0% had an English language preference. Among 377621 patients in the NYULH system, 55.3% were women; 63.2% were non-Hispanic or non-Latino, and 55.3% were White; and 89.9% had an English language preference. Patients from historically medically undeserved groups - specifically, Black vs White patients (UHealth: 17.3% [95% CI, 16.1%-18.6%] vs 42.8% [95% CI, 42.5%-43.1%]; NYULH: 24.4% [95% CI, 24.0%-24.8%] vs 33.8% [95% CI, 33.6%-34.0%]), Hispanic or Latino vs non-Hispanic or non-Latino patients (UHealth: 27.2% [95% CI, 26.5%-27.8%] vs 40.2% [95% CI, 39.9%-40.5%]; NYULH: 24.4% [95% CI, 24.1%-24.7%] vs 31.6% [95% CI, 31.4%-31.8%]), Spanish-speaking vs English-speaking patients (UHealth: 18.4% [95% CI, 17.2%-19.1%] vs 40.0% [95% CI, 39.7%-40.3%]; NYULH: 15.1% [95% CI, 14.6%-15.6%] vs 31.1% [95% CI, 30.9%-31.2%), and men vs women (UHealth: 30.8% [95% CI, 30.4%-31.2%] vs 43.0% [95% CI, 42.6%-43.3%]; NYULH: 23.1% [95% CI, 22.9%-23.3%] vs 34.9% [95% CI, 34.7%-35.1%]) - had significantly lower availability and comprehensiveness of cancer FHI (P <.001). Conclusions and Relevance: These findings suggest that systematic differences in the availability and comprehensiveness of FHI in the EHR may introduce informative presence bias as inputs to CDS algorithms. The observed differences may also exacerbate disparities for medically underserved groups. System-, clinician-, and patient-level efforts are needed to improve the collection of FHI..

Construct validation of the Research Engagement Survey Tool (REST)

Goodman, M. S., Ackermann, N., Haskell-Craig, Z., Jackson, S., Bowen, D. J., & Sanders Thompson, V. L. (n.d.).

Journal title

Research Involvement and Engagement

Abstract

Abstract

Background: The Research Engagement Survey Tool (REST) was developed to examine the level of partner (e.g., patients, caregivers, advocates, clinicians, community members) engagement in research studies. The REST is aligned with eight engagement principles based on the literature and consensus reached through a five round Delphi process. Each of the engagement principles has three-five corresponding items that are assessed on two Likert type scales quantity (how often: never, rarely, sometimes, often, always, not applicable) and quality (how well: poor, fair, good, very good, excellent, not applicable). We conducted a comprehensive validation of the REST. Despite the importance of partner engagement in research, currently no gold standard measure exists. Methods: Multiple strategies were employed to validate the REST. Here, we examine the internal consistency of items for each of the eight engagement principles. In addition, we examine the convergent validity of the comprehensive (32-item) REST with other measures (e.g., medical mistrust, Community Engagement in Research Index, Partnership Self-Assessment Tool, Wilder collaboration inventory, Partnership Assessment In community-based Research). We propose two scoring approaches for the REST; one aligned with the engagement principles and the other aligned with levels of community engagement: (1) outreach and education, (2) consultation, (3) cooperation, (4) collaboration, and (5) partnership. Results: The REST has strong internal consistency (Cronbach's alpha > 0.75) for each of the eight engagement principals measured on both scales (quality and quantity). The REST had negligible (e.g., medical mistrust, community engagement in research index), low (e.g., Partnership Assessment In community-based Research, Partnership Self-Assessment Tool- benefits scale), and moderate (e.g., Wilder collaboration inventory, Partnership Self-Assessment Tool- synergy scale) statistically significant correlations with other measures based on the Spearman rank correlation coefficient. These results suggest the REST is measuring something similar and correlated to the existing measures, but it captures a different construct (perceived research engagement). Conclusions: The REST is a valid and reliable tool to assess research engagement of community health stakeholders in the research process. Valid tools to assess research engagement are necessary to examine the impact of engagement on the scientific process and scientific discovery and move the field of stakeholder engagement from best practices and lessons learned to evidence-based approaches based on empirical data.

Copycat and lookalike edible cannabis product packaging in the United States

Ompad, D. C., Snyder, K. M., Sandh, S., Hagen, D., Collier, K. J., Goldmann, E., Goodman, M. S., & Tan, A. S. (n.d.).

Journal title

Drug and alcohol dependence

Abstract

Abstract

Background: Recent media reports have highlighted copycat/lookalike cannabis edibles as a public health concern. No empirical papers have described this phenomenon. Methods: From May 2020-August 2021, we collected photos of cannabis products via an online survey of cannabis users and through personal contacts. Copycat/lookalike products are defined as those that use the same or similar brand name, logo, and/or imagery as an existing commercial non-cannabis counterpart (CNCC). We assessed each package for similarities with its CNCC with respect to brand name, product name, font, color, flavors, and brand/promotional characters. We examined cannabis content indicators including: THC content per package and serving, cannabis leaf symbol, product warnings, cannabis terms, cannabis motifs, activation time, and guidance on edible use. Results: We collected photos of 731 cannabis products; 267 (36%) were edibles of which 22 (8%) represented 13 unique copycat/lookalike products. Eight used exact brand/product names as existing CNCCs, and five used similar names. Packages copied or imitated a mean of 3.9 of six features and indicated cannabis content with a mean of 4.1 of eight features. Thirteen packages indicated a mean THC content of 459 mg/package. Four reported THC dose per serving, with a mean dose of 47.5 mg. Conclusions: Our content analysis highlights three key concerns. First, copycat/lookalike edibles subtly indicate cannabis content while using high fidelity replication or imitation of their CNCC. Second, THC content is high and there were multiple 10 mg THC doses in the equivalent of 1 serving of a CNCC. Third, these products may be attractive to children.

Editorial: An insight into university medical and health science courses

Editorial: Women in science: Public health education and promotion 2021

GARDE: A standards-based clinical decision support platform for identifying population health management cohorts

Bradshaw, R. L., Kawamoto, K., Kaphingst, K. A., Kohlmann, W. K., Hess, R., Flynn, M. C., Nanjo, C. J., Warner, P. B., Shi, J., Morgan, K., Kimball, K., Ranade-Kharkar, P., Ginsburg, O., Goodman, M., Chambers, R., Mann, D., Narus, S. P., Gonzalez, J., Loomis, S., … Del Fiol, G. (n.d.).

Journal title

Journal of the American Medical Informatics Association

Abstract

Abstract

Population health management (PHM) is an important approach to promote wellness and deliver health care to targeted individuals who meet criteria for preventive measures or treatment. A critical component for any PHM program is a data analytics platform that can target those eligible individuals. Objective: The aim of this study was to design and implement a scalable standards-based clinical decision support (CDS) approach to identify patient cohorts for PHM and maximize opportunities for multi-site dissemination. Materials and Methods: An architecture was established to support bidirectional data exchanges between heterogeneous electronic health record (EHR) data sources, PHM systems, and CDS components. HL7 Fast Healthcare Interoperability Resources and CDS Hooks were used to facilitate interoperability and dissemination. The approach was validated by deploying the platform at multiple sites to identify patients who meet the criteria for genetic evaluation of familial cancer. Results: The Genetic Cancer Risk Detector (GARDE) platform was created and is comprised of four components: (1) an open-source CDS Hooks server for computing patient eligibility for PHM cohorts, (2) an open-source Population Coordinator that processes GARDE requests and communicates results to a PHM system, (3) an EHR Patient Data Repository, and (4) EHR PHM Tools to manage patients and perform outreach functions. Site-specific deployments were performed on onsite virtual machines and cloud-based Amazon Web Services. Discussion: GARDE's component architecture establishes generalizable standards-based methods for computing PHM cohorts. Replicating deployments using one of the established deployment methods requires minimal local customization. Most of the deployment effort was related to obtaining site-specific information technology governance approvals.

Impact of education on APOL1 testing attitudes among prospective living kidney donors

Nestor, J. G., Li, A. J., King, K. L., Husain, S. A., McIntosh, T. J., Sawinski, D., Iltis, A. S., Goodman, M. S., Walsh, H. A., DuBois, J. M., & Mohan, S. (n.d.).

Journal title

Clinical Transplantation

Abstract

Abstract

It is unknown how providing prospective living donors with information about APOL1, including the benefits and drawbacks of testing, influences their desire for testing. In this study, we surveyed 102 participants with self-reported African ancestry and positive family history of kidney disease, recruited from our nephrology waiting room. We assessed views on APOL1 testing before and after presentation of a set of potential benefits and drawbacks of testing and quantified the self-reported level of influence individual benefits and drawbacks had on participants' desire for testing in the proposed context of living donation. The majority of participants (92%) were aware of organ donation and more than half (56%) had considered living donation. And though we found no significant change in response following presentation of the potential benefits and the drawbacks of APOL1 testing by study end significance, across all participants, "becoming aware of the potential risk of kidney disease among your immediate family" was the benefit with the highest mean influence (3.3±1.4), while the drawback with the highest mean influence (2.9±1.5) was "some transplant centers may not allow you to donate to a loved one". This study provides insights into the priorities of prospective living donors and suggests concern for how the information affects family members may strongly influence desires for testing. It also highlights the need for greater community engagement to gain a deeper understanding of the priorities that influence decision making on APOL1 testing.

Presence of Content Appealing to Youth on Cannabis-Infused Edibles Packaging

Tan, A. S., Weinreich, E., Padon, A., Sanchez, M., Snyder, K. M., Vasilyeva, A., Sandh, S., Goldmann, E., Goodman, M., & Ompad, D. C. (n.d.).

Journal title

Substance Use and Misuse

Abstract

Abstract

Background: There is a lack of consistent regulation of cannabis edibles packaging to restrict youth-appealing content in the United States. Objective: To describe content appealing to youth on U.S. cannabis-infused edibles packaging. Methods: We analyzed 256 photos of cannabis-infused edibles packaging collected from U.S. adults from 25 states, District of Columbia, and Puerto Rico between May 2020 to August 2021. We coded the presence of product knockoffs, human and non-human creatures, images indicating flavor, text indicating flavor, and the number of colors. We compared these codes across states' legalization status (medical and non-medical cannabis, medical cannabis only, or limited cannabis legalization). Results: Overall, 15% of packages resembled product knockoffs, 23% contained human/non-human creatures, 35% contained flavor images, 91% contained flavor text, and median number of colors was 5 (range from 1 to 10+). Packages purchased in states with medical and non-medical cannabis, medical cannabis only, or limited cannabis legalization differed significantly on product knockoffs (11%, 26%, 38%, p = 0.007), human/non-human creatures (19%, 33%, 63%, p = 0.002), flavor text (93%, 81%, 100%, p = 0.046), and number of colors (median of 5, 5, and 10, p = 0.022). Conclusions: Existing laws have not adequately limited content appealing to youth on U.S. cannabis-infused edibles packaging. Robust and consistent regulations in the U.S. are needed to ensure that the packaging of such products does not contain content that appeal to youth and lead to initiation or inadvertent ingestion.

Racial and ethnic disparities in communication study enrollment for young people with cancer: A descriptive analysis of the literature

Racial and Ethnic Diversity Among Students, Graduates, and Faculty in Biostatistics and Epidemiology, 2010-2020

Goodman, M. S., Bather, J. R., Chu, X., Pagano, M., Plepys, C. M., & Sebro, R. A. (n.d.).

Journal title

Public Health Reports

Abstract

Abstract

Objective: This study is a follow-up to a study in 2020 that reviewed changes in the racial and ethnic composition of public health students, graduates, and faculty among Association of Schools and Programs of Public Health (ASPPH)–member institutions. In the current study, we evaluated how the racial and ethnic composition among biostatistics and epidemiology students, graduates, and faculty changed from 2010 to 2020. Methods: We analyzed data on race and ethnicity of enrolled graduate students, graduates (master's and doctoral), and faculty at ASPPH-member institutions by using institutionally reported data from the ASPPH Data Center. We tabulated frequencies, percentages, and percentage-point changes by race and ethnicity. We measured differences between groups by using a test for difference in 2 proportions. Results: The number of enrolled students, graduates, and faculty in all departments increased during the study period, while the number of tenure-track faculty in biostatistics decreased. The percentage of enrolled Hispanic/Latino biostatistics graduate students increased from 5.6% in 2010 to 10.2% in 2020 (P =.007), and the percentage of epidemiology graduates increased from 8.8% to 13.8% (P =.008). We found no differences among other underrepresented racial and ethnic groups. Most biostatistics and epidemiology professors at all ranks were non-Hispanic White, despite substantial decreases. The percentage of underrepresented racial and ethnic minority biostatistics and epidemiology professors was constant across all ranks. Conclusion: Although more Hispanic/Latino students are enrolled in and graduating from biostatistics and epidemiology departments at ASPPH-member institutions, we found no change among faculty. More work is needed to recruit and retain other (American Indian/Alaska Native, Black or African American, Native Hawaiian/Other Pacific Islander) underrepresented students and faculty.

Racial Disparities in Breast Reconstruction at a Comprehensive Cancer Center

Rapid Community Engagement in Response to SARS-CoV-2 Funding Opportunities: New York City, 2020‒2021

Understanding the Use of Optimal Formatting and Plain Language When Presenting Key Information in Clinical Trials

Solomon, E. D., Mozersky, J., Wroblewski, M. P., Baldwin, K., Parsons, M. V., Goodman, M., & DuBois, J. M. (n.d.).

Journal title

Journal of Empirical Research on Human Research Ethics

Abstract

Abstract

Recent revisions to the Common Rule require that consent documents begin with a focused presentation of the study's key information that is organized to facilitate understanding. We surveyed 1,284 researchers working with older adults or individuals with Alzheimer's disease, supplemented with 60 qualitative interviews, to understand current use and barriers to using evidence-based formatting and plain language in key information. Researchers reported using formatting in 42% of their key information sections, and plain language in 63% of their key information sections. Perceived barriers included lack of knowledge, Institutional Review Board, other members of their team, and the burden associated with implementation. Education and training are required to increase adoption of the practices.

Barriers and facilitators to qualitative data sharing in the United States: A survey of qualitative researchers

Comparing models of delivery for cancer genetics services among patients receiving primary care who meet criteria for genetic evaluation in two healthcare systems: BRIDGE randomized controlled trial

Failed generating bibliography.

Journal title

BMC health services research

Abstract

Abstract

Background: Advances in genetics and sequencing technologies are enabling the identification of more individuals with inherited cancer susceptibility who could benefit from tailored screening and prevention recommendations. While cancer family history information is used in primary care settings to identify unaffected patients who could benefit from a cancer genetics evaluation, this information is underutilized. System-level population health management strategies are needed to assist health care systems in identifying patients who may benefit from genetic services. In addition, because of the limited number of trained genetics specialists and increasing patient volume, the development of innovative and sustainable approaches to delivering cancer genetic services is essential. Methods: We are conducting a randomized controlled trial, entitled Broadening the Reach, Impact, and Delivery of Genetic Services (BRIDGE), to address these needs. The trial is comparing uptake of genetic counseling, uptake of genetic testing, and patient adherence to management recommendations for automated, patient-directed versus enhanced standard of care cancer genetics services delivery models. An algorithm-based system that utilizes structured cancer family history data available in the electronic health record (EHR) is used to identify unaffected patients who receive primary care at the study sites and meet current guidelines for cancer genetic testing. We are enrolling eligible patients at two healthcare systems (University of Utah Health and New York University Langone Health) through outreach to a randomly selected sample of 2780 eligible patients in the two sites, with 1:1 randomization to the genetic services delivery arms within sites. Study outcomes are assessed through genetics clinic records, EHR, and two follow-up questionnaires at 4 weeks and 12 months after last genetic counseling contactpre-test genetic counseling. Discussion: BRIDGE is being conducted in two healthcare systems with different clinical structures and patient populations. Innovative aspects of the trial include a randomized comparison of a chatbot-based genetic services delivery model to standard of care, as well as identification of at-risk individuals through a sustainable EHR-based system. The findings from the BRIDGE trial will advance the state of the science in identification of unaffected patients with inherited cancer susceptibility and delivery of genetic services to those patients. Trial registration: BRIDGE is registered as NCT03985852. The trial was registered on June 6, 2019 at clinicaltrials.gov.

Development and validation of a brief version of the research engagement survey tool

Impact of numeracy preferences on information needs for genome sequencing results

Perceived barriers to assessing understanding and appreciation of informed consent in clinical trials: A mixed-method study

Psychometric Validation of a Scale to Assess Culturally-Salient Aspects of HIV Stigma Among Women Living with HIV in Botswana: Engaging "What Matters Most" to Resist Stigma

Strategies of community engagement in research: Definitions and classifications

Thompson, V. L., Ackermann, N., Bauer, K. L., Bowen, D. J., & Goodman, M. S. (n.d.).

Journal title

Translational Behavioral Medicine

Abstract

Abstract

Engagement activities are defined along a continuum that analyzes and represents nonacademic stakeholder activities and interactions with academic researchers. Proposed continua begin with none to limited stakeholder inclusion and input into research and continue with descriptions of increasing presence, input, and participation in decision-making. Despite some agreement in the literature, development of consistent terminology and definitions has been recommended to promote the common understanding of strategies in engaged research. This paper sought to develop and understand classifications and definitions of community-engaged research that can serve as the foundation of a measure of engaged research that permits comparisons among engagement strategies and the outcomes that they produce in health-and healthcare-related research studies. Data on academic and stakeholder perceptions and understandings of classifications and definitions were obtained using Delphi process (N = 19) via online and face-to-face survey and cognitive response interviews (N = 16). Participants suggested the need for more nuanced understanding of engagement along portions of the continuum, with active involvement and decision-making as engagement progressed. Cognitive interview responses suggested that outreach and education is a more advanced level of engagement than previously discussed in the literature and viewed consultation negatively because it required work without guaranteeing community benefit. It is possible to define a continuum of patient-and community-engaged research that is understood and accepted by both academic researchers and community members. However, future research should revisit the understanding and depiction of the strategies that are to be used in measure development.

Community partners' responses to items assessing stakeholder engagement: Cognitive response testing in measure development

Thompson, V. L., Leahy, N., Ackermann, N., Bowen, D. J., & Goodman, M. S. (n.d.).

Abstract

Abstract

Background Despite recognition of the importance of stakeholder input into research, there is a lack of validated measures to assess how well constituencies are engaged and their input integrated into research design. Measurement theory suggests that a community engagement measure should use clear and simple language and capture important components of underlying constructs, resulting in a valid measure that is accessible to a broad audience. Objective The primary objective of this study was to evaluate how community members understood and responded to a measure of community engagement developed to be reliable, valid, easily administered, and broadly usable. Method Cognitive response interviews were completed, during which participants described their reactions to items and how they processed them. Participants were asked to interpret item meaning, paraphrase items, and identify difficult or problematic terms and phrases, as well as provide any concerns with response options while responding to 16 of 32 survey items. Results The results of the cognitive response interviews of participants (N = 16) suggest concerns about plain language and literacy, clarity of question focus, and the lack of context clues to facilitate processing in response to items querying research experience. Minimal concerns were related to response options. Participants suggested changes in words and terms, as well as item structure. Conclusion Qualitative research can improve the validity and accessibility of measures that assess stakeholder experience of community-engaged research. The findings suggest wording and sentence structure changes that improve ability to assess implementation of community engagement and its impact on research outcomes.